Welcome to "One Play!" Throughout the 2020-21 NBA season, our NBA.com Staff will break down certain possessions from certain games and peel back the curtains to reveal its bigger meaning.
Today, San Antonio Spurs forward DeMar DeRozan takes the spotlight.
Context: On Feb. 27, DeMar DeRozan had one of his best performances of the season.
In his first game in almost two weeks, DeRozan led the Spurs to a victory over the New Orleans Pelicans with 32 points and 11 assists. It's only the fourth time in his career that he's recorded 30 points and 10 assists in the same game, two of which have come this season.
DeRozan has always been able to score at a high rate, but he's grown considerably as a facilitator the last few seasons, peaking this season with a career-best 7.2 assists per game. One particular assist from DeRozan in San Antonio's win over New Orleans shined a light on his growth.
You know what that means - to the film room!
The play:
Breakdown: DeRozan brings the ball up the court following a couple of made free throws from Zion Williamson that cut San Antonio's lead to three points with 2:22 remaining in the game.
Surrounding DeRozan are Patty Mills, Dejounte Murray, Trey Lyles and Jakob Poeltl. Mills, Murray and Lyles space the floor by parking themselves on the perimeter - Mills and Murray in opposite corners, Lyles on the wing opposite DeRozan - while Poeltl makes his way towards DeRozan to set a screen on his defender, Josh Hart.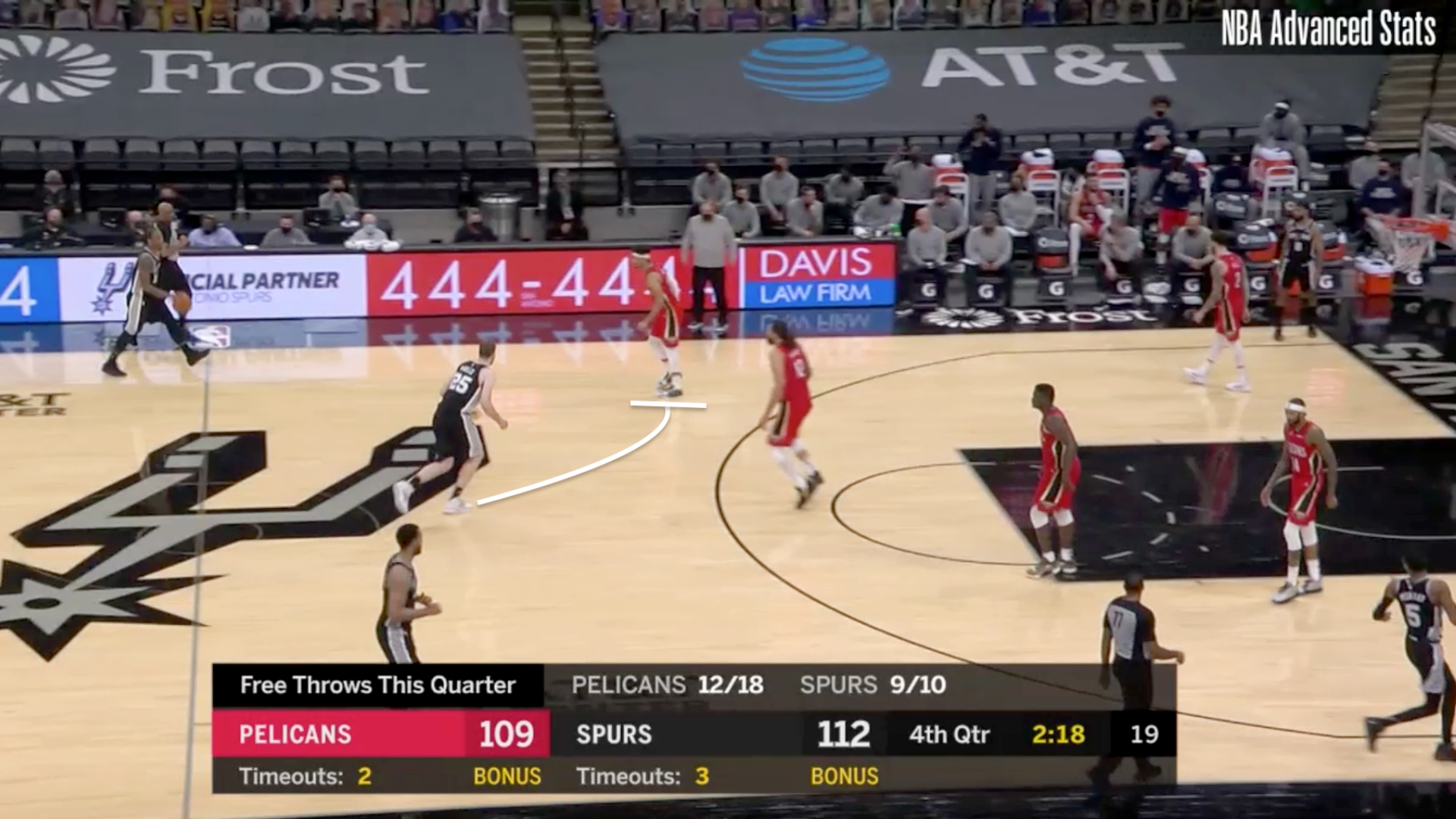 DeRozan uses Poeltl's screen and is immediately met by Pelicans centre Steven Adams on the other side.
DeRozan takes one more dribble away from Poeltl to force Adams to make a decision. If he switches, it'll give DeRozan an opportunity to attack a slower-footed defender in isolation. If he recovers, it'll give DeRozan room to turn the corner and get downhill. If he stays to provide pressure, someone else will have to pick up Poeltl until Adams can recover.
Adams goes with option No. 3, continuing to apply pressure on DeRozan until Hart is able to get back in front of him.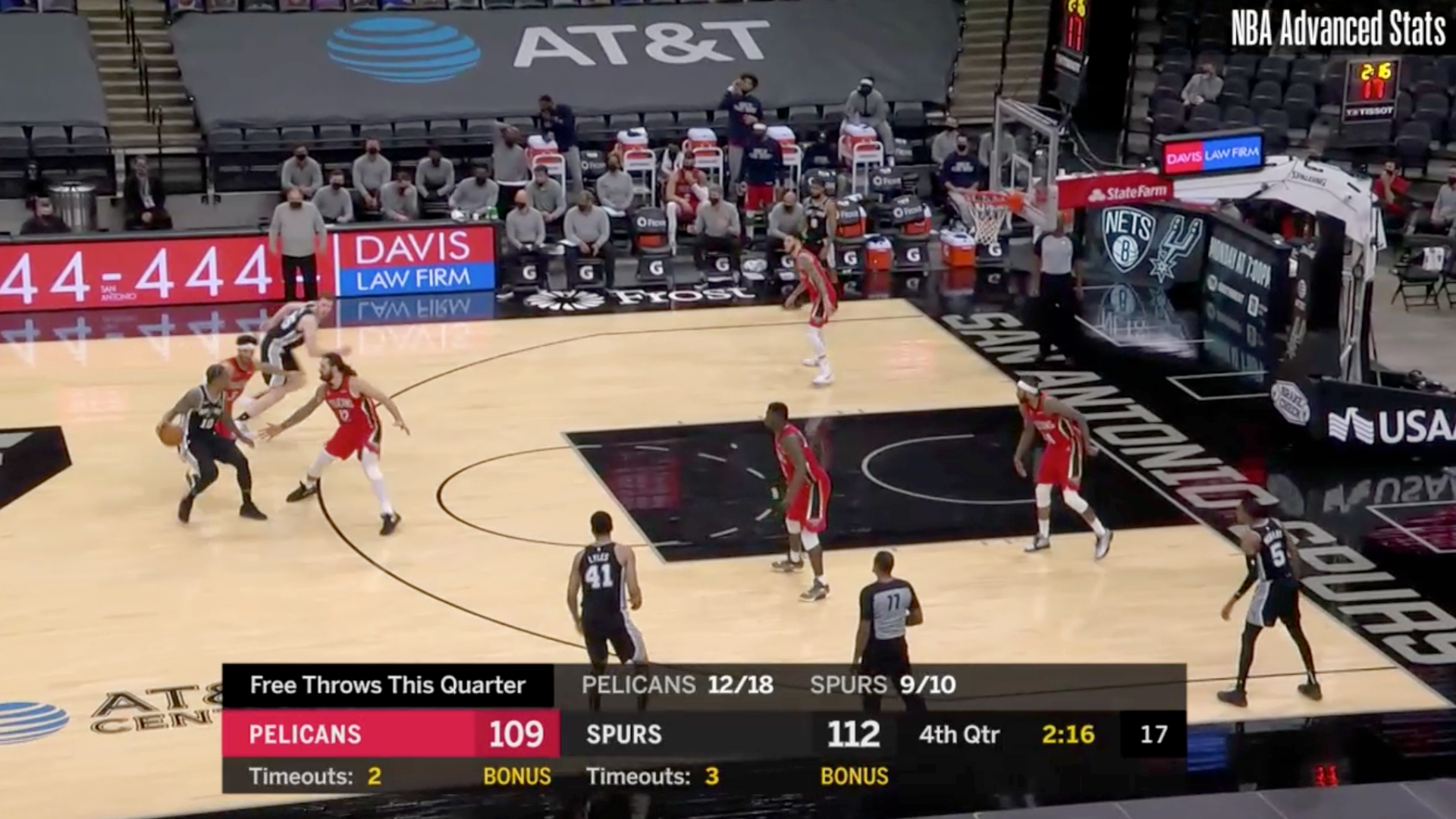 The problem? Nobody helps Adams.
With Lonzo Ball focused on Mills, Brandon Ingram focused on Murray and Williamson focused on Lyles, Poeltl is left alone as he rolls to the basket.
DeRozan sets him up perfectly, lobbing a pass over Hart and Adams to Poeltl for the dunk.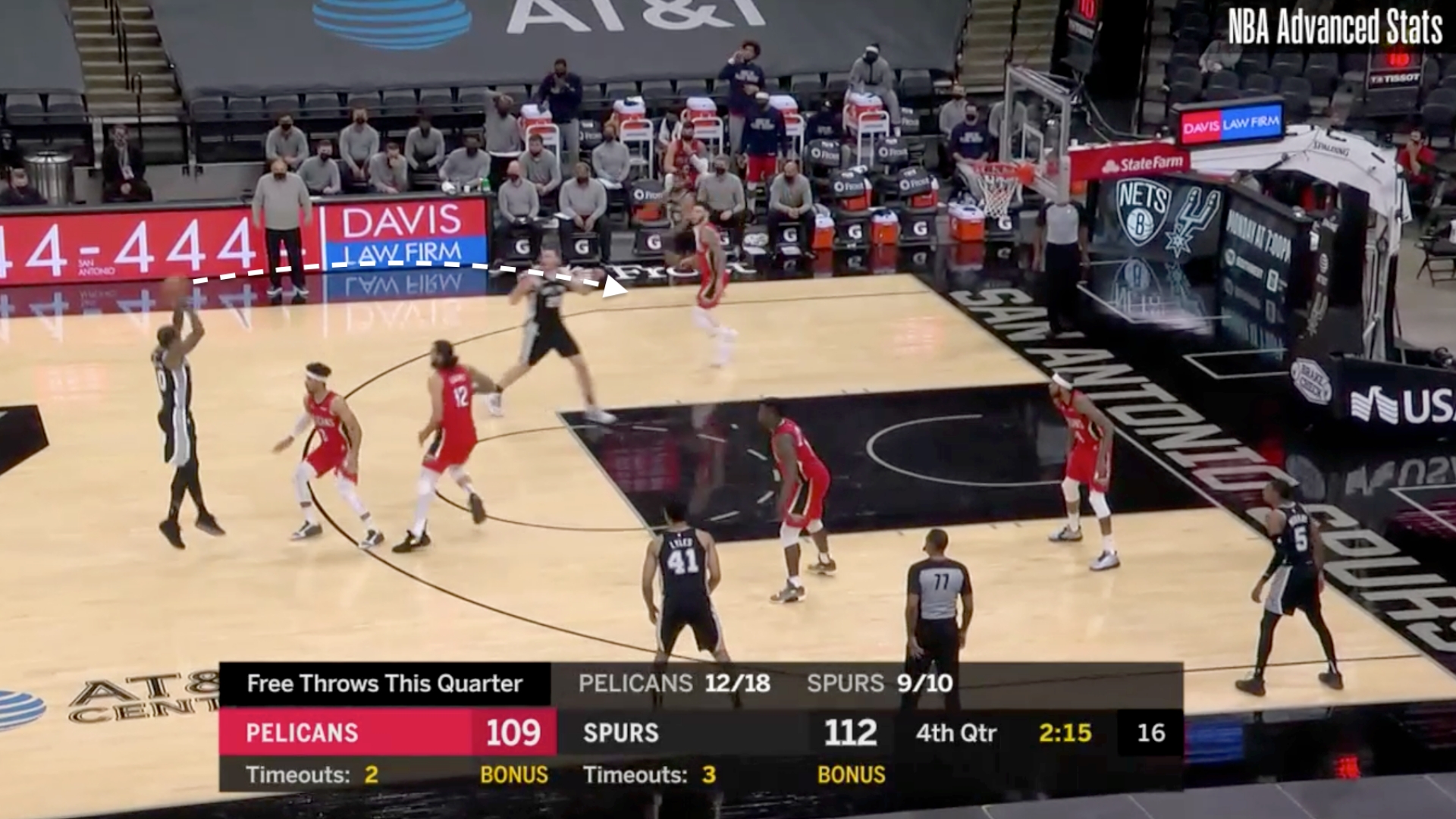 Why it matters: OK, there's nothing particularly flashy about this pass - not compared to some of the other passes we've broken down, at least - but bear with me for a minute.
The key to this play is the threat of DeRozan's scoring. As mentioned at the top, he's always been a bucket-getter, but he's become an entirely different bucket-getter since joining the Spurs. This season, DeRozan is averaging 20.0 points per game, which is his fewest since the 2012-13 season. He's doing it on 13.8 field goal attempts per game, which is his fewest since his rookie season in 2009-10.
That combination would be cause for concern for most players, and yet DeRozan is in the midst of one of the best seasons of his career.
For one, DeRozan's efficiency is way up. He might not be looking to score as much as he once did, but he's still more than capable of scoring on just about anyone.
Consider this: DeRozan is generating more than a third (36.7 percent) of his offence as the ball handler in pick-and-rolls this season. He's averaging 0.99 points per possession, ranking him in the 78th percentile alongside the likes of Kevin Durant, Devin Booker and Luka Doncic.
DeRozan isn't a threat to pull-up from 3-point range like they are, but he continues to be automatic from midrange and is a good finisher in the paint.
If he gets any sort of space inside the 3-point line, the defence is toast.
Additionally, DeRozan continues to be one of the league's best 1-on-1 scorers. He's generating just under a fifth (15.8 percent) of his scoring in isolation this season and ranks in the 94th percentile with 1.24 points per possession, putting him in the same bracket as the likes of Durant, James Harden and Kyrie Irving.
As the Pelicans learned the hard way, DeRozan's size makes him a tough cover for guards...
...and his footwork makes him an almost impossible cover for bigs.
Which brings us back to the assist to Poeltl.
Moreso than ever before, DeRozan is using the threat of his scoring to pick teams apart as a passer this season. The reason Adams hedged is that he was worried about DeRozan turning the corner in the pick-and-roll, knowing how dynamic of a scorer he is in those situations. And the reason he didn't want to switch is because Adams guarding DeRozan on an island almost certainly wouldn't have ended well for the Pelicans.
Of course, the three other defenders could've done a better job of rotating to cover for Adams, but some of the reads DeRozan made earlier in the game probably made them hesitant to help off of San Antonio's shooters.
The setup is basically the same on the following possession with three shooters spacing the floor while DeRozan runs a high pick-and-roll, but the Pelicans play a drop coverage instead of hedging, meaning the player defending the screener drops back to the paint rather than meeting the ball handler at the level of the screen. The player to watch, however, is Ball. He's helping off of Mills to limit how much space DeRozan has to work with.
The deeper DeRozan gets on his drive, the more Ball helps off of Mills, leading to the drive and kick.
Now watch what happens when Ball does it again in the third quarter.
It's one heck of a shot from Mills, but notice the timing of DeRozan's pass. He spots Ball doing the same thing again - helping off of Mills to gum up the spacing - only this time he rifles a pass to Mills before he can react.
Having been burned twice by DeRozan for overhelping earlier in the game, it's no wonder why Ball was glued to Mills on such an important possession.
That sort of manipulation isn't something defenders had to be as wary of when DeRozan had the ball in his hands late in games in the past, but the DeRozan we're seeing this season isn't the one we've come to know in the past.
The views on this page do not necessarily represent the views of the NBA or its clubs.