Welcome to "One Play!" Throughout the 2020-21 NBA season, our NBA.com Staff will break down certain possessions from certain games and peel back the curtains to reveal its bigger meaning.
Today, Los Angeles Lakers superstar Anthony Davis takes the spotlight.
Context: Well, that was fun.
In a battle for the No. 7 seed in the Western Conference, the Los Angeles Lakers defeated the Golden State Warriors in a thriller, using a second-half comeback to punch their ticket to the playoffs where they'll face the Phoenix Suns in the first round.
To no surprise, it was LeBron James and Anthony Davis who led the charge for the Lakers in their come-from-behind victory. Whereas LeBron recorded 16 points, six assists and four rebounds in the second half, Davis combined to score a team-high 20 points in the third and fourth quarter. Davis in particular looked like a completely different player after the Warriors held him to just five points on 2-for-12 shooting in the first half.
There's a reason for that which we'll get into, but first, a closer look at one particular possession.
The play:
Breakdown: Tied at 98 with under two minutes to go, the Lakers close the game on the smaller side with a lineup of Alex Caruso, Wesley Matthews, Kentavious Caldwell-Pope, LeBron and Davis.
With the ball in his hands at the top of the perimeter, LeBron calls on Caldwell-Pope to set a screen. Caldwell-Pope scored a grand total of two points as the roll man this season, so the goal isn't to get him the ball. Instead, it's to force Caldwell-Pope's defender, the 6-foot-3 and 185-pound Stephen Curry, to switch onto the 6-foot-9 and 250-pound LeBron.
LeBron often goes into bully mode when it matters the most, something Curry is all too familiar with.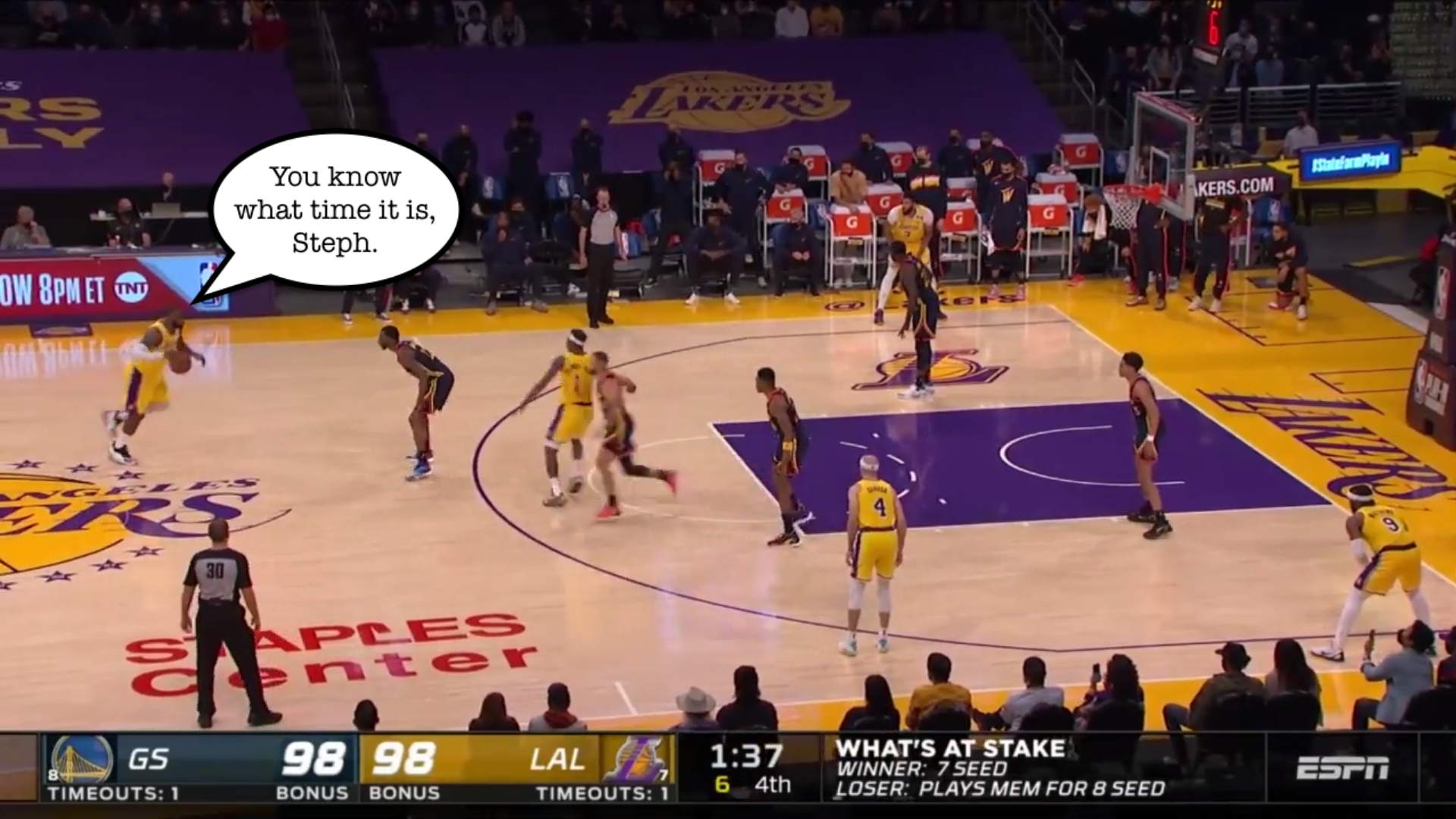 Curry hedges rather than switches to prevent LeBron from getting the matchup he wants. Kent Bazemore, meanwhile, helps off of Caruso one pass away to take away a direct lane to the basket should LeBron get downhill.
The problem? LeBron spots Bazemore in help position and makes him pay by rifling a pass to Caruso, who blows by Bazemore on the closeout.
With four perimeter players on the court, the paint is wide open.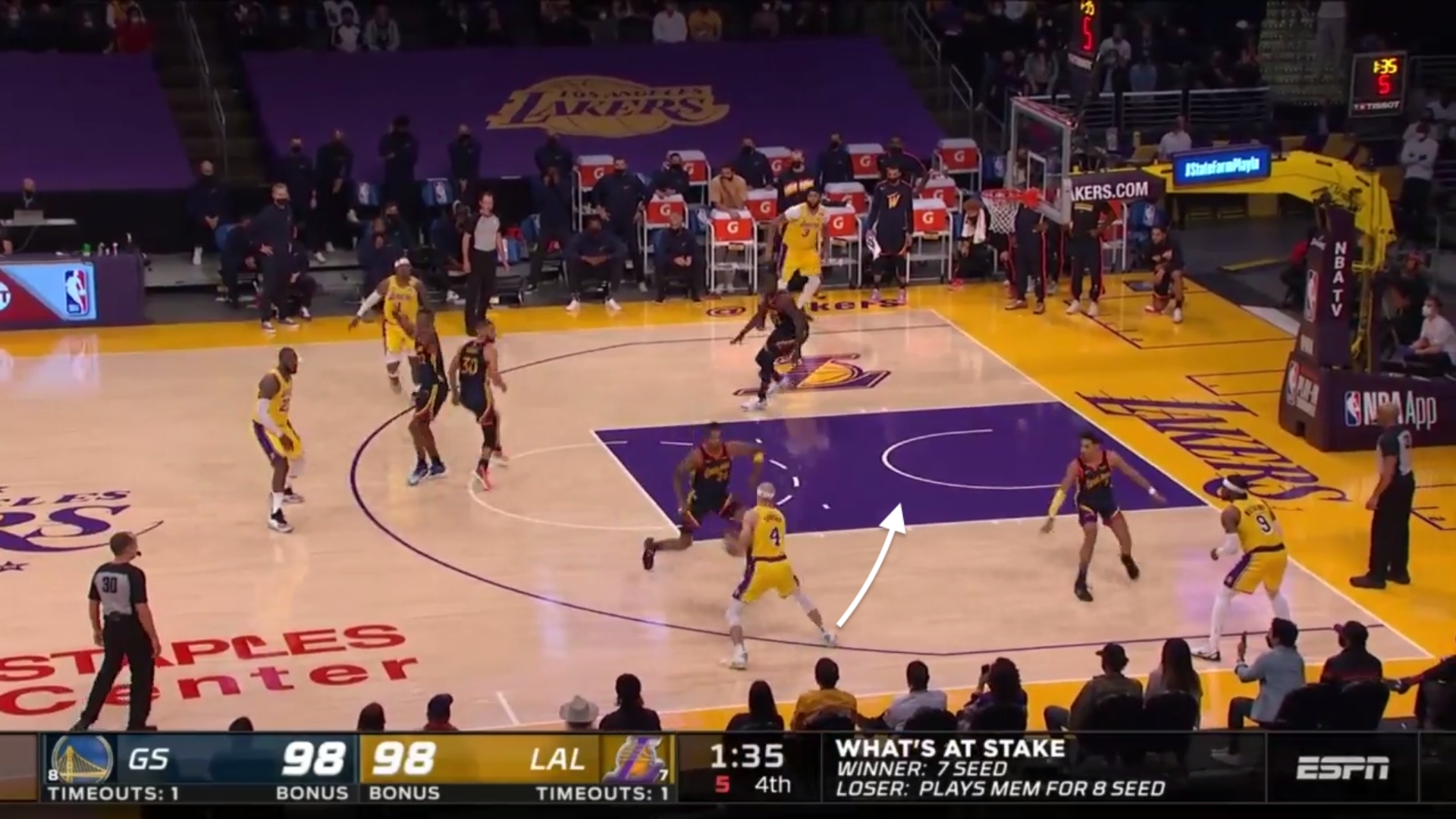 With Curry on Caldwell-Pope, Andrew Wiggins on LeBron and Jordan Poole on Matthews, Draymond Green is Golden State's only hope of getting a stop.
Green was a monster defensively all game long but not even he can stop this 2-on-1, leading to a dunk from Davis to put the Lakers up 100-98 with 1:31 remaining.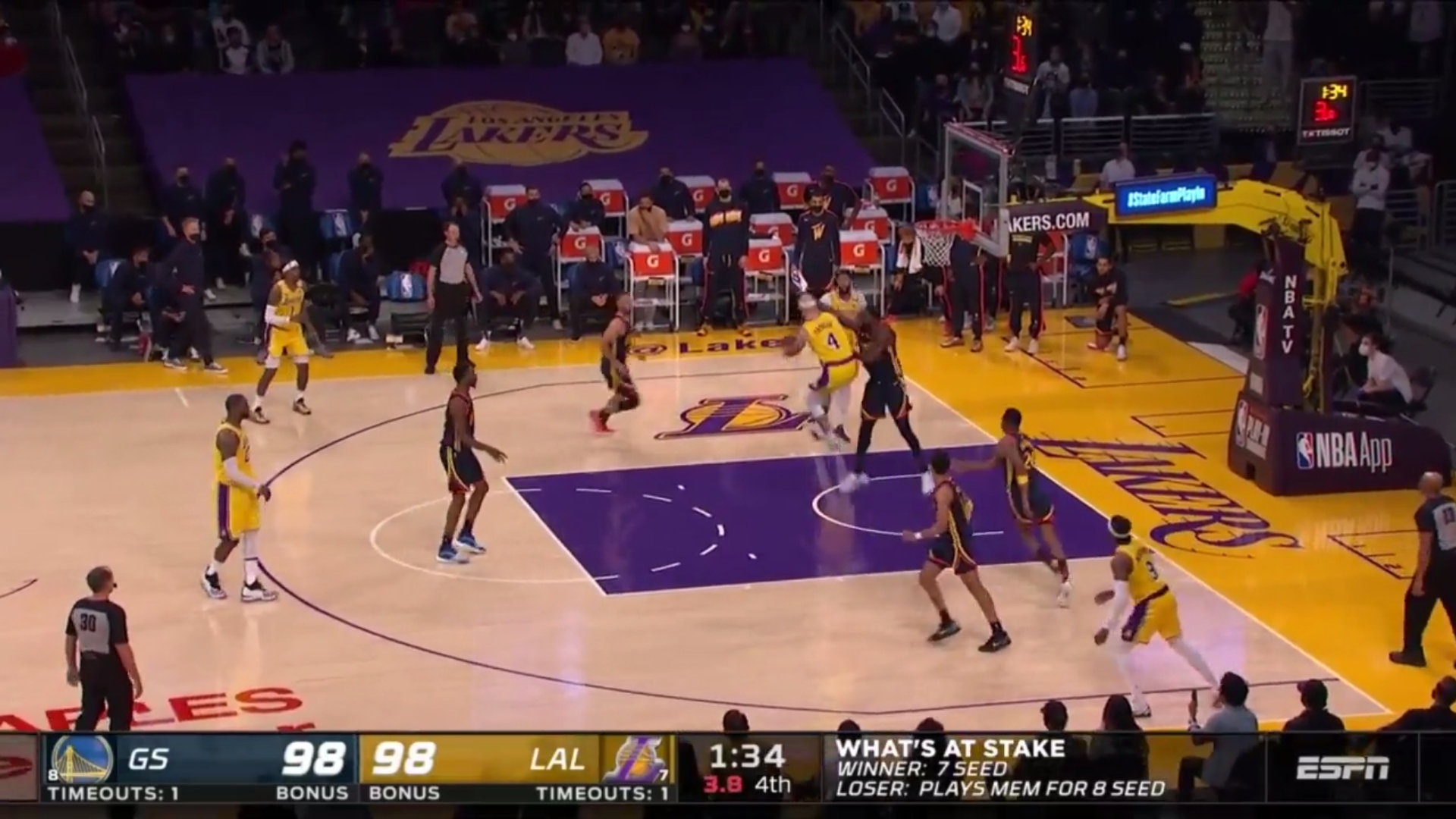 Why it matters: Davis being best suited as a centre is a tale as old as time, but this game served as a reminder as to why.
Here's a stat for you: Davis was 1-for-11 from the field with Andre Drummond or Montrezl Harrell on the court against the Warriors, according to ESPN Stats & Info. That means without them, he was - wait for it - 9-for-13.
Another one: Davis played 21 minutes at centre against the Warriors. According to ESPN's Kevin Pelton, that was more than he played in the 13 games he appeared in after returning from injury to close the season combined (19).
It's not that Davis can't play with another big, because he can. It's just that him being the only big on the floor plays much more to his strengths.
For one, it makes him less reliant on his jump shot. Davis is a capable shooter, but he's not a lights-out shooter. According to NBA.com, he shot 34.8 percent from midrange and 26.0 percent from 3-point range this season. Last season, he shot 34.9 percent from midrange and 33.0 percent from midrange. He got hot in the playoffs, shooting 49.6 percent from midrange and 38.3 percent from 3-point range, but him turning into a spot-up shooter is the lesser of two evils.
For what it's worth, Cleaning The Glass has Davis as an average midrange shooter and a slightly below average 3-point shooter for his position for his career.
Secondly, it frees him up as a roller and cutter. It's not necessarily reflected in the numbers, but Davis is one of the league's best on those plays. He knows where to position himself and has great timing, and being 6-foot-10 with a 7-foot-6 wingspan makes him a massive target.
It's much easier for him to do those things when there isn't another 7-footer hanging around the basket.
Third, it presents more favourable matchups for him if teams downsize themselves. Again, the numbers don't necessarily point towards Davis being an elite post-up scorer, but he's not someone you can switch guards and forwards onto.
Finally, it makes everyone else's life easier, Caruso setting Davis up for a dunk being a perfect example. The Lakers aren't a great 3-point shooting team - they ranked 24th in 3-point attempts per game (31.2) and 21st in 3-point percentage (.354) on the season - so they need all the spacing they can get.
The thing with the Lakers is that they have the personnel to adapt depending on their opponent. Like last postseason, there will be matchups where they could do with more size should they go on another run, such as a second-round series with Nikola Jokic's Denver Nuggets or a third-round series with Rudy Gobert's Utah Jazz. Ditto for a potential Finals matchup with the Milwaukee Bucks or Philadelphia 76ers, where Drummond and Marc Gasol would help them match up with Giannis Antetokounmpo and Joel Embiid.
Even so, the Lakers will likely be at their best on both ends with Davis at centre. They were last postseason and they were in Wednesday's important win over the Warriors.
The good news? Davis appears to be ready for what's to come.
"If I need to play the five, you guys know I will. I have no problem with that come playoff time," he said earlier this week.
The views on this page do not necessarily reflect the views of the NBA or its clubs.