Welcome to "One Play!" Throughout the 2020-21 NBA season, our NBA.com Staff will break down certain possessions from certain games and peel back the curtains to reveal its bigger meaning.
Today, Denver Nuggets centre Nikola Jokic takes the spotlight.
Context: Nikola Jokic had himself a game against the Houston Rockets.
In 34 minutes of action, the two-time All-Star scored 19 points, dished out 18 assists and pulled down 12 rebounds to record his second triple-double of the season. Jokic joined some impressive company in the process, tying Fat Lever for the most triple-doubles in Nuggets history and becoming the first centre since Wilt Chamberlain (1968) to record 18 or more assists in a game.
Jokic threw a number of impressive passes en route to his career-best 18 assists, which helped Denver defeat Houston by double-figures, but there was one pass in particular that stood out for reasons we'll get into.
First, the pass.
The play:
Breakdown: Jokic hands the ball off to Jamal Murray at the top of the 3-point line, resulting in James Harden switching onto Jokic and P.J. Tucker switching onto Murray with the shot clock winding down.
With the right side of the court completely cleared - Paul Millsap and Gary Harris are spotting up on the left side while Michael Porter Jr. camps out in the dunker spot - Jokic works his way to the block, where he does the bulk of his damage.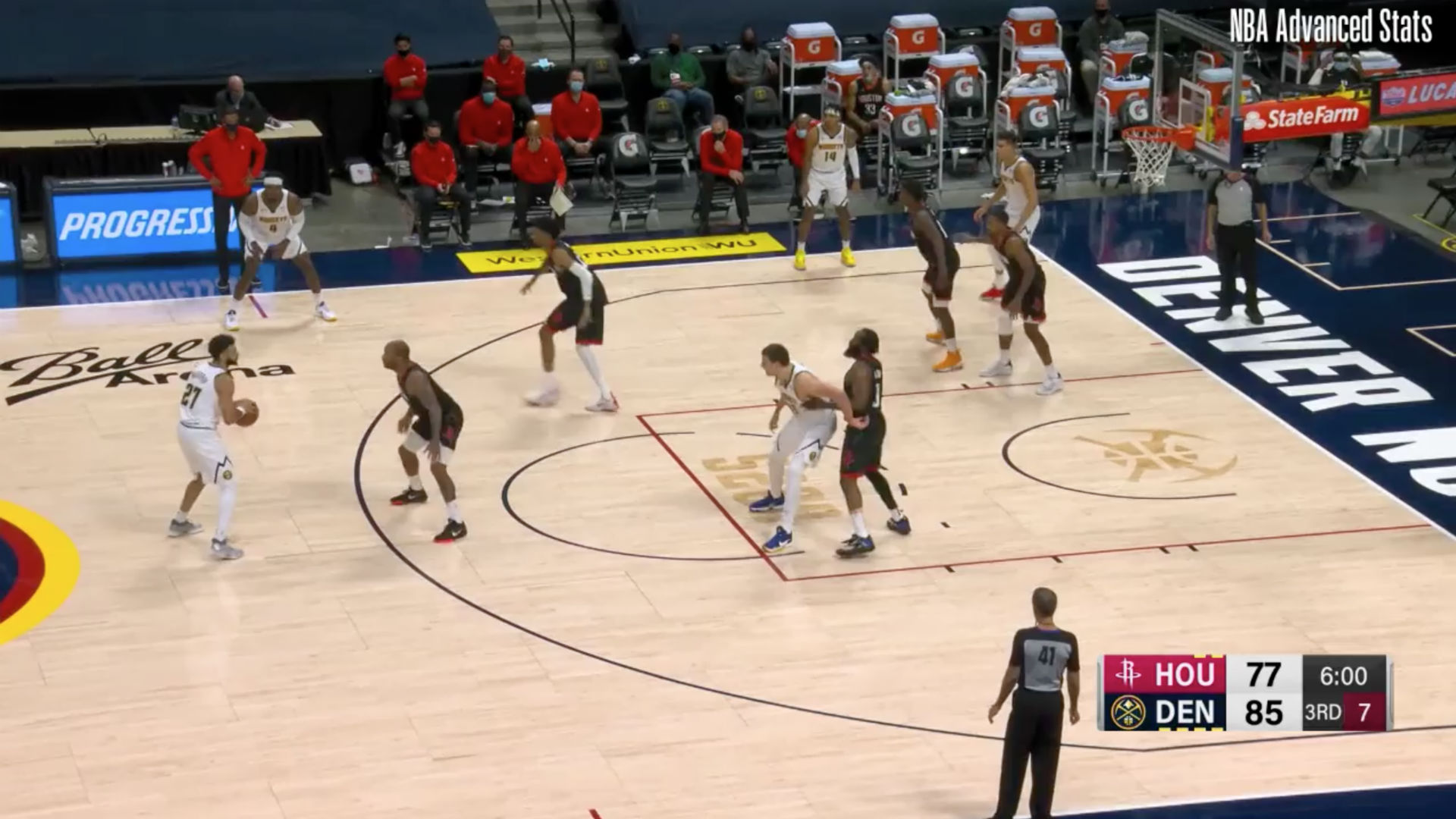 Harden was one of the league's most effective post defenders last season, but Jokic is one of the best post scorers in the league, if not the best. According to NBA.com, only Philadelphia 76ers centre Joel Embiid (464) scored more points than Jokic (373) in the post last season. Jokic matched that volume with incredible efficiency, scoring at a rate of 1.06 points per possession to rank in the 90th percentile.
With Harden giving up seven inches and 64 pounds, Jokic quite clearly has himself a mismatch.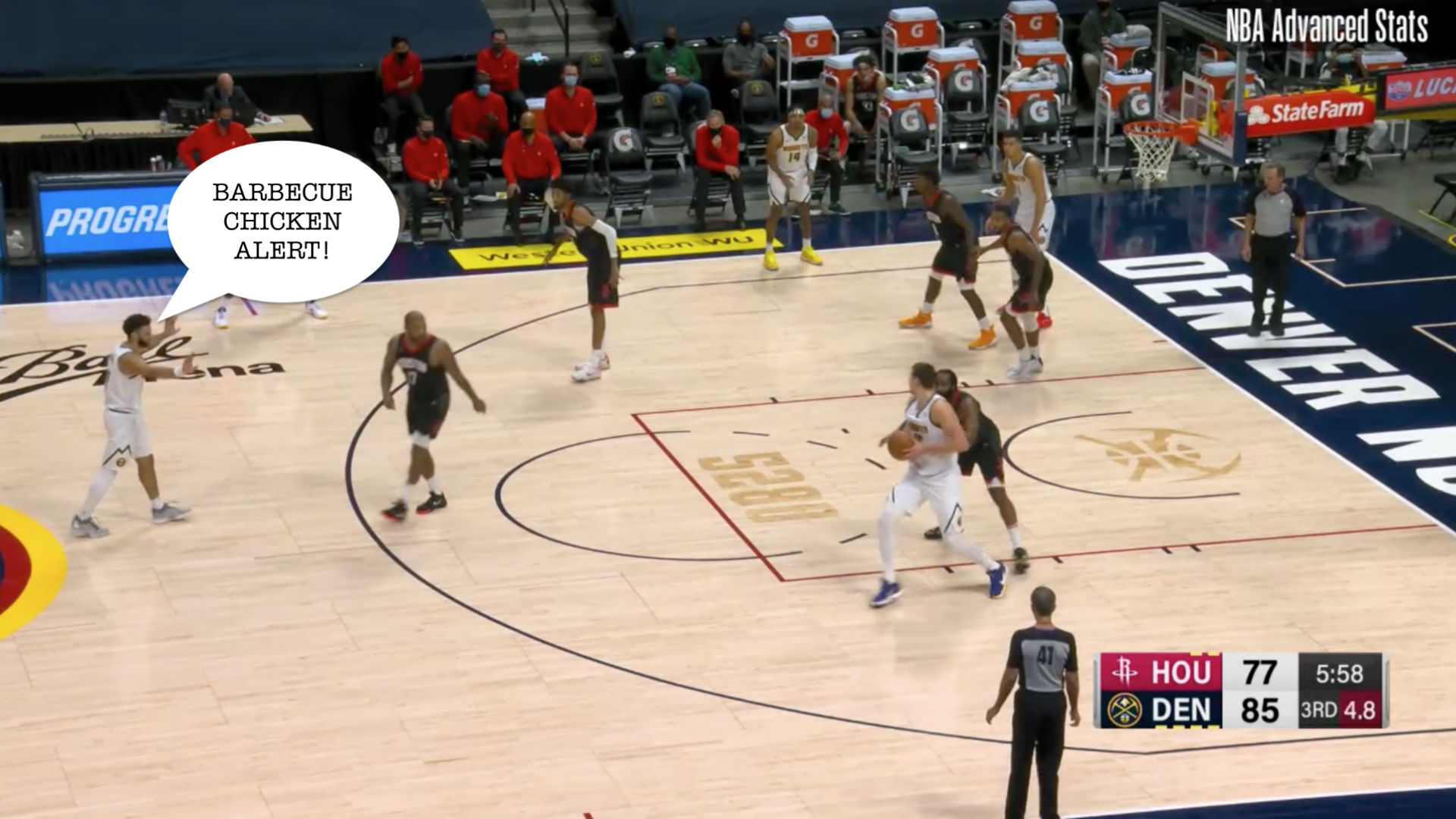 Because he is such a handful in the post, the Rockets send help from the baseline, with Sterling Brown inching off of Porter Jr. in the dunker spot to pounce on Jokic. The shot clock is working in Houston's favour, with only 3.3 seconds remaining when Jokic picks up his dribble.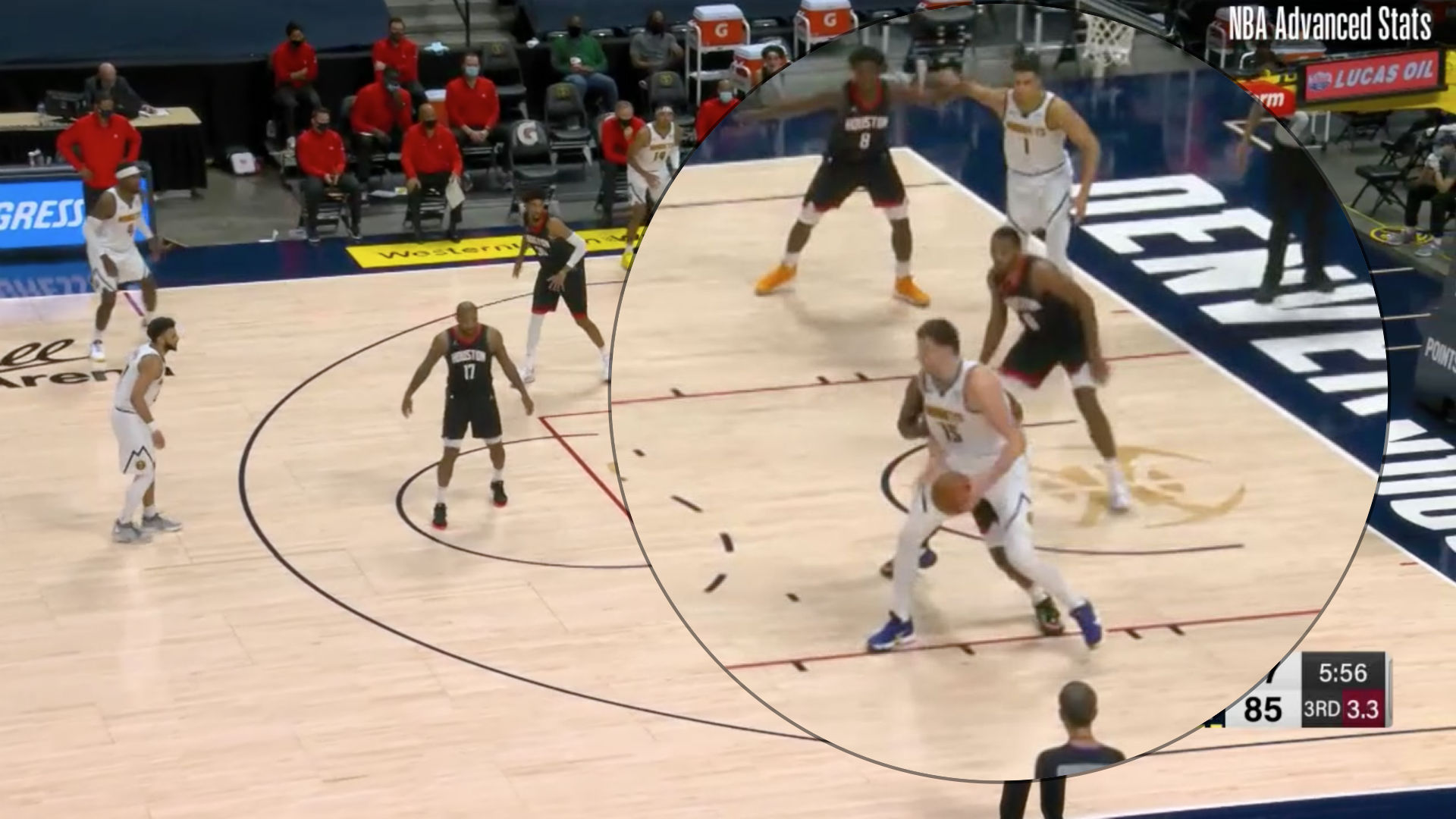 Sensing the double team, Jokic likely has his eyes on Rockets rookie Jae'Sean Tate, who is stuck between a rock and a hard place on the opposite side of the court.
If Tate drops down to prevent Porter Jr. from making a cut towards the basket, Jokic will launch a pass to Harris in the opposite corner, like so:
If he sticks with Harris to prevent that skip pass, it leaves Porter Jr. unaccounted for.
This is only Porter Jr.'s second season playing with Jokic, but he knows what to do when he's unaccounted for.
"He definitely be looking out, for sure," Porter told NBA.com's Carlan Gay of what it's like to play with Jokic last season. "I know he's always looking to pass, so I try to find my little spots where he can see me and he'll give me the ball."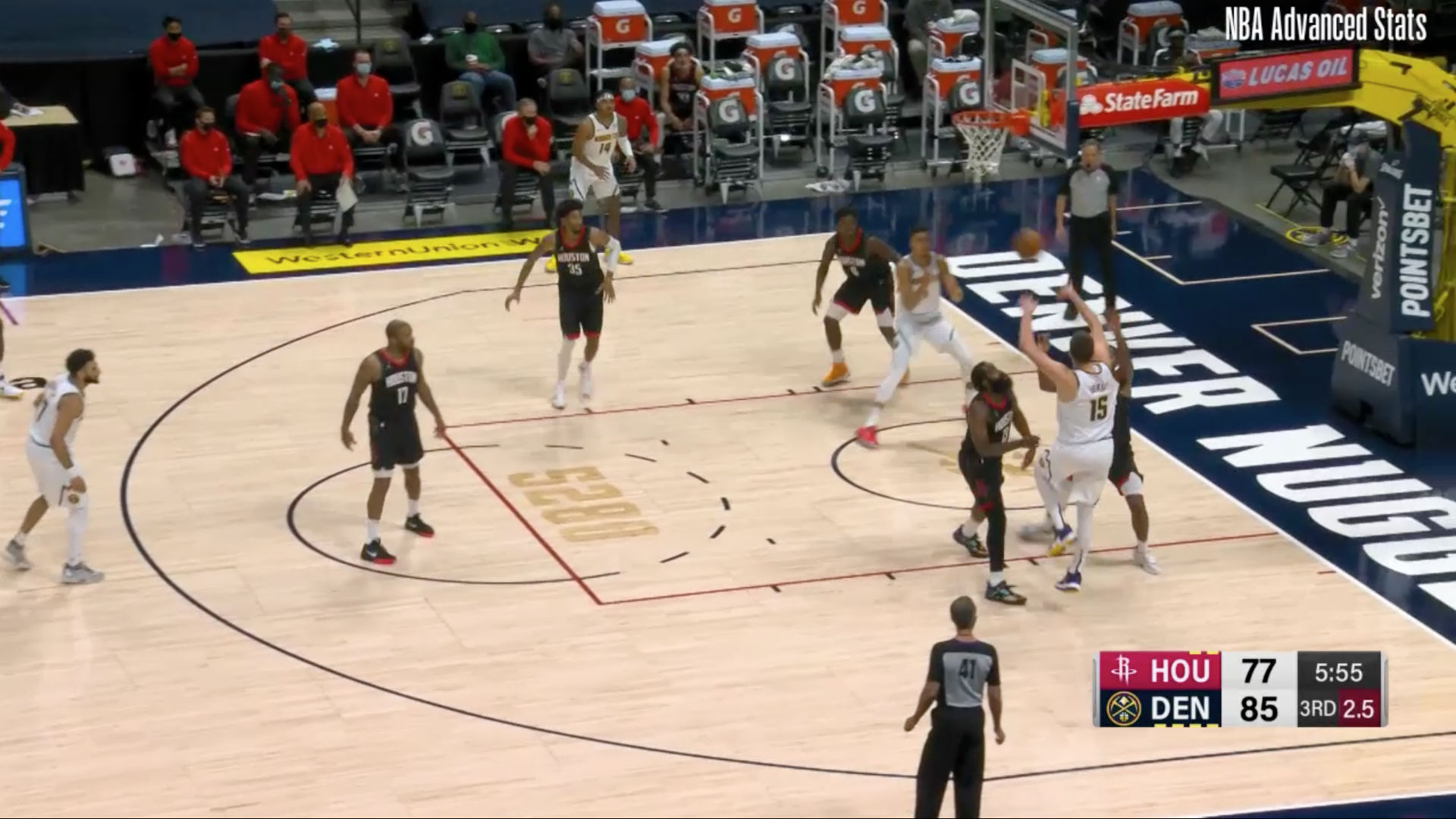 Tate slides over after Porter Jr. receives the pass from Jokic but isn't able to stop him from getting an easy bucket.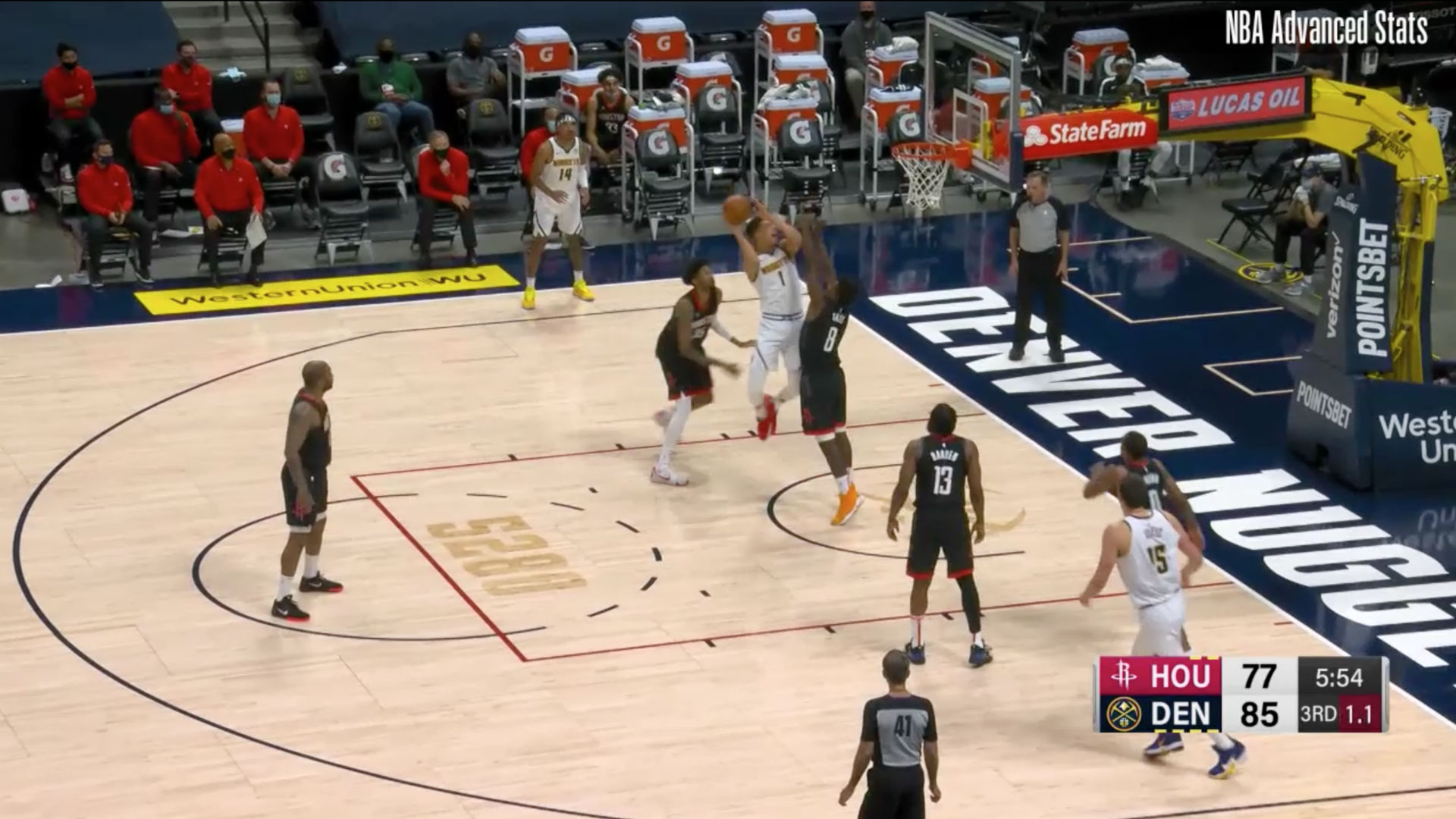 Why it matters: There are only a handful of players in the NBA who are elite passers and elite scorers.
Jokic is one of them.
Had the Rockets not sent a double team, Jokic would've likely created a high percentage look for himself, even against Harden, who is built like a brick wall. That little spin Jokic did before firing that pass to Porter Jr. underneath the basket? It's become one of his go-tos. It's why Brown hit the gas pedal when he did, both to double Jokic when he thought it was safe to do so and to contest the turnaround that's become his bread and butter had he gone to it.
Brown had good reason to believe he would go to it with the shot clock winding down.
The issue is ... you can't double team Jokic. I mean, you can, but it rarely ends well because he's one of the best passers in the league. Not one of the best passers for his size. One of the best passers, full stop.
Jokic had it all on display against the Rockets, flinging crosscourt passes to shooters, leading cutters to the basket for layup after layup and picking Houston apart on the short-roll. He even tortured poor Bruno Caboclo with a pass straight out of the Harlem Globetrotter's playbook to put the finishing touches on a dominant performance from the Nuggets.
This is downright disrespectful:
Sure. This is a thing you can do. pic.twitter.com/N787HNfQlj

- Hardwood Paroxysm (@HPbasketball) December 29, 2020
But it's not just the types of passes Jokic makes that's impressive. It is the timing and accuracy that takes him to another level of greatness. He seems to know where his teammates are at all times and has a knack for making the right pass at the right time, usually when the defence has begun to rotate.
It all comes together on plays like this, where Jokic manipulates the defence and makes the one pass they're not expecting, all at his own snail-like pace.
"It's incredible what he can do," Murray said of Jokic after the game. "And he's so calm about it. … It's a pleasure to be able to throw the ball to him and just, I'm there ready to shoot, but when he's doing that, they can't stop it."
This isn't anything new, of course - we were having the is-Jokic-the-best-passing-centre-in-NBA-history during the 2018-19 season, perhaps a little prematurely - but it's important to remember that he's only 25 years old. It's scary to think that the best is yet to come for Jokic considering he's already one of the best players in the league.
The views on this page do not necessarily reflect the views of the NBA or its clubs.