Welcome to "One Play!" Throughout the 2020-21 NBA season, our NBA.com Staff will break down certain possessions from certain games and peel back the curtains to reveal its bigger meaning.
Today, Milwaukee Bucks superstar Giannis Antetokounmpo takes the spotlight.
Context: With 9:33 remaining in the second quarter of Game 4, Bucks head coach Mike Budenholzer decided to switch things up.
The Bucks were trailing the Brooklyn Nets by eight points at the time and were once again struggling offensively. In inserting P.J. Tucker in the game for Bobby Portis, Budenholzer went small by surrounding Giannis Antetokounmpo with four perimeter players in Jrue Holiday, Khris Middleton, Pat Connaughton and Tucker.
The five of them only logged three minutes together, but they helped the Bucks take control of the game, going on a 16-2 run to flip an eight-point deficit into a six-point lead.
Let's take a closer look at what made that unit so effective, starting with the basket that sparked the run.
The play:
Breakdown: Nets guard Mike James runs a pick-and-roll with Nicolas Claxton on the left wing, resulting in Middleton switching onto Claxton and Antetokounmpo switching onto James. There's just enough room for James to get a shot off - it looks like Middleton and Antetokounmpo weren't quite on the same page - but his 3-point attempt rims out.
With Connaughton helping off of Landry Shamet to box out Claxton on the roll, Middleton swoops in for the defensive rebound.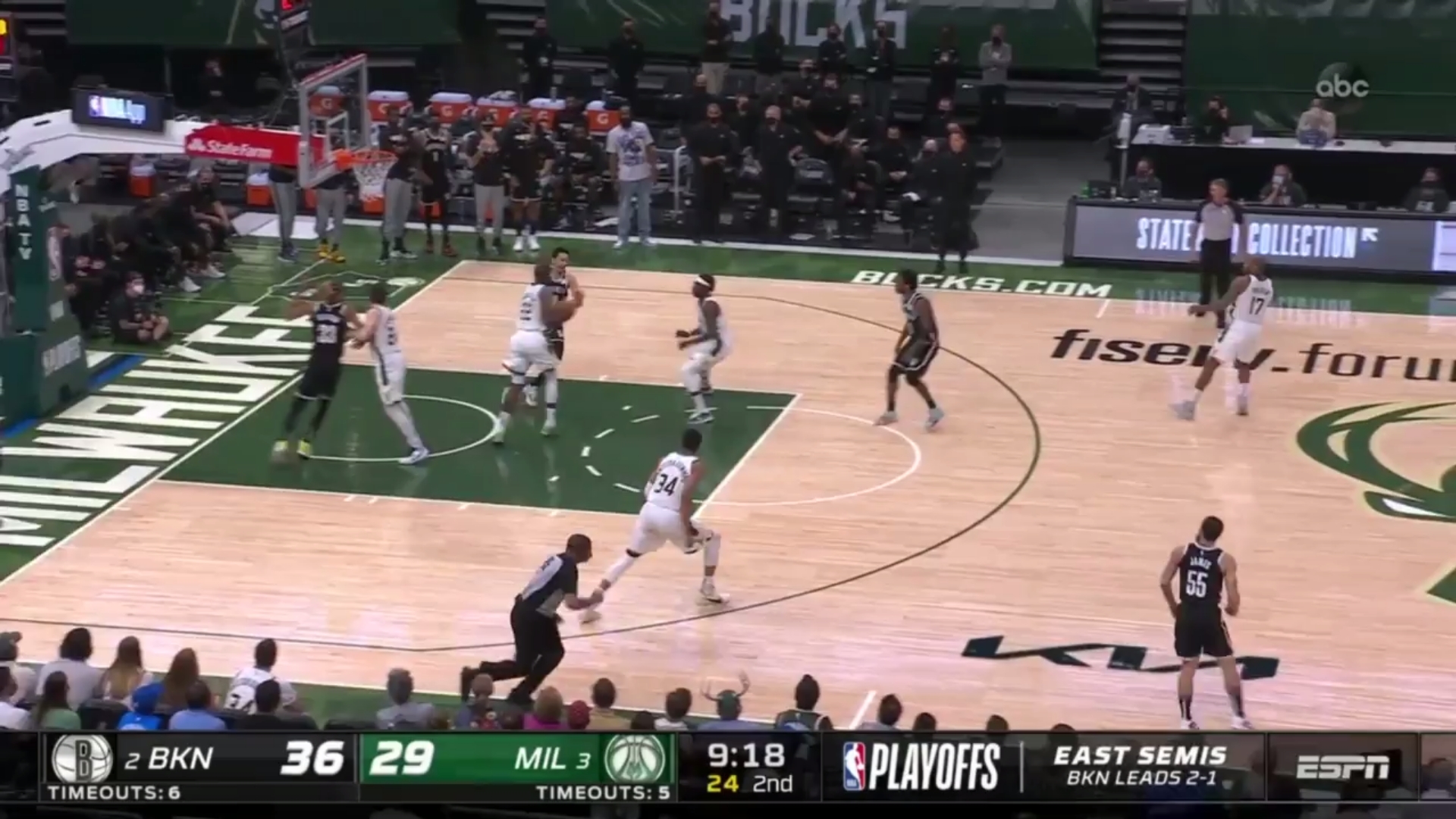 As soon as Middleton secures the rebound, it's off to the races.
Tucker is the first Buck to cross halfcourt. He wastes little-to-no time making his way to the left corner, where he's 4-for-10 in the playoffs. Antetokounmpo is the second Buck to cross halfcourt. With the 6-foot-1 and 175-pound James guarding him, he runs to the paint and makes himself a target underneath the basket.
Holiday and Connaughton, meanwhile, space the floor by running to the 3-point line, knowing Antetokounmpo has himself a mismatch.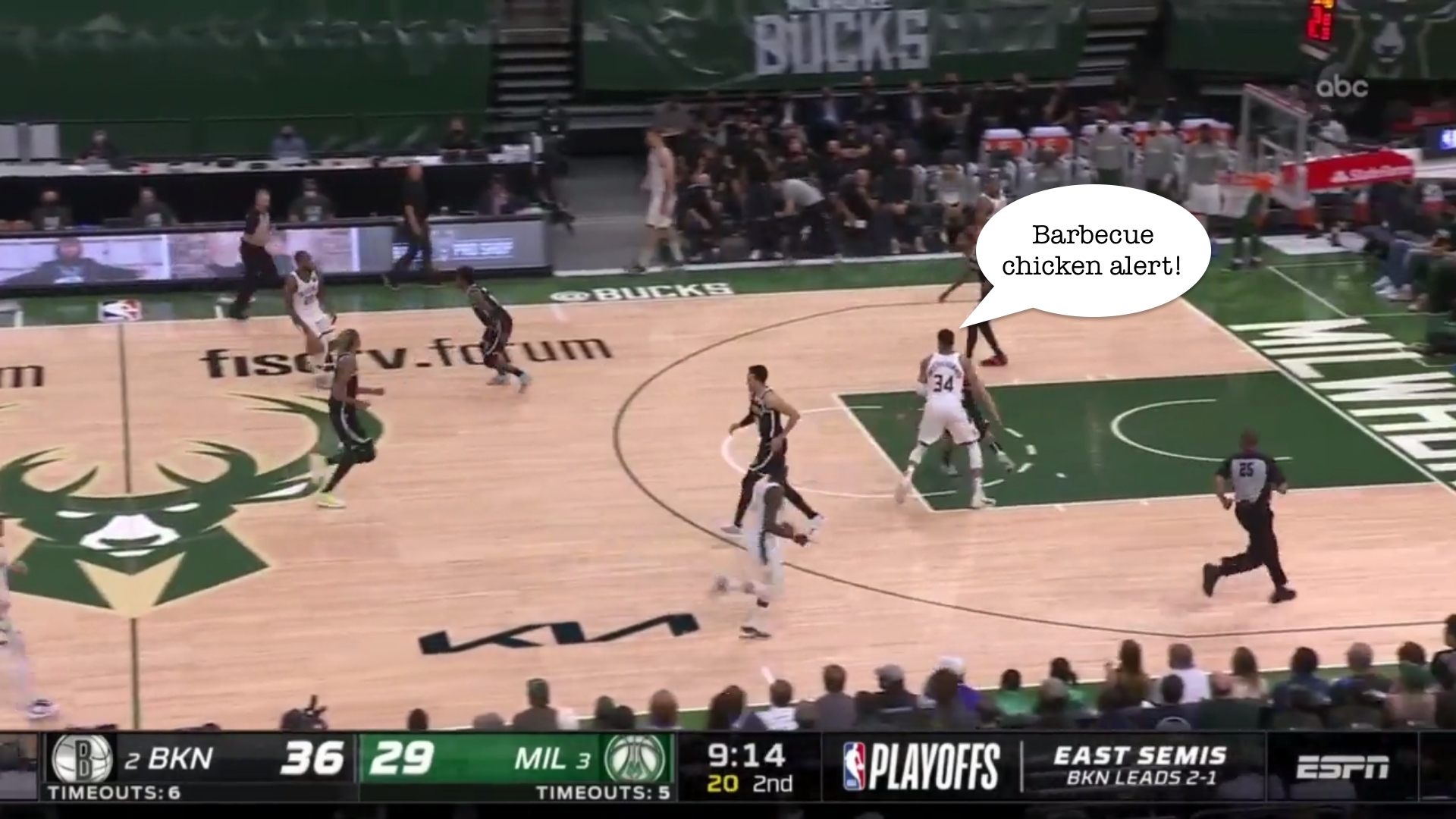 Since James has no chance of guarding Antetokounmpo that close to the basket, Kevin Durant drops down to provide some help.
The problem? That leaves Tucker open in his sweet spot.
Middleton reads the defence perfectly, kicking the ball to Tucker in the corner rather than giving it to Antetokounmpo in a crowd.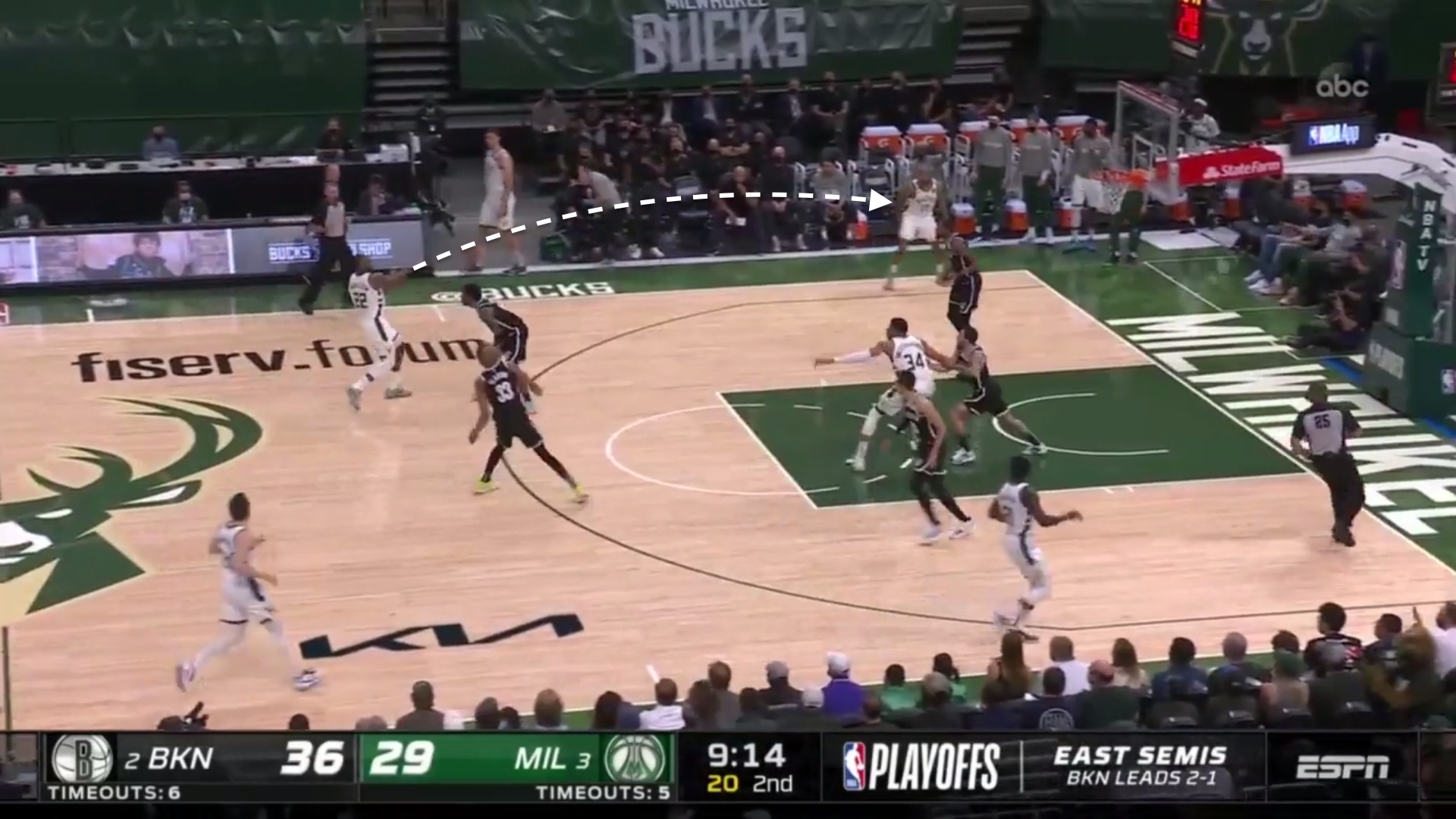 Tucker knocks down the shot and the run begins.
Why it matters: That was Tucker's first 3-pointer of the game. It didn't take him long to make his second.
Less than a minute later, the Bucks ran a pick-and-roll with Antetokounmpo as the ball handler and Middleton as the screener. Middleton got a wide open 3-pointer that he was unable to convert, but Connaughton came up with the offensive rebound.
This time, Durant found himself guarding Antetokounmpo. With Durant also not standing much of a chance at defending Antetokounmpo one-on-one - there's a reason he's only defended him for a total of 2:49 through four games - Joe Harris dug down to provide help.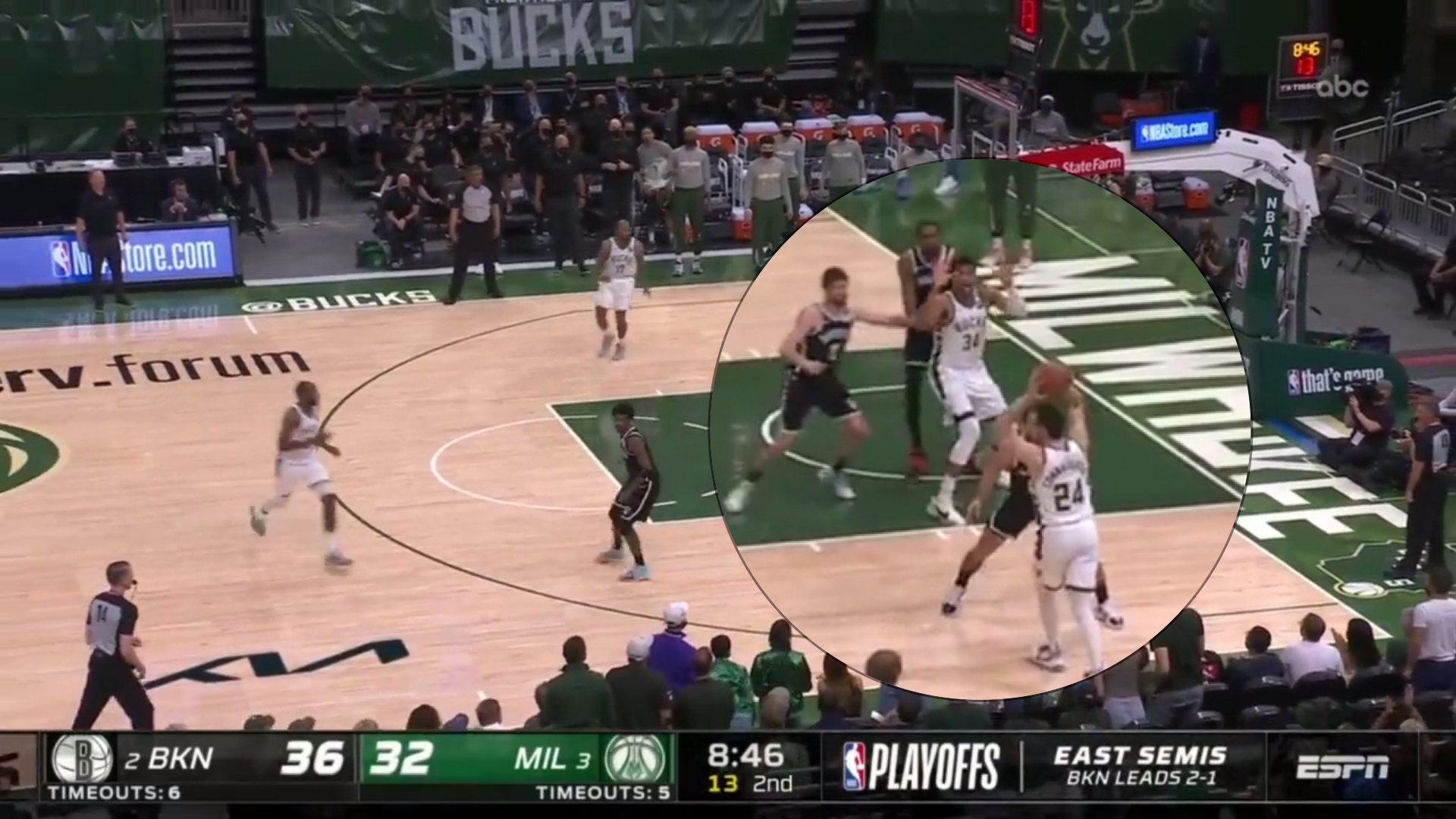 That opened the door for a skip pass to Tucker in the opposite corner for another open shot.
The Bucks got a stop on the ensuing possession, setting Antetokounmpo to attack the Nets in transition. The numbers haven't been great for Antetokounmpo in the open court in the playoffs, but he led the league with 8.2 points per game in transition in the regular season. Not only that, but he ranked in the 75th percentile with 1.23 points per transition possession.
Blake Griffin has had his moments against Antetokounmpo in this series, but not even he stands much of a chance when Antetokounmpo gets a full head of steam.
The Nets finally got a shot to fall to snap the run, but Holiday responded with a step back 3 out of a pick-and-roll with Antetokounmpo.
The Nets then committed a turnover, leading to another bucket for Antetokounmpo in transition.
The Nets followed that up with a missed shot ... leading to another bucket for Antetokounmpo in transition.
You know what's funny? As in sync as Holiday, Middleton, Connaughton, Tucker and Antetokounmpo looked together in Game 4, we've barely seen that lineup this season. According to NBA.com, they've now played six minutes together in the playoffs after playing seven minutes together in the regular season. We didn't even see much of Holiday, Middleton, Tucker, Antetokounmpo and Donte DiVincenzo prior to DiVincenzo getting injured. The five of them played only eight minutes together in the regular season and zero minutes together in Milwaukee's first-round series with the Miami Heat.
All of that makes for such a small sample size that it's not even worth talking about the numbers they posted in those minutes.
Even what we saw in Game 4 was too small of a sample size to take too much away from - it's easy to play the result, especially when we're talking about a run that included not one, not two, but three 3-pointers - but it's not a surprise the Bucks did what they did when they went to Antetokounmpo at center. For one, there was a lot more space for Antetokounmpo and everyone else to work with with Connaughton in for Brook Lopez and Portis. Two, there was a lot more activity defensively, with the five of them being much more switchable. (That won't be as much of a factor moving forward if Kyrie Irving and James Harden are unable to go the rest of this series, but still). Three, it makes matching up with Antetokounmpo much more difficult for the Nets.
The reason Antetokounmpo got such a favourable matchup on the first play was because his defender, Claxton, attacked the offensive glass.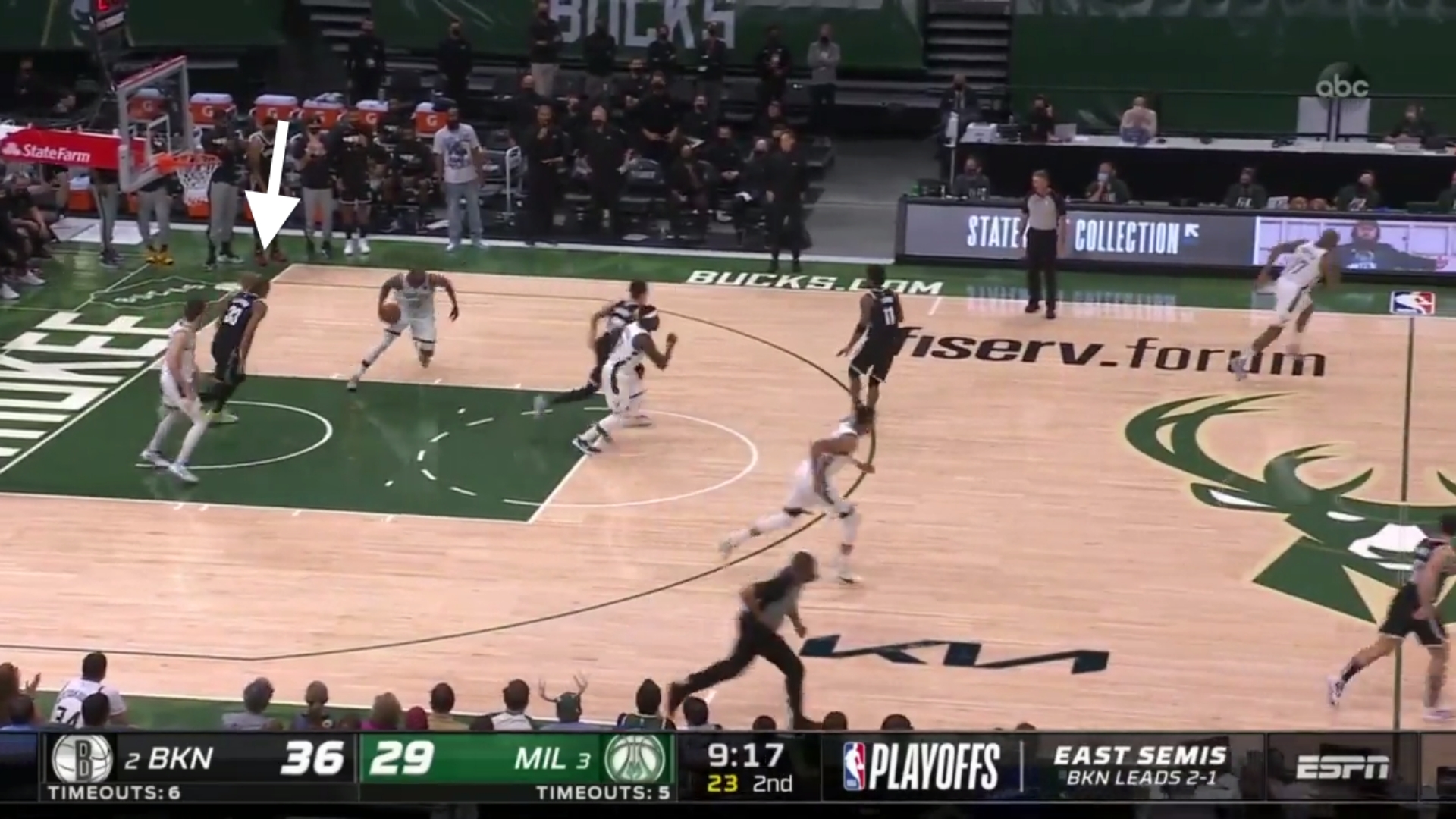 On two of the baskets Antetokounmpo scored in transition, Griffin, who has been the only player on the Nets who has been able to give Antetokounmpo some trouble physically in this series, was trailing the play.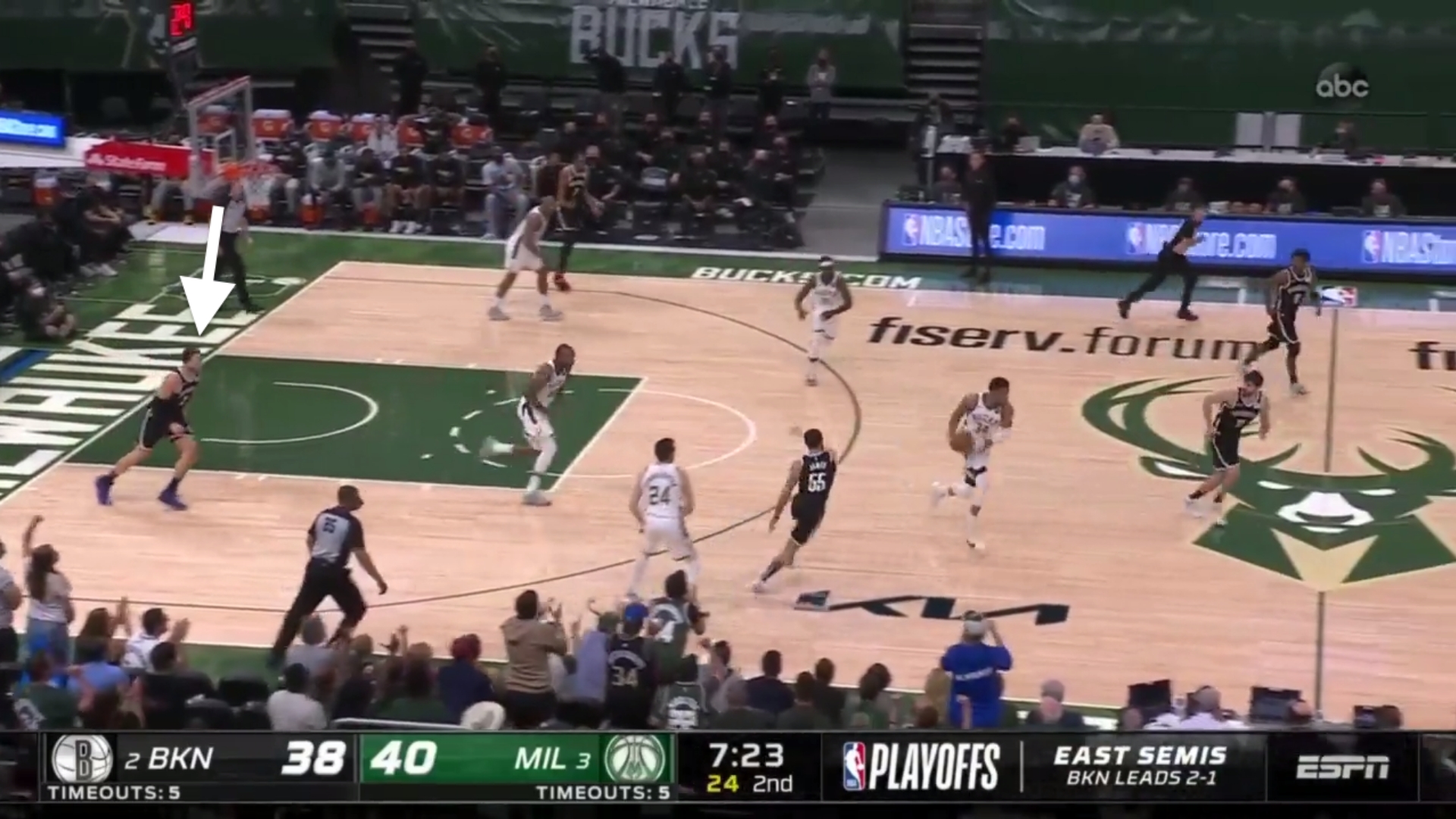 Based on how much help they showed in Game 4, it's clear how little confidence the Nets have in anyone not named Griffin or Claxton when it comes to defending Antetokounmpo.
Ultimately, going small with Antetokounmpo at center might not be something Budenholzer is comfortable doing for long stretches at a time. It might also not be something he's comfortable going to against every team in the league. (Miami had a lot of trouble with Milwaukee's size in the first round). But Game 4 was proof of how devastating it can be when used at the right time.
And with the amount of success the Bucks had with it, it might be time to lean on it some more, both this series and beyond should they advance.
The views on this page do not necessarily reflect the views of the NBA or its clubs.