Welcome to "One Play!" Throughout the 2019-20 NBA season, our NBA.com Staff will break down certain possessions from certain games and peel back the curtains to reveal its bigger meaning.
Today, Toronto Raptors forward OG Anunoby takes the spotlight.
Context: Wow.
Down by two points with 0.5 seconds remaining, Anunoby came up big for the Raptors with a last-second 3-pointer over Boston Celtics forward Jaylen Brown to win Game 3. Anunoby's shot prevented the Raptors from going down 3-0 to the Celtics, a hole no team has ever climbed out of in NBA history.
Impressive as Anunoby's shot was, it came off of an equally impressive pass from Kyle Lowry, as well as a well-designed play from Raptors head coach Nick Nurse.
Let's take a closer look at it.
The play: Anunoby nails a last-second 3-pointer.
Breakdown: The five Raptors on the court are Lowry, Anunoby, Fred VanVleet, Pascal Siakam and Marc Gasol.
Lowry is in charge of inbounding the ball while VanVleet, Anunoby, Siakam and Gasol align themselves like so: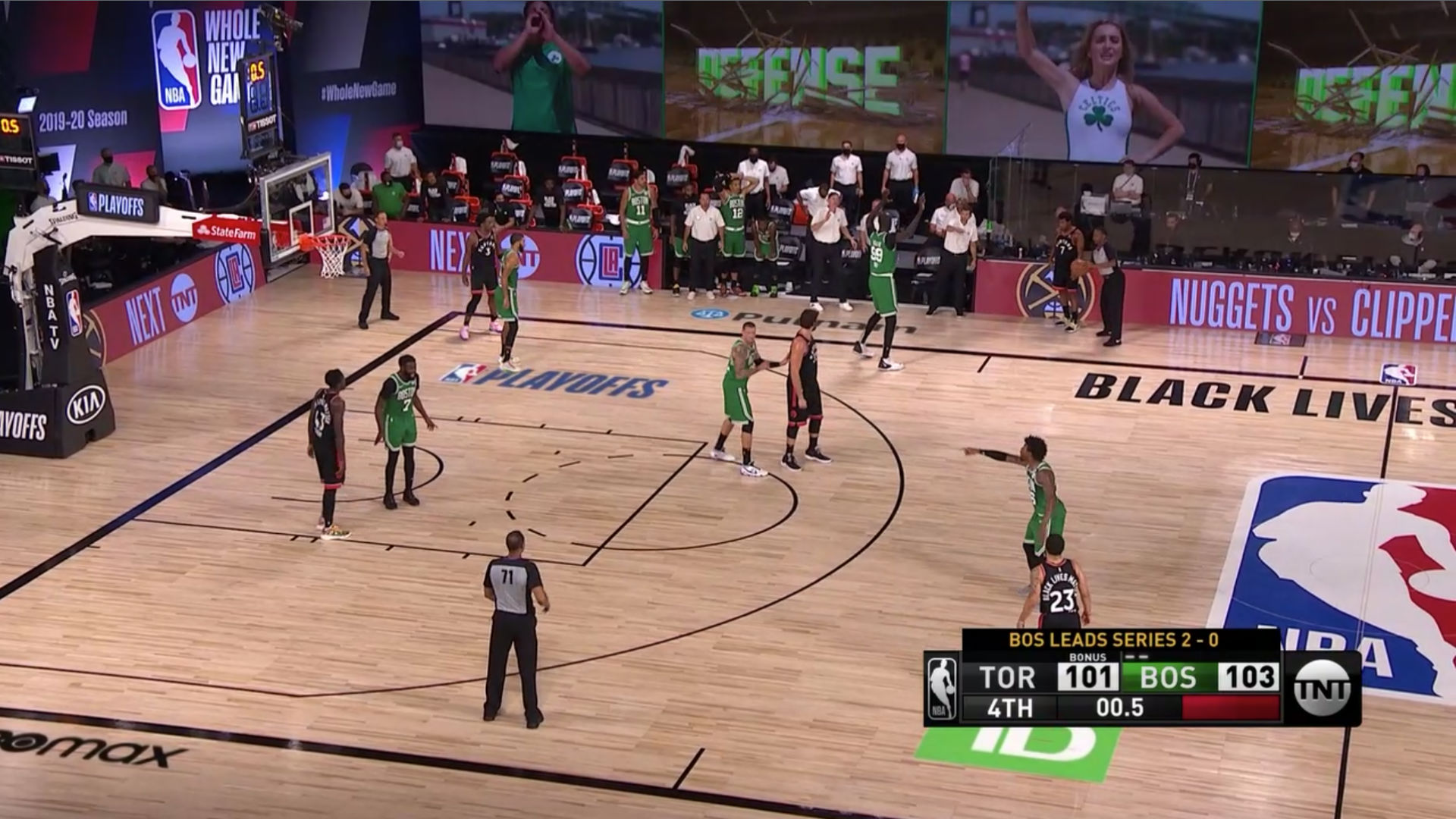 One thing that should jump out is who is on the court for Boston. While they have four of their five starters out there in Brown, Marcus Smart, Jayson Tatum and Daniel Theis, Celtics head coach Brad Stevens decided to bench Kemba Walker for Tacko Fall for the final possession.
Why? Fall is the tallest player currently in the NBA at 7-foot-5 and is listed as having a 10-foot-2 standing reach.
It's quite a luxury having someone that big defend the ball on an inbound, especially when the person inbounding the ball is ... 6-feet.
Kyle Lowry saw and threw the series-saving, game-winning dime over this pic.twitter.com/bK8w6Aw1LB

- Rob Perez (@WorldWideWob) September 4, 2020
Here's where it gets interesting.
Anunoby cuts from the right corner to the left corner, Gasol moves towards VanVleet at the top of the perimeter and Siakam stays put underneath the basket.
It's pretty clear what Boston's game plan was based on how they defend each of those actions.
While he started the possession on Anunoby, Tatum doesn't follow him when he cuts.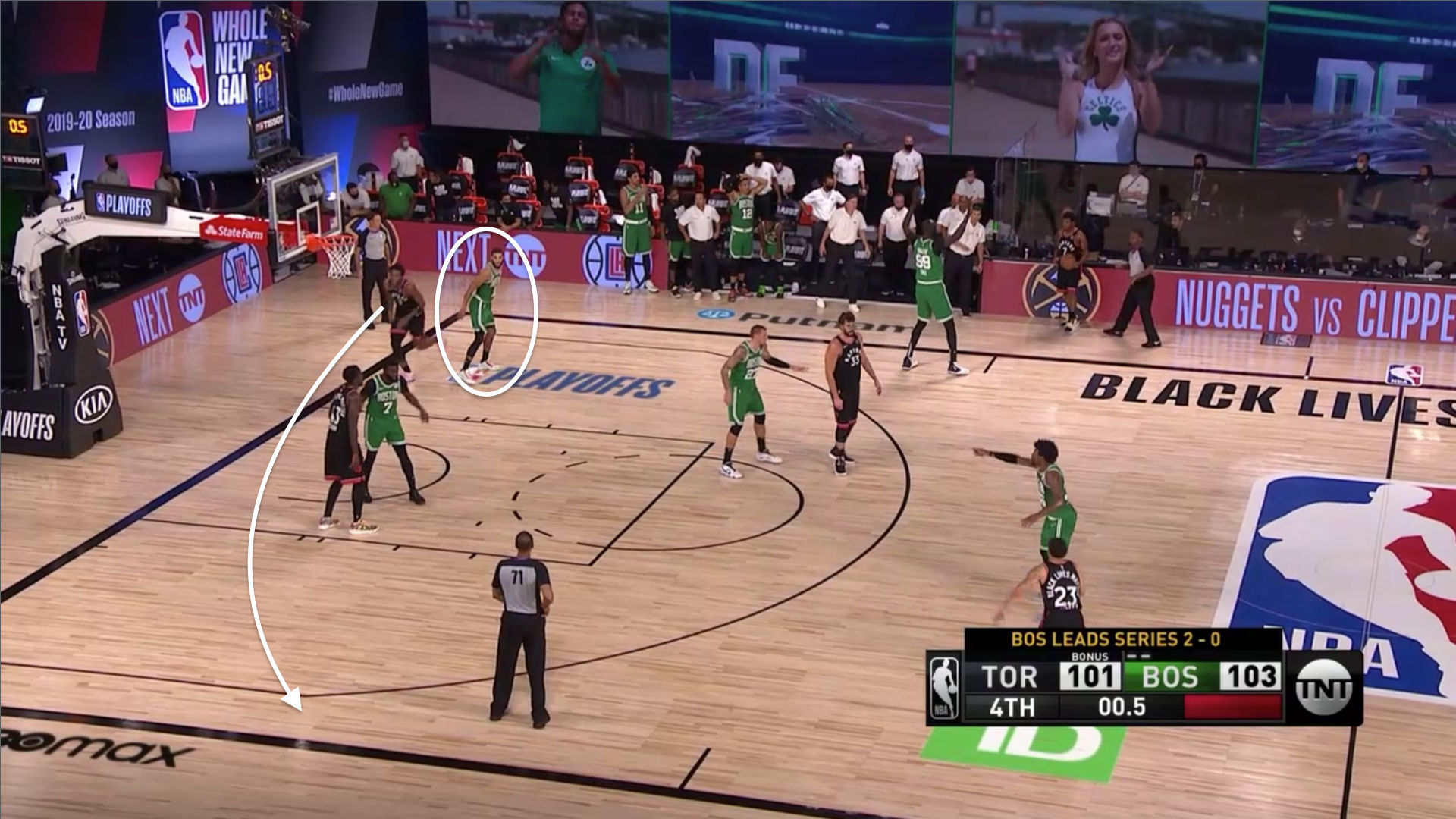 Smart, meanwhile, passes VanVleet onto Theis and switches onto Gasol.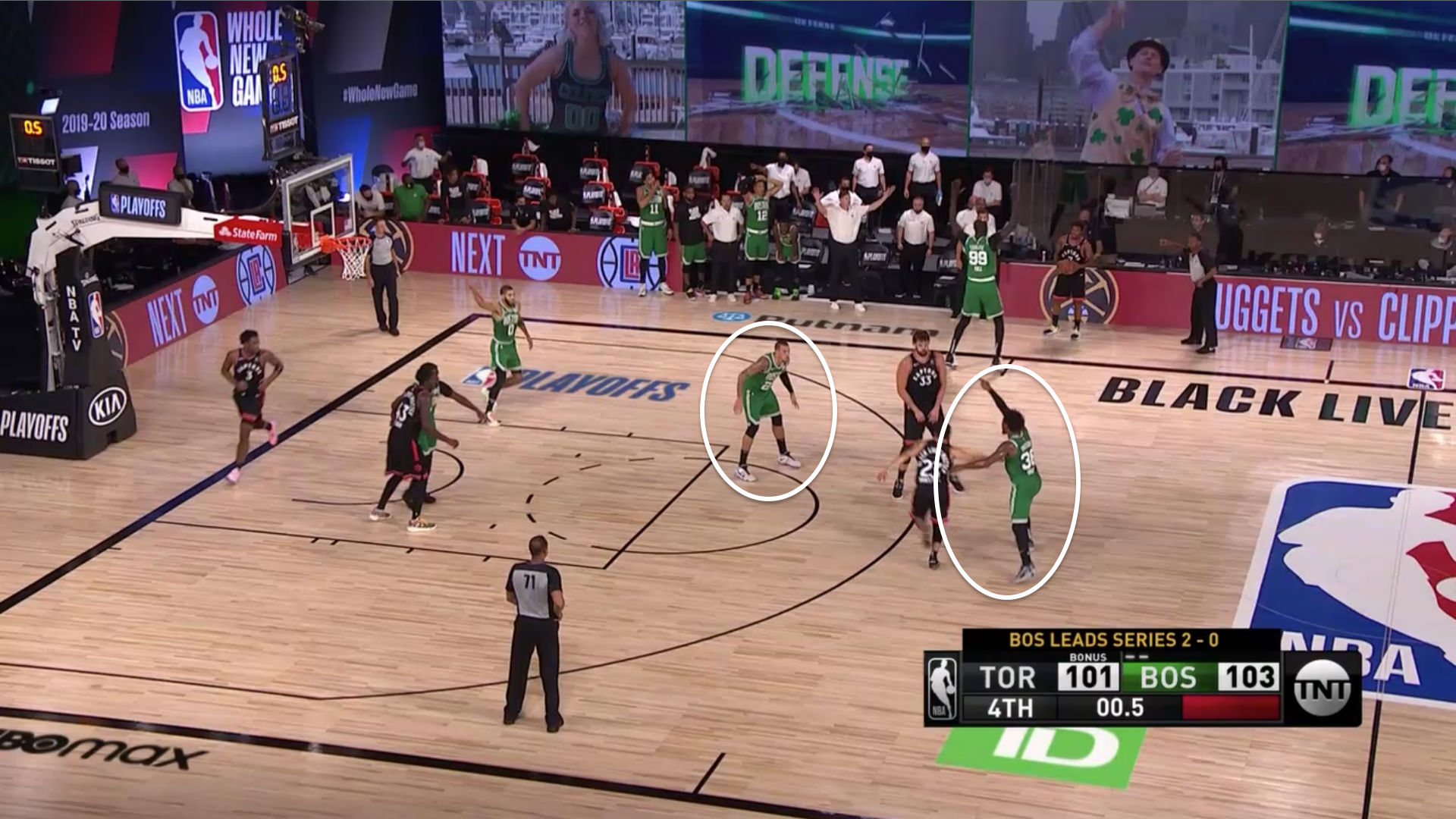 That puts Smart in a better position to pass Gasol onto Brown when Gasol sets a down screen on Siakam.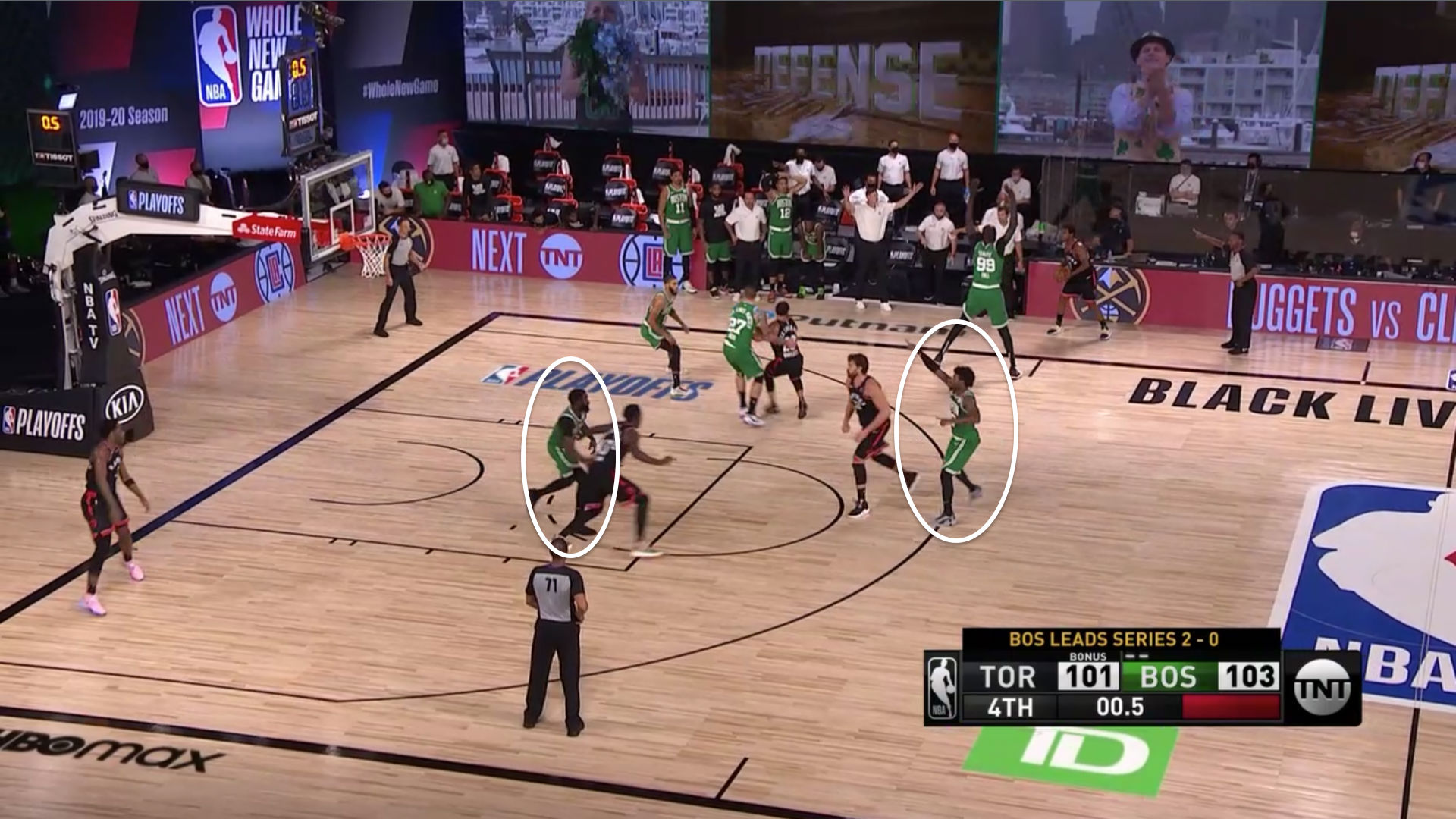 After the game, Lowry said that the play was originally designed for VanVleet or Siakam. The Celtics were probably expecting that, so switching everything left them less vulnerable to one of VanVleet or Siakam getting open off of a screen.
The problem, of course, is that there was some miscommunication at the start of the play. Tatum pointed towards Anunoby as he was clearing out, but nobody actually switched onto him, leading to Anunoby being an afterthought.
Even with Fall reaching as high as possible, Lowry launches a pass over him to Anunoby all alone in the corner.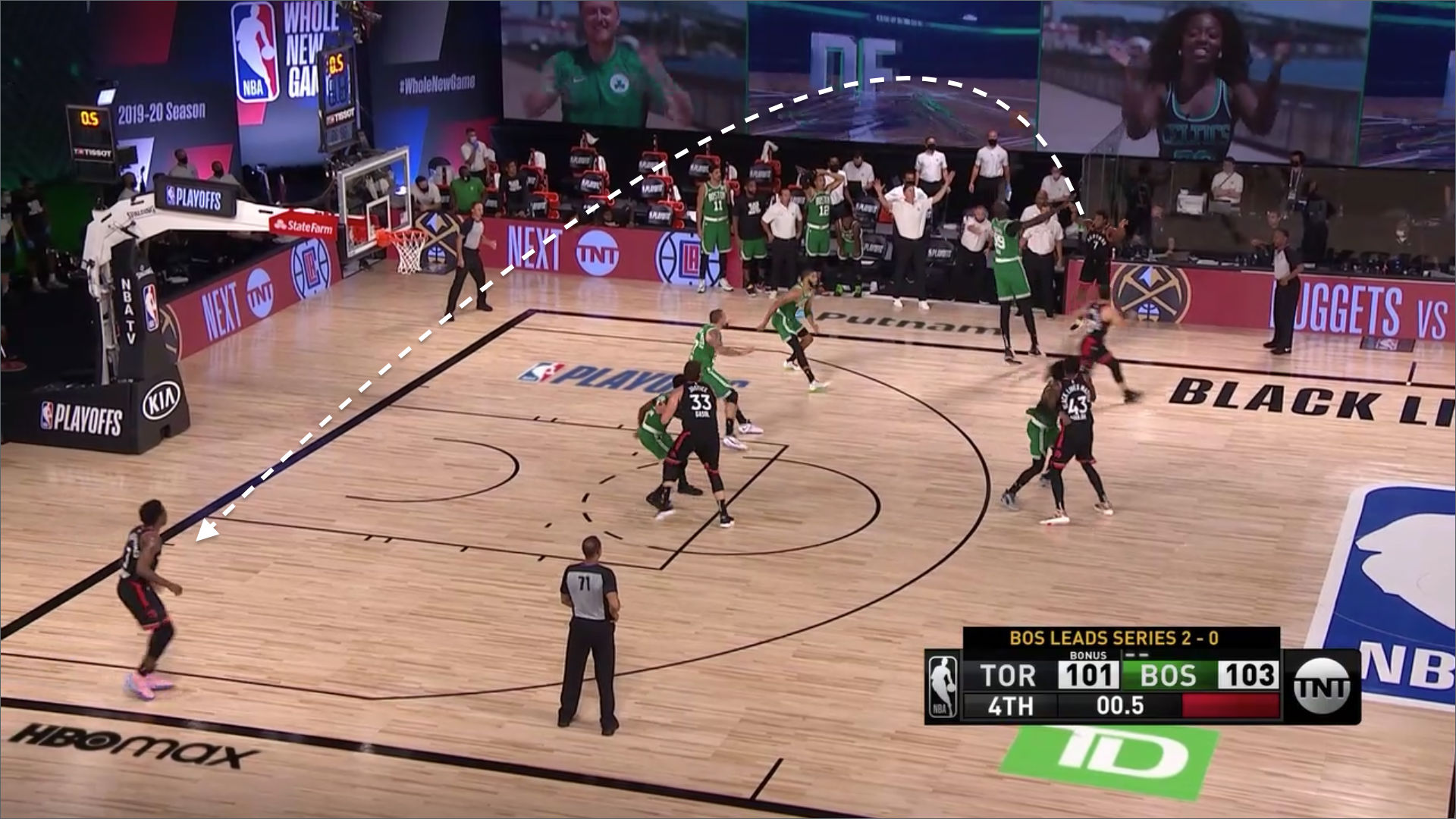 Something that helped Lowry? The way the court is set up in the bubble, it allowed him to stand a couple of feet further back than he would've been able to on a normal NBA court, as pointed out by X's and O's extraordinaire Gibson Pyper of Half Court Hoops, giving him a little more room to make the pass.
Brown leaves Gasol to contest Anunoby's shot, but he's a step slow, thanks in part to a sneaky screen set by Gasol that delays his closeout.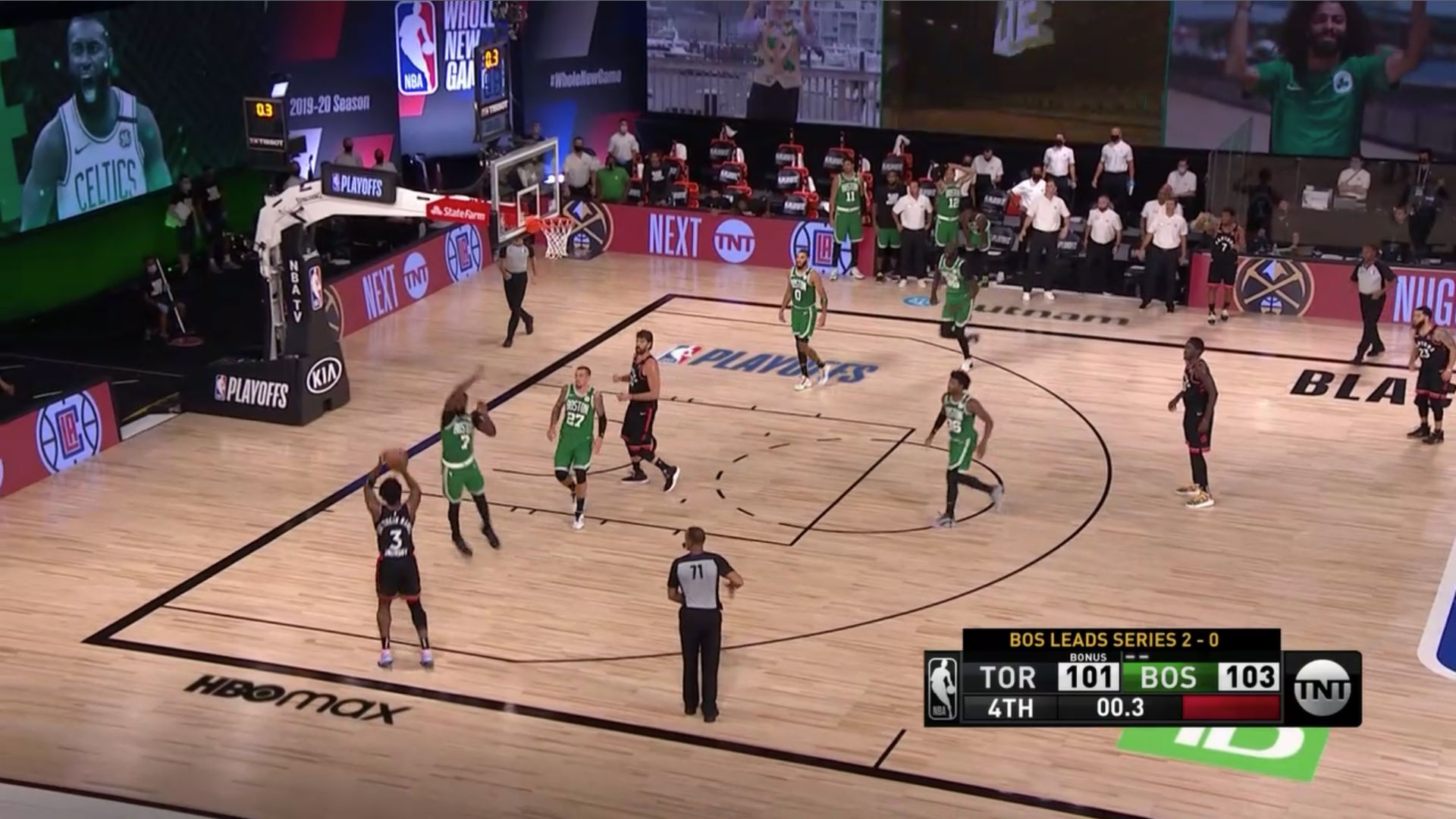 Why it matters: There's a lot going on here.
First of all, what a pass from Lowry. He downplayed it afterwards, calling it "nothing," but to launch a crosscourt pass over someone as big as Fall and for it to land perfectly in Anunoby's hands with little-to-no time remaining on the clock ... incredible.
Secondly, what a play from Nurse. The Celtics shut down the first and second options, and yet the Raptors still got as open of a shot as you could ever expect in those circumstances out of it.
Thirdly, do you think the Celtics wish they could have this one back?
According to The Athletic's Jared Weiss, Tatum said after the game that Smart was looking to pass VanVleet off to him, which is why he didn't follow Anunoby to the other side of the court on his cut. Tatum also said that he did pass Anunoby off to someone else, but the message wasn't received well enough.
This is what they were trying to avoid:
In case you are wondering, that exact play burned the Celtics in the regular season, with FVV being open on the strongside against Boston's zone defense. Tonight it was the weakside: pic.twitter.com/cXFtzITK0E

- Half Court Hoops (@HalfCourtHoops) September 4, 2020
The issue was that it would've been difficult for Brown to switch onto Anunoby without leaving Siakam and Gasol alone around the basket. Ideally, Theis would've switched back onto Gasol once Tatum switched onto VanVleet as it would have freed up Brown to switch onto Anunoby - did you get all of that? - but that's easy for me to say after I've watched the play close to a hundred times at this point, whereas the three of them were making split-second decisions.
Lastly, but certainly not least, we have ourselves a series.
The Raptors still face an uphill battle when it comes to advancing to the next round, but winning Game 3 leaves the door open. We all remember what happened last season when the Raptors were down 2-0 to the Milwaukee Bucks in last season's Eastern Conference Finals.
The Raptors can only hope Anunoby's game-winner will spark a similar comeback.
The views on this page do not necessarily reflect the views of the NBA or its clubs.