Welcome to "One Play," our series where we break down certain possessions from certain games and peel back the curtains to reveal its bigger meaning.
Today, Seattle Storm superstar Breanna Stewart takes the spotlight.
Context: Did anyone have themselves a better 2020 campaign than Breanna Stewart?
In 20 regular-season games with the Storm, Stewart averaged 19.7 points to go along with 8.3 rebounds, 3.6 assists, 1.7 steals and 1.3 blocks. She then bumped those numbers up to 25.7 points, 7.8 rebounds, 4.0 assists, 1.7 steals and 1.7 blocks per game in the playoffs, helping lead the Storm to their fourth title along the way.
It's even more impressive considering it was Stewart's first season back since tearing her Achilles. In her highly-anticipated return, it didn't take her long to remind everyone why she's a two-time All-Star, two-time champion, two-time Finals MVP and one-time MVP.
With that in mind, let's take a closer look at what makes Stewart such a handful for defences.
The play:
Breakdown: Sue Bird brings the ball up the right side of the court following a pair of free throws from Arike Ogunbowale.
Not long after she crosses halfcourt, Bird passes the ball to Natasha Howard at the top of the 3-point line. She then makes her way towards Stewart, who is camping out in the right corner.
The plan? Set a downscreen for Stewart.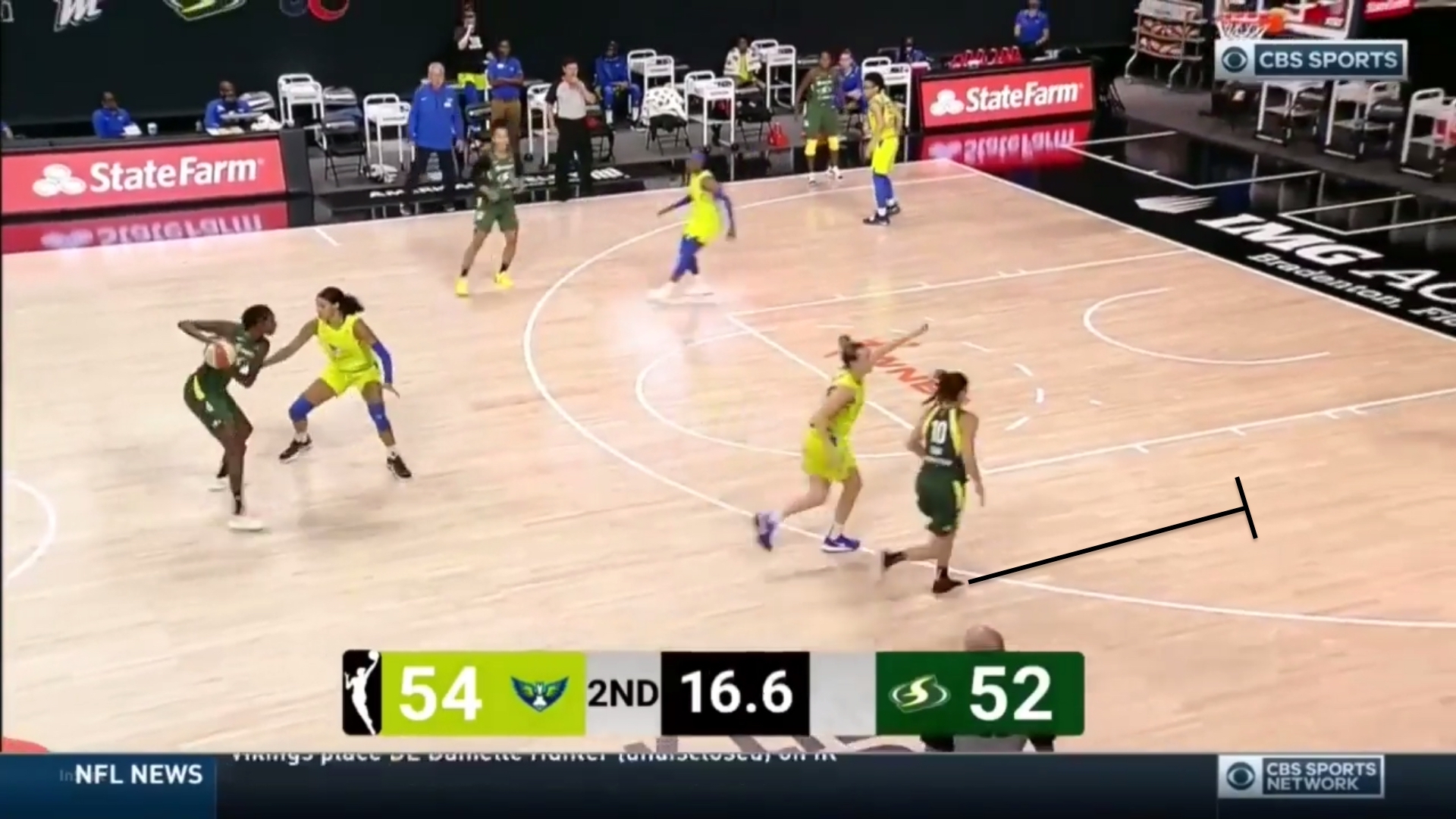 Thinking she knows what's coming next, Stewart's defender, Katie Lou Samuelson, jumps out to better position herself to get around Bird's screen.
The problem is Stewart doesn't actually use Bird's screen. She cuts backdoor instead, using Samuelson's overeagerness against her.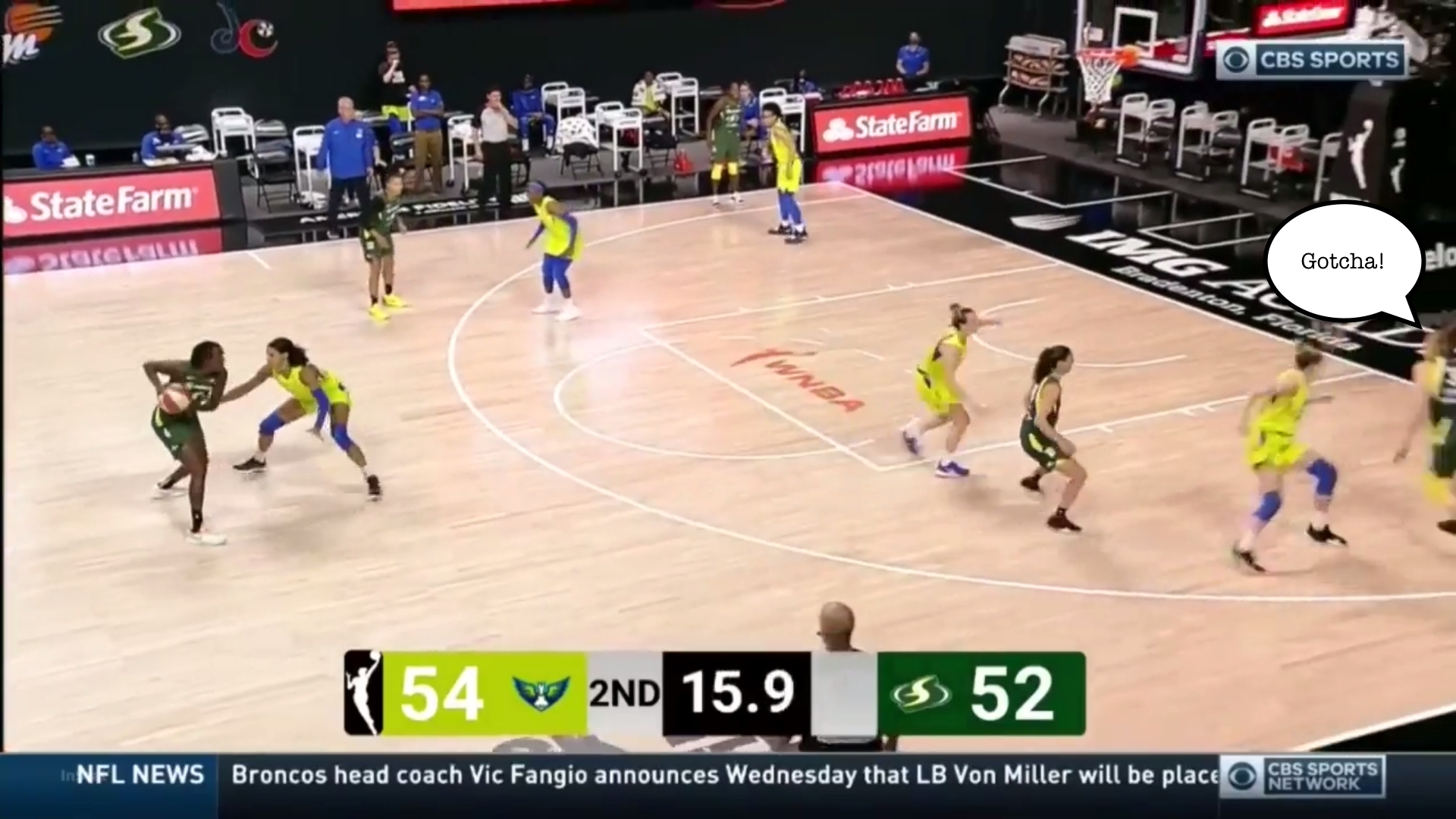 Wings point guard Marina Mabrey leaves Bird for a split-second to prevent Stewart from getting a wide-open layup and to buy Samuelson the time she needs to recover. (Standing at 5-foot-11, Mabrey switching onto Stewart almost certainly wouldn't have ended well for the Wings).
While that's going on, Bird pops out to the 3-point line and receives the ball back from Howard.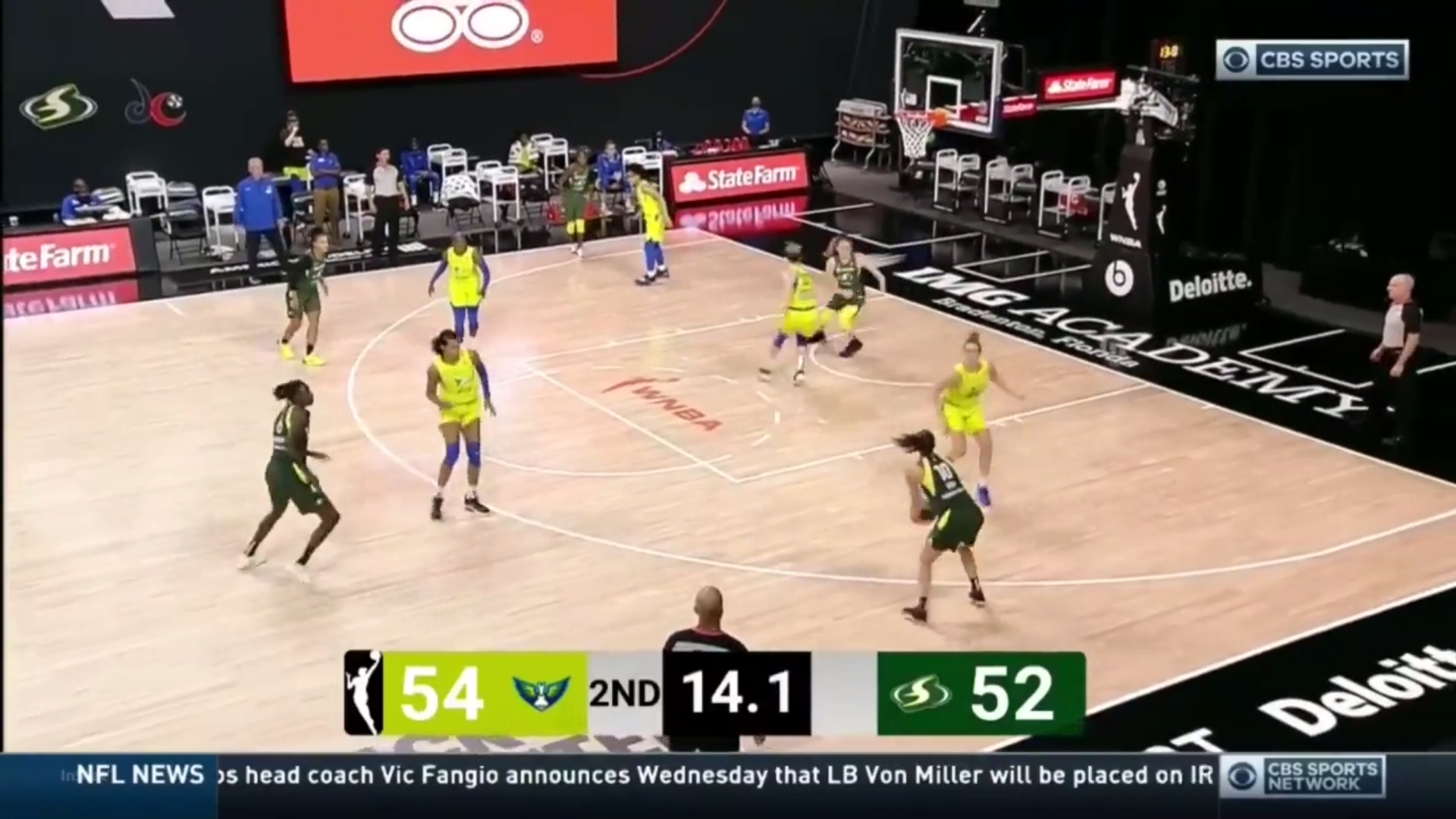 Stewart makes herself a target underneath the basket by pinning Samuelson to her back, leading to a simple bounce pass and an and-one.
Why it matters: A couple of reasons.
One, Stewart is a handful when she gets the ball on the low block. According to InStat, she generated over a fifth (21.1 percent) of her offence with her back to the basket last season while scoring at a rate of 0.96 points per possession. The only players who made more shots than her (26) out of the post on the season were A'Ja Wilson (56) and Teaira McCowan (28).
Standing at 6-foot-4 with a ridiculous 7-foot-1 wingspan, Stewart has a height and/or length advantage over most players she's matched up with.
Not only does she have the size to play bully ball...
...she has the footwork and touch to pull off Dirk-ian fadeaways.
Two, Stewart blends that power with an incredible amount of guard-like skills.
The reason Samuelson reacted the way she did to Bird's looming screen is that Stewart is dynamite scoring off of screens. The stats: Stewart generated 11.4 percent of her offence off of screens last season while scoring at a rate of 1.03 points per possession. She was among the league leaders in shots made off of screens once again, trailing a group of eight players that included Diana Taurasi and Jewell Lloyd.
A career 37.5 percent 3-point shooter, Stewart has range that expands out to the perimeter.
Her 7-foot-1 wingspan, meanwhile, helps her get her shot off over defenders from midrange.
She's also comfortable putting the ball on the deck, giving her the ability to blow by defenders when they close out on her.
That combination - the silky smooth post moves and the feathery jump shot - serves as the foundation of arguably the WNBA's most dynamic scorer, a walking bucket who is too big and strong for most guards and too quick and nimble for most bigs. It's already helped her earn two All-Star selections, one MVP award, two championships and two Finals MVP awards in her career. And considering she's only 26-years-old, there's reason to believe that the best is still yet to come.
That's a scary thought for the rest of the WNBA.
The views on this page do not necessarily reflect the views of the WNBA or its clubs.