After missing 10 games with a left calf strain, OG Anunoby made his highly-anticipated return to the Toronto Raptors lineup on Tuesday, Feb. 16 when they visited the Milwaukee Bucks.
He didn't disappoint.
In an impressive 11-point win over Milwaukee, Anunoby provided exactly what Toronto had been missing for nearly three weeks and more, finishing the night with 13 points (on 5-for-9 shooting), seven rebounds, one assist, one block and one steal in just under 27 minutes of action. As per the usual with OG, his impact was felt in ways that the traditional numbers might not show.
Let's start on the defensive end.
Statistically speaking, Anunoby's play shows up in the final box score in the form of a picked-off pass for a steal in the first quarter and an impressive late-game block on Giannis Antetokounmpo that only a handful of NBA players are capable of making, but that only partly tells the story.
Dig deeper and you'll see that OG guarded Giannis for nearly five minutes of game time - more than any other Raptor defender - holding him to nine points on 2-for-6 (33.3% shooting) from the field. Anunoby spent the next-highest amount of time matched up with Khris Middleton, who failed to score in those 3.66 partial possessions.
The significance? OG's versatility on the defence allowed him to disrupt actions that involved Milwaukee's two All-Stars as three of his fourth-quarter switches from Antetokounmpo onto Middleton resulted in a missed hook shot…
A travelling violation committed by Middleton…
And a broken play that resulted in a bad shot…
Anunoby's open-floor dunk was essentially the game-sealer and the final of the five made field goals in his return. It was probably the easiest, too.
In addition to two catch-and-shoot 3-pointers, OG made a few plays in the halfcourt that are a reminder of his ever-developing offensive game.
Upon receiving a post entry from DeAndre' Bembry early in the fourth quarter, Anunoby got a feel for the way in which he was being defended by Pat Connaughton and displayed his growth as a post scorer with a turnaround jumper over a tough contest.
OG with the fade 👀 pic.twitter.com/X7uMY4ZPcH

- Toronto Raptors (@Raptors) February 17, 2021
A little over a minute later, Anunoby made an impressive play as the ballhandler in a pick-and-roll situation, spinning through the lane off of Bobby Portis to complete an acrobatic reverse finish through contact for an and-one.
OG, oh my! 😳 #WeTheNorth | @Raptors pic.twitter.com/yKfipYkdKR

- NBA Canada (@NBACanada) February 17, 2021
"He's looking like me out there," Fred VanVleet joked when asked about Anunoby's fourth-quarter finish during his walk-off interview.
"I was so happy for him just - obviously thrilled to have OG back and he's been working on his game consistently and you saw that tonight," VanVleet continued. "He had a nice turnaround and a play off the ball screen, spin, inside finish - OG's been working and you saw it tonight."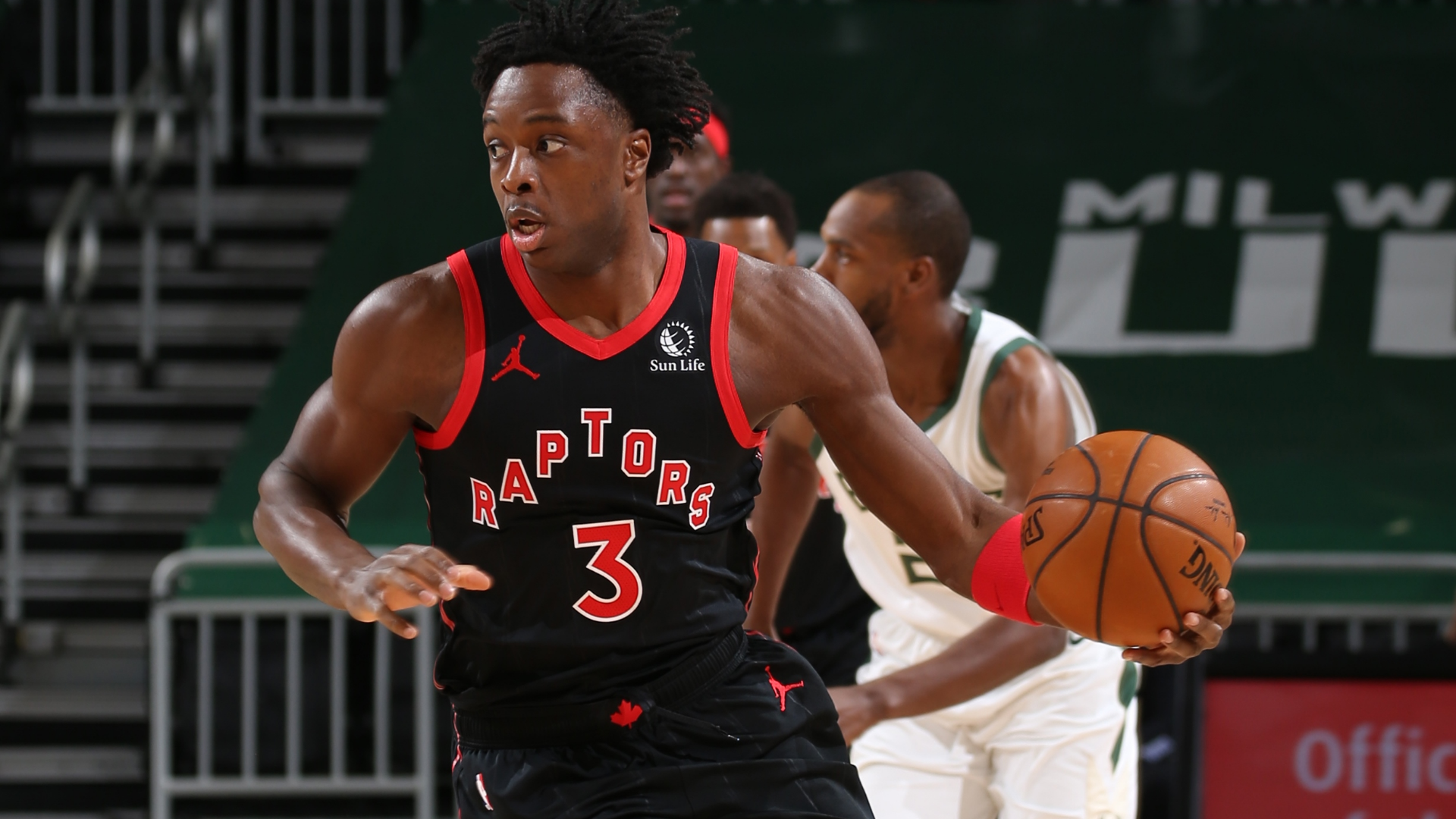 Anunoby, of course, came with a more technical description of what happened on his reverse finish, saying that, "You read the defence. So, I knew once he turned his hips that I could spin and then, once he fouled me, I just tried to get a shot off. But we all work on that kind of stuff."
As simple as it may seem, working on that kind of stuff is paying dividends for Anunoby, who won't turn 24 until July.
Anunoby's ability to be disruptive on the defensive end was never a secret. That he was able to return to action after missing 10 games from a lower-body injury and make life difficult for two All-Stars speaks to just how special OG is on that end of the floor.
As the season progresses and his conditioning improves, Anunoby will become even more impactful on the defensive end, which should allow this Raptors team to reach its full defensive potential.
Toronto is having an uncharacteristically poor season on the defensive end - the team's defensive rating (111.4) ranks in the league's bottom half (17th) for the first time since the 2012-13 season - but the team posts a defensive rating of 106.7 (which would rank second in the league) when Anunoby is on the floor this season.
No surprise there.
The upward trajectory on the offensive end is what should have the Raptors over the moon with excitement as Anunoby has displayed steady improvement in various areas. OG's fourth-quarter plays are even more impressive when you consider that the shot over Connaughton was his first made turnaround jumper of the year and he displayed poise in the pick-and-roll despite being the ballhandler in fewer than 10 pick-and-roll situations up to this point of the season.
Look no further than Anunoby's development as a catch-and-shoot 3-point threat to understand the ways in which he makes the most of his room to develop and grow.
Anunoby's catch-and-shoot growth

| | | | |
| --- | --- | --- | --- |
| | 3PM | 3PA | 3P% |
| 2018-19 | 0.9 | 2.7 | 34.4 |
| 2019-20 | 1.1 | 2.9 | 38.2 |
| 2020-21 | 2.3 | 5.3 | 44.2 |
Since he's already shown the ability to make tangible improvements on the offensive end as a shooter, why would it stop there?
The improvements may not be as drastic, but if Anunoby continues to capitalize on his ability to develop as a ballhandler, creator and post scorer, he becomes a scary, scary offensive threat for the Raptors.
Based on what we've seen in the past, it's only a matter of time.
The views on this page do not necessarily reflect the views of the NBA or its clubs.