I learned a long time ago to never say "never," but will we ever see another league MVP like Nikola Jokic?
My gut says it's highly unlikely.
More than just the first-ever second-round pick to win the award, Jokic has taken quite the path towards NBA superstardom and, ultimately, a groundbreaking MVP win.
It all began in Sombor, Serbia…
The Beginning
Born in February of 1995, Jokic grew up playing basketball with his older brothers, one of whom would go on to play collegiately in the United States at Detroit Mercy.
At 17, Jokic signed on to play professionally with KK Mega Basket in Belgrade, Serbia, where it would take some time for him to figure things out. To say that Jokic came out of nowhere would be a bit hyperbolic, as he began to blossom in his second season with Mega Basket, so much so that he earned an invite to the 2014 Nike Hoop Summit in Portland, OR.
For context, the Hoop Summit is an annual international all-star game that pits the United States Men's Junior Select Team against a World Select team of international players, some of whom are draft-eligible, while others are set to play collegiately in the United States.
Jokic was there, but he wasn't one of the marquee names…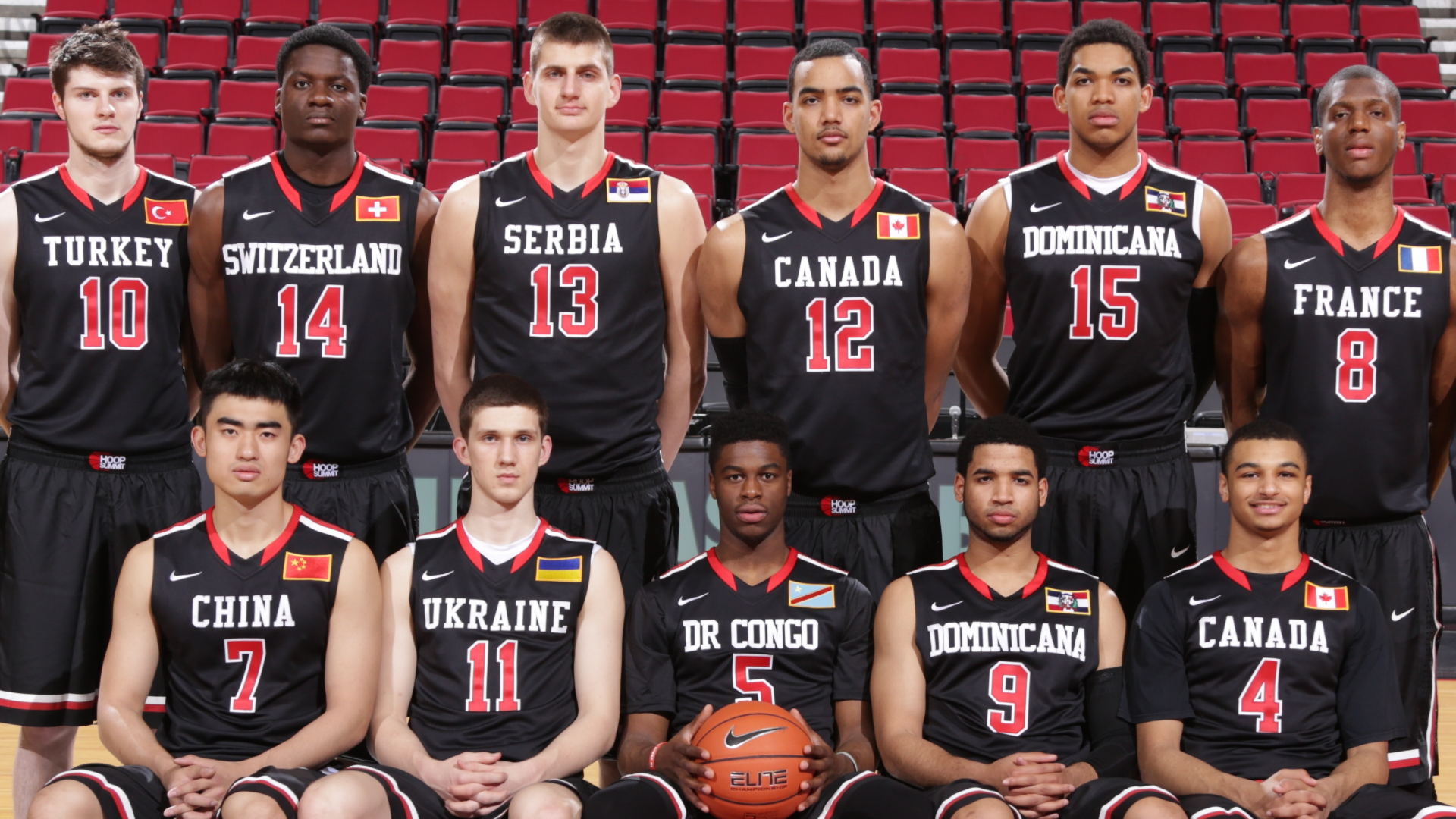 While the game itself takes precedent, players make the biggest impression at practice sessions, where plenty of NBA representatives are there to assess the talent. It was at practice that Jonathan Givony of Draft Express described Jokic as "19 years old going on 30" based on his footwork, touch and shooting ability.
Even the Hoop Summit's official account took time to recognize Jokic's ability.
Nikola Jokic of Serbia absolutely blowing the nets off out here during the scrimmage. Hasn't missed yet. #hsum2014

- Nike Hoop Summit (@nikehoopsummit) April 9, 2014
As the buzz grew, initial reports indicated that there was "no chance" Jokic entered the 2014 NBA Draft, but then Misko Raznatovic, his agent at the time, said otherwise.
Then the news of his declaration became official.
In the days leading up to the draft, Raznatovic announced Jokic would be withdrawing from the draft, a move that he described to The Athletic as a strategic ploy to ensure there was draft interest from the teams that might take exception to the decision.
It worked, and it was the Denver Nuggets who selected Jokic 41st overall in 2014, as a commercial aired during the draft broadcast, no less.
Denver will select Nikola Jokic with the 41st pick, league source tells Yahoo.

- Adrian Wojnarowski (@wojespn) June 27, 2014
With the 41st pick in the 2014 #NBADraft, the Denver Nuggets select Nikola Jokic. pic.twitter.com/fS0wxVq89P

- Denver Nuggets (@nuggets) June 27, 2014
The Transition
Like many European prospects, Jokic remained with his club team for one final year after being drafted by the Nuggets.
In his final year with Mega Basket, Jokic continued to grow into his own, racking up a number of accolades, including Adriatic League regular season MVP and the honour of being named the league's top prospect. He departed after averaging 18.4 points, 10.4 rebounds and 2.7 assists over 14 Serbian League games.
From there, it was onto Denver, where his tenure began with the NBA Summer League in Las Vegas.
Jokic is wearing the blue and gold at Summer League!

Know Nikola: http://t.co/10EmhKSCC1 #Nuggets pic.twitter.com/mnQ1lzqwZT

- Denver Nuggets (@nuggets) July 10, 2015
It was there that Jokic gave a glimpse into what could become in the future, impressing Fred Katz with "Vlade-like passes," while Adam Mares shared a pretty accurate assertion that he felt Jokic could develop into a "very good" player.
Nikola Jokic might be really legit. Has made a few Vlade-like passes, has an effective up-and-under, screens well. Becoming a fan quickly.

- Fred Katz (@FredKatz) July 18, 2015
There's a great chance I'm wrong about this but I think Nikola Jokic will be a very good player. I love his potential. Great skill set.

- Adam Mares (@Adam_Mares) July 28, 2015
Ahead of his rookie season in the NBA, Jokic reportedly shed 30 pounds (thanks in large part to cutting out Coca-Cola) and continued to impress the coaching staff with skills that had many raving about what he could become in a few years time.
It didn't take a few years.
On November 18, 2015, the Nuggets travelled to San Antonio to take on the Spurs in what was Jokic's 11th NBA game. In just under 32 minutes off the bench, Jokic finished with 23 points, 12 rebounds and three blocks.
Denver might have lost, but Jokic won as he shared a moment with Tim Duncan after the game.
Nikola Jokic on facing Tim Duncan: "I spoke with Tim Duncan and he gave me some tips. He's a good guy, I was enjoying the game."

- Paul Garcia (@PaulGarciaNBA) November 19, 2015
It was an arrival.
Jokic would go on to start 55 of the next 69 games in which he appeared that season, finishing his rookie campaign with averages of 10.0 points, 7.0 rebounds and 2.4 assists per game to earn All-Rookie First Team honours.
The Growth
Was Year 1 a flash in the pan or a sign of things to come?
Despite an All-Rookie campaign, Jokic had yet to earn the role of a full-time starter within the Nuggets' crowded frontcourt that featured another skilled big man in Jusuf Nurkic.
After starting in his first eight games of the season, Jokic would be relegated to a reserve role for the next 14, a period that he capped off with a 27-point, 11-rebound double-double in a loss to the Dallas Mavericks on December 12, 2016.
He's started in all but two games for Denver since that day.
Jokic secured his permanent starting role by notching six triple-doubles through the remainder of the 2016-17 regular season, the initial batch of what is now 62 triple-doubles for his career, including playoffs.
Nikola Jokic notches his first career triple-double for the @Nuggets with 20 points, 13 rebounds & 11 assists! #MileHighBasketball pic.twitter.com/LhVwzUKycm

- NBA (@NBA) February 4, 2017
While Nurkic was traded at the deadline, Jokic wrapped his sophomore campaign with averages of 16.7 points, 9.8 rebounds and 4.9 assists in 27.9 minutes per contest, while the Nuggets made a seven-win improvement from the year prior to finish the season with a 40-42 record.
Year 3 saw Jokic blossom even more, as he was placed in even more positions to flex his abilities as a playmaker, increasing his averages to 18.5 points, 10.7 rebounds and 6.1 assists per game, while Denver fell just one win shy of making the 2018 NBA Playoffs with a 46-36 record.
Denver was on the cusp of being a contender and its former second-round steal was on the cusp of stardom…
The Superstar
As Jokic continued to get more comfortable with the NBA game, he continued to show just how one-of-a-kind he is.
Nikola Jokic caps off his first half triple-double with 🚫👀 pass!#MileHighBasketball pic.twitter.com/PZa7ElpBpr

- NBA (@NBA) February 16, 2018
When Jokic was just 23, our NBA.com Staff debated whether or not he was already the best passing big man that the game had ever seen. It felt premature at the time - which is why I opted to go with Vlade Divac - but in retrospect, Kyle Irving and Scott Rafferty were onto something when they were willing to give him the crown.
That was just one sign of emergence for Jokic in the 2018-19 campaign.
Jokic established himself as a star with averages of 20.1 points, 10.8 rebounds and 7.3 assists over 80 games, earning an All-Star selection, All-NBA First Team nod and a fourth-place MVP finish after leading Denver to its first playoff appearance in six years with a 54-28 record.
He made his claim to be the best centre in the NBA.
If superstars are made in the postseason, Jokic became that, averaging 25.1 points, 13.0 rebounds and 8.4 assists during his first playoff run, which included a Game 7 win over the Spurs in the first round and a Game 7 loss to the Portland Trail Blazers in the Western Conference Semifinals.
From one win shy of the playoffs to one win shy of the Conference Finals, what would be next?
Year 6 saw Jokic lead the Nuggets to the West's No. 3 seed with averages of 19.9 points, 9.7 rebounds and 7.0 assists per game. With his performance came yet another All-Star selection as well as an All-NBA Second Team selection.
The personal accolades were great, but could Denver reach another level?
Alongside his running mate in Jamal Murray, Jokic and the Nuggets orchestrated one of the most impressive playoff runs in NBA history, coming back from 3-1 deficits in the first and second rounds to advance to the Western Conference Finals, where they would lose to the eventual champion Los Angeles Lakers.
They answered the call despite steep odds and generated a ton of excitement for what was to come.
The MVP
Jokic entered his sixth NBA season with the third-best odds to hoist the league's Most Valuable Player trophy behind two-time MVPs Giannis Antetokounmpo and Stephen Curry.
The fourth-place finish in 2019 was nice, but could Jokic perform at an even higher level for an entire season? How's 26.4 points, 10.8 rebounds and 8.3 assists while appearing in all 72 games for an answer?
Jokic's play propelled Denver to the West's third seed once again, making its title hopes look very real until a torn ACL suffered by Murray derailed some of those plans.
The fact that the Nuggets were able to remain competitive after Murray's injury - and thrive at times - speaks to how much Jokic elevates the game of those around him. From Michael Porter Jr., to the newly acquired Aaron Gordon and Austin Rivers, to cerebral 29-year-old rookie Facundo Campazzo, Jokic makes everyone around him better.
Nearly seven years to the date of his former agent testing the waters with a faux-Draft withdrawal, Jokic shared his MVP moment with his teammates and head coach Michael Malone, who sported a shirt bearing all of the knocks Jokic has heard over the years.
Michael Malone's shirt pic.twitter.com/xufBvxT4ah

- Harrison Wind (@HarrisonWind) June 9, 2021
Jokic's path to becoming MVP is shy of the glitz and the glamour, but it's a reminder that stories like his are often the best, anyway.
You can't write a better narrative, and we'll never see anything like it again. I feel confident in saying that.
The views on this page do not necessarily reflect the views of the NBA or its clubs.