Nikola Jokic is officially the 2020-21 Most Valuable Player of the Year, beating out Joel Embiid and Stephen Curry for the award.
Embiid and LeBron James started the season as front-runners for the award, but injuries to the two of them opened the door for Jokic to take over the top spot. And he took full advantage, putting together a season we've never seen before from a centre with averages of 26.4 points, 10.8 rebounds and 8.3 assists per game.
Jokic led the Denver Nuggets to the third-best record in the Western Conference and the fifth-best record in the NBA along the way, earning them a first-round matchup with the Portland Trail Blazers that was quite entertaining.
For more on Jokic's MVP season, let's take a closer look at five illuminating stats.
56.6: Jokic's field goal percentage
We're keeping things really simple here, but it's because there are a few things I want to touch on.
First, feast your eyes on this work of art: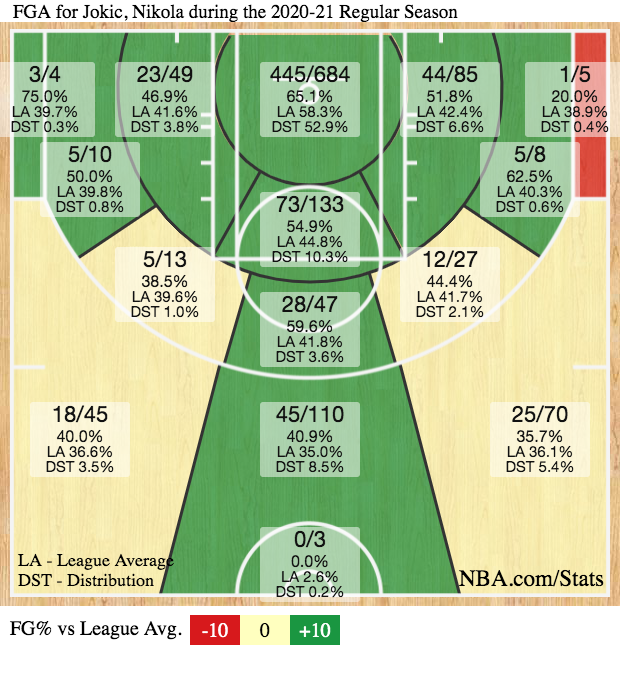 That's a lot of green.
Jokic has long been a dominant scorer with his back to the basket, but he levelled up as a shooter in a big way this season, going from being a big who can space the floor to being an absolute assassin from just about everywhere on the court.
One of the more underrated parts of Jokic's game is his silky smooth floater, which gives him something he can go to when defenders clog the restricted area.
He's also developed into an automatic shooter from midrange, going 121-for-235 (51.5 percent) from that distance this season.
For context, 78 players attempted at least 100 shots from midrange this season. Of those 78, only three - Chris Paul (51.6 percent), Bryn Forbes (51.9 percent) and Kyrie Irving (54.4 percent) - converted them at a higher clip than Jokic.
He'll shoot over defenders if they give him space when he sizes them up out of the post...
...he can pick-and-pop with the best of them...
...and the Nuggets will even run the occasional pindown for him.
Last but not least, Jokic's range extends out to the 3-point line, where he had a career year.
The volume hasn't changed much for Jokic over the last few seasons, but he's gone from shooting 31.0 percent from 3-point range in 2018-19 and 2019-20 to 38.8 percent this season. That's the difference between him ranking in the 30ish percentile for his position and the 80th percentile.
You don't want Jokic shooting 3s anymore.
The problem? He'll punish you for running him off the 3-point line as well.
Basically, Jokic has developed an answer to pretty much anything the defence can throw at him, making him one of the league's most complete scorers.
45: How many dunks Jokic had
A dunking machine!
OK, not quite, but Jokic did throw down more dunks this season than he ever has before.
According to Basketball-Reference, Jokic finished the regular season with 45 dunks in 72 games. His most prior to this season? 23 dunks in 73 games, set in 2016-17.
This is the springiest version of Jokic we've ever seen.
40.4: Jokic's assist percentage
If you're not familiar with assist percentage, it's "an estimate of the percentage of teammate field goals a player assisted while he was on the floor."
In other words, the 8.3 assists per game Jokic averaged this season accounted for roughly 40.4 percent of the field goals his teammates made when he was on the court, which is notable because it's the most a centre has ever posted in a single season by a rather large margin.
In second place on the all-time centre leaderboard is ... Jokic. In third place is ... Jokic. In fourth place is Tom Boerwinkle, followed in fifth place by - you guessed it - Jokic.
If you're wondering where the season Wilt Chamberlain averaged 8.6 assists per game - the most ever by a centre - is, it ranks 23rd all-time in assist percentage. How? There were a lot more possessions to go around back then. Teams averaged 100.8 field goal attempts per game in that 1967-68 season. This season, they averaged 88.4.
Highest assist percentage in single-season by a centre (Stathead)

| | | | |
| --- | --- | --- | --- |
| Rank | Player | Season | Assist Percentage |
| 1 | Nikola Jokic | 2020-21 | 40.4 |
| 2 | Nikola Jokic | 2018-19 | 37.0 |
| 3 | Nikola Jokic | 2019-20 | 35.2 |
| 4 | Tom Boerwinkle | 1974-75 | 33.8 |
| 5 | Nikola Jokic | 2017-18 | 29.6 |
| 6 | Nikola Jokic | 2016-17 | 28.8 |
| 7 | Vlade Divac | 2003-04 | 28.7 |
| 8 | Alvan Adams | 1975-76 | 27.2 |
| 9 | Bam Adebayo | 2020-21 | 26.9 |
| 10 | Joakim Noah | 2013-14 | 26.4 |
It's gotten to the point where we're doing Jokic a disservice by comparing him to other centres. He isn't just a good passer for his position. He's arguably the best passer in the league right now.
For what it's worth, Russell Westbrook (763) and Chris Paul (622) were the only players who dished out more total assists than Jokic (599) this season. That 40.4 assist percentage, meanwhile, ranked Jokic seventh behind Westbrook (48.6 percent), Trae Young (45.5 percent), James Harden (44.4 percent), Luka Doncic (44.1 percent), LeBron James (41.8 percent) and Paul (40.9 percent).
For more on what makes Jokic such a great passer, click here to learn about how his scoring unlocks his playmaking, click here to learn how the Nuggets weaponize his passing, click here to learn about how he outsmarts even the best defenders in the league and click here to learn how he manipulates defences in a way that would make LeBron proud.
And if you just want to nerd out over some of the best passes Jokic has made this season with me, click here.
95: How many steals Jokic recorded
While Jokic has never been known for his defence, he's improved tremendously on that end of the court, to the point where he's no longer a negative.
It starts with him being one of the league's better defensive rebounders, but perhaps his greatest asset is his hands, which he uses to pick off passes and poke away loose balls.
Jokic recorded a total of 95 steals this season, the eighth-most in the league. He also had 199 deflections, tying him with Fred VanVleet for fourth-most in the league.
With Jokic's passing chops, teams can't afford to turn the ball over against the Nuggets.
For more on Jokic's improved defence, NBA.com's Carlan Gay took a deeper dive that you can read by clicking here.
120.2: Denver's offensive rating with Jokic on the court
One, that's a preposterous mark.
Put it this way: Brooklyn had the most efficient offence recorded in the play-by-play era (since 1996-97) this season. Its offensive rating? 117.3.
That number would've almost certainly been even higher had Kevin Durant and James Harden not missed as much time as they did, but Jokic wheeling and dealing his way into an offensive rating of 120.2 is an incredible feat, especially when you consider Denver's condensed offseason and the number of injuries it dealt with.
Two, it's ... quite a bit better than what the Nuggets posted when Jokic was on the bench.
The Nuggets basically went from scoring at the best rate in the league to one of the worst when Jokic sat, posting an offensive rating of 103.4. That would've ranked them 29th in the league, between the Cleveland Cavaliers (104.6) and Oklahoma City Thunder (102.8).
The Nuggets were quite a bit stingier defensively in the minutes Jokic wasn't on the court, but they still outscored opponents by a margin of 7.7 points per 100 possessions with him in the lineup, giving him one of the better net ratings in the league.
The fact that Jokic appeared in all 72 games and played the third-most minutes makes those numbers even more impressive.
Like, MVP impressive.
The views on this page do not necessarily represent the views of the NBA or its clubs.