The NBA season is a month and a half away from resuming in Orlando Florida, but for Nick Nurse and the Toronto Raptors, there are more pressing issues at hand.
George Floyd's death once again put a spotlight on the social issues that plague the country and Nurse and his team aren't shying away from discussing the problems and how they can help.
"Well, I can say that there has been little, if any at all, talk about basketball," Nurse told reporters on a web call. "We must have had four team-wide calls with the team before we finally got to a quick 10-minute one yesterday about the possible restart - a "just giving you the heads up" here.
MORE: Masai Ujiri, Steve Nash and Kia Nurse speak out on racism, injustice and call for change
"We've really been entrenched in the issues and making sure everyone is okay, everyone is safe, listening to their ideas and thoughts, etc. I tend to think I'm fairly confident our guys are in decent shape. I tend to think we're going to have plenty of time to get to basketball. We have several weeks leading into this thing. I think we'll be okay. It helps that we have a good team and a veteran team. I don't really feel the need to talk about it that much."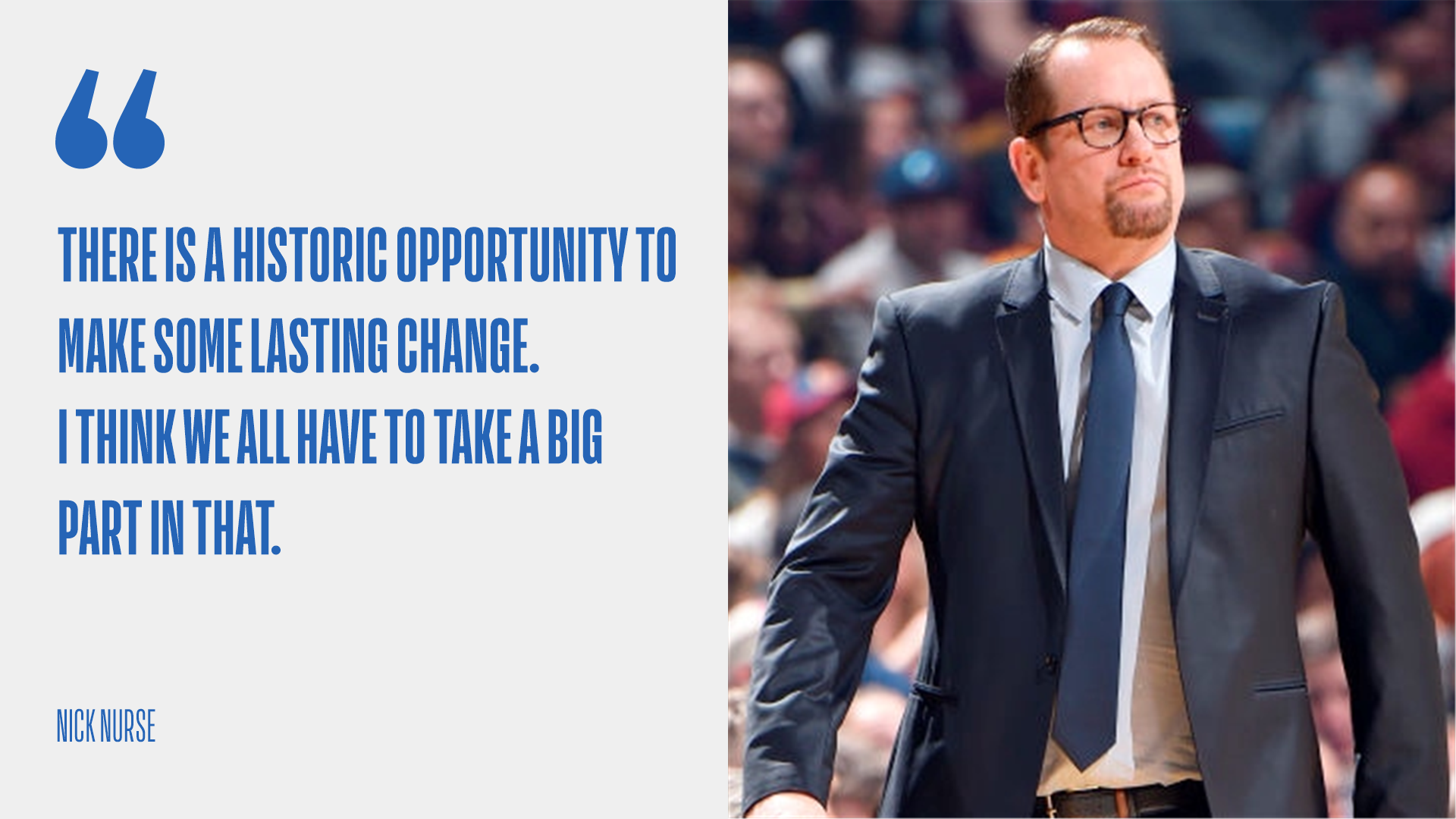 Nurse and the entire Raptors organization have used their platform to call for change. Last week, president Masai Ujiri penned a letter in the Globe and Mail. The team put out a statement after the league announced plans to resume play stating they'll continue to carry the conversation forward.
"A roadmap for our return to NBA basketball is welcome news for our team, our fans, and our community," the team said in a release. "As we plan to safely and effectively resume the game we love, we do so as an organization that is unwavering in our commitment to carrying through on the conversations we've had in the past week about racism, inequality, and justice.
"We recognize that sports has the ability to inspire, to unify, and to effect change. Those are our goals, both on and off the court."
Nurse, who's coached around the world and has had his lockerroom filled with predominantly black athletes, said the recent dialogue has helped him become more understanding of what his staff and players have been through in the past.
"I think if all of us haven't learned something here then we aren't paying attention," Nurse continued. "That's the first thing. For me, there were several personal examples that maybe guys hadn't shared with their teammates or even me.
"I guess as it hits closer to home these guys talk about being pulled over by police and how they were treated and lots of stories that for whatever reason we didn't talk about before. I think there's certainly been a deeper understanding, maybe a closeness, amongst our staff and players.
"I guess when you get to learn more about a person and what they've been through it always helps in your empathy towards what they've been through and what they're going through. You can always be there to listen again in the future."
Multiple Raptors players have used social media to continue the discussion and call for change. All-star guard Kyle Lowry took to the street of Philadelphia - his hometown - to be apart of protests demanding change.
The team released a video that featured players, coaches and front-office staff, ending with the chairman of Maple Leaf Sports and Enterternmaint Larry Tanenbaum promising to take action. It's just a start to what Nurse hopes is lasting change.
Lead by example.
Lead with love.
Lead with understanding.

Words by Michael Tyler pic.twitter.com/JSt6lSBVJe

- Toronto Raptors (@Raptors) June 6, 2020
"First of all, certainly sitting here as the head coach with a pretty big platform to use, as Masai and our leadership group and our players are, I think the big thing that you would say is that there has to be some action plans and there has to be some sustainable thought-conversation programs," Nurse said. "There has to be a number of things that need to get put in place and everybody has held their hand up and said, 'we need to do better'. We need to make this more of a focal point. We all need to take more of an important role in this.

"The 30 head coaches immediately got on a call, maybe 11 days ago, to form a sub-committee. You guys have probably read about that. Lloyd Pierce is heading it up, Pop is on it, Kerr, Quin Snyder, J.B. Bickerstaff. I think there are six or seven on it. Again, we've had several calls this week.

"And that's really our thought: you know, yeah, as important as the statements are, maybe wearing something or signifying attention to it, etc., we want to dig in there and start formulating some action now.
"I think as tragic as the recent events have been, it's been going on for a long time.
"There is a historic opportunity to make some lasting change. I think we all have to take a big part in that."