The Memphis Grizzlies are 7-2 since the calendar switched over to 2020 and while Rookie of the Year favourite Ja Morant deserves plenty of credit for how his team has been playing as of late, Canadian Dillon Brooks has been a key factor to why Memphis has their eyes set on the eighth seed in the Western Conference.
Brooks is playing the best basketball of his career in 2020, something he set as a goal prior to his next NBA contract.
"I just want to challenge myself to take it professionally and get better because the life expectancy in the NBA is only like three or four years," Brooks told NBA.com back in November. "I want to get to my next contract and solidify myself."
One can assume just like everyone else, Brooks made a couple of new years resolutions. Based on his play, one can also assume that one of them was to take more threes.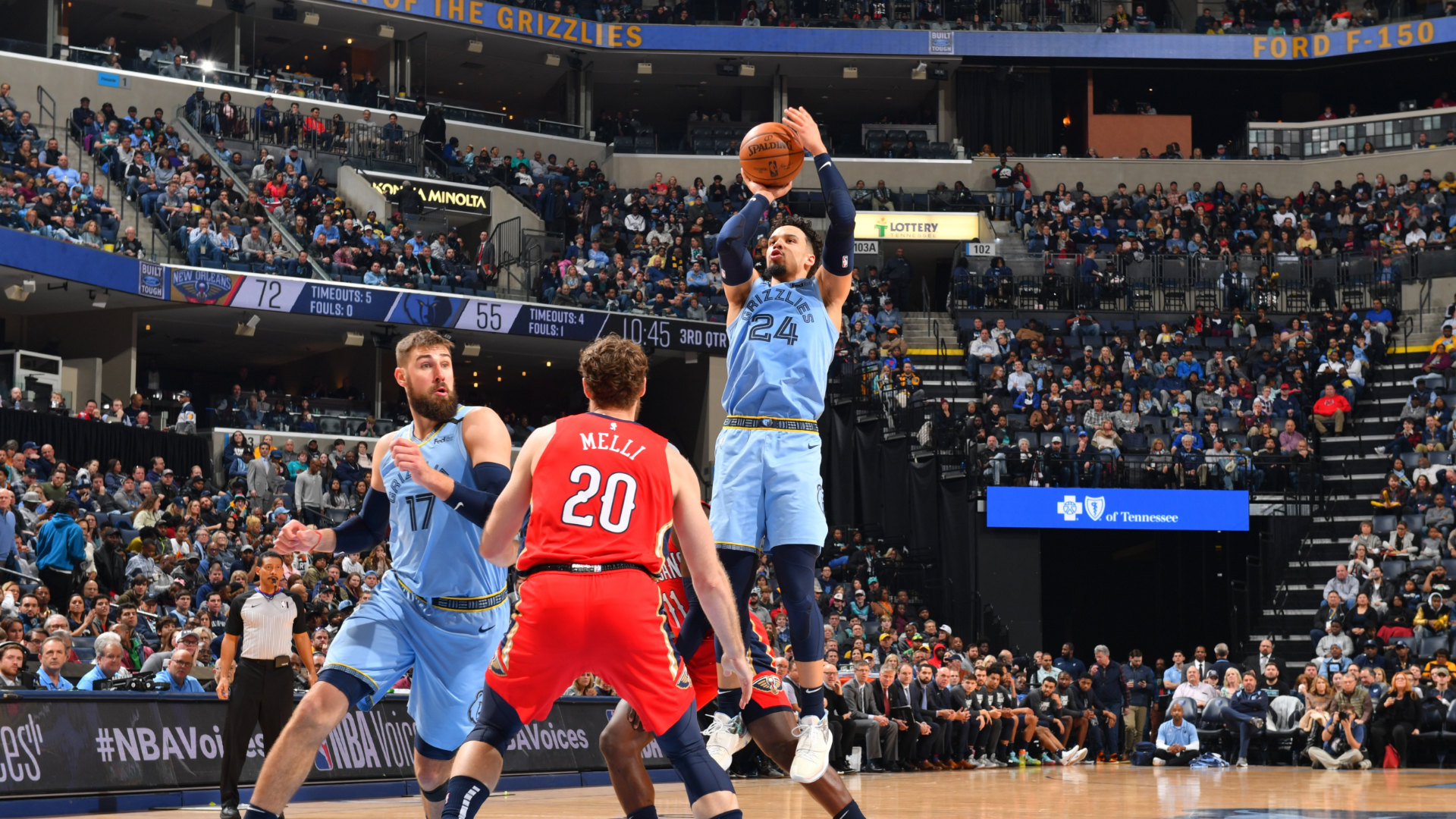 Way back in 2019, Brooks was averaging a career-high 4.8 three-point attempts per game. He was knocking them down at an efficient 36.6% - on par with his career average. Whether or not Brooks could make threes wasn't in question, he had proven that in his short time in the league. But with the increase in volume, he made sure to let opposing defences know they'll pay if he is left alone beyond the arc.
Like we said though, that was way back in 2019. The old decade, the old Brooks. In 2020, the new decade, there's a new Brooks - and he's shooting the lights out.
Brooks has upped his three-point attempts to 8.3 per game in the month of January and he's increased his efficiency to 45.3%. It's as if he's had a chance to hold Fred VanVleet Jr. too and we just haven't seen a picture pop up on the Gram yet.
Dillon Brooks is on fire...

| | | | | |
| --- | --- | --- | --- | --- |
| Date | 3PM | 3PA | 3FG% | PPG |
| Pre-January | 1.8 | 4.8 | 36.6% | 14.2 |
| January | 3.8 | 8.3 | 45.3% | 21.6 |
For greater context as to how hot Brooks has been from three-point range, he's currently third in the NBA this month (and decade, too) in three-pointers made.
There are enough Canadians in the league now where it's a fun argument in deciphering who the best Canadian in the league is. Brooks is rarely on the top of people's minds, but so far this month he's putting the nation on notice.
Brooks leads all Canadians in points per game (21.6) and only trails his teammate Brandon Clake in plus/minus in January amongst fellow Canucks.
"I always feel like I'm in that (conversation)," Brooks said of being one of the best Canadians in the league back in November.
"But I want to take on the challenge of being one of the best on this team - one of the best or a household name in the NBA and then that will come... being a top Canadian player."
Brooks will cool off from three-point range, it's almost impossible to expect him to continue this type of shooting display. However, staying consistent with his stroke and continuing to feel comfortable taking the long-range jumper will only benefit the Grizzlies.
MORE: Can the Grizzlies hold on to the No. 8 seed in the West?
When Brooks makes five or more three-pointers, Memphis is undefeated this season. When Brooks scores 20 or more points, the Grizzlies are 13-1.
Let's face it, the Grizzlies will go as far as Morant can take them - he's the focal point of the team. But a healthy dose of Dillon Brooks makes the Grizzlies far more competitive than most thought they'd be heading into the season.
The views on this page do not necessarily represent the views of the NBA or its clubs.