Nickeil Alexander-Walker played in his first NBA game on Tuesday. That alone would've been overwhelming for any rookie who finally made it to the big time.
But Alexander-Walker had the unique experience of playing in the league's first game of the season - in front of a national audience. He had the chance of playing at home in Toronto against the team he grew up watching. The chance to watch that same team - one he was rooted for - accept their championship rings.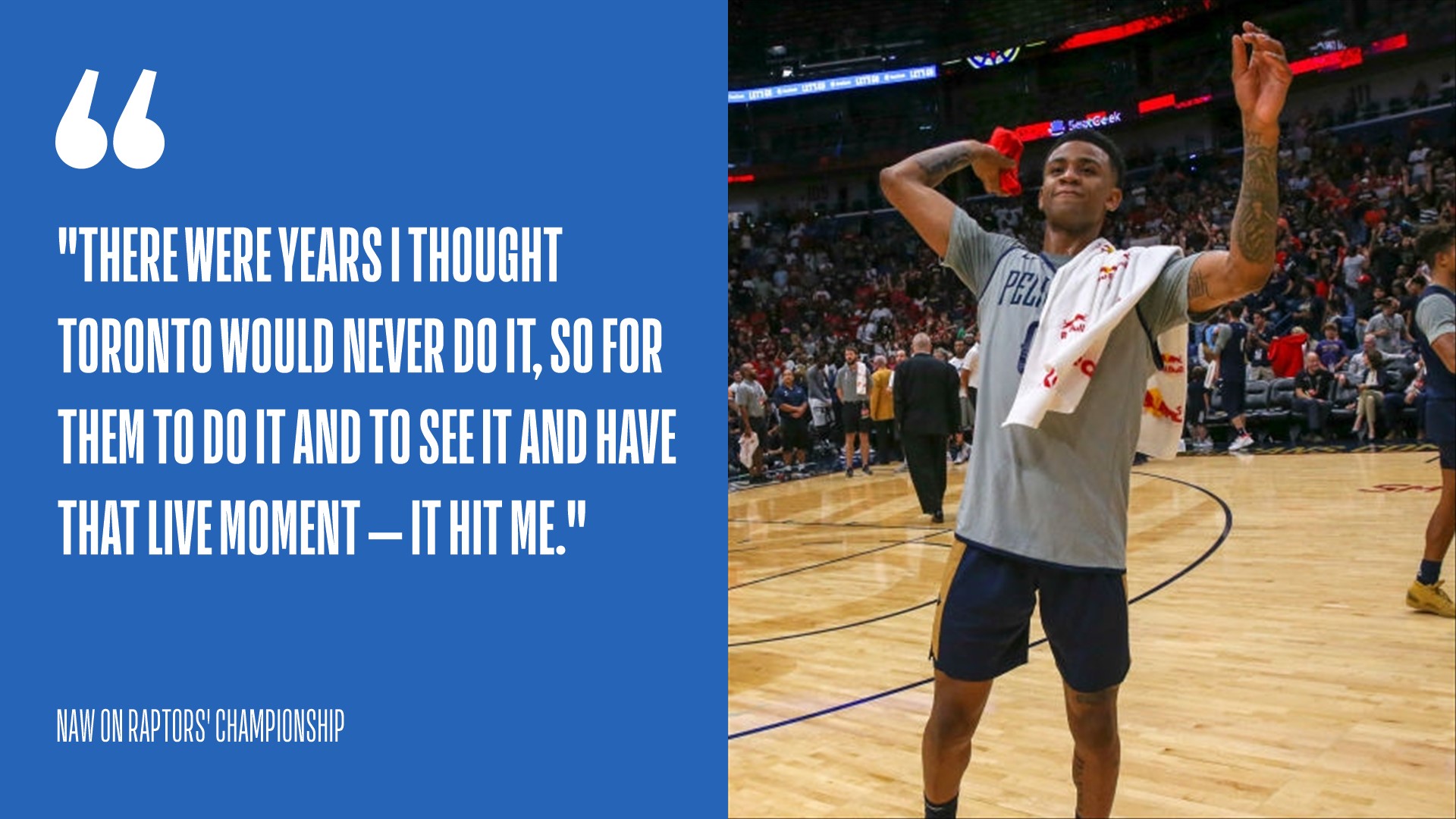 "It was motivating for sure," Alexander-Walker said post-game. "Guys go their whole career without even getting the opportunity - it's something they said that Toronto would never do.
"There were years I thought Toronto would never do it, so for them to do it and to see it and have that live moment - it hit me."
It was a moment for many, including the 21-year-old rookie. The night before the game he got little to no sleep, dealing with the excitement of the journey and making sure 60-plus friends and family members had their tickets for the game.
But when he entered the game at the 4:33 mark in the first quarter of the Pelicans' 130-122 overtime loss to the Raptors, Alexander-Walker said after all the hoopla, he felt at peace.
"As the game kind of came close, I just felt really at peace," Alexander-Walker continued. "I tried not to tell myself 'yeah you're going to go out there and have this amazing game and it's like a fairytale'.
"I was just trying to find the middle, you know whatever happens happens. I know who I am as a player, the shots I took I felt like was great. I'm going to continue to learn and improve and try to help my team."
It wasn't the amazing game he had hoped for or even daydreamed on countless occasions. Alexander-Walker finished with just three points, two assists on 1-for-10 shooting from the field. The hometown rookie, however, kept it all in perspective, knowing it was the first of what is expected to be a long NBA career.
"I'm glad one fell, it was a cold night," Alexander-Walker said with a smile. "It felt great, I couldn't have asked for more. I'm blessed to have this opportunity nevertheless.
"For me, it's just more about trying to get that win, we came up short but it's a long season."
Midway through the third quarter the Raptors played a highlight reel of Alexander-Walker on the jumbotron and acknowledged his homecoming. While his head was down focused on coach Alvin Gentry's timeout instructions, he was able to catch the tail end of the acknowledgement and ensuing ovation from the crowd.
Nice touch by the Raptors for @TheReal_NAW1 #canball pic.twitter.com/MhhJgptItN

- Carlan Gay (@TheCarlanGay) October 23, 2019
"I mean coming home to my home city and for me not even to have played a first NBA game for them to really give me some respect even though I haven't done much in the league, I really appreciate that."
With game one finally under his belt, goal number one - the main goal - was accomplished. However, Alexander-Walker doesn't want to take too much time feeling like he's made it. To him, this is just the beginning and that's something he'll continue to tell himself for however long his NBA career lasts.
"Honestly, I hope I never do because I feel like I'll be complacent," Alexander-Walker said of feeling like he's made it.
"Right now I just want to keep going and see how long this road can go.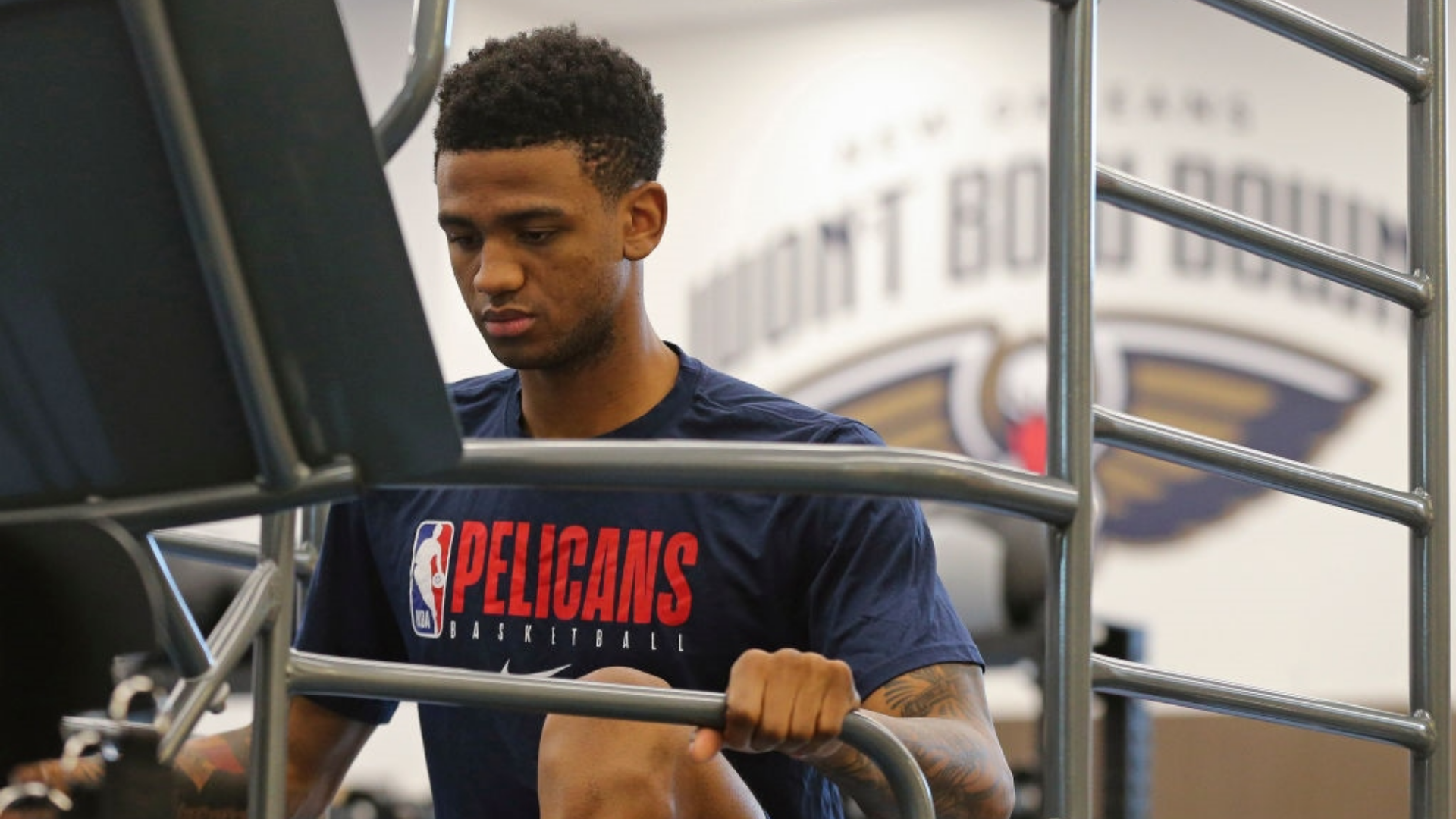 "One of my goals was to make it to the NBA but another one was to retire - years, years later. And retire by choice.
"I got a long way to go, I know the coaches will help me improve, teammates, are constantly teaching me so I'm just taking it day by day."
The views expressed here do not represent those of the NBA or its clubs.