When the Phoenix Suns selected 7-foot-1 centre Deandre Ayton No. 1 overall in the 2018 NBA Draft, the 20-year-old immediately joined the elite company of first overall picks.
Through his first four games, the Bahamian big man has certainly looked the part of a top pick, averaging 16.3 points, 10.8 rebounds and 3.8 assists per contest. Ayton's play has earned the acknowledgement of many, including 2003 No.1 overall pick LeBron James, who was complimentary of Ayton after the Lakers faced the Suns Wednesday night , saying: "I think [Ayton] has a lot of talent. He's going to continue to get better and better. I think [the Suns] chose right."
A small sample size typically equates to an overreaction, so it's only right to compare Ayton's numbers through four games to another small four-game sample of a different big man from a different island (St. Croix) - 1997 No. 1 overall pick Tim Duncan.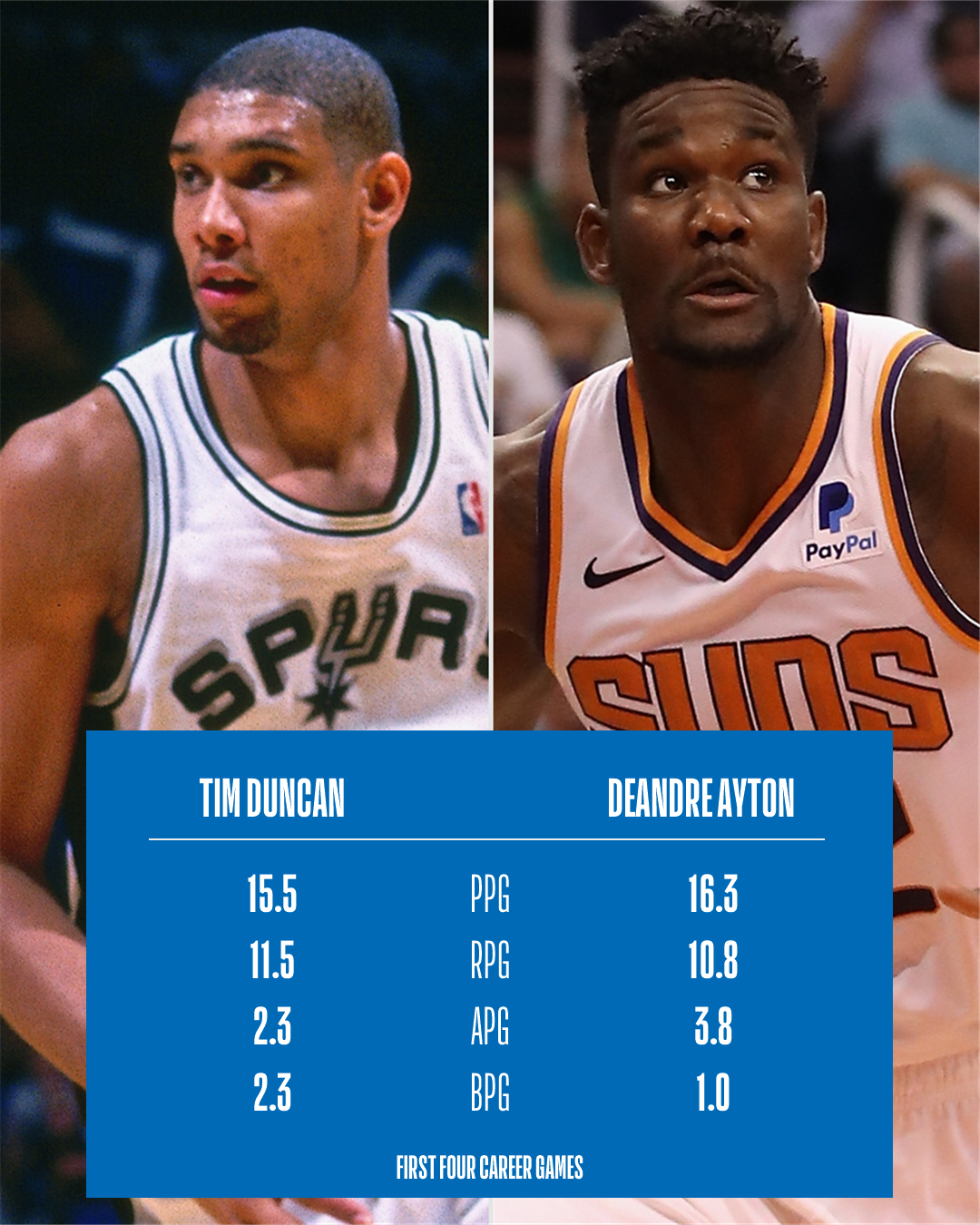 Though Ayton has a slight edge in scoring and assists, Duncan's rebounding and blocks numbers are representative of his prowess on the defensive end - an early concern with Ayton's game.
Defence aside, you could even argue that Ayton had the better debut - scoring 18 points (on 8-for-11 shooting) while adding 10 rebounds and six assists in a 21-point win. In Duncan's debut, he finished with 15 points (on 6-for-9 shooting), 10 rebounds and two assists in an 11-point win.
Of course, there are a few big differences between the two: Ayton, a one-and-done prospect from the University of Arizona, made his NBA debut just months after his 20th birthday; Duncan was 21-years-old in his debut but was drafted after a decorated four-year college career at Wake Forest. He also had the luxury of sharing the frontcourt with a future Hall of Famer in David Robinson.
Due to the differences in their situations, Duncan's Spurs were 3-1 after four games while Ayton and the Suns find themselves at 1-3.
Duncan would go on to appear in all 82 games in the 1997-98 season, averaging 21.1 points, 11.9 rebounds and 2.5 blocks for the 56-win Spurs. His play earned him an All-Star selection as well as Rookie of the Year, All-Rookie First Team, All-Defensive Second Team and All-NBA First Team Honours. As a rookie .
Somehow, Duncan managed to exceed the expectations of his career that were based on his accolades as a rookie.
While the Suns rebuild and a number of talented frontcourt players dominate the league, Ayton isn't likely to sweep league-wide awards as Duncan did, but Rookie of the Year is definitely attainable.
With Ayton playing at such a high level long before his 21st birthday, it's also safe to assume that the best is yet to come as his career continues to unfold.