Gilbert McGregor (@GMcGregor21): The injury bug has come to bite the Los Angeles Lakers again.
Just when it seemed like they were finding their groove to take command of their first round series with the Phoenix Suns, All-Star Anthony Davis went down with a strained groin towards the end of the first half of Game 4.
Without AD, Los Angeles trailed by as many as 14 in the second half and Phoenix got the win to even things up in the series.
Davis is now reportedly "unlikely to play" in Game 5, according to The Athletic's Shams Charania, so if that's the case, do you think LA can even find a way to get a win?
Lakers star Anthony Davis is unlikely to play in Game 5 vs. Suns on Tuesday due to strained groin, sources tell @TheAthletic @Stadium. There's optimism about Davis' status as series continues and as he is evaluated day-to-day.

- Shams Charania (@ShamsCharania) May 31, 2021
Kyle Irving (@KyleIrv_): They're certainly in trouble if Davis isn't able to suit up for a pivotal Game 5. After a disappearing act in Game 1, AD was downright dominant in Game 2 with 34 points, 10 rebounds, seven assists and three blocks to get a win.
In Game 3, with a chance to regain control of the series, he was fantastic again, going for 34 points and 11 rebounds in another victory.
His absence was already felt in Game 4's loss, as Deandre Ayton had his way inside with 14 points (on 6-of-8 shooting) and 17 rebounds.The 22-year-old centre is enjoying a breakout postseason with four consecutive double-doubles, averaging 19.8 points and 13.5 rebounds on 80.9 percent (!) shooting from the field, and that's with Davis on the floor for the majority of the time. I mean, the guy is shooting 38-for-47 for the series so far. What answers do the Lakers have for that if they're without their superstar big man?
McGregor: This is tricky. I mean, Kyle Kuzma started the second half in place of AD but … we see it didn't end particularly well in Game 4. And that doesn't do much in the way of Ayton's resistance.
Logic would suggest he gets the start again in Game 5 and, interior defensive limitations aside, Kuzma is due for a big game after a largely underwhelming start to the series. It starts with him but then who else steps up? Marc Gasol? Andre Drummond? Does Frank Vogel get Montrezl Harrell back in the rotation?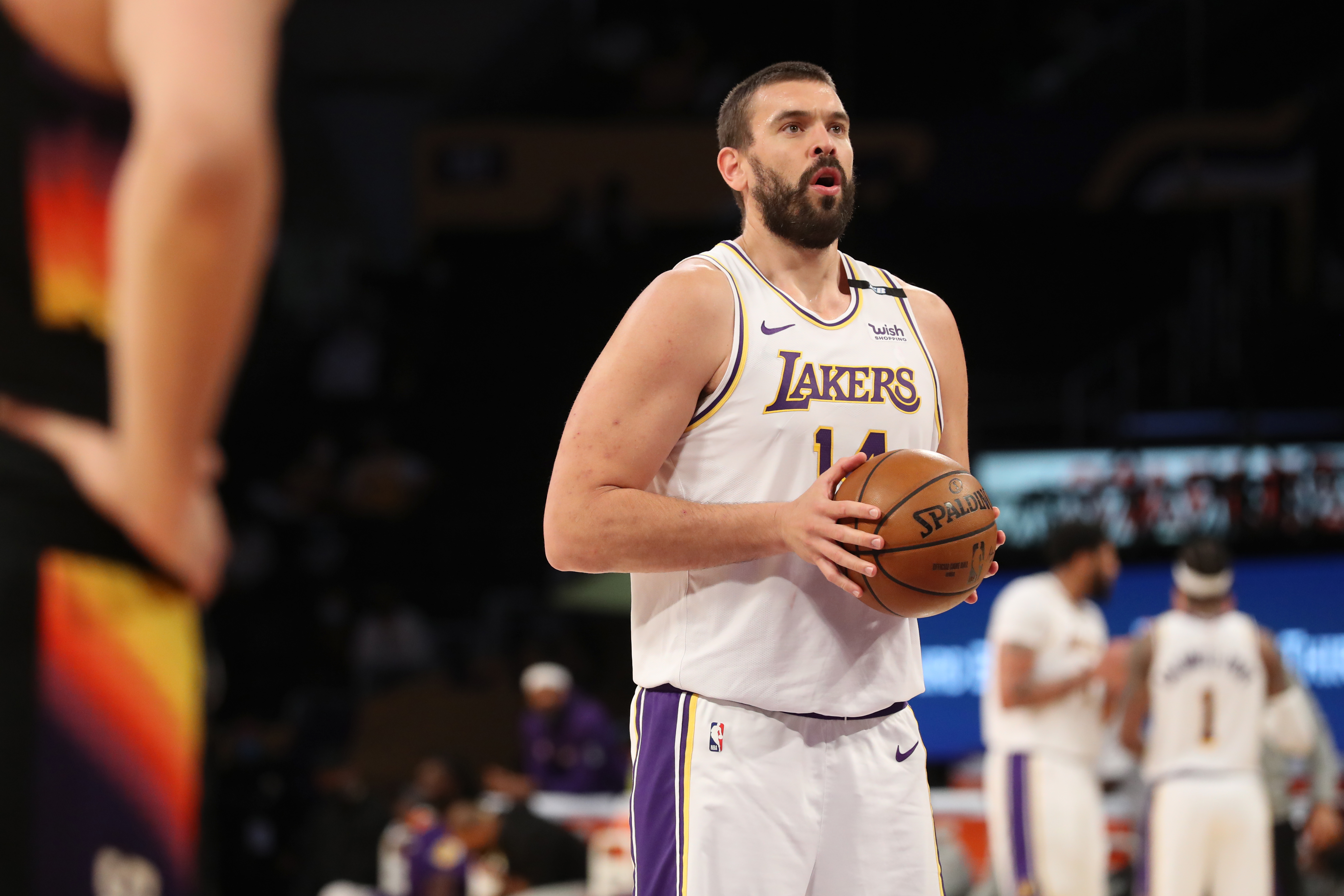 Irving: Given his defensive intelligence and prowess, you would think Gasol should be the answer. But at this point in his career, at 36 years old, Gasol is far from the defender he was even just two years ago in anchoring a Toronto Raptors' defence to an NBA title.
We did see him do his best to step up in Davis' absence in Game 4, defending Ayton on nearly 14 partial possessions while holding him without a shot attempt, according to NBA stats, but is an older Gasol someone the Lakers can rely on to keep this title defence going?
McGregor: That's tough.
Because of Gasol's age, I'm only confident in saying he can be the answer in spots. Vogel is such a mastermind defensively, they might be able to make up the gaps in spots but on a game-by-game basis, I don't think all hope is lost, but it's close. LA was 11-7 with James and no AD this year … but 10 of the 11 wins came against non-playoff teams, while six of the seven losses came against playoff teams.
And, honestly, in saying that, I think it goes back to LeBron. Offensively and defensively.
I'm not even sure how close he is to 100 percent, but do you think LeBron has one of those games in him?
Irving: There's no doubt in my mind - or anyone's mind, I'm sure - that LeBron will have to prove to be otherworldly without Davis if the Lakers are going to take Game 5 and get back ahead in the series. We've seen him step up with massive playoff performances in the past with superstars absent around him, and I'm going to believe he has another one of those games in him until he proves otherwise (which, at this point, might be until he's 100 years old, haha).
But even then, he's going to need some help. In your opinion, can they rely on Drummond or Harrell, at all, to step up in Davis' absence? Or do you think this void will be more filled by committee of a bunch of role players giving James the assistance he needs to try and get the job done?
McGregor: I really think it's gonna be one of those games where everyone has to step up. I partly feel like LeBron is going to set guys up and put them in the position to succeed and, on offence, they'll have to step up. On defence, it'll have to get done by committee.
The Suns have a lot of guys that are capable of stepping up and starring in their role (See: Jae Crowder). So, the Lakers are gonna need a lot of guys to pull through. Also, a reminder that my eyes are on the status of Kentavious Caldwell-Pope and his availability. Whether it's help side D or shot making.
In short, I think it's a scary spot for LA to be in.
Irving: While the big man rotation and Vogel deciding between Gasol, Drummond and Harrell will certainly be the topic of conversation with Davis unlikely to suit up, I like where your head is at in terms of the importance of someone like KCP being ready to go after missing Game 4.
He had strong performances and timely shots throughout the duration of the Lakers' 2020 title run and they'll need more of that to take care of business in Game 5.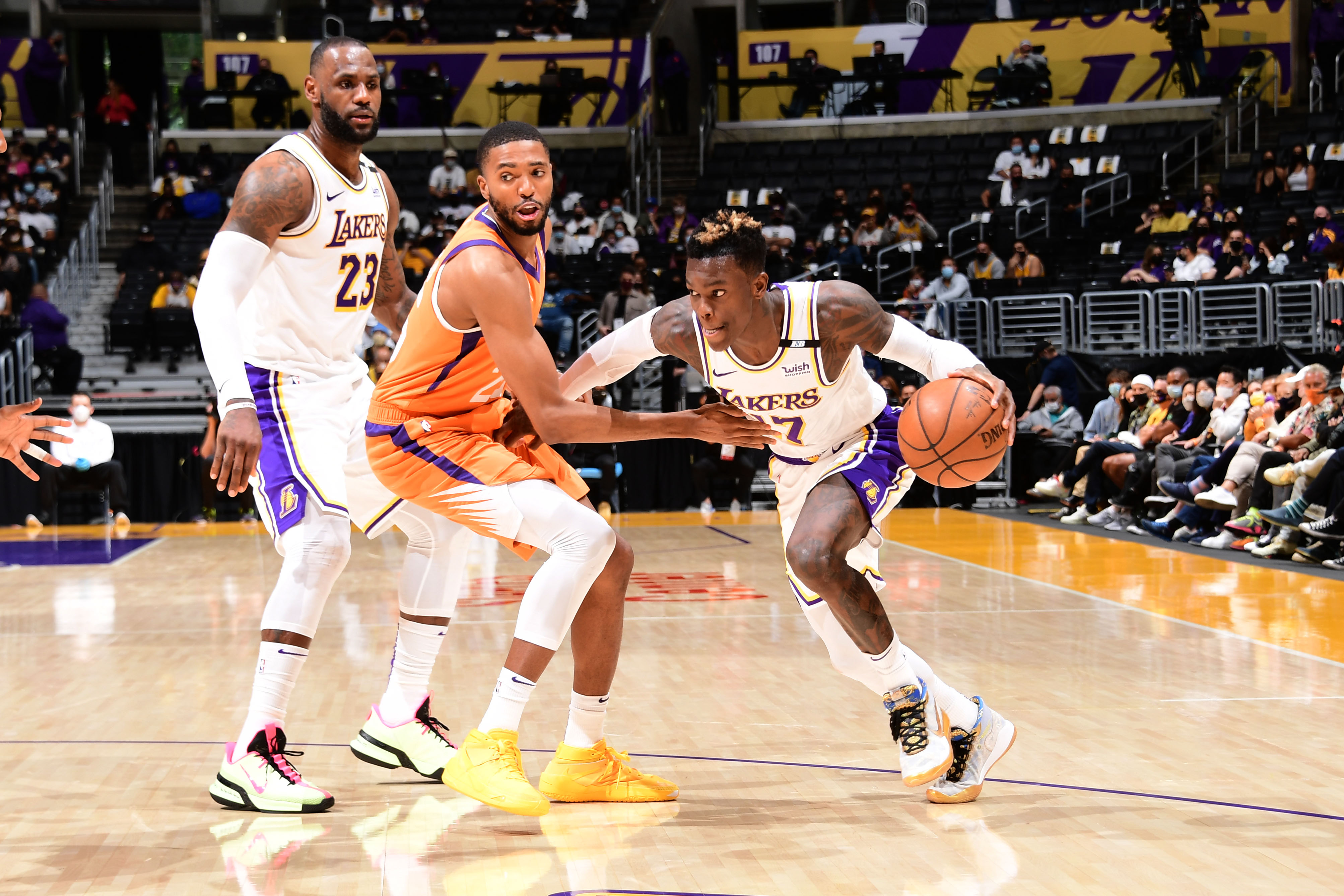 In a similar light, I'm going with Dennis Schroder as the X-factor in this one. He was the Laker that elevated his game the most when LeBron was out with an injury during the regular season, and we've already seen two quality games from him in this series - both of which resulted in wins. The two games where he didn't play well? Those account for Los Angeles' two losses in the series.
Now, the Lakers will need him to come up with a big outing with it being more-probable-than-not that the team will be without AD.
McGregor: The blueprint is there. It's far from easy but we really can't count out the defending champs. I won't be surprised if LeBron steps up to lift everyone around them to get it done. I think that's what it'll take to get it done without AD. We'll find out in Game 5 on Tuesday.
The views on this page do not necessarily represent the views of the NBA or its clubs.