Two-time champion and two-time Finals MVP Kawhi Leonard knows a few things about what it takes to reach the NBA's mountaintop.
After a disappointing letdown ended their postseason run in 2020, Leonard and the LA Clippers entered the 2021 NBA Playoffs with even more pressure to make a title run; pressure that only intensified after LA faced a 2-0 series deficit to the Dallas Mavericks in the opening round.
With the Clippers' title run in serious jeopardy before it even began, Kawhi once again did Kawhi things. He does know what it takes to get over the hump, after all.
SERIES PREVIEW: Can Clippers get past top-seeded Jazz?
In a Game 3 comeback win, it was 36 points (on 13-for-17 shooting), eight rebounds and three assists. Game 4? 29 points (on 11-for-15 shooting), 10 rebounds and three assists that fuelled a series-tying blowout victory.
After dropping Game 5, the Clippers faced elimination and a long offseason of questions.
But then Kawhi really happened.
Game 6 saw Kawhi go for 45 points (on 18-for-25 shooting), six rebounds and three assists. His fourth-quarter performance was nothing short of masterful.
Kawhi creating space.

📺 @BallySportWest |📱 https://t.co/SxvCDP1Us0 pic.twitter.com/ndJERk0N7c

- LA Clippers (@LAClippers) June 5, 2021
KAWHI FEELIN' IT pic.twitter.com/SXDb3BmfM8

- LA Clippers (@LAClippers) June 5, 2021
KAWHI AGAIN! pic.twitter.com/59WzcNP3Ai

- LA Clippers (@LAClippers) June 5, 2021
When LA needed him most, Kawhi tapped into another level to deliver one of the biggest playoff wins in franchise history, setting up a Game 7 in which he finished with 28 points (on 10-for-15 shooting), 10 rebounds and nine assists to propel the Clippers to the series win.
Kawhi's shooting splits in the opening round were downright absurd. There's efficiency and then there's whatever Leonard just did.
As pointed out by NBA.com's John Schuhmann, Leonard posted the second-highest eFG% (effective field goal percentage) for a player averaging 30 or more points per game in a playoff series in the last 55 years.
For reference, effective field goal percentage is a statistic that adjusts for the fact that a 3-point field goal is worth one more point than a 2-point field goal.
And while Leonard was great last postseason, his performance in the opening round against Dallas is giving serious shades of what he was able to do in 2019 to lift the Toronto Raptors to their first-ever NBA title.
Four of the five 40-point games in Kawhi's playoff career came in 2019 and 2021.
His 45-point output in Game 6 of the opening round in 2021 matches the postseason career high he set in Game 1 of the 2019 Eastern Conference Semifinals, which, coincidentally, was also his sixth playoff game of the year after the opening round ended in five.
Kawhi Leonard's playoff career-high

| | | | | | | | | | |
| --- | --- | --- | --- | --- | --- | --- | --- | --- | --- |
| Year | Game | PTS | FG | FGA | 3P | 3PA | FT | FTA | REB |
| 2019 | R2G1 vs. PHI | 45 | 16 | 23 | 3 | 7 | 10 | 11 | 11 |
| 2021 | R1G6 vs. DAL | 45 | 18 | 25 | 5 | 9 | 4 | 4 | 6 |
While he got to the line a few times more in 2019 and knocked down more 3s against Dallas, I couldn't help but notice the coincidence that Leonard missed a mere seven shots in each performance.
Again, a model of efficiency.
Anecdotal similarities aside, Kawhi is assuming a role as a calming force on both ends of the floor in a manner similar to how he did with Toronto two years ago.
According to NBA.com Stats, Leonard was the primary defender Luka Doncic more than any other Clipper in the opening round. It's no secret that Doncic still got his numbers - 35.7 points per game for the series to be exact - but Leonard made him work for it and LA employed a number of switches.
The defensive prowess of Leonard is a major reason that Doncic was worn down by the fourth quarter of games, causing looks that he normally gets to come up just a bit short, like the play below from late in Game 7.
Leonard's defence on Giannis Antetokounmpo in the 2019 Eastern Conference Finals was the adjustment that led the Raptors to their first-ever Finals appearance.
That LA has needed this much from Leonard in the opening round could be concerning, but it's the playoffs, where the stakes are much higher, and it's a Clippers franchise that is up against much more history.
While he led the Raptors to its first-ever Finals appearance and title in 2019, Leonard is now tasked with getting the Clippers over the hump to reach their first-ever Western Conference Finals. They're one of just three franchises that have never reached that round despite holding two 3-1 series leads in the Western Conference Semifinals in the past six years.
As the lowest-remaining seed in the West, it gets no easier for the Clippers, who must win at least one game on the road in each series from here on out, beginning with the top-seeded Utah Jazz in the West Semis.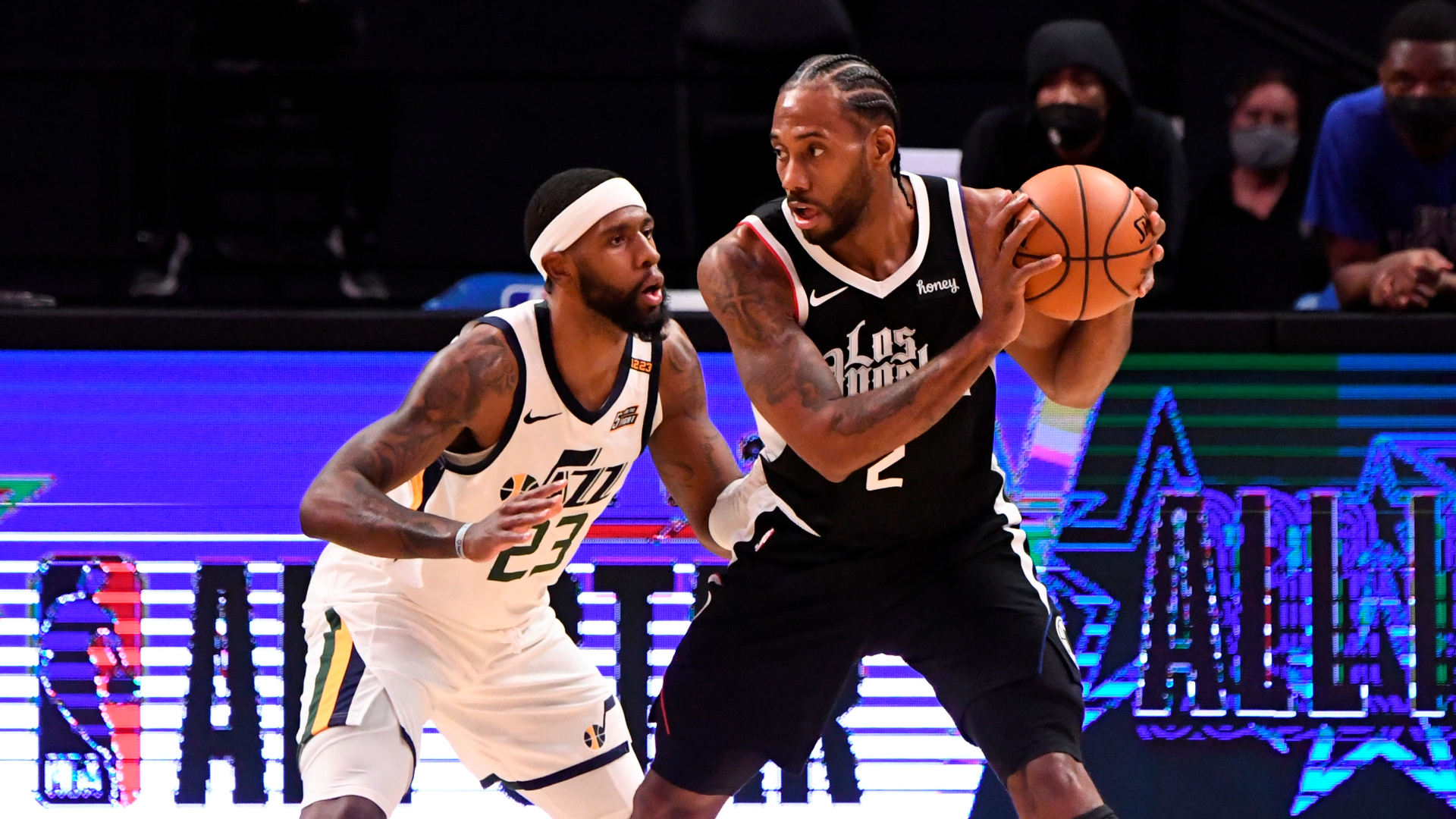 LA has yet to lose on the road this postseason, with Leonard averaging 36.7 points (on 73.7 percent shooting), 8.0 rebounds and 3.0 assists in his first three away games. Given the level that he's playing at, it's hard to envision Leonard slowing down, even against a Jazz defence that ranked third in the league during the regular season.
And it's going to take team defence to make life difficult for Leonard, as Utah doesn't have the one-on-one personnel to get Kawhi off of his game. Then again, who does?
It's just Year 2 of the Kawhi era in Los Angeles, but we've already reached the title-or-bust segment of the program.
LA's supporting cast stepped up to close the opening round, but can it continue to step up in a manner similar to Toronto's 2019 title squad? If not, it will take more play of historic proportions for Leonard to get this team to the top of the mountain.
Lucky for the Clippers, he's looked pretty capable of doing so thus far.
The views on this page do not necessarily reflect the views of the NBA or its clubs.