The Los Angeles Lakers have fallen into a 1-0 series deficit after suffering a 99-90 loss to the Phoenix Suns in Game 1 of the opening round of the 2021 NBA Playoffs.
Not only was it the first game of the seventh-seeded Lakers' unique title defence, but it was also the 50th Game 1 of the storied postseason career of LeBron James, who finished the game with 18 points (on 6-for-13 shooting), 10 assists, seven rebounds and three steals in 36 minutes of action.
TAKEAWAYS: Booker stars in playoff debut to give Suns 1-0 series lead over Lakers
And while James is still a very respectable 29-21 all-time in the opening game of a playoff series, his teams have now lost seven of their last 10 Game 1s, including the series openers of the first two rounds of last year's NBA title run; both series that Los Angeles would bounce back to win in five games.
So this isn't exactly unfamiliar territory for James or the Lakers.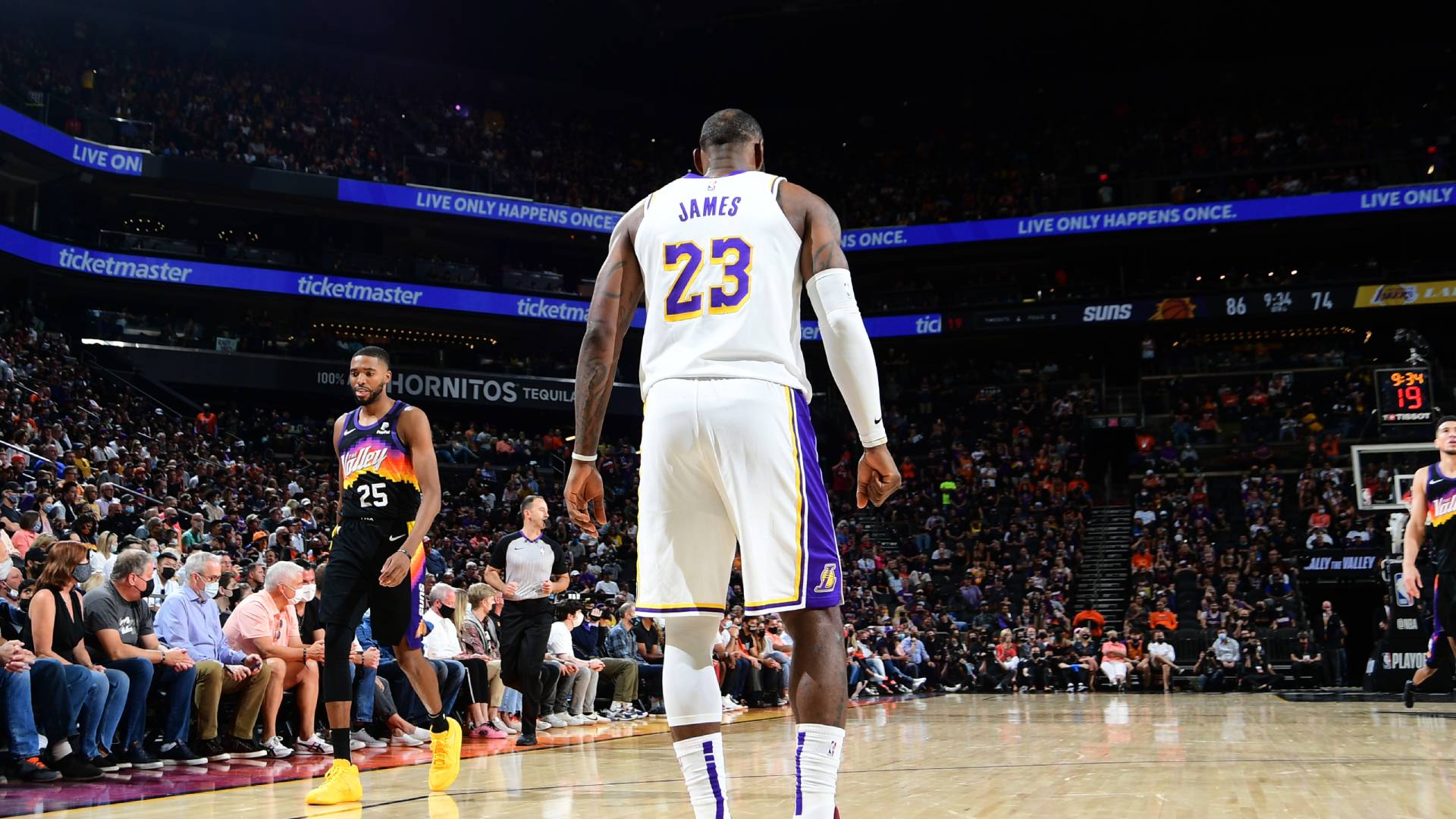 Of the previous six series in which James-led teams have fallen down 1-0, they have gone on to win the series four of a possible six times, with the two series losses coming to the Golden State Warriors in the NBA Finals.
This tendency to bounce back is why Game 1s are considered to be feel-out games for James, a fact he acknowledged on Sunday.
"Game 1 (has) always been a feel-out game for me," James said after the nine-point loss. "(I'm) looking forward to breaking down the film tonight and then as a team tomorrow. Get some more on the day of the game - I believe Tuesday and get ready for that challenge again."
For any player not named LeBron, a near triple-double wouldn't be considered a feel-out game, but considering the fact that he fell seven points shy of his regular-season scoring average and scored just three points in the game's final 17 minutes, it's fair to assume we'll see a number of adjustments after he and the team dissect film.
Given the fact that this iteration of the Lakers is 2-0 after dropping Game 1, it's only right to look at the numbers as an attempt to peel back what it might mean, seeing if 2021 will bring more of the same.
Feel-out game James?

| | | | | |
| --- | --- | --- | --- | --- |
| Game 1 | Final | | Game 2 | Final |
| 18 PTS (6-13 FG), 10 AST, 7 REB, 3 STL | Suns 99, Lakers 90 | 2021, Round 1 vs. Suns | | |
| 20 PTS (7-15 FG), 8 REB, 7 AST, 2 BLK | Rockets 112, Lakers 97 | 2020, West Semifinals vs. Rockets | 28 PTS (10-17 FG), 11 REB, 9 AST, 4 STL, 2 BLK | Lakers 117, Rockets 109 |
| 23 PTS (9-20 FG), 17 REB, 16 AST, 1 STL | Trail Blazers 100, Lakers 93 | 2020, Round 1 vs.Trail Blazers | 10 PTS (4-11 FG), 7 AST, 6 REB, 2 STL | Lakers 111, Trail Blazers 88 |
Offensively, it's impossible to ignore the fact that Los Angeles has failed to reach 100 points in each of the above three Game 1 losses.
It starts with James, who is averaging just a shade over 20 points in the three losses, but his uncharacteristically low scoring night in last year's Game 2 rout of the Blazers indicates that it is much deeper than what he does as a scorer.
The question is: Can LeBron get Anthony Davis more involved?
In the opening round of the 2020 NBA Playoffs, it was AD's monster Game 2 that afforded James the ability to take a back seat and score just 10 points. After Davis shouldered the blame for the loss in Phoenix, will he find a way to get going in Game 2? Expect one of James' biggest adjustments to come in the form of getting his All-Star running mate involved.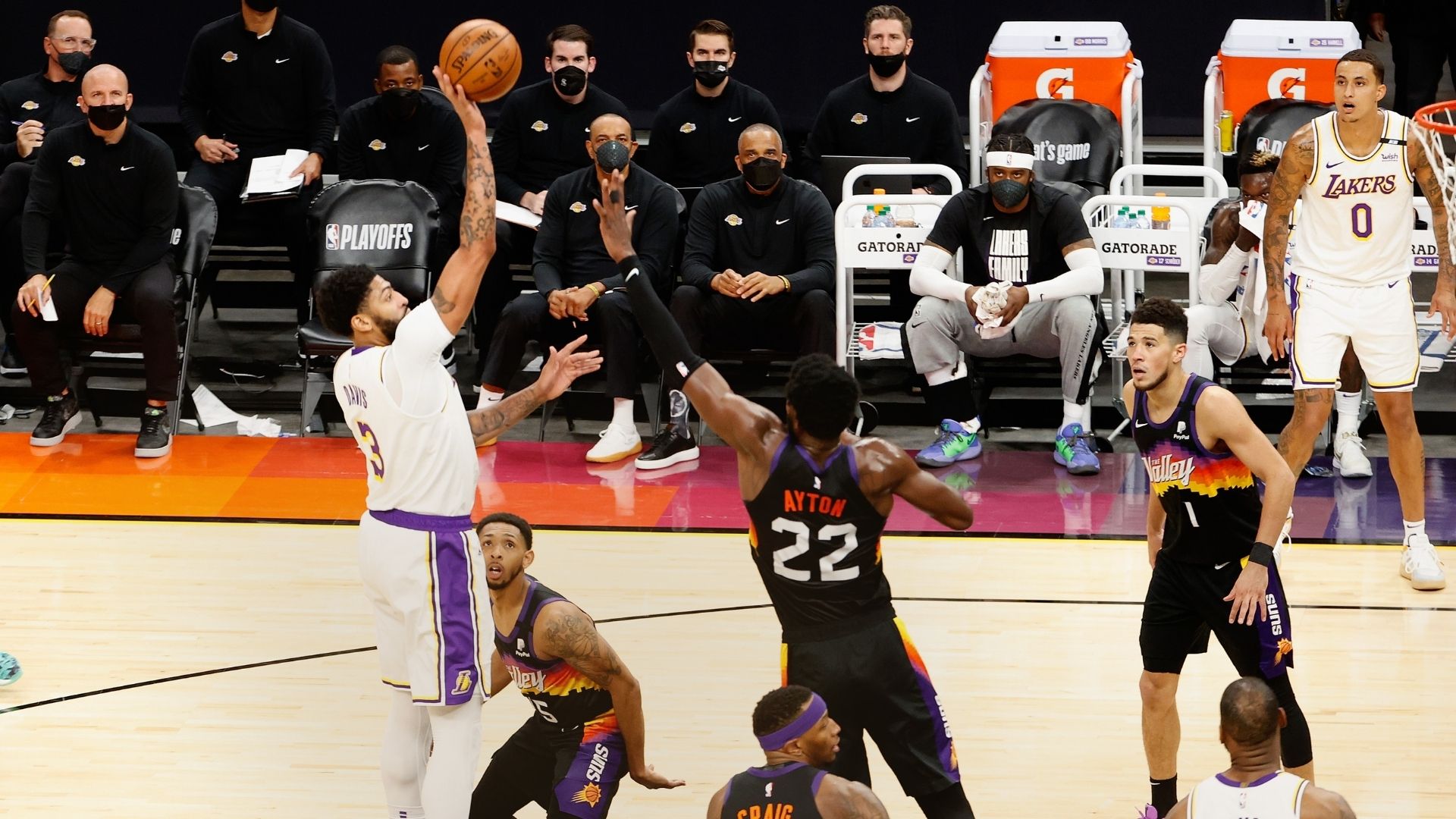 We're just weeks removed from Davis erupting for 42 points against this Suns team, though James was not in the lineup, so it's not far-fetched to think that the Lakers will force-feed it to Davis to get him going early.
As a related aside, we all remember LeBron's 43-point fadeaway clinic in Game 2 of the 2018 East Semifinals against the Toronto Raptors, but it's easy to forget that the Cleveland Cavaliers focused on feeding Kevin Love to the point where he entered the halftime break with 18 points (seven of which were assisted by James), opening up the floor to make way for a 27-point second-half from James.
A similar approach to feeding AD in Game 2 could be paramount in Los Angeles' ability to diversify the offence and get better opportunities for the likes of Kentavious Caldwell-Pope and Kyle Kuzma, who each turned in offensive performances worth forgetting in Game 1.
With a relatively quick turnaround after the Play-In, the Lakers might be able to use the time between games to adjust, which, in turn, could bring good returns in Game 2 with more time to focus on the opponent at hand.
Defensively, Los Angeles held Phoenix to just 99 points but it allowed Devin Booker to do a bit of everything while Deandre Ayton was extremely efficient and dominated the offensive glass. The Suns run a number of complex offensive sets, meaning more time to study film could allow the Lakers to have better reads.
It's not Phoenix's offensive output that you should expect to be the focus, but where the offence comes from and how it comes.
For LeBron, will Game 1 against the Suns prove to be the same kind of feel-out game as last year? With a dominant Game 2 win to follow? Or will it be more like the Warriors series of 2017 and 2018?
Now that he's dropped 21 Game 1s in his career, it's worth mentioning his teams are 12-8 in series when they fall down 1-0. After falling down 2-0? His teams are 3-5, with two of the series clinchers coming on the road in Game 7.
That being said, it's much too far to overreact to how this series has gone. And the same will hold true following Game 2, regardless of the result.
This has the makings of the ultimate chess match series.
The views on this page do not necessarily reflect the views of the NBA or its clubs.