If you're going to beat the Denver Nuggets in a seven-game series, it starts with containing MVP frontrunner Nikola Jokic.
That's no secret, especially after the Serbian superstar averaged 33.5 points, 10.5 rebounds and 4.5 assists on 50-40-90 shooting splits to carry his team past the Portland Trail Blazers in the first round. But before the Western Conference Semifinals series against the Phoenix Suns even tipped off, Jokic admitted his next matchup, former No. 1 overall pick Deandre Ayton, is the player that gave him the most trouble this season.
The NBA's matchup data backs that notion: Ayton held Jokic to just 29 points on 13-for-34 (38.2 percent) shooting from the field in approximately 84 possessions in the regular season.
It only took one game of the series to see that statement come to fruition, as the long, athletic and mobile 22-year-old big man bottled up the likely MVP to lead the Suns to a Game 1 victory over the Nuggets.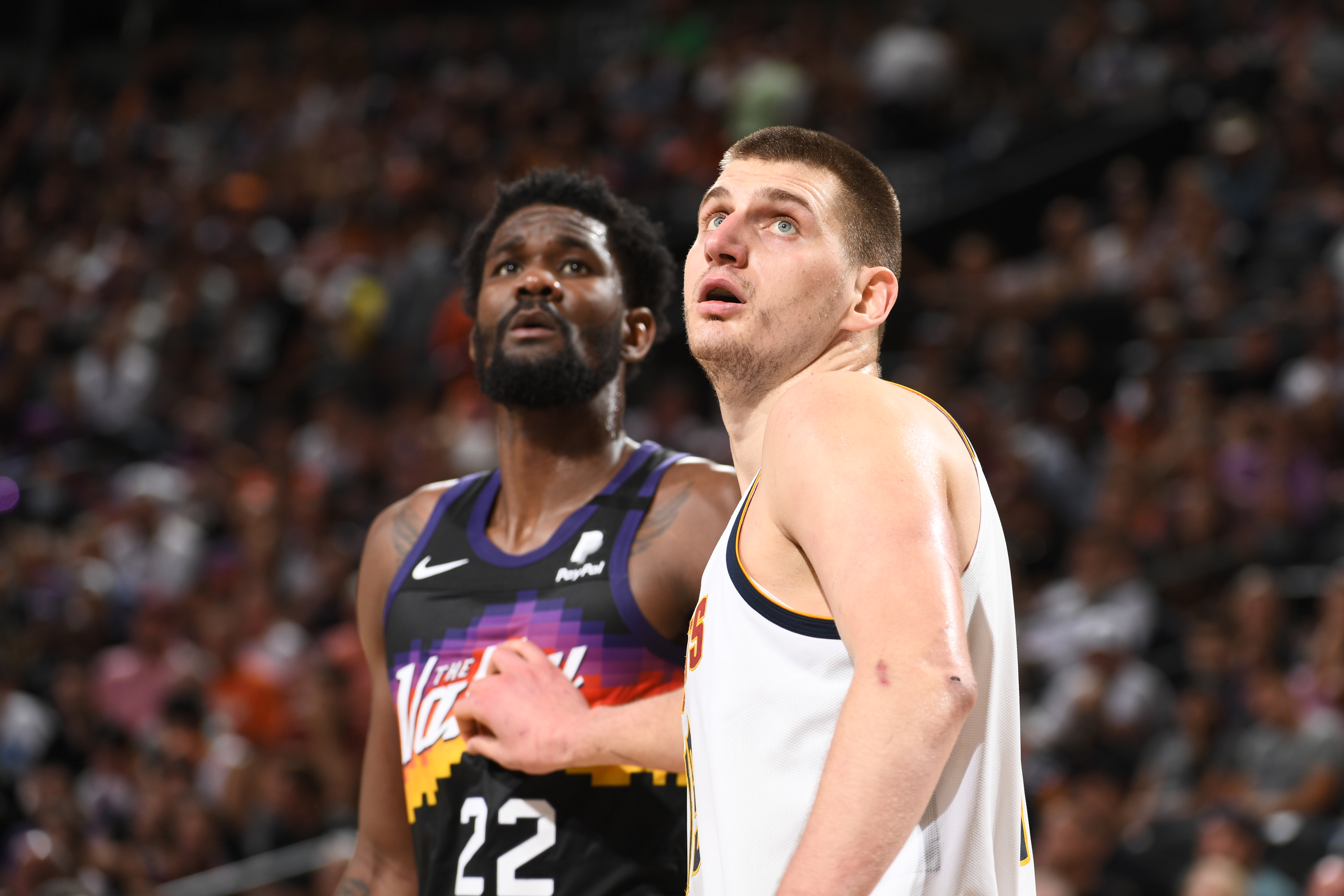 Suns head coach Monty Williams took that matchup very literally. He matched Ayton's playing time minute-for-minute and second-for-second with Jokic's, as both big men played exactly 36 minutes and 24 seconds.
The numbers will tell you that the Suns centre won those minutes in a variety of ways.
Ayton was +13 to Jokic's -13. Ayton had 20 points on 13 shots, while Jokic tallied 22 points on 23 shots. Ayton also out-rebounded Jokic 10-to-9.
The matchup data is in favour of Ayton, as well, holding Jokic to 11 points and one assist on 5-for-14 (35.7%) shooting from the field and 1-for-3 from 3-point land with one turnover in roughly 34 possessions.
In the second half, when Phoenix flipped the game on its head with a momentum-changing run that decided the outcome, it's no coincidence that Jokic went silent with only seven points and three rebounds while shooting 3-for-12 from the field.
But most importantly for Game 1 - and I cannot stress this enough - Ayton defended Jokic without fouling.
Ayton recorded one single foul in the game and Jokic did not attempt a single free throw. In Denver's first-round series with the Blazers, Portland's biggest issue was that starting centre Jusuf Nurkic could not stay out of foul trouble. He fouled out of three of the six games in the series, while playing tentatively through foul trouble in the other three contests.
So what about Ayton makes life so difficult for The Joker?
He is quick enough laterally to stay with Jokic off the dribble, which we saw on a few instances in the series-opener. He is also able to disrupt shots while staying grounded because of his 7-foot-6 wingspan.
Take Jokic's signature rainbow floater, for example. It's one of his go-to moves because he can tear drop it over the top of most opposing defenders. Ayton clearly altered his touch on those in Game 1, while also making him attempt them from much further out than usual because of his physicality.
After the loss, Jokic continued his praise for the Suns young big man, stating, "He knows what he needs to do and he's doing it at a really high level. He's a real two-way player, doing it on both ends. I don't think you can ask for a better mentality from a young player."
The comment caught Ayton by surprise, responding candidly, "Wow he said that? That's lit," while calling Jokic the MVP of the league this season.
It appears as though the humble All-Star centre was right about Ayton giving him trouble, but he'll have to come with answers in Game 2 if the Nuggets are going to have a fighter's chance in this series.
If Ayton continues to outplay him, that will be all Phoenix needs to advance to its first Conference Finals since 2010.
The views on this page do not necessarily represent the views of the NBA or its clubs.