In NBA history, when a playoff series is tied 2-2, the winner of Game 5 goes on to advance roughly 82 percent of the time.
Based on those odds, it shouldn't come as a surprise to see coaches and players make out-of-the-ordinary decisions in the hopes of keeping their NBA championship aspirations alive.
And that's exactly what we saw in the Brooklyn Nets' remarkable Game 5 victory over the Milwaukee Bucks.
Of course, fingers point to Kevin Durant's jaw-dropping 49 points, 17 rebounds, 10 assists, three steals and two blocks while shooting 69.6 percent from the field and 44.4 percent from 3. And they should. That was arguably the greatest performance of the superstar forward's entire career, putting on a shot-making display like we've never seen before.
His 49 points were one shy of a playoff career high, his 17 rebounds were two shy of a playoff career high and his 10 assists tied a playoff career high. To do all of that to carry his team from down 17 points to a victory in what is essentially a must-win game is the stuff of legends.
MORE: Did we just witness Durant's greatest game?
But it may have not been possible if he didn't suit up for all 48 minutes of the game, a decision most head coaches in the league would shy away from. Nets head coach Steve Nash, a former two-time MVP, understood what was necessary for his team to come away with a win, and he heard his star player out when Durant suggested he could go the distance during the game.
"What can I tell you? It's not ideal. But if we didn't play him 48, we probably don't win tonight," Nash told the media after the game.
"It's an easy decision that's very tough to make. I hate to put him in that position but we talked throughout the game with him, we tried to find some different times to take timeouts and give him a spell, but we've just had so much stuff thrown at us - so many injuries, so many changes throughout the year - now's the time where ... we've taken a few risks here, to be honest," he admitted.
"Hopefully we can settle things down and not have to play him the whole game (in Game 6), but that's part of what the playoffs are about. Finding ways to make things happen when things don't look good and that was the wild card we threw out there (in Game 5).
"Just keeping him out there, checking in with him to make sure he was okay, and he was unbelievable to be able to handle that load. Especially given his history, it's not a great feeling to put him in that position, but it's one that he wanted and it's one that we needed."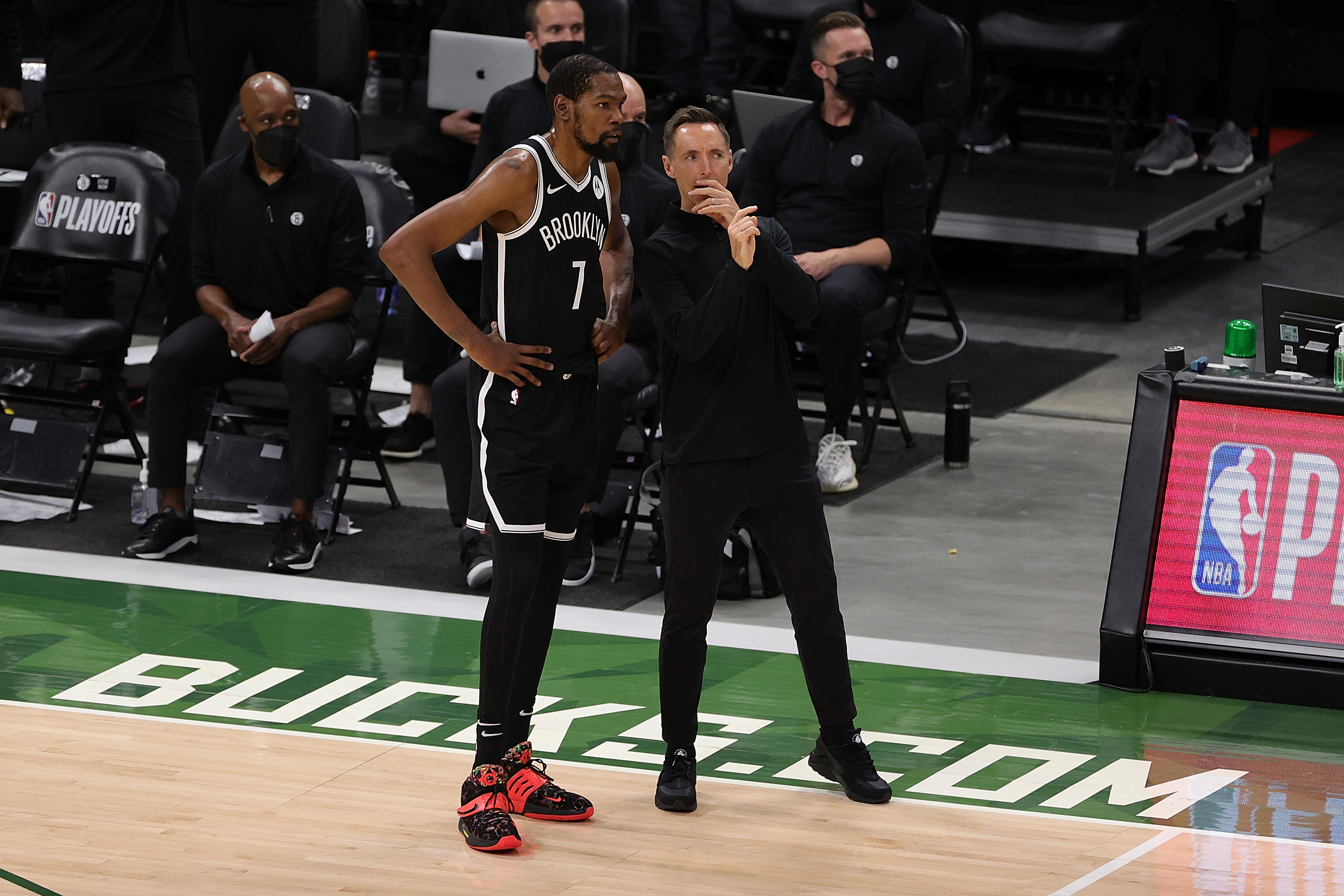 Durant spoke on the topic of playing the entire game, appreciating his coach's open-mindedness to listen to him when he said he can keep going.
"Somewhere in the third or fourth quarter, (Nash) and coach (Jacque) Vaughn came and asked me if I needed a couple (minutes out), or that they were going to take me out. I was like, 'yo, if y'all don't need to, I'm cool. I think I can tough it out from here.' But I was cool with anything they wanted to do, they just decided to keep me in. ... I'm glad they kept me in, though."
A player playing all 48 minutes of a playoff game isn't unheard of, but it's not exactly common, either. The last player to play all 48 minutes of a regulation playoff game was LeBron James in Game 7 of the 2018 Eastern Conference Finals in a win over the Boston Celtics.
Durant has accomplished the feat twice himself, once back in 2013 in a win-or-go-home West Semis Game 5 against the Memphis Grizzlies (which resulted in a loss) and once in 2012 in a Western Conference Finals closeout Game 6 against the San Antonio Spurs (in which he advanced to the first-ever NBA Finals of his career).
He was 23 and 24 years old, respectively, for those moments, which seems like ages from the 32-year-old coming off of an Achilles injury.
That wasn't the only tough decision Nash had on his plate. All-Star guard James Harden went from "out" to "doubtful" to "available" in the blink of an eye before tip-off of Game 5, appearing in his first contest since Game 1 a week back.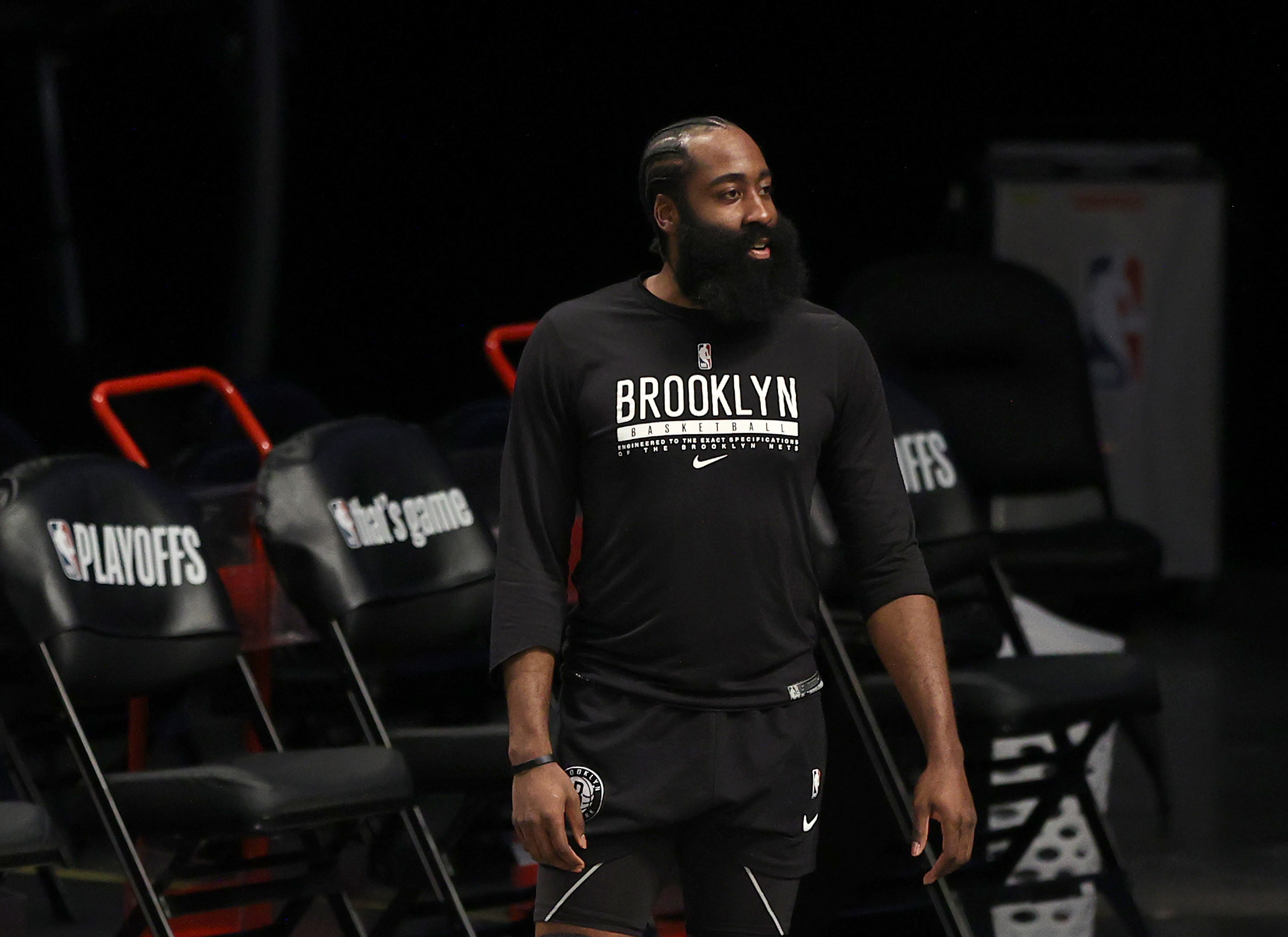 Even through a brutal first half where Harden scored zero points while shooting 0-for-6 from the field and 0-for-5 from 3, Nash trusted his superstar to stay in the game and eventually make an impact.
Harden ended up playing 46 of 48 available minutes in the contest - the second-most minutes played by a player on either team - showing some stout defence down the stretch while going for eight assists and six boards despite a 1-for-10 shooting night.
The day after the win, Nash touched on the uncertainty of how far he could push Harden in his first game back.
"I didn't know at all what he can give us. It's kind of a weird feeling to throw a player out there and not know," Nash told the media.
"I didn't expect to play. So, 46, it's a lot," Harden said after the game. "But, you know, I'm built for it. Just get my rest, get some proper treatment, credit to our trainers and things like that and give it another shot in Game 6 and try and get the same result."
Those two decisions from coach Nash just might be the deciding factor in the series, but the list goes on.
Trusting in Jeff Green to provide some offence in a time of need, only to go 3-for-3 from 3 in the first half, earn the start in the second half and then finish the game with 27 points on 7-of-8 shooting from deep.
Recognizing the offence was clicking and providing more space for Durant with Green and Landry Shamet on the floor, closing with that tandem alongside Harden and Joe Harris instead of Game 5's starters, Blake Griffin and Bruce Brown.
Nash made all the right adjustments in Game 5 to pick up the biggest win of his young coaching career to date. If the Nets go on to win this series - and any other series beyond - his decisions in Game 5 should be mentioned as more than just a footnote in the journey of Brooklyn's playoff push.
The views on this page do not necessarily represent the views of the NBA or its clubs.