Everything can change from round to round in the NBA.
Matchups impact a lot in the playoffs, but the teams who can dictate how they want to play, regardless of opponent, are usually the ones who advance.
All eight Conference Semifinalists are here because they were able to control play in round one. It can be impossible to predict everything that will change in a new matchup, but breaking it down into digestible lineup-sized pieces can be an easier way to see that larger puzzle.
Whether it's a lineup that dominated in the first round or one that is the lone black mark on an otherwise great team performance, all eight of these lineups can provide crucial insight into what we can expect from these teams moving forward.
Utah Jazz: Mike Conley, Royce O'Neale, Joe Ingles, Bojan Bogdanovic and Rudy Gobert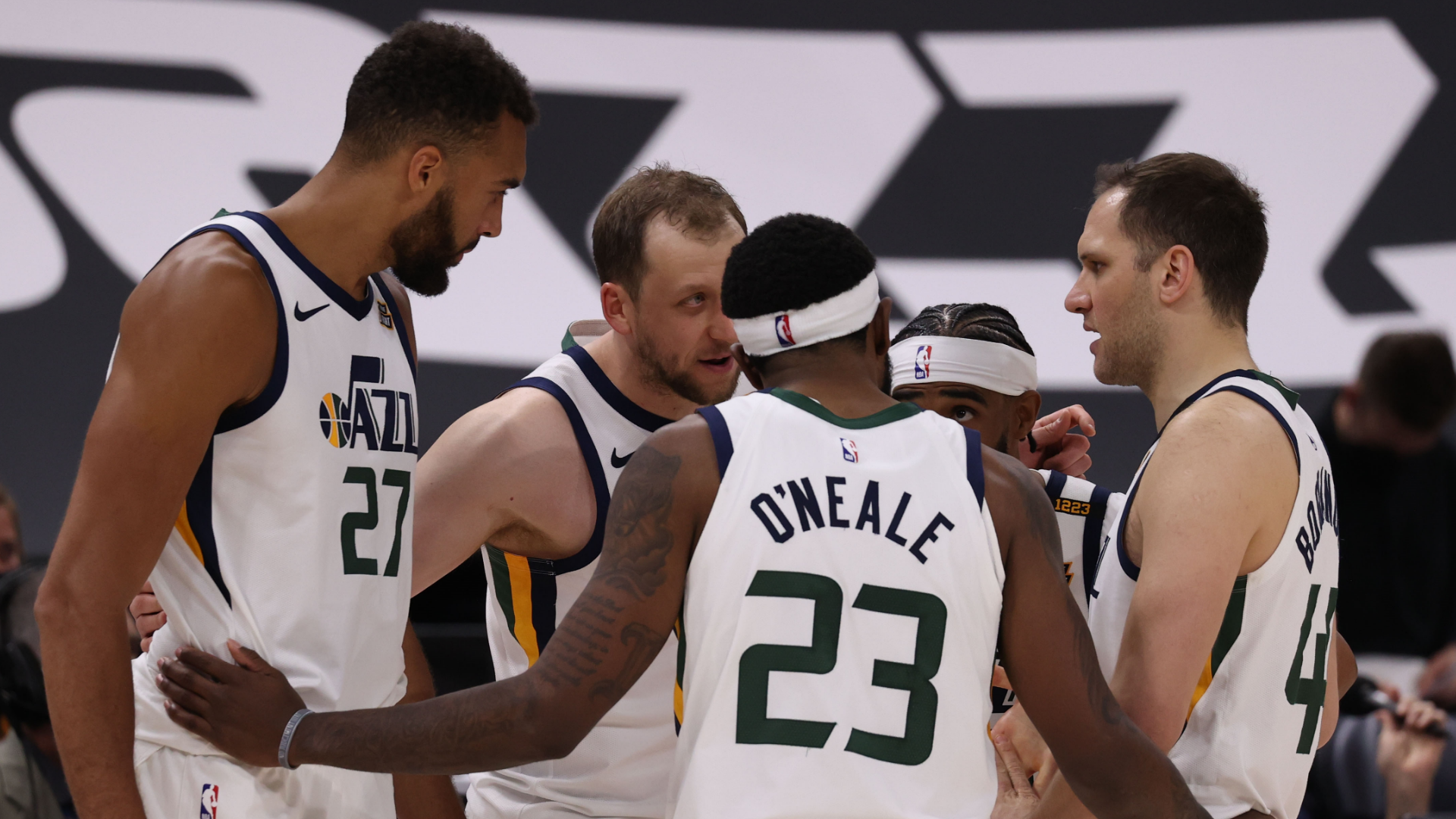 Following the announcement that Donovan Mitchell would unexpectedly be held out of Game 1 against Memphis, this became Utah's starting lineup.
Mitchell's absence clearly shocked both him and the Jazz as a whole. His teammates looked rudderless without him and in 19 minutes against the Grizzlies, this lineup was -11.
While the importance of this group has diminished now that their star has returned, it remains an important tool for Quin Snyder when Mitchell is off the floor. This lineup played 135 dominant minutes together in the regular season, outscoring opponents by 28.5 points per 100 possessions.
Even beyond that regular-season success, there's plenty of reason to believe this lineup can reverse their fortunes from Round 1. Most of their struggles can be traced to unsustainable shooting from the Grizzlies. Memphis shot 59.5 percent from the floor against this lineup - compared to their 46.8 percent for the entire series - and put up a 143.6 offensive rating.
Even as the Jazz face a far more dangerous Clippers offence in round two, this lineup should advance back to the mean. They may not approach their incredible regular-season numbers but there's plenty of reason to believe they can bounce back.
SERIES PREVIEW: Clippers vs. Jazz
LA Clippers: Reggie Jackson, Paul George, Kawhi Leonard, Nicolas Batum and Marcus Morris
The Clippers' line of delineation against the Mavericks was pretty simple. In 98 minutes with Ivica Zubac on the floor, the Clippers were -38. In 238 minutes without him, they were +74. That isn't intended to slight Zubac, who has had a great breakout season, but rather to illustrate just how clear the Clippers' small-ball identity had become by the end of the series.
Once this lineup became their starting group in Game 4, the Clippers started to become the team we imagined them to be a year ago. Star performances from Leonard and George with versatile players surrounding them who can space the floor on offence and switch on defence.
This lineup wasn't solely responsible for the Clippers flipping the series, but it represents that mentality shift. They looked like true title contenders by the end of the series, a remarkable feat considering how they looked following Game 2.
The key to watch with this team moving forward will be how they adapt to playing against Rudy Gobert. He and Kristaps Porzingis couldn't be more different centers to game plan against. Zubac couldn't stay on the floor against Dallas's floor spacing but he should, in theory, be more comfortable against a more traditional center like Gobert.
Even so, I don't expect the Clippers to abandon the progress they made against Dallas. They stumbled on to an identity against the Mavericks and fully embracing that scheme may be the best way to finally reach their potential.
Denver Nuggets: Facundo Campazzo, Austin Rivers, Michael Porter Jr., Aaron Gordon and Nikola Jokic
Denver played a fantastic all-around series against Portland.
Jokic was masterful and Porter Jr.'s explosive scoring in Games 5 and 6 helped propel the Nuggets to victory. The entire Nuggets frontcourt played incredibly well in round one but the doubts about their backcourt have only intensified.
Since Jamal Murray's devastating ACL tear, the Nuggets have, understandably, struggled to solidify a playoff-calibre guard rotation. Will Barton's absence has compounded these issues, forcing the Nuggets to almost exclusively rely on Campazzo, Rivers and Monte Morris.
Campazzo and Rivers were the starting backcourt for all six games against Portland. That lineup played 102 minutes in the series, which was 66 more than the second most-played group. In those minutes - composing almost a third of the series - this lineup was -19.
While it's understandable Michael Malone wants to keep Monte Morris in his familiar bench role, he likely will need to extend beyond 29 minutes per game. Morris was a part of nearly every positive lineup the Nuggets played in round one and Denver from their starting backcourt if they hope to win a series against Chris Paul and Devin Booker.
SERIES PREVIEW: Nuggets vs. Suns
Phoenix Suns: Cameron Payne, Devin Booker, Mikal Bridges, Jae Crowder and Deandre Ayton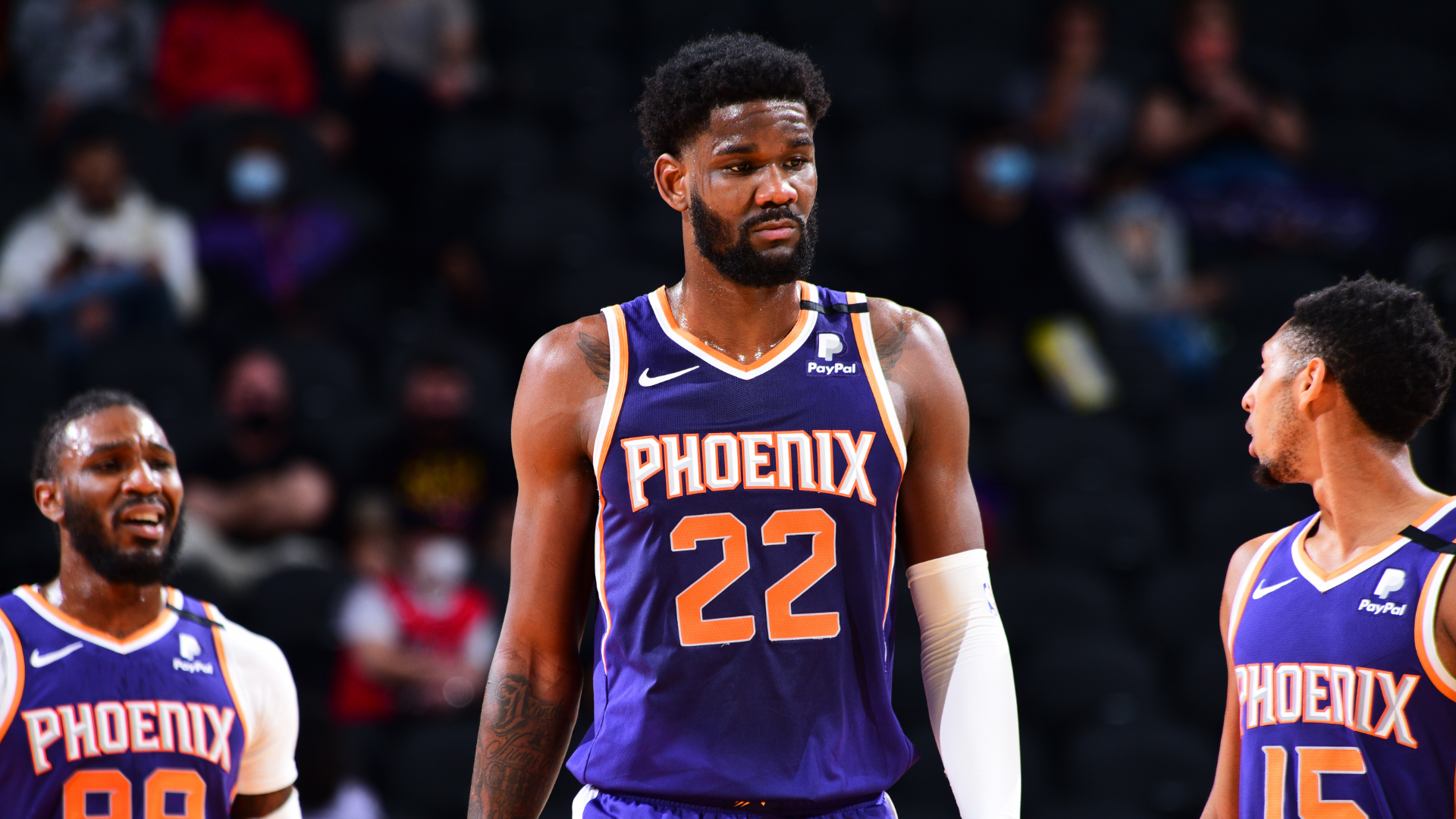 Speaking of Paul, he is conspicuously absent from Phoenix's featured lineup.
When Paul was injured early in Game 1, it had to feel like déjà vu for many fans of his and of the Suns. For a moment, it looked like Phoenix's first playoff run in 11 years was ending before it even began but this lineup helped keep that feeling fleeting.
This lineup was -3 in 30 minutes against the Lakers. Far from Phoenix's best lineup for the series but, more importantly, also far from their worst. It helped the Suns stay afloat without Paul. It held serve against a still largely intact Lakers roster and was foundational for Phoenix's success later in the series.
All four of the usual starters have earned their praise but Payne deserves special mention. For a player who was out of the league until the Bubble last season, Payne has jolted his career back to life. He averaged 12.5 points on 42.3 percent from 3 and his energy off the bench was an invaluable resource to the Suns all series long.
Only three Suns lineups played more minutes than this one during the regular season. This group should be a part of the rotation moving forward but it's certainly possible their most meaningful minutes together have already been played.
It's fortunate that this is the lineup we get to focus on for the Sixers.
When fully healthy, the 76ers starting lineup is one of the most dominant in the league. In 60 minutes against the Wizards in round one, they were +61. They overwhelmed Washington in just about every facet of the game until Embiid's meniscus injury in Game 4 put it all in doubt.
Without Embiid in Game 5, Matisse Thybulle started in his spot. That replacement group was a fun lineup; one that finished +3 in 16 minutes together. It's high-flying, high-scoring and runs at a league-leading pace. It was exciting to watch but was clearly missing the piece Philadelphia needs in order to win their first title in 38 years.
The Sixers are obviously disappointed to have lost Game 1 and homecourt advantage along with it, but Embiid's 39 points, nine rebounds and four assists have to be a sigh of relief. This lineup played a huge part in Philadelphia's almost-comeback at the end of Game 1 and will remain the starting point for any future success the 76ers have later in this series.
SERIES PREVIEW: Hawks vs. 76ers
Atlanta Hawks: Lou Williams, Kevin Huerter, Bogdan Bogdanovic, Danilo Gallinari and Clint Capela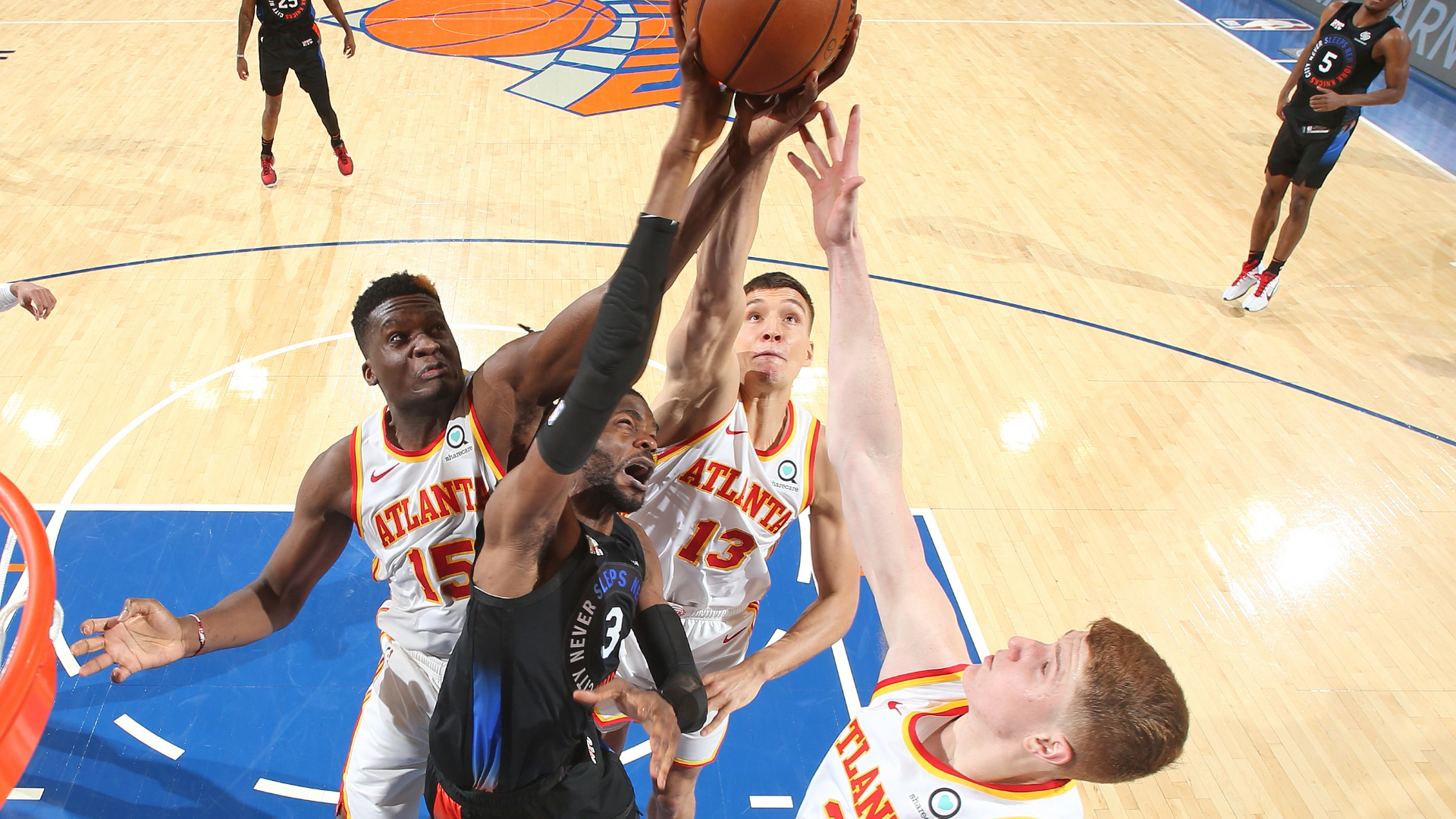 As their series against the Knicks progressed, Trae Young and the Hawks looked increasingly confident and in control. Surprisingly, though, one of Atlanta's most successful lineups came without Young on the floor.
This bench lineup plus Bogdanovic and Capela absolutely shellacked the Knicks. In 21 minutes together, they had a net rating of +42.7. Incredibly, that number is built off just a 117.1 ORtg. That's a respectable offence, sure, but not anomalous enough to typically lead to such domination.
Their true success came on the defensive end as they held the Knicks to just 0.78 points per possession and 28.9 percent shooting; shockingly stingy numbers considering the personnel on the floor.
Out of all eight lineups on this list, the performance of this one feels the least sustainable. Capela is a fantastic defender and both Huerter and Bogdanovic can be serviceable in the right roles, but Gallinari and Williams are typically the first points of weakness opposing offences will attack.
After being Atlanta's second-most played lineup in the first round, it wasn't surprising to see head coach Nate McMillian move away from it against Philadelphia. Defence-first players like Onyeka Okongwu and Solomon Hill both saw their minutes tick up while Williams and Gallinari saw theirs limited.
Whether this is a lineup the Hawks go back to as the series progresses remains to be seen. Their offence was flowing in Game 1 but, as Philadelphia's defence tightens later in the series, their need for a bench scoring boost may bring this lineup back into prominence.
This wasn't the lineup Milwaukee planned to lean on for Round 2.
The Bucks were utterly dominant in Round 1. They exorcised their Miami demons and carried an incredible amount of momentum into the Brooklyn series but the lasting impact of that series may be the loss of Donte DiVincenzo.
The DiVincenzo starting lineup was the foundation of Milwaukee's dominance - it was +26 in 36 minutes against Miami. No other Bucks lineup that played at least 11 minutes in that series was better than +4. With DiVincenzo out for the playoffs, head coach Mike Budenholzer was forced to adapt. He started Pat Connaughton to close out Miami but opted for the more versatile Tucker to open the Brooklyn series.
Tucker fits a lot of what the Bucks are looking for from that spot. He can camp in his preferred corner spots offensively without interfering with Antetokounmpo or Lopez around the rim. He also takes the nightmare assignment of guarding Kevin Durant which allows Antetokounmpo more freedom to roam and create havoc everywhere else.
While Game 1 against the Nets was a disappointing performance overall, this lineup held its own. It was +3 in 13 minutes and put Milwaukee in a solid position early in the game. The Nets excel at creating and exploiting mismatches, but this lineup is as good as any in the league at limiting places to attack. If the Bucks want to turn this series around, this lineup will have to be the first step in that right direction.
SERIES PREVIEW: Bucks vs. Nets
This lineup didn't play a second together during the regular season but from the moment they stepped on the court together against the Celtics, it was apparent they had no need for a regular-season warm-up.
In 64 minutes against Boston, this lineup put up a 138.1 offensive ratintg. No lineup that played at least 64 minutes put up an offensive rating that high during this or any regular season - or playoffs either - since 2014.
Praising offensive talents of the Nets' stars isn't revelatory but sometimes the most obvious analysis is the aptest. Every moment this lineup plays together, there becomes less and less of a doubt that this is the greatest collection of offensive talent to ever step on a playoff floor together.
The necessary follow-up to that statement, though, is that those moments have been incredibly few and far between. Once James Harden limped off the floor 43 seconds into Game 1, it cut a piece out of Brooklyn's best weapon. Durant, Irving and Griffin carried the Nets in Harden's absence but his health has now become Brooklyn's greatest championship threat.
The views on this page do not necessarily reflect the views of the NBA or its clubs