After the Toronto Raptors earned a record-breaking 134-110 win in Game 1 of their opening round series against the Brooklyn Nets on Monday, the two teams are back at it again on Wednesday.
Here's a few key things to watch for ahead of Game 2.
First Round, Game 2 - Toronto Raptors (1-0) vs. Brooklyn Nets (0-1)
Where to watch
Date: Wednesday, Aug. 19
Time: 1:30 p.m.
TV: TSN (Canada), YES and NBA TV (USA)
Location: The Field House, Orlando, FL
Three Things to Watch
1. The bounce back from Pascal Siakam
Siakam finished Game 1 with a 19-point, 11-rebound double-double but did so while shooting just 4-for-13 (30.8%) from the field. He did manage to shoot a perfect 9-for-9 from the charity stripe, though.
Such continues a trend for Siakam, who averaged just 16.9 points on 39.4% shooting from the field over seven seeding games. Ahead of Game 1, both head coach Nick Nurse and Fred VanVleet expressed confidence in Siakam's ability to score in crucial spots this postseason, dispelling the notion that he was incapable of being the team's No. 1 option.
While Siakam's shooting splits in Game 1 might lend credence to the outside assertions, VanVleet doubled down on their confidence in Siakam postgame, telling reporters "No disrespect to you or anybody else, but Pascal's good and I think we've got a great team of guys who are not really worried about the bottom line, not worried about what the stat line looks like after the game, just about getting wins and losses," (via Ryan Wolstat, Postmedia).
One thing that also could have affected Siakam's efficiency? The whistle. After Game 1, Nurse told reporters that Siakam is "absorbing a lot of contact" while Siakam himself hinted at a similar point before ultimately stating that "it's on me to finish."
Our Carlan Gay took a closer look at Siakam's Game 1 performance, emphasizing that his defensive efforts were major, though he could engage himself more offensively in crucial points, such as when the Nets were making their third-quarter run.
They hear the noise and in Game 2, expect an aggressive Siakam to look for his offence early and often. After a perfect game from the free throw line on Monday, Siakam will be in position to take advantage of however many calls he gets by taking contact.
2. Can Caris LeVert find his spots as a scorer?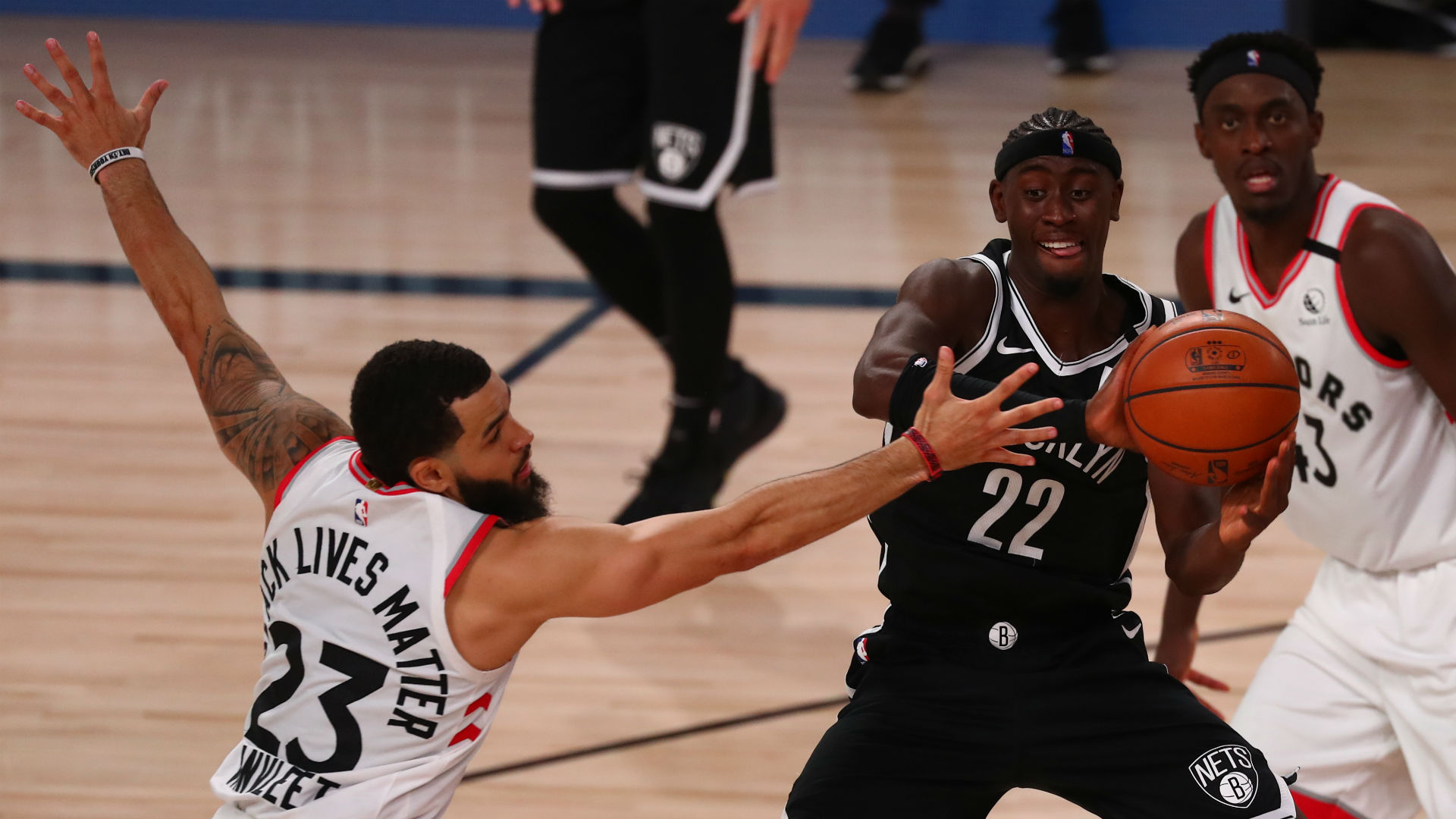 After averaging 25.0 points, 6.7 assists and 5.0 rebounds to lead the Nets during the seeding games, the Toronto Raptors defence made it a point to limit LeVert as a scorer in Game 1.
In 35 minutes of action, LeVert finished with 15 points while shooting 5-for-14 (35.7%) from the field and committing five turnovers, something he credited to the Raptors defensive game plan: "They were trapping all of my isos in the mid-post, up top, all of my ball screens, so I feel like that was the game plan throughout the whole game."
As a result of Toronto's scheme, LeVert dished out a career-best 15 assists, just four shy of a Nets postseason record set by Jason Kidd. Still, Brooklyn is a much better team when LeVert is filling it up, causing the focus of the team to getting easier opportunities.
LeVert continued, adding that "I feel like at times we did a great job of attacking (the traps) but we still gotta watch some film and see how we can get some easier shots."
Sharpshooter Joe Harris, who finished with 19 points in Game 1, added that the best way to get LeVert involved is by getting stops and getting him easy buckets in transition: "Caris is our best offensive player and teams are just gonna try to get the ball out of his hands…
"We've also gotta try and get him out in transition," Harris continued. "Get those stops and allow him to kinda get out in open space and be able to attack downhill."
Brooklyn was disappointed with its defensive effort and will look to limit Toronto more in order to give itself more chances and, ultimately, get LeVert going in transition. As a pure scorer, his ability to get a few easier buckets could make the basket seem larger as the game goes on.
3. Defensive Adjustments
Fred VanVleet scored a game-high 30 points after shooting a red-hot 11-for-15 from the field and 8-for-10 from beyond the arc.
A closer look at his performance shows that three of his eight triples were off of an on-ball screen and made possible by the Nets' coverage. When screened by a big, Nets attempted to fight over while their big men dropped back to cover the roll man and discourage the drive.
A combination of solid screens made by Toronto's bigs and the drop back from Brooklyn's bigs created enough space for VanVleet to knock down those 3s off the dribble.
Per Blake Murphy of The Athletic, VanVleet was jokingly assertive in sharing his hopes that the Nets don't adjust their pick-and-roll coverage, quipping that it allowed him to find his groove the way he did. Joke or not, expect the Nets to make some adjustments to limit VanVleet and the Raptors as a team from shooting as well as they did in Game 1.
On the other end, VanVleet admitted that the Raptors didn't put forth their best defensive effort as LeVert was able to adapt to their coverage and dish out 15 assists (per Eric Koreen of The Athletic).
With the Nets scheming to get LeVert more involved as a scorer, expect Nurse and the Raptors to counter with some defensive schemes and looks to continue to make things difficult for Brooklyn's best scorer.
Injury Report
The official injury report has not yet been made available.
Game Notes
Toronto's 134 points in Game 1 set a new franchise postseason record.
The Raptors 22 3-pointers in Game 1 were also a franchise postseason record.
Fred VanVleet became the first Raptor to score 30 or more points and dish out 10 or more assists in a playoff game.
Toronto is 8-11 (.421) all-time in Game 2 of a playoff series. The Raptors have taken a 2-0 lead in a playoff series once in franchise history - 2018 in the first round vs. Washington.
This marks the third time the Raptors and Nets have faced each other in the postseason, with the Nets winning the series in 2007 and 2014.
Series Schedule
​Game 1 - Toronto Raptors 134, Brooklyn Nets 110
Game 2 - Wednesday, Aug. 19, 1:30 p.m. - TSN
Game 3 - Friday, Aug. 21, 1:30 p.m. - Sportsnet
Game 4 - Sunday, Aug. 23, 6:30 p.m. - TSN
Game 5 - Tuesday, Aug. 25, TBD - Sportsnet*
Game 6 - Thursday, Aug. 27, TBD - TSN*
Game 7 - Saturday, Aug. 29, TBD - Sportsnet*
*Games 5-7 If necessary
The views on this page do not necessarily reflect the views of the NBA or its clubs.