Less than 48 hours after a record-breaking Game 1 win, the Toronto Raptors were back in action for a Wednesday afternoon matinee with the Brooklyn Nets in Game 2.
Behind a 24-point, 10-assist double-double from Fred VanVleet and 21 points from Kyle Lowry, the Raptors take a 2-0 series lead for just the second time in franchise history.
For the Nets, Caris LeVert finished with 16 points on 5-for-22 shooting while Garrett Temple led the way with 21 points.
If you missed any action, check below for live score updates, news, stats and highlights from throughout the game…
Toronto Raptors vs. Brooklyn Nets Game 2
Final: Toronto Raptors 104, Brooklyn Nets 99
4:13 p.m. - The Raptors force a turnover, leading to a Norman Powell dunk.
The Raptors now lead the series 2-0.
4:10 p.m. - A transition 3 from Timothé Luwawu-Cabarrot makes it a one-possession game with 39 seconds remaining.
Brooklyn gets the stop on the ensuing possession, forcing a shot-clock violation.
Timeout on the floor, Raptors lead 102-99 with 15 seconds remaining.
Nets ball.
4:06 p.m. - Under two minutes remain in regulation.
A dunk from Norman Powell is followed by a Joe Harris corner triple.
Toronto leads 101-96.
4:00 p.m. - Kyle Lowry sinks the first of two free throws with a second to come after the timeout.
Toronto leads 98-92 with 3:41 remaining in regulation.
Can the Raps hold on?
3:56 p.m. - The timeout was to challenge a foul on Serge Ibaka.
It was UNSUCCESSFUL.
Ibaka knocks down both free throws and the Raptors are now up by eight, starting the fourth on a 19-5 run.
3:53 p.m. - 23 seconds have passed and we've got another timeout on the floor.
The Raptors have outscored the Nets 17-5 in the fourth to take a 91-85 lead.
6:21 remains in regulation as Toronto looks to pull away.
3:47 p.m. - After going back-and-forth to begin the frame, the Raptors are starting to build some momentum.
A finish through contact from Kyle Lowry makes it 90-85 Toronto with 6:44 to play.
🗣️ MISMATCH pic.twitter.com/BO0w2fytLh

- Toronto Raptors (@Raptors) August 19, 2020
Timeout Brooklyn.
Lowry is up to 18 in the game and has an opportunity to make it 19 after the timeout.
3:44 p.m. - Don't make OG Anunoby mad.
ANGRY OG > EVERYTHING pic.twitter.com/gBlHonO3GS

- Toronto Raptors (@Raptors) August 19, 2020
3:40 p.m. - The Nets lead 83-82 with 9:41 remaining in regulation.
An illegal screen set on OG Anunoby by Rodions Kurucs is under review, as Anunoby appeared to be shaken up after the play.
It's been ruled a common foul.
End of Third Quarter: Brooklyn Nets 80, Toronto Raptors 74
3:31 p.m. - The Nets take an 80-74 lead into the fourth quarter.
Garrett Temple got going from deep to give Brooklyn a much-needed boost. Temple is up to a team-high 21 points and is shooting 6-for-9 from the field and 5-for-8 from deep.
Fred VanVleet scored 14 of the Raptors 24 points in the third and is up to 22 points (on 7-for-17 shooting).
Toronto's got one quarter to figure things out as Brooklyn has had a response for each one of its bursts.
3:25 p.m. - Under four minutes remain and the Nets hold a three-point lead.
It's 71-68 with 3:40 remaining in the third.
Brooklyn is holding serve.
3:13 p.m. - I've heard basketball is a game of runs.
Toronto responds with a 10-2 run of its own to cut the deficit back down to two points.
Fred VanVleet is heating up! He's up to 18 points in the game and is 4-for-6 to start the second half, scoring all 10 points of the recent run.
FVV scores 10 straight @Raptors points! 🔥

📺: @NBATV pic.twitter.com/x8yDgskQ4t

- NBA (@NBA) August 19, 2020
For Brooklyn, Caris LeVert leads the way with 14 points (on 4-for-16 shooting) and is up to eight assists.
The Nets call for time as they lead 65-63 with 6:47 left in the third.
3:06 p.m. - Make it 10 unanswered for the Nets, who have gotten back out to a double-digit lead.
Just over three minutes into the third, Brooklyn leads 63-53.
Timeout Toronto.
3:00 p.m. - Kyle Lowry gets things going with a triple to tie things up.
The second half is underway.
Halftime: Brooklyn Nets 53, Toronto Raptors 50
2:50 p.m. - Have a look at the halftime stats: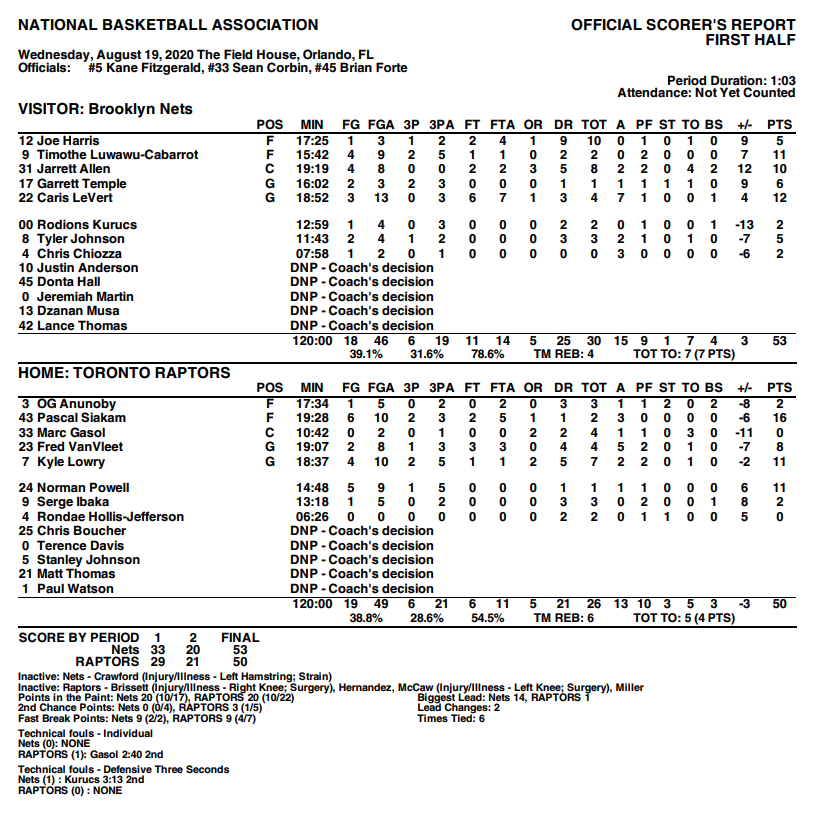 2:45 p.m. - One half is in the books and Brooklyn takes a three-point lead into the locker room.
Despite being just 3-for-13 from the field, Caris LeVert (12 points) is one of three Nets to score in double figures in the first half, as Timothé Luwawu-Cabarrot has added 11 points and Jarrett Allen nears a double-double with 10 points and eight rebounds.
For Toronto, Pascal Siakam is up to 16 points on 6-for-10 shooting while Kyle Lowry and Norman Powell have each scored 11 points apiece. After a hot shooting performance in Game 1, Fred VanVleet has eight points on 2-for-8 shooting so far.
2:33 p.m. - The challenge was SUCCESSFUL.
There's a foul on the play but it was on OG Anunoby, not Kyle Lowry.
Lowry still has just two fouls ahead of the half.
2:32 p.m. - Challenge on the floor = timeout on the floor.
Nick Nurse is contesting a foul charged to Kyle Lowry, which would be his third of the game.
Brooklyn leads 45-43 with 5:20 left in the second quarter.
2:26 p.m. - There's another break in the action and the Nets have maintained a three-point lead.
It's 43-40 with 6:52 remaining in the half.
For Brooklyn, reserves Tyler Johnson, Chris Chiozza and Rodions Kurucs have made a few plays to get on the board in the second.
get nifty with it @RealTJohnson #BrooklynStrong | @BeyondMeat pic.twitter.com/3A1pmDXgc2

- Brooklyn Nets (@BrooklynNets) August 19, 2020
For Toronto, Norman Powell is up to 11 points (on 5-for-7 shooting)
2:19 p.m. - Just over three minutes into the second, we've got a timeout on the floor.
Brooklyn holds a 39-36 with 8:45 left in the frame.
2:16 p.m. - Norman Powell makes his presence felt early in the second.
Take a look for yourself.
NASTY NORM IN YOUR AREA pic.twitter.com/HLz6yCRVAO

- Toronto Raptors (@Raptors) August 19, 2020
End of First Quarter: Brooklyn Nets 33, Toronto Raptors 29
2:06 p.m. - After trailing by as many as 14 points, the Toronto Raptors chipped away to make it a four-point deficit to close the first quarter.
The Nets are led by 10 points and five assists from Caris LeVert while Jarrett Allen has eight points and four rebounds already.
. @CarisLeVert ↗️ @_bigjayy_ pic.twitter.com/MsaM9oJIJj

- Brooklyn Nets (@BrooklynNets) August 19, 2020
After a relatively rough Game 1, Pascal Siakam leads all scorers with 14 points and also has a team-high three assists.
🗣️ AND 1 pic.twitter.com/PVICB4ptN8

- Toronto Raptors (@Raptors) August 19, 2020
2:00 p.m. - We've reached another break in the action and the Nets still hold a double-digit lead.
Brooklyn leads 26-16 with 4:14 remaining in the first.
Jarrett Allen leads all scorers with eight points while Caris Levert and Timothé Luwawu-Cabarrot have each scored six points apiece; the Nets are shooting 9-for-14 (64.3%) from the field.
The Raptors, who are shooting 6-for-14 (42.9%), are led by six points from both Kyle Lowry and Pascal Siakam.
1:55 p.m. - After scoring just 20 points in the first quarter of Game 1, the Nets are up to 24 points as we near the midway point of the first in Game 2.
Brooklyn leads 24-12 with 6:11 left in the first.
The Nets have been getting out in transition to get their offence flowing.
1:45 p.m. - The Nets are off to a solid start.
Brooklyn is 4-for-5 from the field early on and has gotten out to an early 12-5 lead to get things going.
We've reached our first break in the action as the Raptors call for a timeout less than three minutes into the game.
1:39 p.m. - A pair of triples get the game going.
Garrett Temple gets the Nets on the board first but Kyle Lowry responds to tie things up at 3.
Game 2 is underway.
Pregame
1:30 p.m. - It's game time.
Lights
Camera
Game Time pic.twitter.com/GKcNULxW6K

- Toronto Raptors (@Raptors) August 19, 2020
1:20 p.m. - Business as usual for the Toronto Raptors:
Nick Nurse again goes with Kyle Lowry, Fred VanVleet, OG Anunoby, Pascal Siakam and Marc Gasol.
Today's @Invisalign starting lineup. #WeTheNorth pic.twitter.com/K1gxK8Is04

- Toronto Raptors (@Raptors) August 19, 2020
1:00 p.m. - Lineup change:
Brooklyn Nets head coach Jacque Vaughn has inserted Timothé Luwawu-Cabarrot into the starting lineup to play alongside Caris LeVert, Garrett Temple, Joe Harris and Jarrett Allen.
The Game 2 5️⃣ | @Hersheys

2️⃣2️⃣ @CarisLeVert
1️⃣7️⃣ @GTemp17
1️⃣2️⃣ Joe Harris
9️⃣ @timcabs
3️⃣1️⃣ @_bigjayy_
#BrooklynStrong pic.twitter.com/ZoUuRrGUyb

- Brooklyn Nets (@BrooklynNets) August 19, 2020
12:55 p.m . - The Raptors have arrived:
It's a lifestyle pic.twitter.com/YiYG85HTxf

- Toronto Raptors (@Raptors) August 19, 2020

The views on this page do not necessarily reflect the views of the NBA or its clubs.