As the Toronto Raptors prepare to begin their title defence against the Brooklyn Nets in Round 1, much of the focus shifts to Pascal Siakam and his ability to carry his play from the regular season over into the postseason.
Despite struggles during the NBA's restart in Orlando, Florida, Siakam finished his fourth NBA season with career-best averages of 22.9 points, 7.3 rebounds and 3.5 assists over 60 games.
After being crowned the league's Most Improved Player in 2019, Siakam again made huge leaps this season, stepping up as the team's primary scorer after the departure of Finals MVP Kawhi Leonard via free agency.
But can he do it over the course of a postseason run?
MORE: Three key questions for the Raptors playoff run
Over the weekend, Fred VanVleet weighed in on Siakam's readiness to be the guy during these playoffs: "Unless I missed something, he had a pretty damn good playoffs last year. I think he's proven it, I don't know who's setting the standard but from my eyes, I think he's proven it."
Last postseason, Siakam posted averages of 19.0 points, 7.1 rebounds and 2.8 assists over 24 games. A closer look at his numbers show that the production varied from game to game, which was a product of both his role changing as well as defences adjusting to defend him.
Take a look at the numbers:
Pascal Siakam's scoring, 2019 Playoffs

| | | |
| --- | --- | --- |
| Points Total | No. of Games | Record |
| 7-14 | 7 | 4-3 |
| 15-23 | 9 | 5-4 |
| 24+ | 8 | 7-1 |
The above table doesn't necessarily tell the full story, but it gives an idea of how important scoring is for a team's second option, meaning Siakam's role as the first option is even more imporant this year.
VanVleet, however, isn't concerned about Siakam's ability to rise to the challenge: "Again, if he goes out there and plays well, he plays well and if he doesn't, he doesn't. The playoffs are just about performing - each game, each night.
"He's more than capable, and obviously we're gonna do everything in our power to help him play well but I'm not worried about Pascal at all."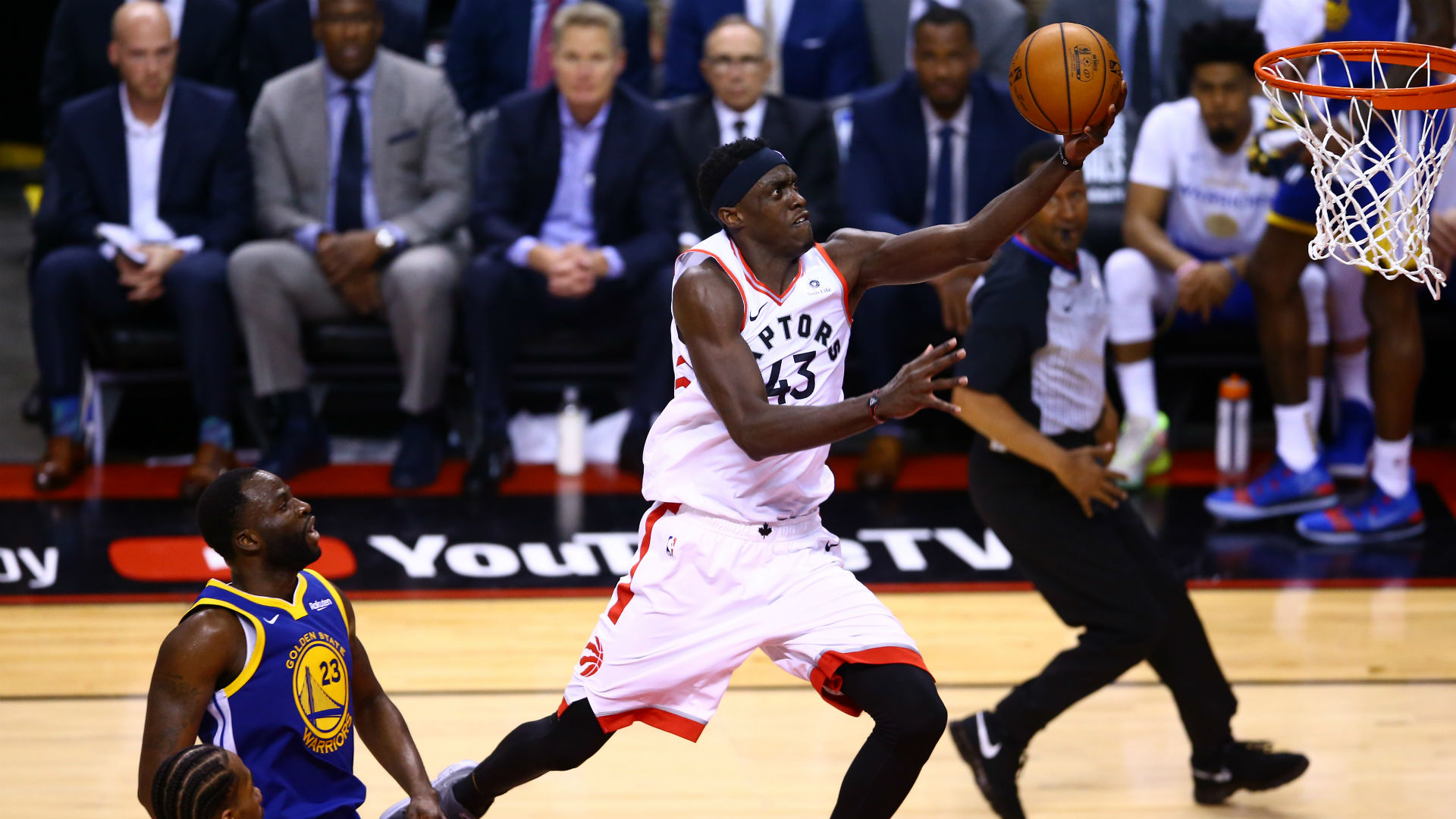 In VanVleet's eyes, Siakam should be well prepared for the task at hand based on his experiences last postseason: "Honestly, I don't feel like it's gonna be any different.
"He was double teamed last year and he got shown a lot of attention," VanVleet continued. "Obviously, Kawhi was there as the primary-primary but Pascal was causing a lot of problems, and it wasn't like people weren't guarding him because we had Kawhi, they were pretty locked in on (Pascal), too. "
While teams will be even more locked in on Siakam this postseason, it'll be harder to scheme for him as he's added more to his game and the Raptors have a historically balanced offence, meaning attempts to neutralize Pascal allows another player to hurt you.
MORE: Raptors become first team since 1973-74 to have five 15 ppg scorers
Head coach Nick Nurse spoke on this, acknowledging the unique nature of Toronto's balanced offence: "I think it is an interesting kind of project that we have here in front of us. I love the different options and so many different people I think can rise up and have big nights."
He did continue by adding that in the postseason, each team does needs to have that clear-cut No. 1 in crucial moments: "I know that in tough playoff games you need somebody that can get you a bucket. You need somebody that can just get the ball, put their head down and score you one - or step back and score you one, whichever way. Just to kind of keep things ticking over and keep momentum and spirit and all that stuff going."
"That's (Pascal's) job and he's done a tremendous job of that this regular season and I would imagine he answers."
Siakam and the Raptors take on the Nets in Game 1 of the opening round of the postseason on Monday, Aug. 17 at 4 p.m. on Sportsnet.
The views on this page do not necessarily reflect the views of the NBA or its clubs.