The legend of Jamal Murray continues to grow.
As an encore to his heroic efforts in the opening round, Murray helped engineer the Denver Nuggets historic second comeback from a 3-1 deficit this postseason, scoring 40 points in the team's Game 7 victory over the LA Clippers.
West Finals Preview: Can Nuggets keep it going against Lakers?
Murray is now averaging 32.7 points in the six games in which Denver has faced elimination this postseason, adding validity to the notion that he and the team perform best when their backs are against the wall.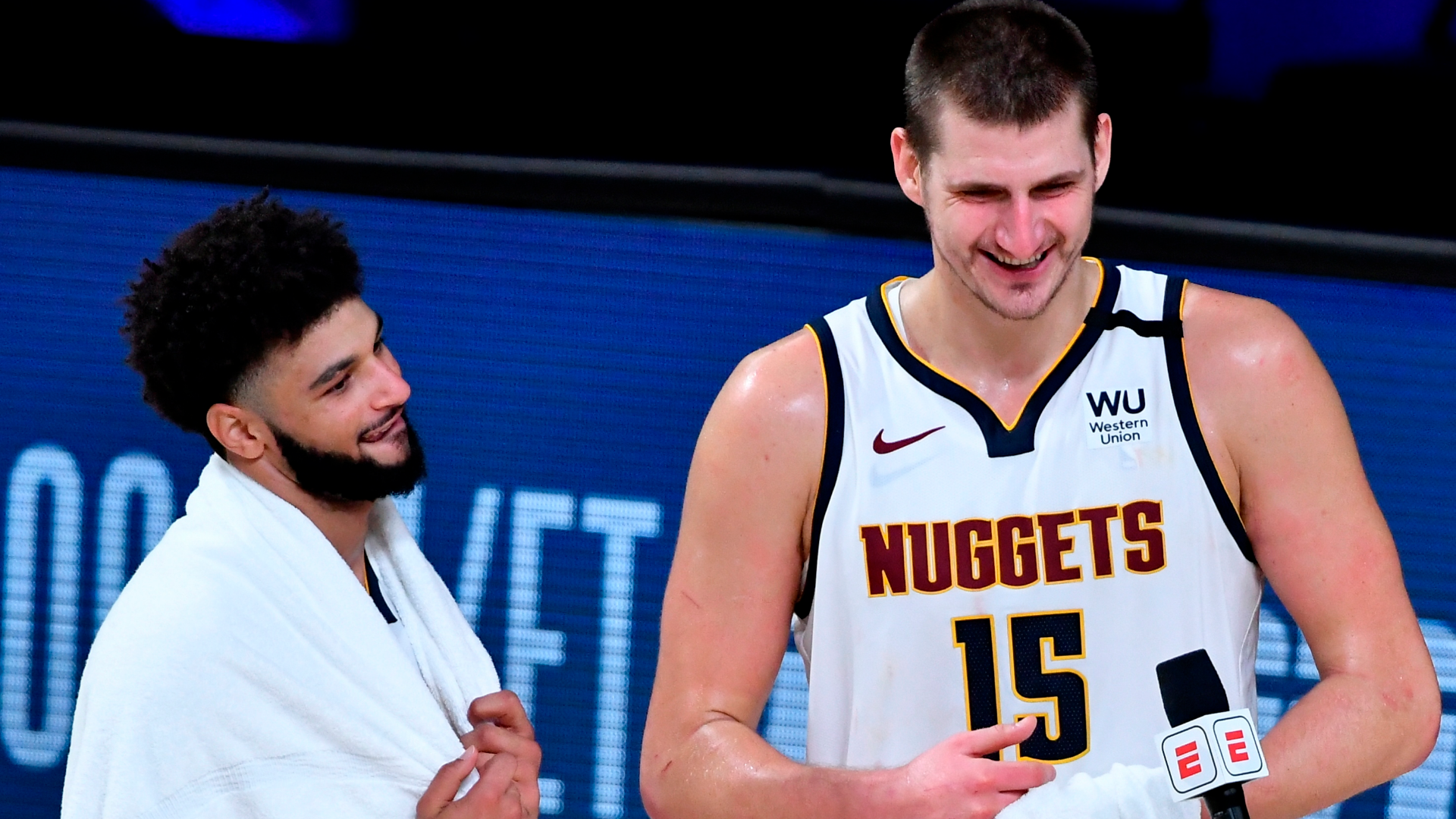 It all began in Game 4 of the opening round, where Murray's 50 points (on 18-for-31 shooting), 11 rebounds, and seven assists weren't enough to get Denver over the hump as it suffered a two-point loss to fall down 3-1 in the series.
After what could have been a demoralizing blow, Game 5 saw Murray respond the only way he knew how.
In his postgame interview, Murray said that after falling down 3-1, he reflected on how he had never been in that position and would do anything for his to not be eliminated. This, of course, was after he recorded 42 points, eight rebounds, and eight assists in the 10-point Game 5 win that allowed the Nuggets to fight another day, extending the series to a sixth game.
Game 6 was an even more impressive performance, as Murray would again go for 50 points (on 17-for-24 shooting) in a win, fuelling Denver to force what would prove to be a wild and low-scoring Game 7.
His powerful comments post-game were a reminder of who Jamal Murray is as a player, but more importantly as a young man.
MORE: Jamal Murray's powerful postgame message
Take a moment to appreciate how historic the 23-year-old was in the opening round of the postseason.
Averaging 34.0 points, 6.7 assists, 6.2 rebounds on .585/.574/.913 shooting splits through six games
Joined Allen Iverson, Michael Jordan and Donovan Mitchell (this series) as the only players with multiple 50-point games in one playoff series (per StatMuse)
First player since Jordan in 1993 to post three-straight 40-point games in a postseason series (per ESPN Stats & Info)
11 points shy of having a top-five scoring performance in the opening round of the playoffs. (StatHead)
As The Athletic's Blake Murphy penned following Game 6, Jamal Murray has transcended.
Murray's rise and big-time performances shouldn't come as a major shock, as a look into his past would suggest that the big stage is where his star shines the brightest.
Jordan Brand Classic
April 13, 2013
At 16, Murray travelled to Brooklyn, NY to take part in the Jordan Brand Classic International Game.
Murray, who was not exactly a well-known prospect at the time, made a name for himself by scoring a game-high 24 points, 16 of which came in the second half to earn MVP honours in the game.
To some, it might seem like an exhibition with not much consequence but for many, the impression that Murray made in that game was the first glimpse at his never-back-down mentality and desire to make a name for himself.
It would only be the beginning…
Nike Hoop Summit
April 12, 2015
In a game that featured the likes of Jaylen Brown, Brandon Ingram, Luke Kennard, and Ben Simmons, it was Murray's star that shone the brightest.
The 18-year-old Murray led the way for the World Select Team, scoring 10 of his game-high 30 points int he fourth quarter to propel the squad to a 103-101 victory over the USA Junior National Select Team.
Like we've grown accustomed to seeing by now, Murray calmly made big plays at the most important juncture of a close game.
This performance put him in conversation to represent his country a few months later at…
The Pan Am Games
July 24, 2015
As The Toronto Star's Doug Smith penned over five years ago, "A lot of people are going to say a lot of wonderful things about Jamal Murray as his basketball career unfolds, but none may resonate as much as the ones being spoken in the bowels of the Ryerson Athletic Centre on Friday night."
Prior to stepping foot on a college campus, an 18-year-old Murray represented Canada as a member of the Senior Men's National Team at the 2015 Pan Am Games.
That he was selected to play with the team says something but he wasn't just along for the ride, he was there to make an impact.
In the semifinal round of the tournament, Murray stepped up in a major way, finishing with 22 points after going scoreless in the first three quarters. The most impressive buckets were his two triples in an overtime period that lifted Canada to a 111-108 win over the United States.
At 18.
As two-time MVP Steve Nash, who was in attendance said of Murray, "He's a special, special kid… he's not afraid of the moment. He embraces the moment and that's why he's very, very special."
Rising Stars Challenge
Feb. 17, 2017
Fast forward nearly two years, and Murray took the floor with more young stars, as he represented Team World at the 2017 Rising Stars Challenge in New Orleans, LA.
Murray hadn't even become a full-time starter with the Nuggets just yet but made his presence felt in this one.
It might have been a midseason exhibition, but Murray was clearly on a different level than the rest of his peers, scoring a game-high 36 points and dishing out a game-high 11 assists in a 150-141 win for the World Team.
His performance earned him MVP honours in a game that also featured Karl-Anthony Towns, Devin Booker, Brandon Ingram, and Nikola Jokic.
2019 NBA Playoffs
After falling one win shy of a postseason appearance in 2018, Murray and the Nuggets made the leap to becoming the West's No. 2 seed in 2019.
It was the playoff debut for a 22-year-old Murray.
In just his second-ever postseason game, Murray scored 21 points in the fourth quarter to help the Nuggets complete a late rally over the San Antonio Spurs to even things up in the first round. After the game, he remarked that "the fourth quarter is where players are made."
It was a postseason of ups and downs for Murray, who performed significantly better in Denver's wins than in its losses.
The Nuggets' postseason came to an end after a gutting Game 7 loss to the Portland Trail Blazers, a game in which Murray scored 17 points on just 4-for-18 (22.2%) shooting.
---
That heartbreak, as reported by Nick Kosmider of The Athletic, still weighed heavily on Murray as he entered the 2020 postseason.
Now, over a year later, Murray has atoned for last year's letdown as he helped the Nuggets join only 11 other teams that have come back from a 3-1 deficit not once, but twice.
Lucky for Denver, the 23-year-old can get even better and he's ready to see his star grow even bigger against the Lakers.
The views on this page do not necessarily reflect the views of the NBA or its clubs.