Which player is better: Kawhi Leonard or Giannis Antetokounmpo?
Above all else, that question is the one which will surely decide the outcome of the Eastern Conference Finals between the Toronto Raptors and Milwaukee Bucks.
MORE: Raptors-Bucks series preview
The game within the game will matter:
Can Pascal Siakam rediscover his touch?
Which bench wins those crucial mid-game minutes?
Which coach makes the proper adjustments?
Will role players knock down open shots?
But make no mistake, the series ultimately hinges on which superstar emerges as the best player in the conference. Rarely do we get the opportunity to see two players at their peak surrounded with similar levels of talent square off with so much at stake.
As LeBron James proved over the previous eight years, the East boils down to which team has the best player.
We broke down five different categories to see who holds the inside track.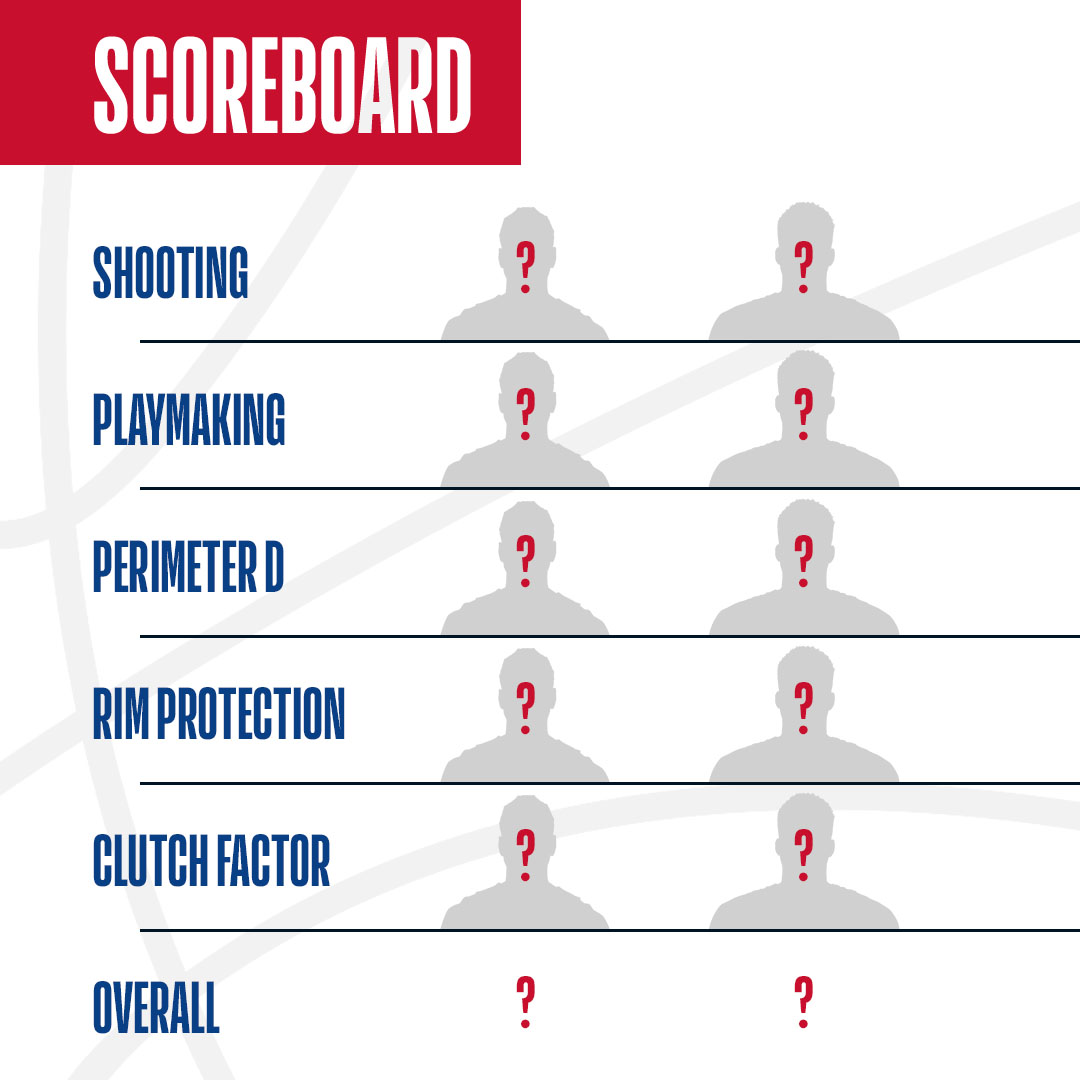 Category 1: Shooting
This one isn't close.
There are many things that Giannis Antetokounmpo can do on a basketball court. Consistently shoot from anywhere outside the paint is not one of them... yet.
Leonard on the other end is quite literally the most efficient shooter in NBA postseason history. Though he's been a knockdown catch-and-shoot assassin for several years now, Leonard has developed an ability to drill outside shots off the dribble. So far this postseason, he's a scorching 56% on pull-up jumpers which is a massive leap up from 42% during the regular season.
Of all the categories, this is probably the one area where there's a significant disparity.
Advantage: Kawhi
Category 2: Playmaking
Leonard has improved as a playmaker this year in Toronto even if his 3.3 assists per game from the regular season don't necessarily jump off the page. He's among the most patient players in the league and is next to impossible to speed up even in the face of strong double teams and added pressure.
Although he's a master at keeping his dribble, Leonard's default is to either probe and wait out the defence or to immediately attack in the same direction as help. He doesn't use his ability to extend plays as a means to create for others at the same rate as other No. 1 options.
MORE: How Kawhi's game evolved this season
Antetokounmpo meanwhile is far more inclined to find shooters and cutters. While nobody is yet mistaking him for LeBron James when it comes to his ability to see passes materialize before they happen, Antetokounmpo is a willing passer that's capable of picking apart any defence which over helps.
He averaged a career-high 11.5 assist opportunities per game this season while also scoring more points in the paint than any player since Shaquille O'Neal in his prime. In his first season under Mike Budenholzer, Antetokounmpo is showcasing an ability to facilitate at an elite level while punishing teams inside.
Advantage: Giannis
Category 3: Perimeter Defence
When he's dialled in, Kawhi Leonard is simply on another level when it comes to defending on the perimeter. With those massive hands and active arms that reach all the way from Toronto to San Antonio, Leonard makes even the most mundane tasks an absolute nightmare for All-Star level players.
Check out this play out from Game 7 where Leonard steals candy from Jimmy Butler and Greg Monroe.
Monroe and Butler leave some daylight on their action, a mental mistake that gives Leonard just enough room to poke the ball out and lead to a dunk on the other end. He's always lurking and patiently waiting for any window to get his mitts on the ball and when he does, good luck keeping it out of his claws.
Antetokounmpo is no slouch either as he's quick enough to guard pretty much any forward on the perimeter. Even when he gets beat, the Greek Freak's incredible length helps him recover perhaps better than any other player in the league.
He's just not Leonard. There's a reason that Leonard is a two-time Defensive Player of the Year and it's primarily due to the fact that he's arguably the best perimeter defender since Scottie Pippen.
Advantage: Kawhi
Category 4: Rim Protection
On the surface, you might not think of Antetokounmpo as an elite rim protector. He's the perfect example of why relying on blocks as a measure of worth on that end can be incredibly misleading.
He averaged 1.5 blocks per game during the regular season which ranks outside the top 10 and just beneath Karl-Anthony Towns who has been oft-criticized for his lack of development on defence. A large reason for lower block numbers is simply because, in today's game, Antetokounmpo spends more time on the perimeter guarding stretch 4s than he does inside the paint matched up against true bigs.
When he is challenged, however, players do not score on him. According to NBA.com's player tracking, players shot just 53% at the rim against Antetokounmpo during the regular season, a number right on par with Rudy Gobert and Joel Embiid, widely considered the two best shot blockers in the league.
He's been even more dominant so far in the playoffs, holding opponents to just 33% shooting at the rim.
Leonard's no slouch either as he's a brick house in addition to sporting that long wingspan. He's not afraid to challenge anyone at the rim and in post-up situations
Advantage: Giannis
Category 5: Clutch
I mean... c'mon.
"Ended up finding a spot that I like, that I work on..."

Kawhi breaks down the Game 7 #TissotBuzzerBeater to advance the @Raptors to the Eastern Conference Finals! #ThisIsYourTime #NBAPlayoffs pic.twitter.com/yML1dYDjeJ

- NBA (@NBA) May 13, 2019
That shot for the ages to finish off the 76ers in Game 7 was the culmination of a narrative that's been brewing all season long: Kawhi Leonard is perhaps the best closer in the game.
It might not look as smooth as Kevin Durant. It might not be as pretty as Stephen Curry or Damian Lillard. It might not be as skillful as Kyrie Irving or James Harden. But the proof is in the results and during the regular season, no player in the NBA made more game-tying or go-ahead shots in the final minute than Kawhi Leonard who shot 9-18 in those spots.
MORE: Jordan's shot vs Kawhi's shot - which is better?
Antetokounmpo is no slouch either as he was was one of the NBA's most efficient clutch-time scorers in the NBA, shooting a league-best 62.5% in the final five minutes and score within five. But with the game in the balance, in those same spots when Leonard proved to be the most productive bucket getter in the league, Antetokounmpo was just 1-4.
He simply has not shown it like Leonard has and certainly not on any stage like Game 7.
Advantage: Kawhi
The Final Tally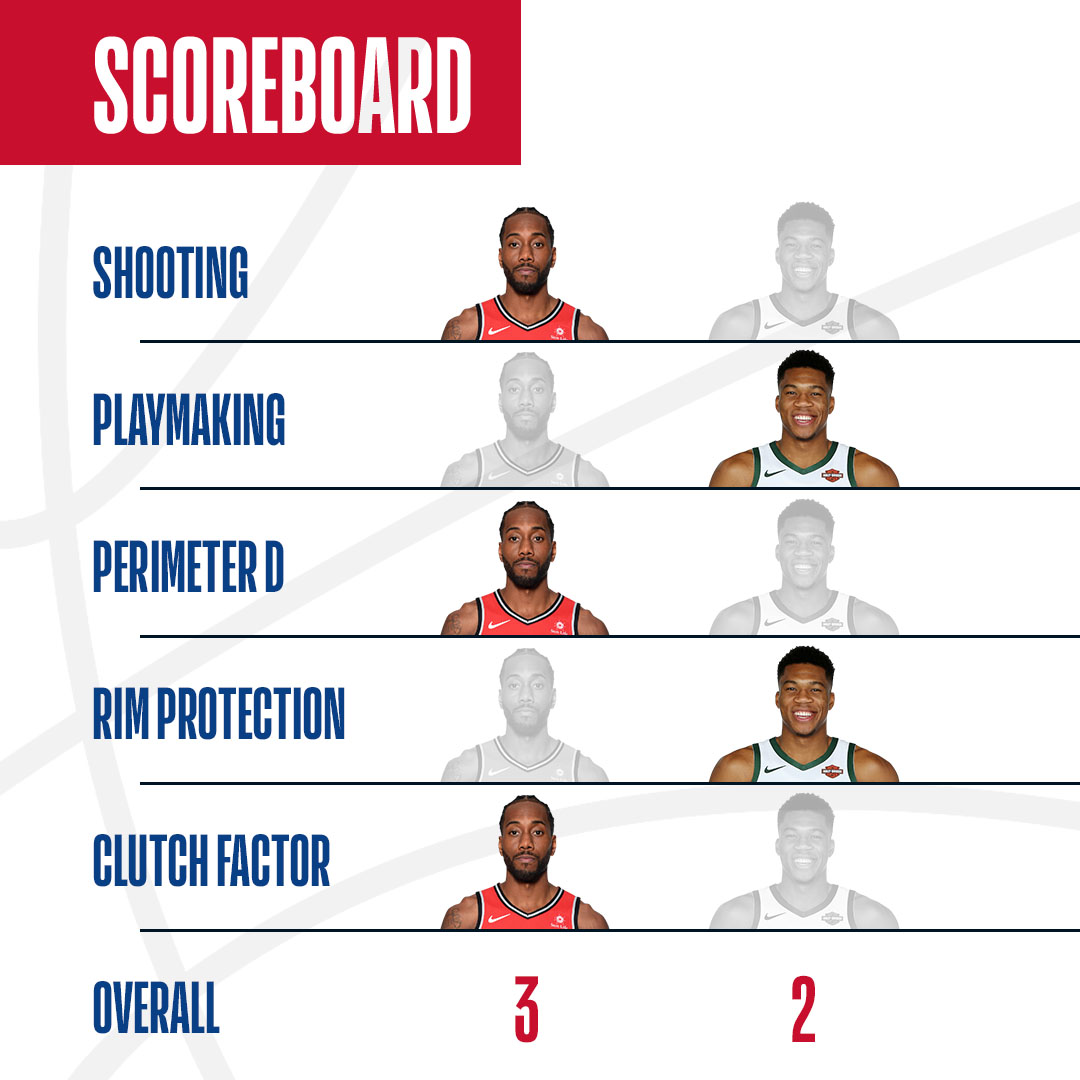 There's of course far more that goes into the making of a player than these five categories.
This is not a referendum on the season they've had as much as it is the player each has become. Antetokounmpo could very well go on to win the MVP and it would be entirely well deserved as he's blossomed into the league's next true megastar.
But all else being equal (maybe it's fair, maybe it's not), Kawhi Leonard gets the nod right now. Entering this decisive Eastern Conference Finals, it's Kawhi Leonard that's the best player in this series.
Did we get it right?
We're about to find out.
The views on this page do not necessarily reflect the views of the NBA or its clubs.