In Game 2 between the LA Clippers and Golden State Warriors, Canadian Shai Gilgeous-Alexander recorded four steals. Not only was that the most in the game, but it's also the second-most steals from a rookie in a playoff game among active players.
It tied Gilgeous-Alexander with the likes of Draymond Green, Ben Simmons, Royce O'Neale and Jayson Tatum while putting him behind only Mario Chalmers, Andre Iguodala, Damien Wilkins and Dejounte Murray, each of whom had five.
That had us thinking: What are some of the other playoff rookie records held by active players?
Thanks to Basketball Reference, that's a pretty easy question to answer.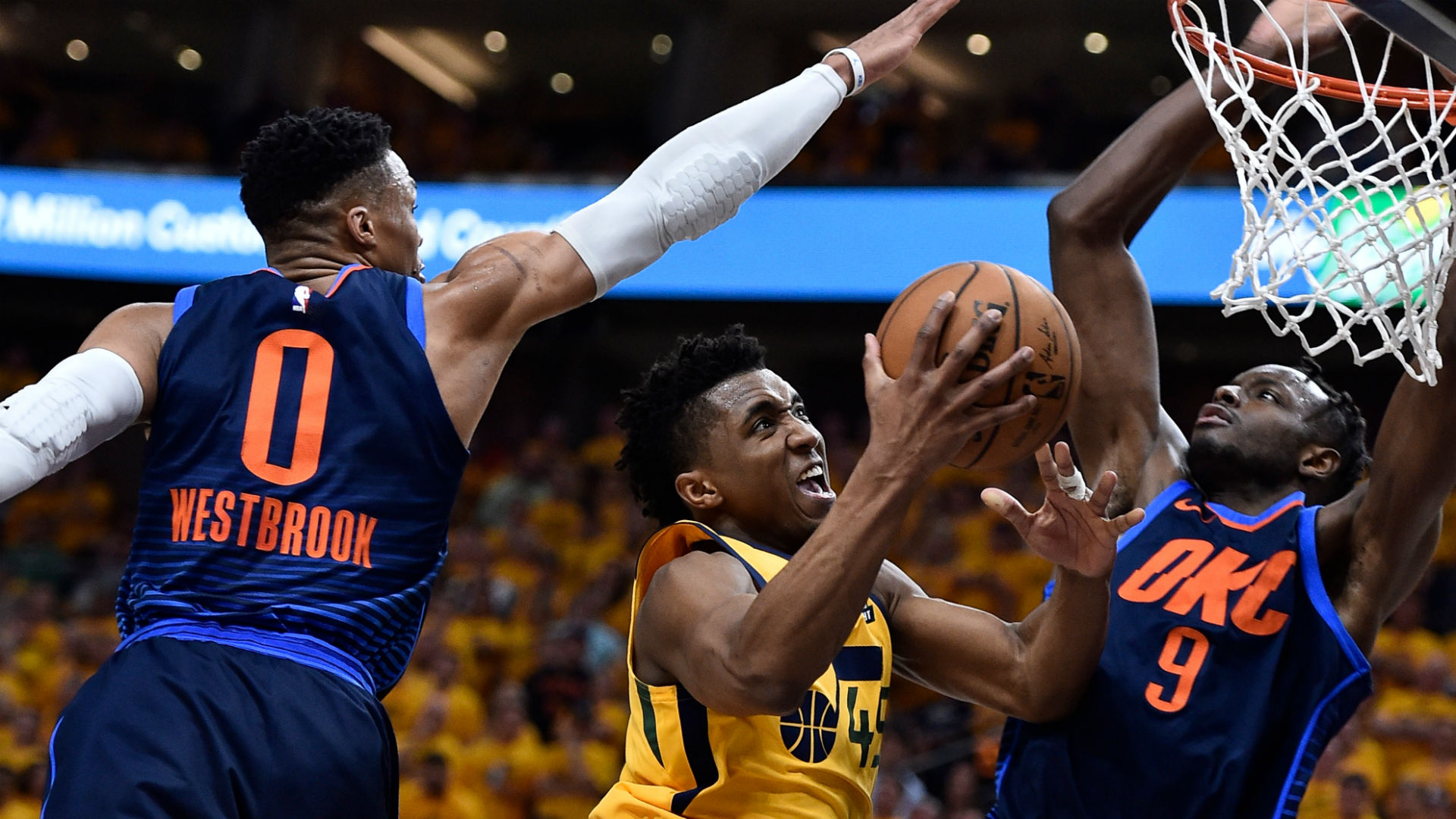 Date: April 27, 2018
Stats: 38 points (14-26 FG, 5-8 3PT, 5-5 FT)
Mitchell picked quite the game to do this.
Up 3-2 against an Oklahoma City Thunder team built around two perennial All-Stars in Russell Westbrook and Paul George, Mitchell punched the Jazz's ticket into the second round of the playoffs with a team-high 38 points in their five-point victory.
He went toe-to-toe with Westbrook, who finished the game with 46 points on 18-for-43 shooting from the field.
With his performance, Mitchell joined Derrick Rose and Brandon Jennings as the only active players to score 30 or more points in a playoff game as a rookie.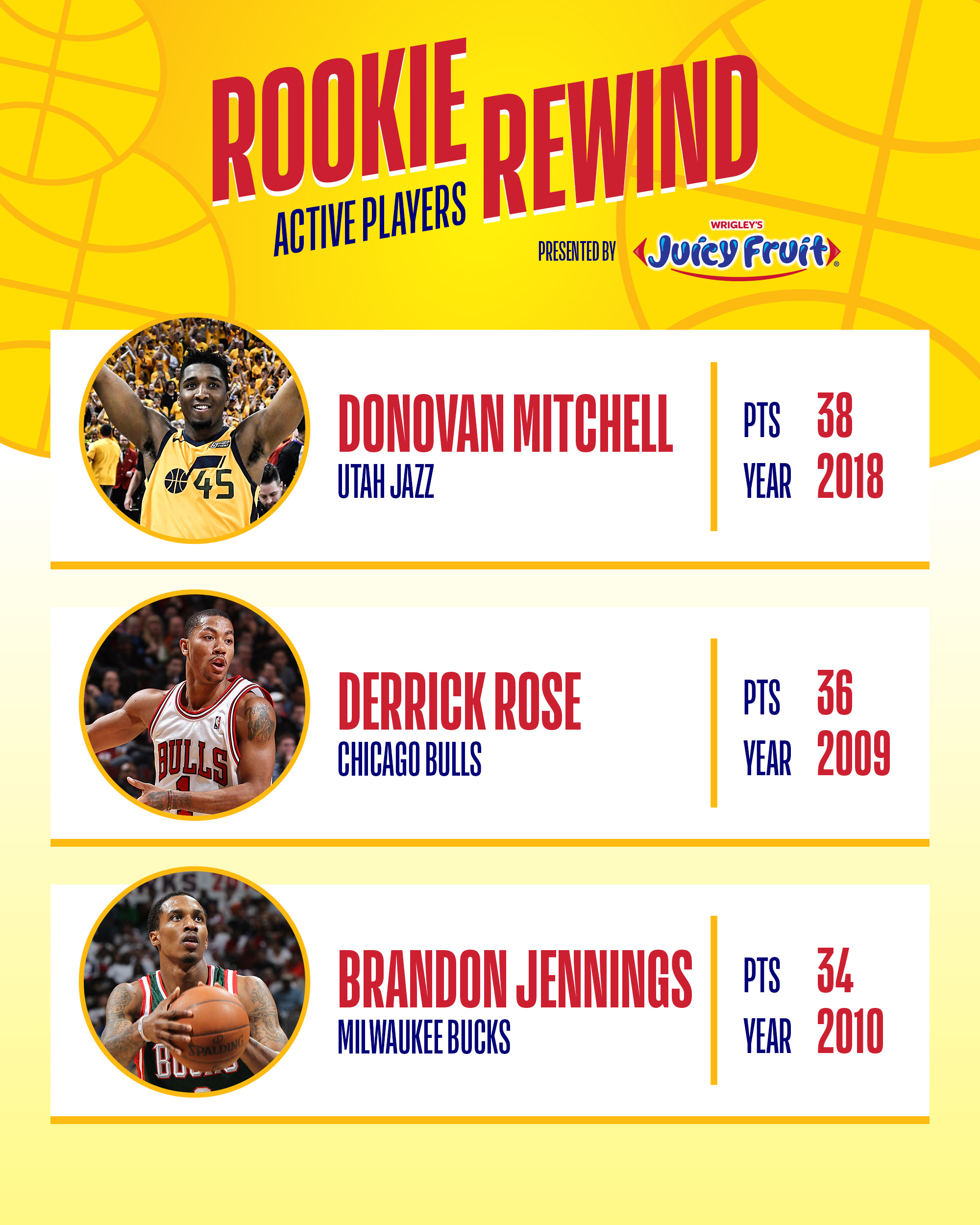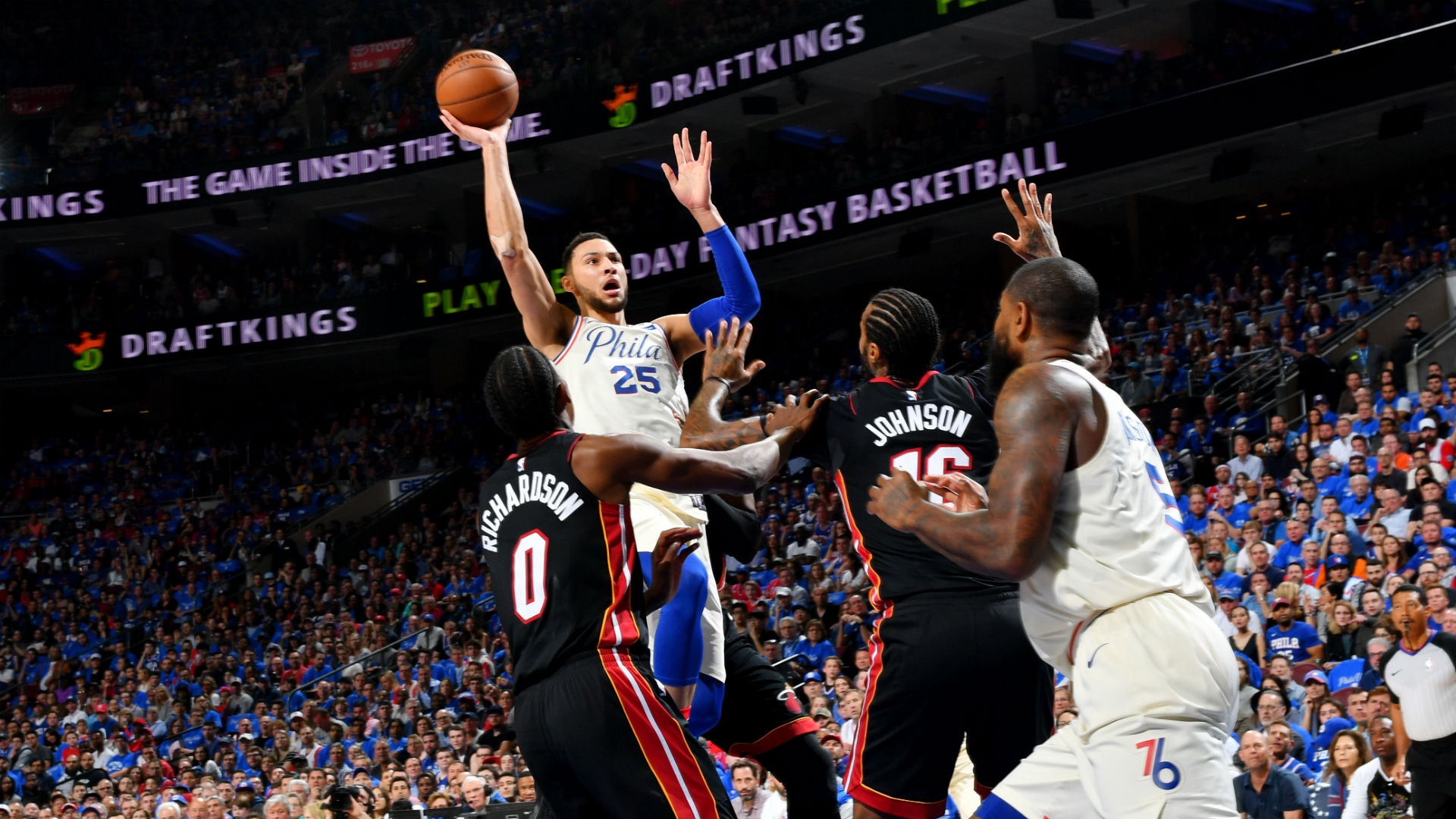 Date: April 14, 2018
Stats: 14 assists (5 turnovers)
Simmons put his full potential on display in his postseason debut. Not only did he hand out 14 assists, but he also fell one rebound shy of a triple-double (17 points, nine rebounds).
Making it even more impressive is Simmons did it all without Joel Embiid, who was sidelined for the first two games of the series with a face injury.
The 76ers cruised to a Game 1 win over the Miami Heat, beating them by 27 points. They went on to beat the Heat in five games.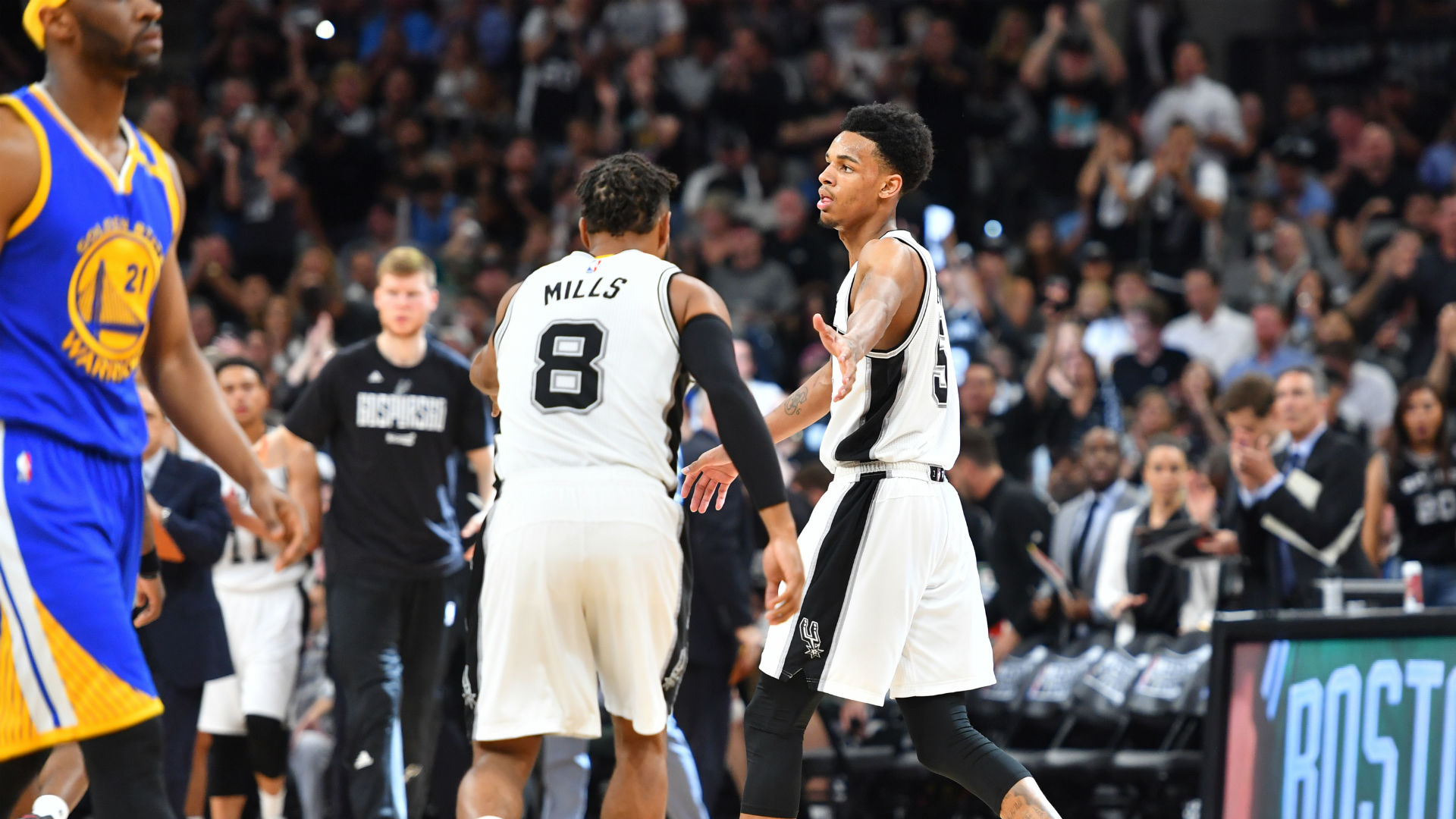 Date: May 22, 2017
Stats: 5 steals (3 personal fouls)
Murray doesn't hold this record by himself, as there are three other active players who came up with five steals in a game as a rookie: Andre Iguodala, Damien Wilkins and Mario Chalmers.
Murray, however, did it most recently.
Unfortunately for Murray, it came in a game in which the Golden State Warriors won by a final score of 129-115. With a win, they completed the sweep to advance to the NBA Finals for the third straight season.
Even so, Murray built on that game the following season, when he became the youngest player ever to make an All-Defensive team.
Most blocks: Serge Ibaka, F/C, Oklahoma City Thunder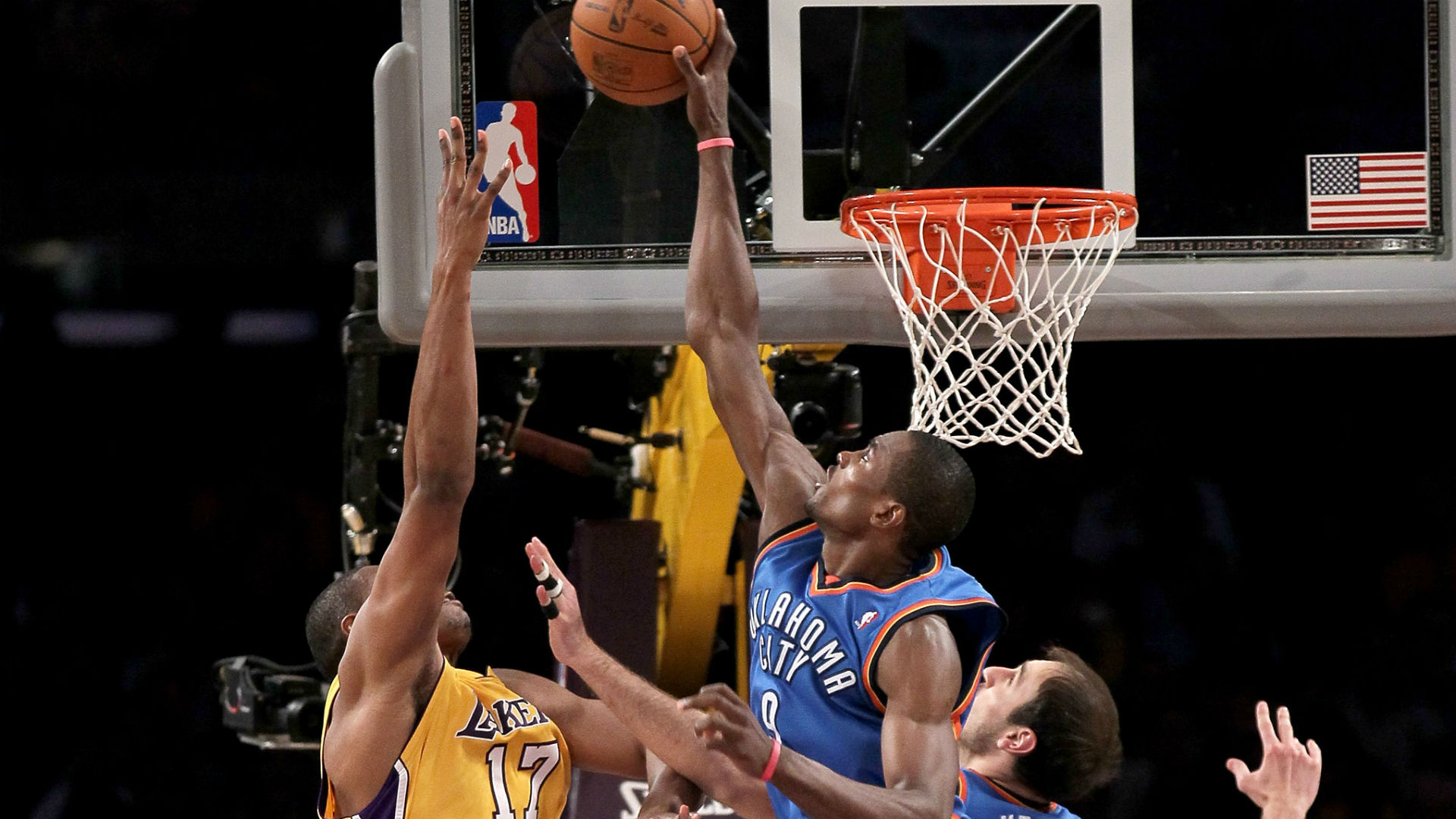 Date: April 20, 2010
Stats: 7 blocks (3 personal fouls)
Speaking of a sign of things to come, Ibaka, who has led the league in blocks twice in his career, blocked seven shots in Game 2 of Oklahoma City's first-round series with the Los Angeles Lakers in 2010.
Ibaka came off the bench for the Thunder and added six points, five rebounds and one steal to his seven blocks in 27 minutes of play.
Like Murray, Ibaka's breakout game came in a loss - led by 39 points from Kobe Bryant, the Lakers won, 95-92.
The only other active players to have blocked five or more shots in the playoffs as a rookie are Steven Adams, Myles Turner and Thon Maker.
Most rebounds: Kenneth Faried, F, Denver Nuggets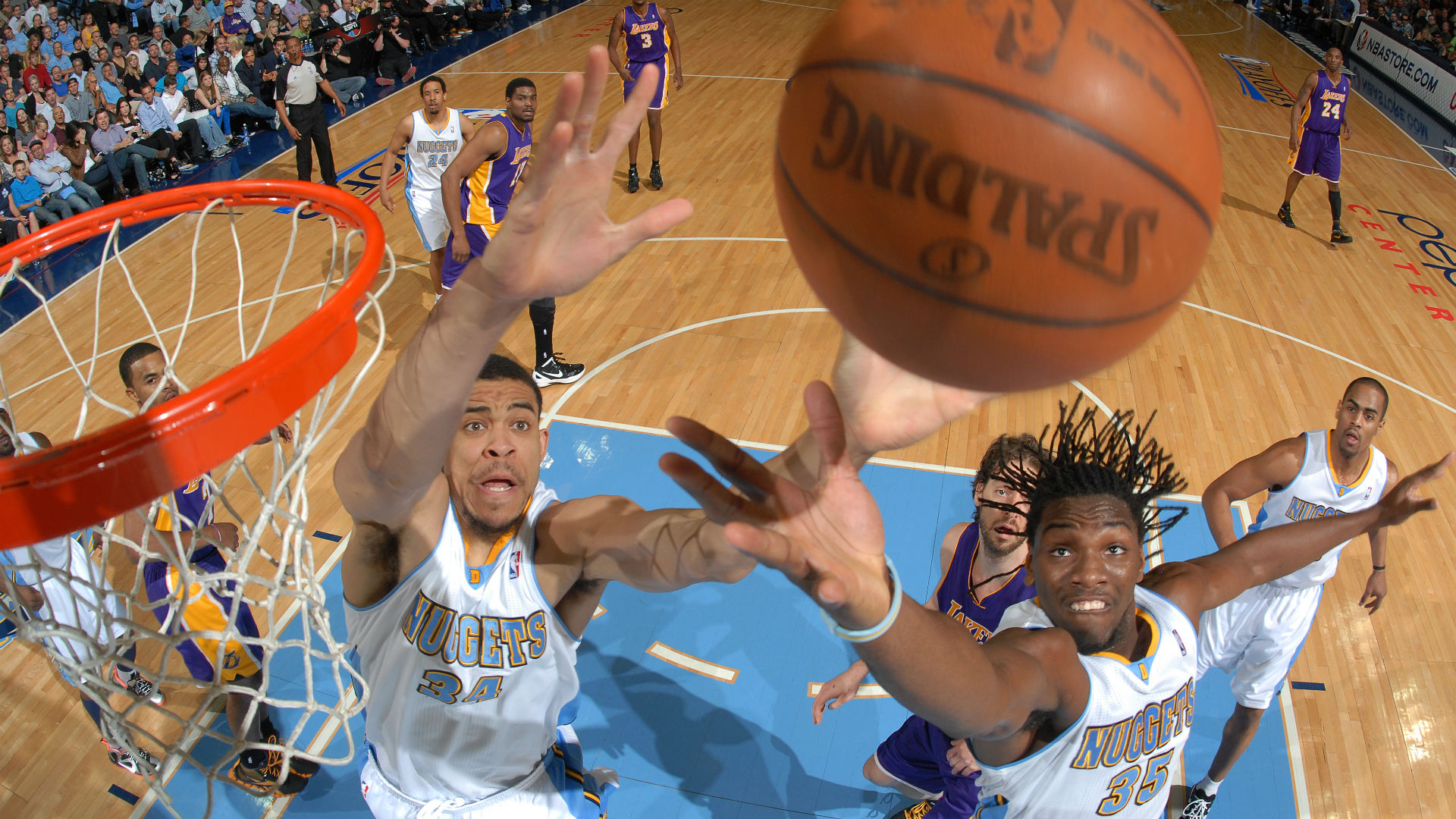 Date: May 4, 2012
Stats: 15 rebounds (6 offensive, 9 defensive)
Faried shares this record with Michael Beasley, who had 15 rebounds in a win over the Atlanta Hawks in 2009, though Faried separates himself from the former Miami Heat forward by pulling down a couple more rebounds on the offensive glass.
It also came in a much-needed win for the Nuggets, who entered the game down 0-2 in their first-round matchup with the Lakers. While they went on to lose, they managed to push the series to seven games.
Faried averaged 10.0 rebounds over those seven games, which was the most on the team and the second-most in the series behind Andrew Bynum (12.3).
Other records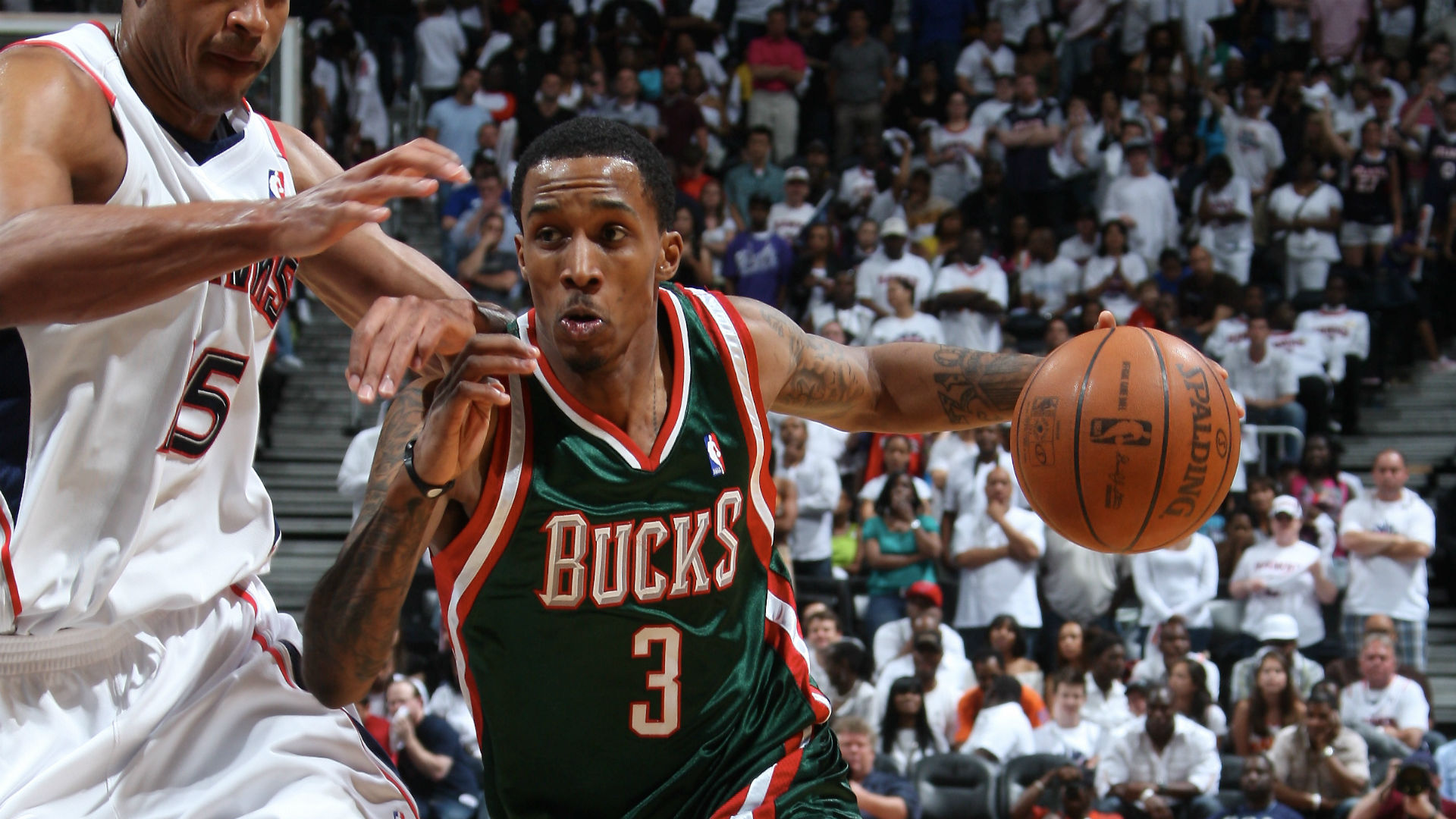 Minutes played: Derrick Rose with 59
Field goals made: Donovan Mitchell and Brandon Jennings with 14
3-pointers made: Donovan Mitchell, Malcolm Brogdon and Harrison Barnes with 5
Offensive rebounds: Al Horford with 7
Defensive rebounds: Al Horford and Ben Simmons with 12
Turnovers: Carmelo Anthony, Derrick Rose and Ben Simmons with 7