With the 29th pick in the 2020 NBA Draft, the Toronto Raptors select... Malachi Flynn from San Diego State University.
When dreams become a reality. @malachi_flynn3 | #WeTheNorth pic.twitter.com/kKsUVF4poS

- Toronto Raptors (@Raptors) November 19, 2020
The 6-foot-1, 185-pound guard is coming off of a decorated senior season in college. A four-year player, playing two seasons at Washington State University before transferring to San Diego State for his final year of eligibility, Flynn adds a mature piece to the Raptors backcourt depth at 22-years-old, ready to make an impact.
A Consensus All-American, Mountain West Conference Player of the Year and Defensive Player of the Year - Flynn helped lead one of college basketball's best teams last season to a 30-2 record with his Aztecs ranking as high as fourth in the country after starting the season 26-0, marking the last undefeated team in Division I.
MORE: Fast facts on Flynn | Fast facts on Raptors second-round pick Jalen Harris
He averaged 17.6 points, 5.1 assists, 4.5 rebounds and 1.8 steals per game shooting 44.1% from the field, 37.3% from 3 and 85.7% from the free-throw line, ranking third in the conference in points per game and first in assists and steals per game.
So now you know the surface-level of what Flynn is all about, but what does he really bring to the Raptors?
What does Malachi Flynn bring to the Toronto Raptors?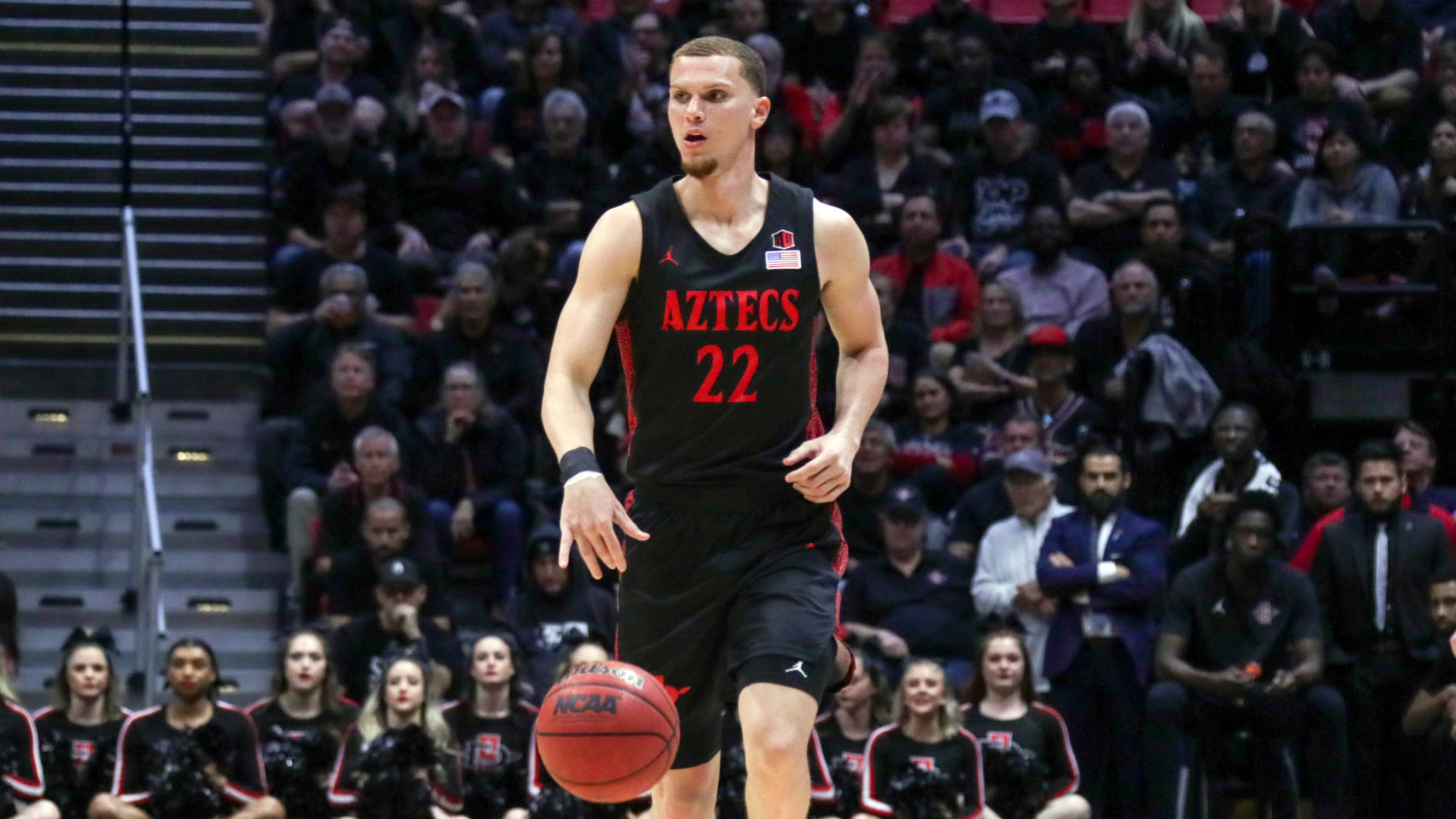 In my Mock Draft leading up to draft night , I wrote this on the upperclassman guard.
"Flynn is a reliable decision-maker and defender perfectly suited for a team looking for a piece to help them win now. He's a confident ball handler who works well in pick-and-rolls and rarely forces offence. He's a quality shooter who can spot-up, knock down shots off the dribble or off of a catch-and-shoot. He brings an attitude on the defensive end and moves well laterally, fighting around screens. While there are questions about his athleticism, the rest of his game is polished for the NBA."
As a player comparison - none other than the Raptors own Fred VanVleet.
When asked what skills Flynn believes will translate best to the NBA in his post-draft media availability, he stated, "The ability to shoot the ball, which translates well at all levels. The stability to make the right play, take care of the ball and make the right decisions."
With VanVleet's return uncertain in the upcoming free agency, Flynn gives Toronto a security blanket for a secondary floor general. He's a trustworthy playmaker that lets the offence come to him, taking and making shots when needed but also making the right reads to find open teammates. He plays hard on defence, where his heart and effort makes up for what he lacks in height and size. Sound familiar?
He has great anticipation to fill passing lanes or come up with on-ball steals and has quick feet to keep his opponent in front of him, working hard to fight around screens, which is an important box to check in today's pick-and-roll heavy NBA.
Flynn's not going to wow you with his athleticism and isn't super explosive but he's very shifty, using his tight handle to change direction and create separation from defenders on jump shots or when attacking the basket.
"He's a modern NBA point guard," Raptors general manager Bobby Webster said in his post-draft media availability. "He can do it all on the offensive end. A lot of people are going to talk about pick-and-roll, shoot off the dribble, shoots the 3-ball well, and obviously defends at a high level as well. He's just a guy we really like and think can come in and play a little bit for us.
"He had a lot of thing we like in our players, and he checks a lot of boxes … Malachi was the guy we targeted. Ultimately, we got the guy we wanted. We feel lucky in that sense."
In the instant analysis and draft grades piece I wrote on draft night, I rewarded the Raptors with an "A" because I strongly believe in Webster's statement above, that Toronto got the guy they wanted. Flynn is a seamless addition to their rotation and will thrive under a head coach like Nick Nurse, who is already known for getting the most out of hardworking players.
And learning under veteran guards of similar stature like Lowry and (potentially) VanVleet, that's something that Flynn is already looking forward to.
"It's going to be great for me. As a young guy coming into the league, with two guys who have won a championship, they've put up great numbers and win. There's not much bad you can say about those two guys. ... I've paid attention to the little things they do that contributes to winning."
As the 29th pick in the NBA's rookie salary scale, Flynn gets a guaranteed three-year contract that pays him $5 million. The club retains an option for a fourth year at $3.2 million.
With Lowry turning 35 this season, undrafted guard Terence Davis' future with the franchise uncertain and VanVleet set to hit free agency, the Raptors may be grooming their point guard of the future in Malachi Flynn.
The views on this page do not necessarily represent the views of the NBA or its clubs.