There are truly only a handful of days on which an entire community can recall exactly where they were and what they were doing at the exact same time.
For the basketball community, March 11, 2020 is one of those days.
One year later, our NBA.com Staff looks back to the day that changed everything…
The days leading up…
Carlan Gay (@TheCarlanGay) : I honestly had no thoughts or knew truly how to feel at the time. I had just gotten back from Belgium after calling the FIBA Women's Olympic Qualifying Tournament. And I was also in Chicago for All-Star weekend.
So I had been amongst large groups of people and it was a topic of conversation but I never saw what was coming, no one did.
Gilbert McGregor (@GMcGregor21): I first gained a tangible level of awareness at All-Star media day in Chicago, when I heard Chris Paul explain why he had written "Wuhan" on his sneakers to express support and show solidarity with what he viewed as a global issue.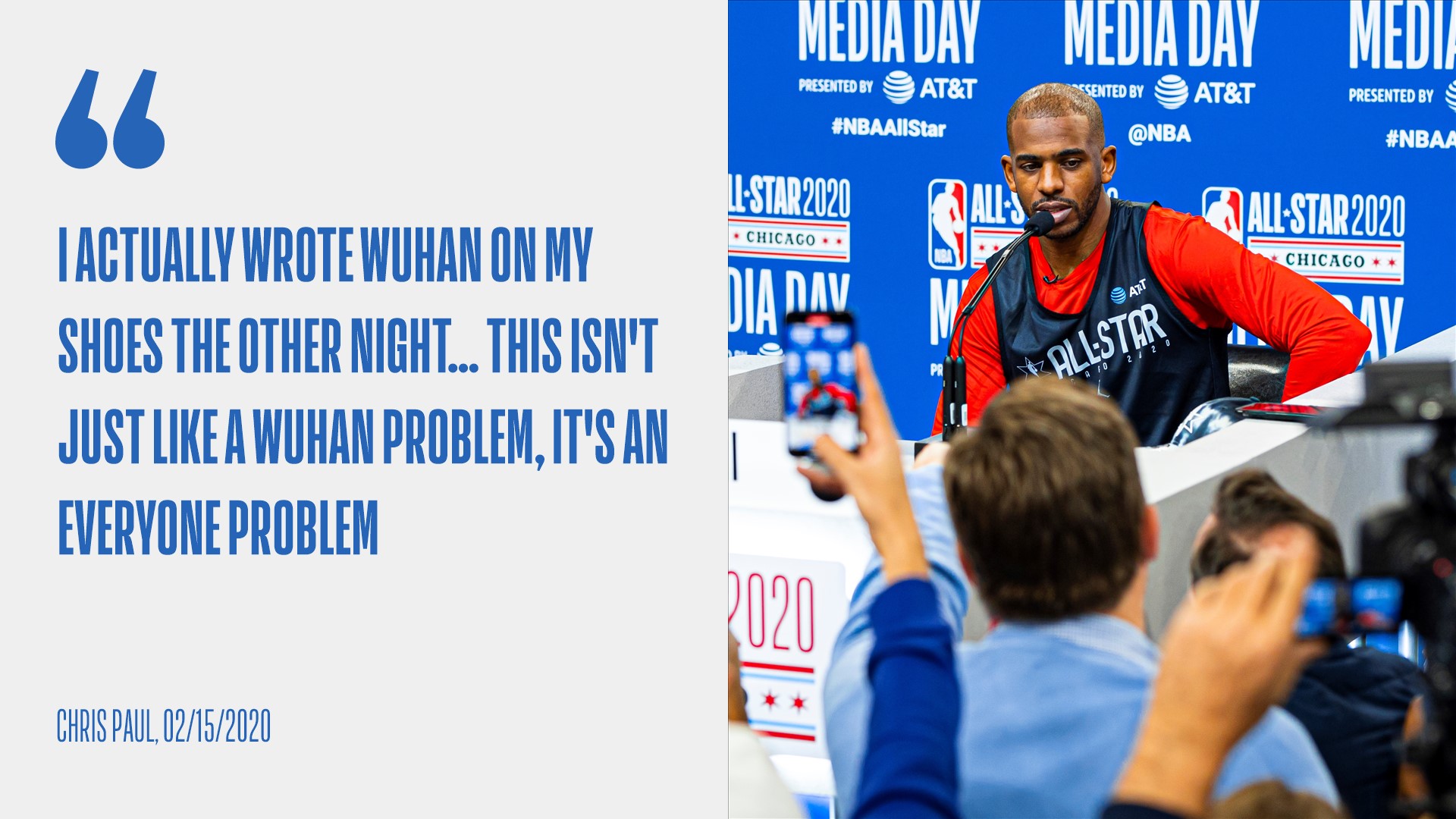 From there, the idea of this novel coronavirus was something that was stored in the back of my mind. Then came reports that the league was planning to limit interaction with fans for safety. Then came reports that media access was to be limited. And in some places, the plan was to limit fans altogether.
I was able to make a connection but not from a place of true understanding.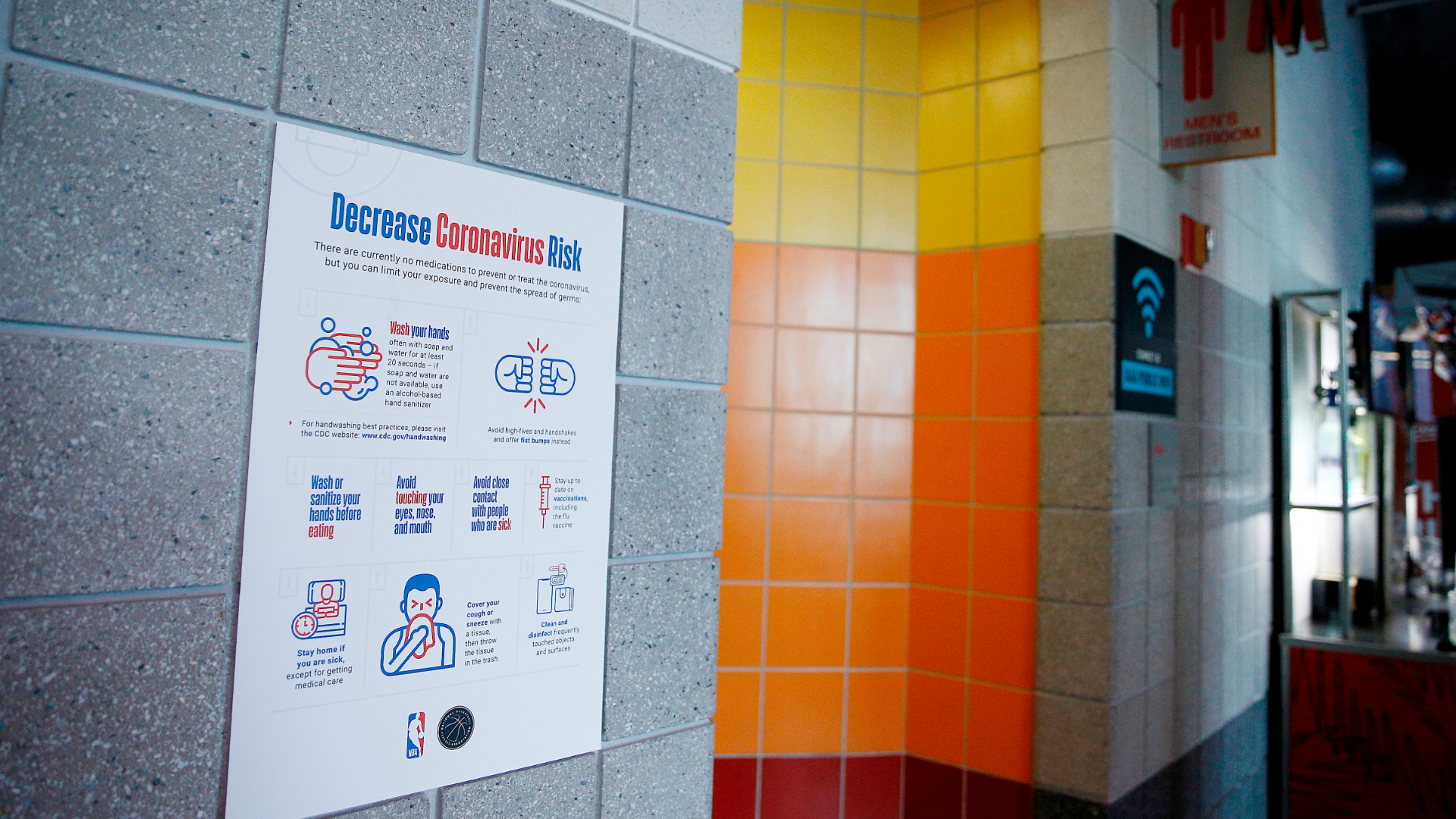 Scott Rafferty (@crabdribbles): I'll never forget sitting in a meeting and discussing the report that the Warriors were going to play their game against the Nets on March 12 without fans.
That seemed like the next logical step at the time - teams continuing the NBA season without fans - so for everything to be shut down a few hours later is crazy to look back on.
Benyam Kidané (@BenyamKidane): At that point in Australia, things were still pretty good, fans were still packed into stadiums at other sports, so the concept of cancelling games seemed like a very cautious move.
But from the NBA's response to initial reports of a coronavirus, it seemed like they were going to be the sports league that took it seriously and the flow-on effects from that decision influenced sports leagues around the world and was really a turning point globally … which is crazy to think.
McGregor: The last live sporting event that I went to was on Saturday, March 7, when the Charlotte Hornets hosted the Houston Rockets.
Prior to the game, I overheard someone mentioning the possibility of a league shut down but even that was something I couldn't truly wrap my head around actually happening.
Kyle Irving (@KyleIrv_): On March 8, the Sunday before the NBA had paused its season, I was at the Maryland-Michigan game in Maryland. It was essentially the Big Ten regular-season championship, and it was also Senior Day, so it was a completely sold-out and packed arena.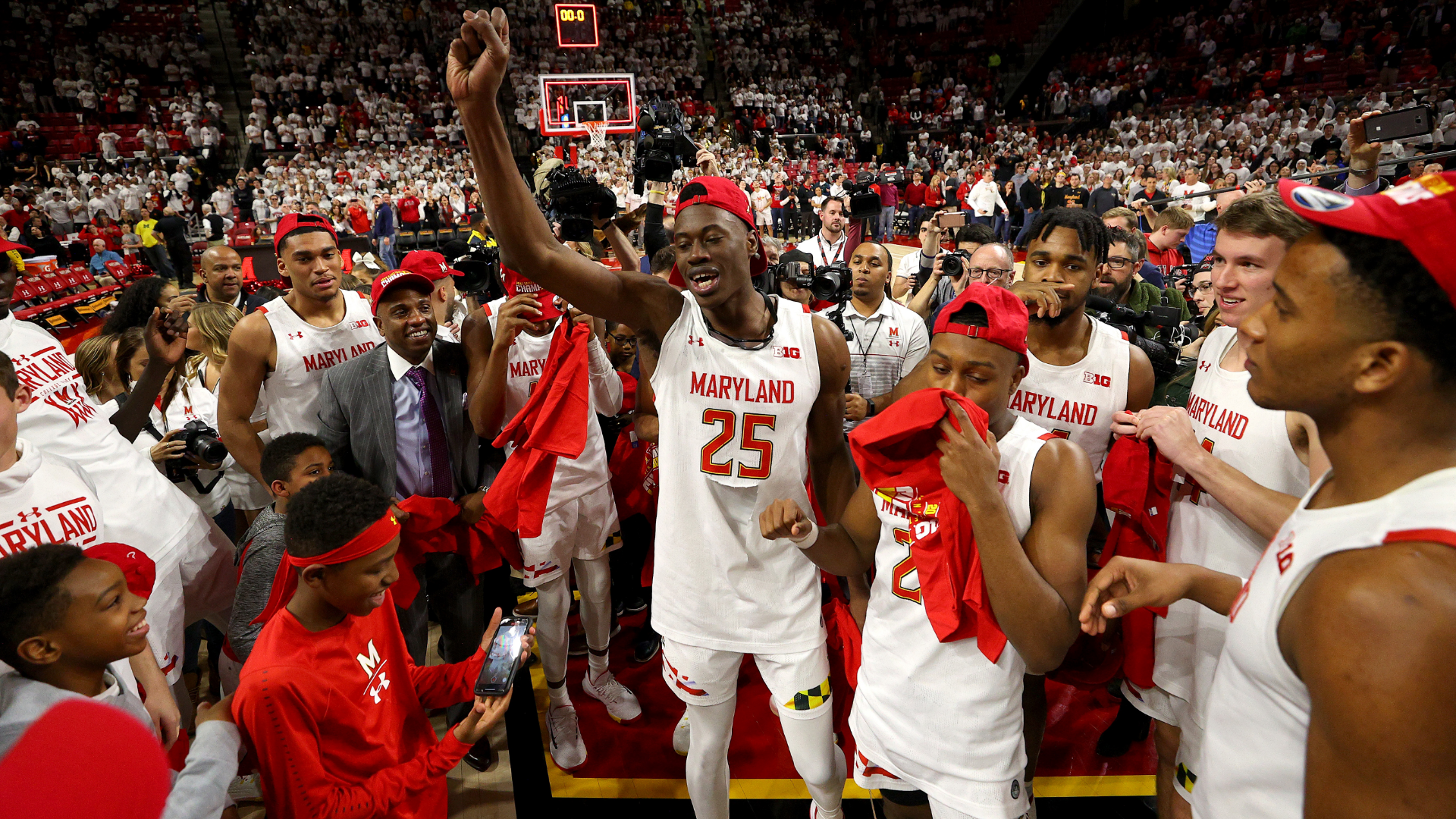 On that day - just three days before the NBA announced its hiatus - you could not have convinced me the coronavirus would end up leaving the mark it did on the entire year of 2020.
Wednesday, March 11, 2020
A quick hop back in the time machine takes you to one of the last semblances of normalcy before everything changed - NBA.com's nightly scores page.
March 11 was described as having "a six-game slate headlined by two potential first-round playoffs in the Western Conference, while Zion Williamson and the New Orleans Pelicans attempt to keep their playoff hopes alive."
With the action beginning at 7:00 p.m. ET, it was easy to quickly get lost in the action…
Rafferty: I was at home, flipping around League Pass.
Gay: I do remember wanting to watch Zion play. I think they were in Sacramento that night - if I remember correctly it was an ESPN game so I was ready to watch that.
McGregor: I'm almost certain I wrote that description for the slate of games on the schedule because I was really excited to watch the Oklahoma City Thunder take on the Utah Jazz.
At that point in the year, OKC had established itself as being a legitimate playoff team and could have overtaken Utah in the standings with a win. I was 100 percent expecting it to be something like a playoff game.
Rafferty: I wasn't actually watching the Thunder game, but I started to get push notifications on my phone from Twitter about the game being delayed and nobody knowing why. That's when I figured something was up.
---
About that push notification…
While the Thunder and Jazz were scheduled to tip not long after 8:00 p.m. ET, ESPN's Royce Young sent out a tweet at 8:10 p.m. that made its way onto the timeline of the majority of basketball fans.
Something is going on here. Thunder head medical staffer Donnie Strack just grabbed the three officials and told them something. All players were just told to go back to their bench. We're seconds from tipoff.

- Royce Young (@royceyoung) March 12, 2020
It's at that moment when we remembered exactly where we were and what was going through our minds…
---
Irving: I was at home, excited to consume as much NBA basketball as possible because it was the midway point of the week in the first round of Fantasy Basketball playoffs.
McGregor: I was at home and I planned on waiting for the Thunder-Jazz game to actually start to flip the channel but once that notification came to my phone, I figured I'd change it over on League Pass to see what's going on.
I've seen tip-offs get delayed for light malfunctions, slippery floors, you name it. I honestly thought this would be nothing different.
Kidané: I remember being at home watching another game at the time and seeing reports on Twitter that something was up with the Thunder and Jazz game that was about to start … or not start … as news quickly trickled out that it might be cancelled.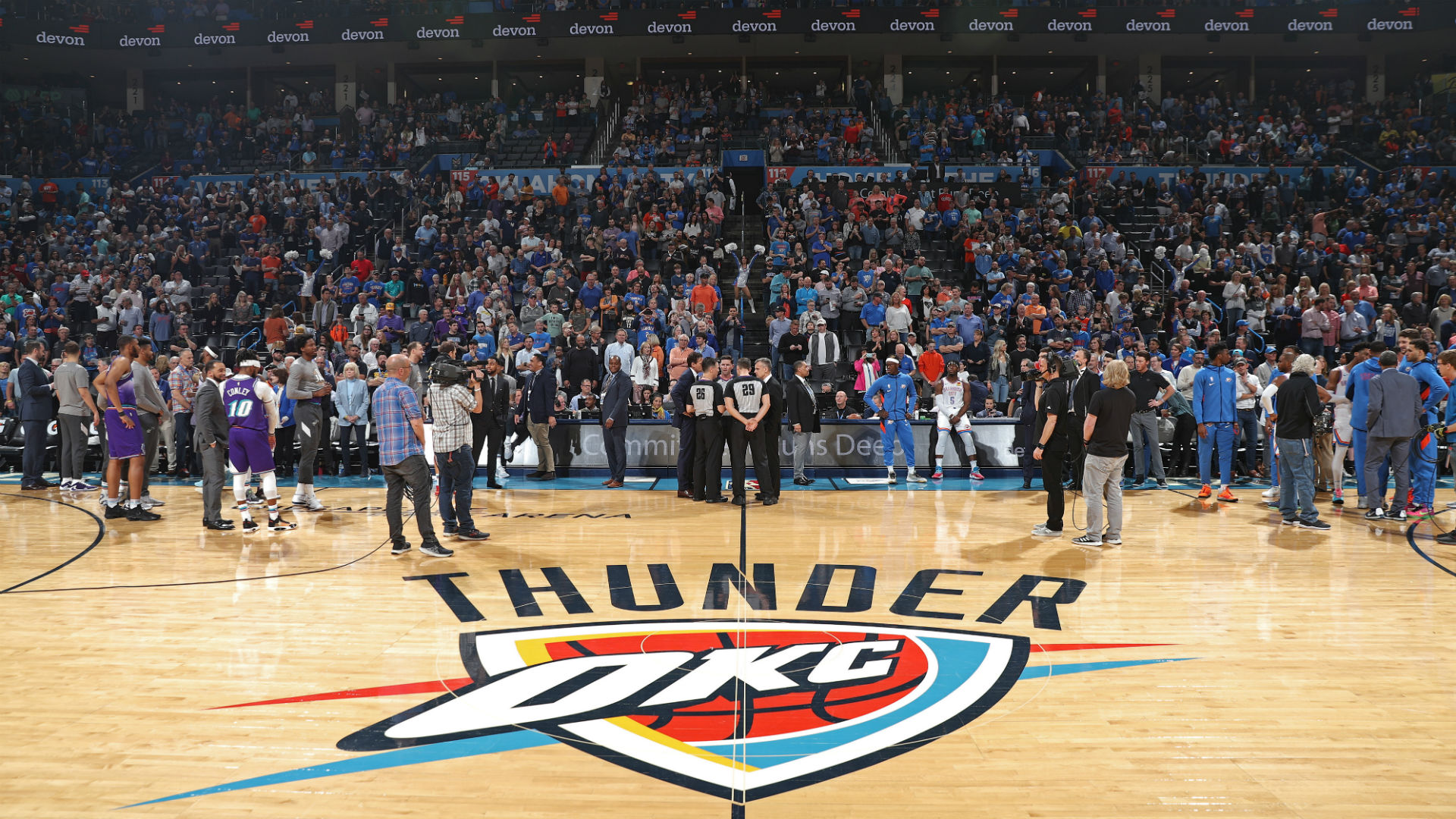 Irving: I remember when there were reports that the game might be postponed, I thought it would be the only game affected and I was mad because I had Donovan Mitchell on my team.
Little did I know that it was just the first domino of what would eventually postpone the season for months.
Gay: I remember seeing a couple of tweets and then turning the game on League Pass and just waiting to see what would happen. Then the game was postponed and it all became a blur.
McGregor: Never in my life will I forget how things unfolded from there.
When the players walked off the floor, they seemingly were instructed to wave goodbye to the fans. I remember thinking that might mean there wouldn't be a game, although the fans hadn't been told to exit.
At 8:30 - and I remember this because I have the video saved in my phone - Frankie J had come out to perform his set that was initially slated for halftime. I thought it was strange but again, the fans were still there.
Once he finished performing, the lights came up, and OKC's PA announcer had an announcement to make.
---
"The game tonight has been postponed. You're all safe. Take your time in leaving the arena tonight and do so in an orderly fashion. Thank you for coming out tonight."
---
Irving: I remember the feeling once I found out that game had officially been postponed. The uncertainty about the situation as a whole made it immediately feel like something big was about to happen. And it did.
McGregor: This isn't even from hindsight but there was something especially eerie about the way things unfolded to me at that moment.
I'm not sure if it was the waving or the fans needing assurance of their safety, but from there I was a little wary of what happened, why and what it meant.
Kidané: Initially, it was more confusion than anything else as the story kept changing every couple of minutes as more information became available.
Looking back it was watching something unfold in real-time, but something that we didn't really know enough about at the time.
---
At 9:27 p.m. came another push notification…
Utah Jazz All-Star Rudy Gobert has tested positive for coronavirus, sources tell @TheAthleticNBA @Stadium.

Sources say Gobert is feeling good, strong and stable - and was feeling strong enough to play tonight.

- Shams Charania (@ShamsCharania) March 12, 2020
Four minutes later came another…
The NBA has suspended the season.

- Adrian Wojnarowski (@wojespn) March 12, 2020
And about 15 minutes later, it was confirmed.
NBA To Suspend Season Following Tonight's Games pic.twitter.com/2PTx2fkLlW

- NBA (@NBA) March 12, 2020
In under two hours, there was confusion that led to a postponement and a groundbreaking revelation that led to a declaration that the season would be coming to a halt.
It was a lot of information to process…
---
Rafferty: The funny thing about this job is that it can take some time for news to really hit you.
My first reaction when news broke was to jump on Slack and see if any help was needed on the site. It wasn't until a good 30-60 minutes later that it settled in that the season was suspended indefinitely. And even then, it was hard to know what to actually make of it because it's not something we've ever had to deal with before.
Irving: I was relaying information to my dad as it came through Twitter.
In the moments after the Jazz-Thunder game was postponed, while we were watching that Dallas Mavericks-Denver Nuggets game, we began to question if the league would have to shut down but I never actually expected it to.
McGregor: I think I may have been attempting to shake off the eeriness that I had just watched transpire, so I started flipping between two games. The Hornets were in the process of getting an impressive road win over the Miami Heat and the Mavs were hosting the Nuggets in Dallas on ESPN.
I figured it made the most sense to have the ESPN broadcast on as they had brought on Young as a correspondent from OKC and I got the Tweet notification of the season's suspension with that game on. In my head, I'm thinking it wouldn't be any longer than a month before things were back under control.
Kidané: Initially, indefinitely felt like it was going to mean 2-3 weeks until they could get a hold of the situation. I guess we were all pretty naive as to how quickly things could change and how quickly the virus could spread and what that would mean for the NBA and sports in general.
McGregor: It all honestly felt like being in a movie, especially with Mark Cuban's reaction to the news being broadcasted in real-time. Then the game between the New Orleans Pelicans and Sacramento Kings was postponed prior to tip.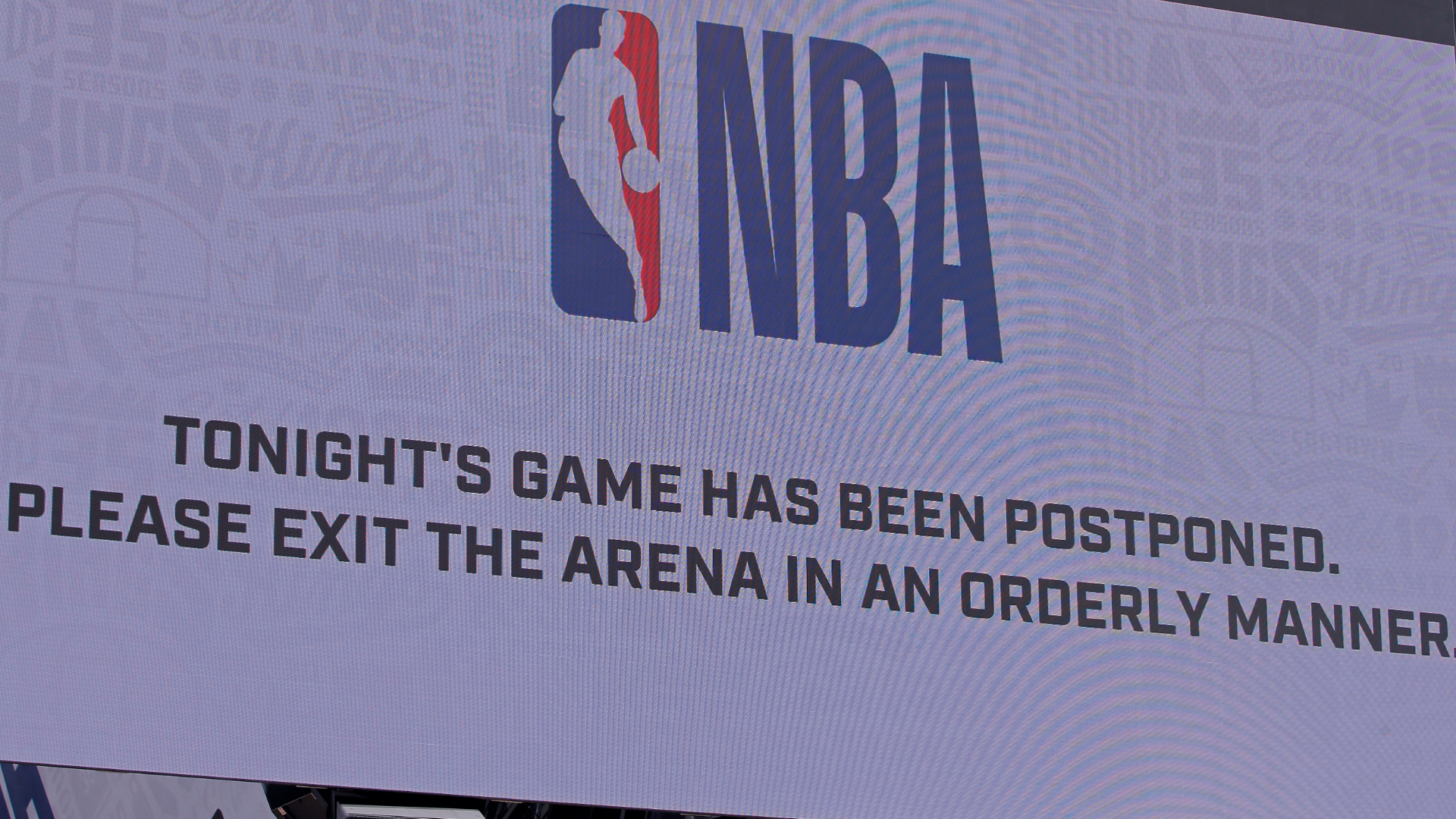 Gay: I wasn't sure what to think, but I did remember thinking we'd be shut down for maybe two weeks tops.
Irving: Once the league shut down, I'm not sure what I thought it would mean, but I certainly didn't think it would be a five-month hiatus with every other sports league also shutting down as well.
I do remember that once the NCAA had called off March Madness, that was when I first realized "this might be a while if the NBA even comes back this season."
Gay: It took a while before I came to terms with the league not coming back until the bubble. I'm still trying to grasp what has happened to the world since.
Kidané: Looking back, the NBA's approach to the virus set a bar for everyone else, not only in sports.
---
One year later, the sports world as we know it has changed completely.
The NBA successfully restarted its season at the Walt Disney World Resort near Orlando, FL in July and a rightful champion was crowned in October.
Once foreign, the concept of arenas and stadiums without fans has become more of a new normal, with advertisement tarps and virtual fan boards serving as the unique atmosphere that provides a home-court advantage.
As we slowly return to what we're used to, we'll always look back to March 11, 2020, as the day things all changed.
The views on this page do not necessarily reflect the views of the NBA or its clubs.