More likely than not, Luka Doncic and Trae Young will be linked to one another throughout the course of their careers, and at the very least the first few years.
Is it fair? Probably not, but the draft day trade that saw the Atlanta Hawks trade Doncic's rights to the Dallas Mavericks in exchange for the rights of Trae Young is as natural of a connection as there is.
While both young players were top five picks in this year's draft, they find themselves in very different situations.
Rookie Superlatives: Part I | Part II
The 19-year-old Doncic joins a Mavericks team that is the third-oldest in the league and is led by a legendary head coach. Dallas' roster features a mixture of young talent and established veterans.
After winning just 24 games in the 2017-18 season, Dallas' retooled roster has many thinking the team can exceed expectations to reach the fringe of playoff contention.
The Hawks, on the other hand, have hired a rookie head coach and are working to build around a young core that features 11 players that are 25-years-old or younger. Atlanta also won just 24 games last season but are in the process of a rebuild rather than a retool.
Young and Doncic will meet for the first time just three games into their careers and they enter the night as the top two leading scorers in this rookie class: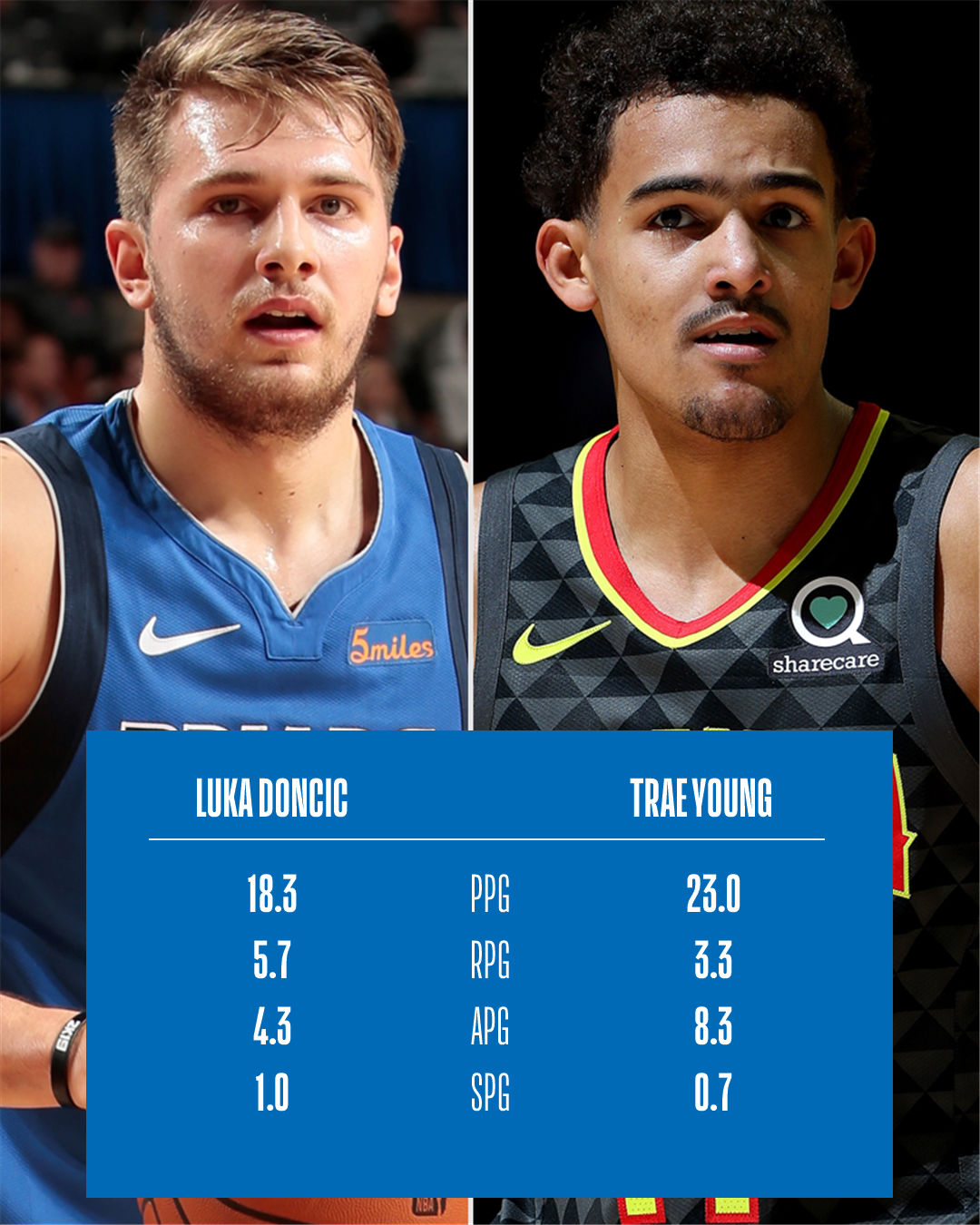 Doncic, who was quite possibly the most highly regarded European prospect in draft history, has made his presence felt as many expected him to. The Mavs' rookie has averaged 18.3 points, 5.7 rebounds, 4.3 assists and one steal per game.
Young made a name for himself through his historic freshman season at the University of Oklahoma in which he was the NCAA Division I leader in both points and assists per game. The 20-year-old's scoring and passing prowess has translated to the league, as he currently averages team-highs in points (23.0) and assists (8.3).
MORE: Who will win rookie of the year?
Both rookies also enter the night fresh off of the best performances of their young NBA careers.
In a win over the Wolves Saturday, Doncic posted a stat line of 26 points (on 4-for-9 3-point shooting), six rebounds and three assists. One night later, Young led Atlanta to a win over Cleveland with 35 points (on 6-for-14 3-point shooting) and 11 assists, becoming the first rookie to score at least 35 points and dish out at least 10 assists in a game since Stephen Curry did it in 2010.
The amount of debates over the trade in the coming years will naturally dwindle as it is becoming clearer and clearer that each player has landed exactly where he should be.
As for comparing the careers of the two? It might seem natural, but let them be. Early returns indicate that both players stand to make plenty of history in their own right.