In LeBron James' first game with the Los Angeles Lakers, he fell to the Portland Trail Blazers on the road.
This result was on par with the rest of James' debuts with a new team, as none have gone exactly as planned.
Take a look at the breakdown of each of LeBron's first games with new teams from his rookie season in Cleveland, to his first game after 'The Decision,' to his return home to Cleveland and now his journey to Los Angeles...
Age: 18 years, 303 days
Result: Loss, 106-92
Stat line: 42 minutes - 25 points (12-for-20 FG, 1-for-3 FT, 0-for-2 3FG), nine assists, six rebounds, four steals, two turnovers,
Highest scoring teammate: J.R. Bremer - 20 points
Highest scoring opponent: Peja Stojakovic - 22 points
LeBron's NBA debut was spoiled by the Sacramento Kings as their depth proved to be too much for the young Cavaliers. Sacramento had six players in double figures with Stojakovic, Mike Bibby, Vlade Divac, Brad Miller and Bobby Jackson each scoring more than 15 points. James' stat line lived up to the hype of the biggest debut in the history of the NBA, making a statement that he could develop into the player he is today.
The Cavaliers lost their first five games and finished the season 35-47, missing the playoffs. James was named the Rookie of the Year and All-Rookie First Team.
Age: 25 years, 300 days
Result: Loss, 88-80
Stat line: 43 minutes - 31 points (10-for-21 FG, 3-for-6 3FG, 8-for-12 FT), three assists, four rebounds, one steal, two blocks, eight turnovers
Highest scoring teammate: Dwyane Wade - 13 points
Highest scoring opponent: Ray Allen - 20 points
After 'The Decision' and the Heat's welcoming party for their new big three, LeBron and co. had a target on their back all season long. Facing heavy criticism from the media and other stakeholders of the NBA all offseason, Miami dropped its season opener to Boston. Allen's 20 points were supported by 19 points from Paul Pierce, a double-double from Kevin Garnett and a 17 assist night from Rajon Rondo.
LeBron gave it all he had with 31 points, but poor performances from his surrounding teammates left him with another debut loss. The Heat would finish the season 58-24 and reach the NBA Finals, where they fell to Dirk Nowitzki and the Dallas Mavericks in six games. James was an All-Star, All-NBA First Team and All-Defensive First Team in his first year in Miami.
October 30, 2014 - New York Knicks at Cleveland Cavaliers
Age: 29 years, 304 days
Result: Loss, 95-90
Stat line: 43 minutes - 17 points (5-for-15 FG, 1-for-5 3FG, 6-for-7 FT), four assists, five rebounds, eight turnovers
Highest scoring teammate: Kyrie Irving - 22 points
Highest scoring opponent: Carmelo Anthony - 25 points
After winning two championships in Miami, LeBron made his return home to complete the promise he made of bringing a championship to the city of Cleveland. Even though he would eventually accomplish that feat, his opening night of 'The Return' was his worst of the three debuts with a new team. Melo's game-high 25 points were supported by 12 points from both Iman Shumpert and Jason Smith, as well as 11 points from J.R. Smith to push the Knicks past the Cavaliers.
LeBron received the most support he had gotten from teammates in a new-team debut with Irving scoring 22 and Kevin Love adding a 19- point, 14-rebound double-double, but the Cavaliers could not overcome James' shooting woes.
The 2014-15 Cavs were 19-20 through 39 games but won 34 of their last 43 games to finish 53-29. Cleveland reached the 2015 NBA Finals, where it would fall to the Golden State Warriors in six games. LeBron was an all-star and All-NBA First Team selection in the first year of his return to Cleveland.
October 18, 2018 - Los Angeles Lakers at Portland Trail Blazers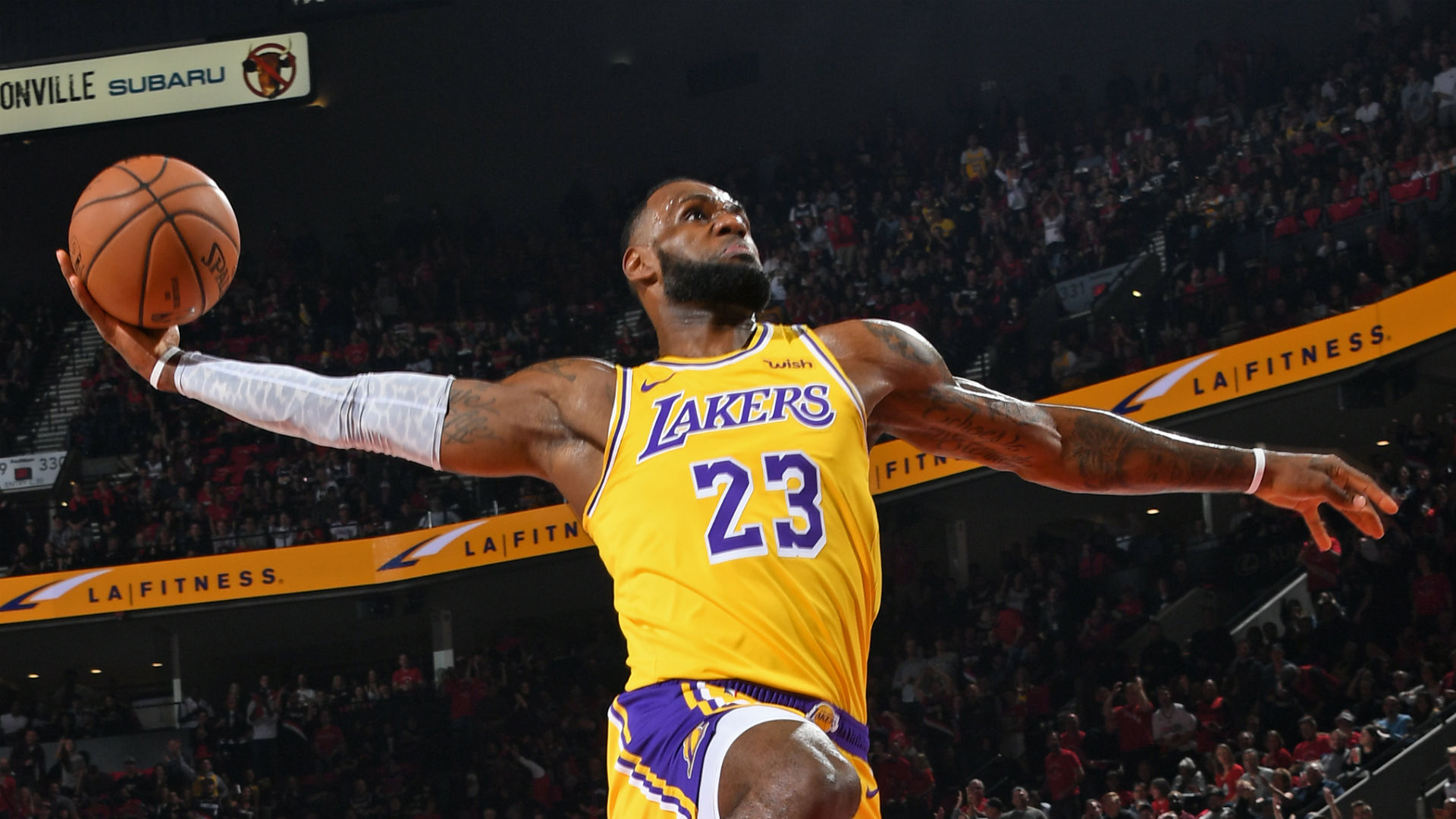 Age: 33 years, 292 days
Result: Loss, 128-119
Stat line: 38 minutes - 24 points (8-for-15 FG, 0-for-4 3FG, 8-for-9 FT), 12 rebounds, six assists, one steal
Highest scoring teammate: Josh Hart - 20 points
Highest scoring opponent: Damian Lillard - 27 points
LeBron's winless debut in a new uniform continued on Thursday in the Lakers season opener. James did as much as he could for Los Angeles and had help from his teammates, but their lack of defense cost them the victory in this one.
The Trail Blazers had three guys with 20-plus points, from Lillard's 27, C.J. McCollum's 21 and Nik Stauskas adding 24 points off the bench. They also got double-digits from Jusuf Nurkic (16) and Evan Turner (13), which represented the bulk of their 128 points.
In the last two seasons James has played with a new franchise, he's led them to The Finals after a season opening loss. While that seems less likely for this young Lakers team, you can never completely count LeBron James out.