Toronto Raptors fans only got one look at Kyle Lowry during the 2020 preseason but when he did take the floor, he already appeared to be in midseason form.
In Toronto's preseason finale, Lowry finished with a game-high 25 points, shooting 7-for-14 from the field and 6-for-10 from beyond the arc in just 27 minutes of action. While the six-time All-Star was superb on the offensive end, he told reporters after the game that his main goals for the team this upcoming season are on the defensive side of things.
When Doug Smith of the Toronto Star asked Lowry what he wanted this Raptors to become as a team this season, he quickly responded with championship aspirations before answering in a different way.
"I think we should become a real-life defensive monster," Lowry began. "And I think that's where I would like us to become. I don't want us to be this offensive juggernaut, I want us to be a defensive team, where every single possession, every single night, the team who's coming in knows that it's going to be a slug-it-out game and they're going to get hit, they're going to get beat up and they're not going to be roaming free.
"I think that's one thing that I would love for us to become."
While a selection to the All-Defensive Team has eluded him over his 14-year NBA career, Lowry is widely-regarded as one of the league's most versatile defenders at the guard position. Last season, he and the Raptors boasted the league's second-rated defence with a defensive rating of 104.7.
To take things a step further, the Raptors have had a top-five defence in each of the last three seasons.
Toronto Raptors Defensive Rating, last three seasons

| | | | | | |
| --- | --- | --- | --- | --- | --- |
| Season | Def. Rtg | Rank | W | L | PCT |
| 2019-20 | 104.7 | 2nd | 53 | 19 | .736 |
| 2018-19 | 106.8 | 5th | 54 | 28 | .707 |
| 2017-18 | 105.3 | 5th | 59 | 23 | .720 |
Despite its standing as an elite defensive team over the past three years, Toronto has only had one player selected to an All-Defensive Team during this span, with Kawhi Leonard earning that distinction in 2019. Last season, Lowry, Fred VanVleet, OG Anunoby and Pascal Siakam each received votes, with Lowry earning the most total points of the group.
After losing both of their defensive anchors in Marc Gasol and Serge Ibaka this offseason, the Raptors will rely on the above four to sustain the team's defensive identity while integrating newcomers like Aron Baynes, who, according to Lowry, should seamlessly add to the team's physical identity.
"Aron definitely, for sure, is one of those guys where - you guys watch him, he's a beast, right?" Lowry told reporters of Baynes' 6-foot-10, 260-pound frame. "He's a big man, he's a stud when it comes to the physicality."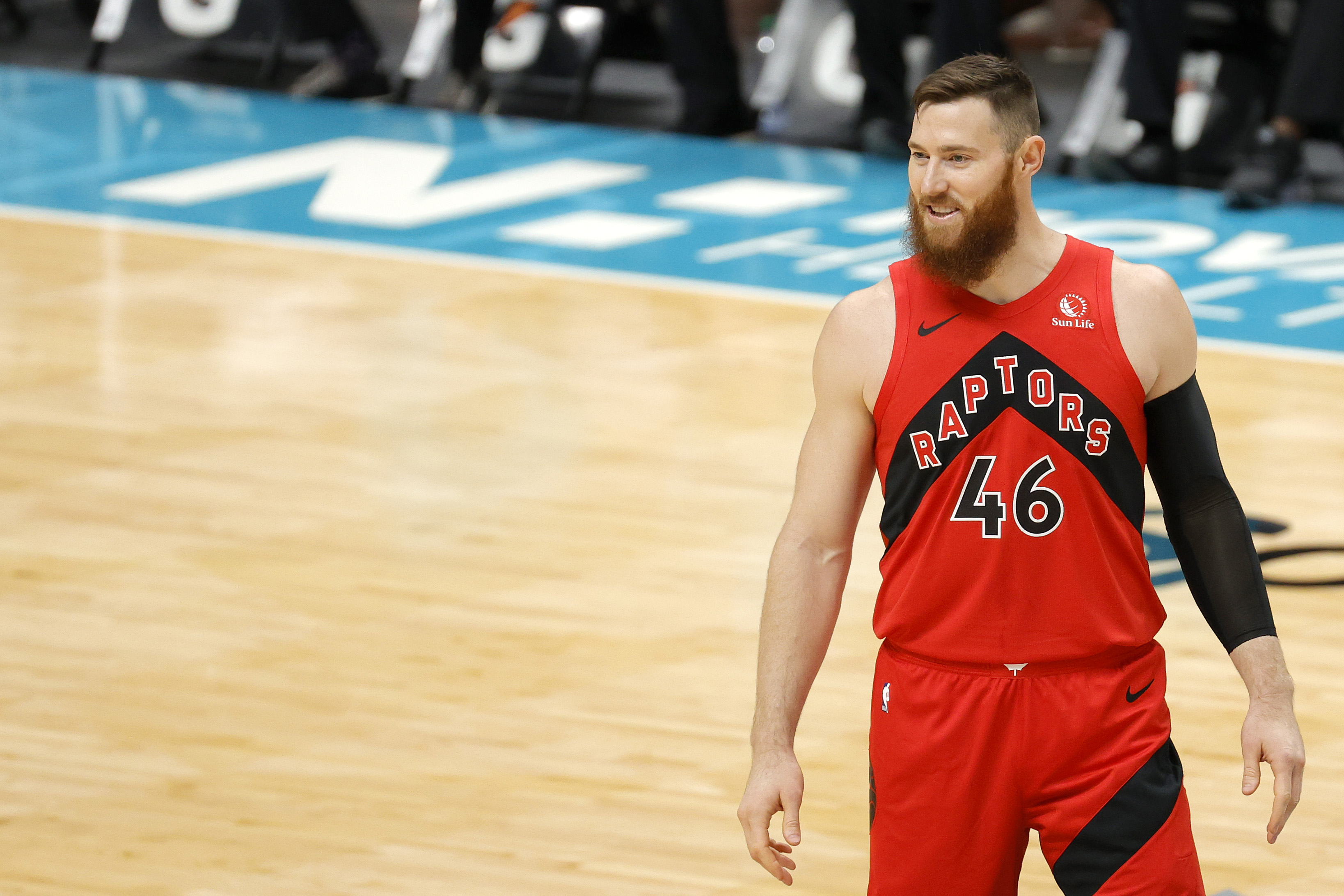 Baynes, like Lowry, has displayed a penchant for drawing charges in his career. While Lowry drew a league-best 34 charges over 58 games last season, Baynes was eighth in the league with 16 drawn charges in just 42 games.
As Lowry clarified, it's that level of toughness and playing hard that exemplifies the type of physicality he wants to see from this team.
"It's not even about the physicality, it's just about knowing that you're going to have to really play hard and that's what we (hang) our hats on - playing hard. You cut through the paint, you're gonna get hit, you're gonna get tagged.
"So, those are the things, when I say 'physical,' it's not really beating you up physically but making sure if you cut through the paint, you're gonna feel us that day."
Beginning with the starting unit, the Raptors have a roster capable of maintaining sustained excellence on the defensive end, with key returners in Chris Boucher and Norman Powell as well as newcomers in DeAndre' Bembry and Malachi Flynn, who each carry a reputation as hard-working defenders.
The Raptors open the 2020-21 NBA season when they host the New Orleans Pelicans at Amalie Arena in Tampa, FL on Wednesday, Dec. 23 at 7:30 p.m. on TSN.
The views on this page do not necessarily reflect the views of the NBA or its clubs.