The Toronto Raptors looked unstoppable in their preseason opener. They then came back down to earth in a lopsided loss to the Utah Jazz on Tuesday.
It might not look like it by the end result, but it wasn't all bad for the Raptors. They were the better team in the first half, leading 58-49 after two quarters. It was in the final two quarters, when neither Kyle Lowry nor Kawhi Leonard played, that things started to unravel.
With that in mind, here are five takeaways from Kawhi's second game with the Raptors...
Kawhi Leonard looks like an All-Star again
The biggest takeaway from Toronto's first preseason game? Kawhi Leonard looks healthy again.
The biggest takeaway from Toronto's second preseason game? Kawhi Leonard looks like an All-Star again.
In his 16 minutes on the court, Kawhi scored 17 points on 6-for-12 shooting from the field and 1-for-2 from the 3-point line. He got to his spots from midrange with ease and was aggressive attacking the paint, resulting in him taking a game-high eight free throws.
Kawhi even threw some nice passes, showing a part of his game we didn't see much of in San Antonio.
Kawhi leads all scorers with 17 at the break! #NBAPreseason pic.twitter.com/KsYxb3zjiE

- NBA (@NBA) October 3, 2018
It's one thing to do this in preseason and it's another to do it in the regular season, but Kawhi has lived up to the hype so far.
If this is a sign of what's to come, Raptors fans have a lot to be excited about.
Like Kawhi, Jonas Valanciunas came to play for the Raptors.
After leading Toronto with 17 points off the bench against the Portland Trail Blazers in the preseason opener, Valanciunas led the way with 18 points against the Jazz on Tuesday, this time as a starter.
Valanciunas also chipped in with nine rebounds, one block and one assist in his 21 minutes of action.
All of this is to say the Lithuanian continues to look good in preseason. Regardless of his eventual role, JV could be on the cusp of a big season.
Serge Ibaka came up big in the second quarter
Serge Ibaka's best stretch in this one came in the second quarter, when he scored seven of his 11 points and helped the Raptors build a decent lead.
(Just forget about the inbound violation, missed dunk and goaltend before all that positive stuff happened.)
It goes without saying, but the Raptors need a lot more of that from Ibaka this season. If he can stretch the floor at high rate and add to their defensive versatility, beit by protecting the rim or being more adept at switching, Nick Nurse will be able to use him in a variety of ways in a variety of lineups.
The Raptors couldn't buy a bucket from deep
One reason the Raptors struggled offensively against the Jazz was because they missed 22 of their 27 3-point attempts.
Kawhi Leonard was 1-for-2 from deep and everyone else was ... 4-for-25.
Here is Toronto's shot chart for the 2nd half when the team went 0-15 outside the paint. Yikes.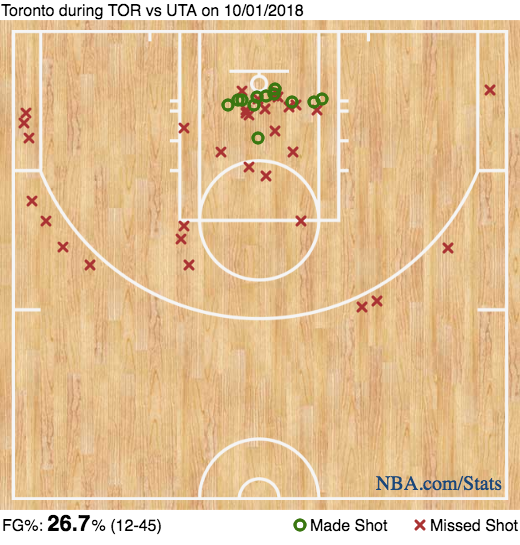 While it's probably not something to be concerned about in the long-run - Toronto attempted the third-most 3-pointers per game last season and converted those opportunities at a league average rate - it's something to keep an eye on Friday, when the Raptors host Melbourne United for their next preseason game.
Joe Ingles is still criminally underrated
Joe Ingles celebrated his 31st birthday in style, scoring a game-high 24 points in only 23 minutes.
The Jazz outscored the Raptors by 23 points when he was on the court, giving the Australian the highest plus-minus in the game.
Ingles doesn't wow anyone with his athleticism or individual skill, but he's a knockdown shooter, a gifted passer and a more-than-capable defender. Put it all together and you have perhaps the most underrated star in the league, as NBA.com's Micah Adams recently wrote about.
Tuesday was just further evidence of that.