For all of the Luka Doncic hype, there's another rookie nudging his way into the Rookie of the Year conversation.
Jaren Jackson Jr. looks like a star in the making.
Through 22 games, the Memphis Grizzlies rookie is averaging 13.9 points, 4.5 rebounds, 2.0 blocks, 1.4 assists and 1.0 steals per contest. He has already scored 30-plus points in a game - joining Doncic and Trae Young as the only players from this class to do so - and he's not far removed from a historic performance against the New York Knicks in which he totaled 16 points, seven blocks, six rebounds and three assists, all while shooting a perfect 6-for-6 from the field.
While he is only in the infancy of his development, those numbers point to one of the more unique prospects we've seen in a long time. It should come as no surprise, then, that Jackson said before this year's draft that he models his game after one of the more unique bigs currently in the NBA: New Orleans Pelicans centre Anthony Davis.
As the No. 1 pick in the 2012 NBA Draft, Davis entered the league with slightly higher expectations than Jackson, who was selected fourth overall. The two, however, have put up eerily similar stats through the first 22 games of their NBA careers. The biggest difference is in the rebounding department, as Davis pulled down almost 8.0 rebounds per game through the first couple months of his first NBA season compared to less than 5.0 for Jackson.
Otherwise, Davis and Jackson look almost identical on paper.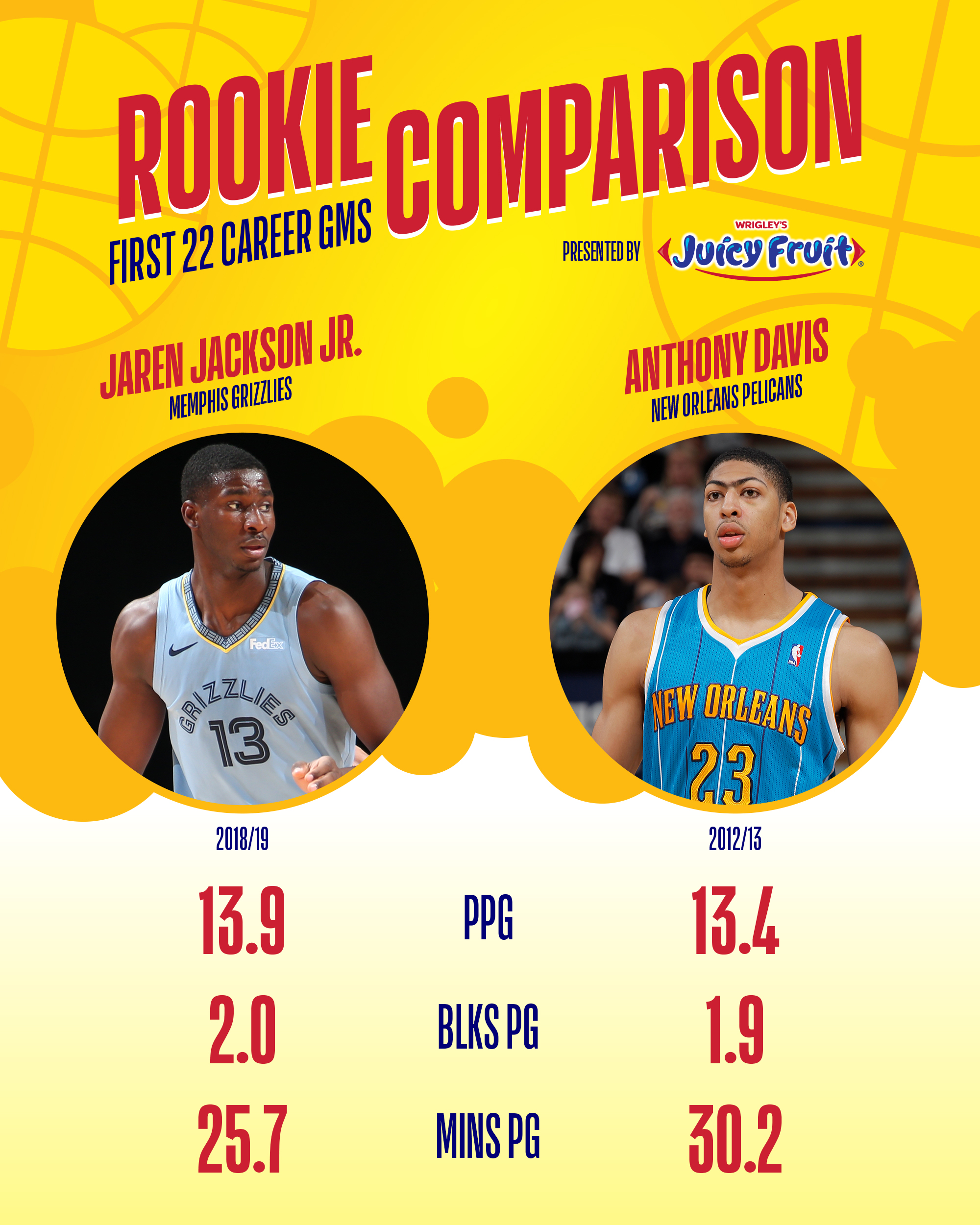 As unfair as it often is to compare someone as young as Jackson to someone as accomplished as Davis, the best version of Jackson projects to impact the game in the same way Davis does. Even if he never does it on quite the same volume, Jackson is showing signs of being a capable post scorer, a decent passer, a solid rim protector and the type of big man who can comfortably switch onto guards on the perimeter.
Jackson isn't the athlete Davis is - something that could impact his effectiveness in pick-and-rolls, where Davis thrives - but he makes up for it with his outside jump shot. Whereas it took Davis four seasons to begin experimenting with 3-pointers, Jackson is taking 2.4 catch-and-shoot 3s per game and converting them at a respectable rate (35.8 percent) for a player his size.
Jackson has already had a couple of notable games from the 3-point line, his first being that historic performance against the Knicks when he shot a perfect 6-for-6 from the field, including 4-for-4 from the perimeter. The second came less than a week later, when he nailed three 3-pointers en route to a career-high 36 points against the Brooklyn Nets.
Two of those 3-pointers came down in the final minute of regulation to tie the game up and send it into overtime.
"In winning time, to take those shots, it takes a unique heart, skill, ability and just cold-blooded nature," Grizzlies head coach J.B. Bickerstaff said about Jackson after the game. "Jaren has that."
Davis finished his rookie season averaging 13.5 points, 8.2 rebounds, 1.8 blocks, 1.2 steals and 1.0 assists per game. He couldn't carry a New Orleans Hornets team that was thin on talent to more than 27 wins - it didn't help that Davis missed 18 games due to injury - but he made the All-Rookie First Team and finished second in Rookie of the Year voting behind Damian Lillard.
Davis has improved each season since, to the point where he's become an MVP and DPOY candidate.
Whether or not Jackson can develop into that rare duel threat remains to be seen, but he is at least trending in the right direction based on how Davis' career got started.