Last season, Luka Doncic and Trae Young became the first players from the 2018 NBA Draft to be named All-Stars.
Will Deandre Ayton become the third this season?
Ayton is coming off of a weird sophomore season with the Phoenix Suns. It wasn't until the new year that his season truly began, as he missed 25 straight games to start the season due to a suspension and then missed a handful of games with an ankle injury following his return. He was productive from that point onwards, building on a promising rookie season with averages of 18.2 points, 11.5 rebounds and 1.5 blocks per game on 54.6 percent shooting from the field.
The Suns have big expectations this season, and how Ayton develops will go a long way in them reaching their potential as they look to end their decade-long playoff drought.
With that in mind, let's take a closer look at Ayton's offensive game to get a better sense of whether or not he's up to the task.
Scoring tendencies
According to NBA.com, Ayton generated around two-thirds of his offence on post-ups (22.2 percent), cuts (20.3 percent) and rolls (18.3 percent) last season. Of the three, the only one in which he finished in the top half of the league in efficiency was the roll man.
Whereas Ayton ranked in the 64th percentile in scoring efficiency as the roll man, he ranked in the 21st percentile in post-up efficiency and the 39th percentile in cut efficiency.
Deandre Ayton's scoring tendencies (2019-20 season)

| | | | |
| --- | --- | --- | --- |
| Play | Frequency | Points Per Possession | Percentile |
| Post-up | 22.2% | 0.78 | 20.6 |
| Cut | 20.3% | 1.21 | 39.4 |
| Roll man | 18.3% | 1.16 | 63.6 |
| Putback | 14.7% | 1.08 | 48.5 |
| Transition | 7.7% | 1.43 | 94.8 |
Shot chart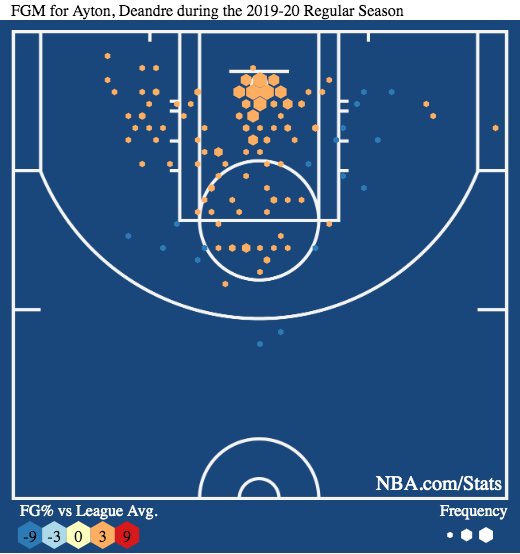 Keep it rolling
Let's start with the basics.
Standing at 6-foot-11 with a 7-foot-6 wingspan, Ayton is a massive target around the basket. He's not the most athletic player at his position, but he's nimble, has great hands and can operate above the rim.
Ayton was on the receiving end of a decent amount of alley-oops last season and should only get more playing next to Chris Paul this season. Not only does Paul have plenty of experience playing next to rim-running centres - Tyson Chandler in New Orleans, DeAndre Jordan in Los Angeles and Clint Capela in Houston - he's a far superior shooter off the dribble than Ricky Rubio, who was Phoenix's starting point guard last season.
If Ayton's defender drops back to protect the rim in a pick-and-roll with Paul, arguably the best midrange shooter in the league today will feast.
If they shade towards Paul in any way, Ayton will sneak behind them and make himself available at the rim for a lob.
"The way how he comes off of pick-and-rolls and the way how he controls that midrange is insane," Ayton said of Paul. "It's pretty unguardable. That's why so many lobs are open, because that midrange area after the pick-and-roll, the way how he can pull-up, he's so dangerous and lethal in that, and he can draw fouls.
"The dude is hard to stop. You having me roll to the basket, you got CP3 coming off in the midrange area and you got Book in the weakside corner ... it's crazy."
To boot, Ayton can make plays for himself on the short roll if teams double Paul to take both of those options away. He still has a ways to go as a passer out of the short roll, but he's capable of creating shots for himself out of one or two dribbles.
Switching those pick-and-rolls isn't much of a solution either because Ayton has the size to pick mismatches apart in the post.
According to NBA.com, Ayton averaged 3.2 points per game in the post last season. That was the 11th-highest mark in the league, trailing a group that featured Joel Embiid (9.1), Karl-Anthony Towns (4.5) and Zion Williamson (3.9). He was one of the least efficient (21st percentile) post-up scorers in the league last season but was among the most efficient (75th percentile) in his rookie season.
If you combine those two seasons, Ayton still checks out as one of the league's better post-up scorers, ranking 37th out of the 109 players with at least 100 post-ups, per FiveThirtyEight's Jared Dubin.
Ayton's problem last season was that he rarely got to the free throw line - he earned free throws on 6.5 percent of his post-ups, which was one of the lowest rates in the league - some of which had to do with him settling for jump shots at times. But he's a huge body with good footwork and a soft touch. If he gets deep post position, he's tough to stop.
Playing next to Paul could help him in that regard as well, as having another playmaker will allow Ayton to be more selective with his post-ups. Between him, Paul and Devin Booker, the Suns should have at least one favourable matchup every time they take the court.
An evolving shooter
A big part of the appeal with Ayton coming into the NBA is that he's a blend of the old school and new school, being a back-to-the-basket centre who can play above the rim and step outside as a shooter.
Through two seasons of his NBA career, Ayton has been strictly a midrange shooter. Again, there are times where he'd probably benefit from being a more selective midrange shooter, but Ayton has proven to be a solid shooter from that distance, making 36.7 percent of his midrange opportunities last season and 39.9 percent the season before.
Not only can Ayton face-up out of the post...
...he's comfortable picking-and-popping to around the free throw line.
The key for Ayton this season will be extending his range out to the 3-point line. He's taken only 17 3-pointers in his NBA career, but 10 of those attempts came in Phoenix's seeding games in the season restart. He came back from the hiatus a different player, transitioning from shooting from midrange exclusively to actively looking for 3s.
"It's very nice to see," Booker said of Ayton shooting 3s. "He wouldn't even shoot them during the first 65 [games], but we've seen him put in the work. He's told us that he's going to shoot them and he's put in the work. There you have it. It matches up with the results.
"He's shooting it with confidence. He's spacing the floor. That's going to be a big part of our offense with him moving shot-blockers away from the rim and knocking down big shots like that."
Ayton made only three of those 10 3-point attempts in the season restart, but he looked the part of a 3-point shooter.
Fortunately for the Suns, them having an elite offence this season doesn't hinge on Ayton developing into a more reliable 3-point shooter. (They have more than enough shooting around Ayton in Paul, Booker, Mikal Bridges, Jae Crowder and Cameron Johnson for him to own the paint). But him being a threat from the perimeter would make a tremendous difference because of the spacing it would provide everyone on the roster, most notably Paul and Booker.
Outlook
It's easy to see why Ayton is widely considered to be one of the favourites to take home the Most Improved Player award this season.
You'd expect any former No. 1 pick to improve heading into their third season and there are clear ways Ayton can improve, but he could get a tremendous bump simply from playing next to Paul. Paul could trim some of the fat off of his game, getting him to play more to his strengths as a post-up scorer, rim-runner and spot-up shooter.
If it's not enough for him to average 20-10 - a threshold only four players reached last season - it should help Ayton put together his most efficient season yet.
Whether or not that'll be enough for him to get All-Star recognition remains to be seen, but Ayton simply being in the conversation would be a huge development for the Suns.
The views on this page do not necessarily reflect the views of the NBA or its clubs.