The Orlando bubble was a unique, one-of-a-kind experience for players, performing in empty arenas as a throwback to their old AAU days.
In that bubble, we saw a handful of players take their game to a level we've never seen before, but are those performances sustainable?
Entering the 2020-21 NBA season where most arenas still won't have fans, it should make for a similar atmosphere as the bubble. But you still have to factor in a couple of other variables, the most notable of which will be travel.
With a new season ahead of us, will these players maintain their level of play from the bubble?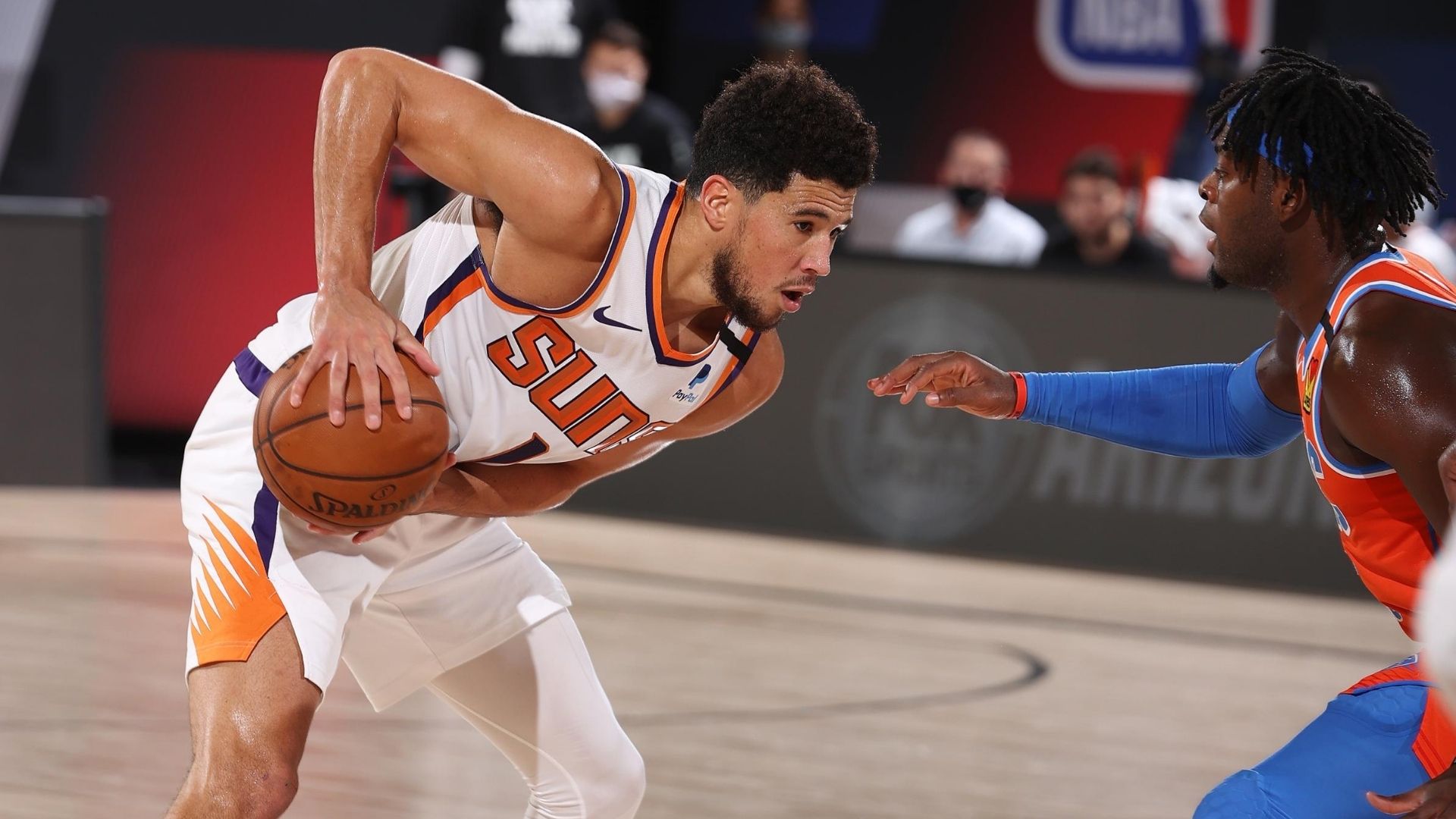 Booker turned a corner during the 2019-20 season, earning his first of many All-Star bids. His pre-bubble portion of the regular season was already impressive, averaging 26.1 points and 6.6 assists per game on .487/.360/.916 shooting splits, but when Phoenix's back was against a wall in the season restart, Booker took his game a step further.
Phoenix needed to go perfect to even have a chance at making the playoffs. Well aware of that, Booker exploded onto the scene, averaging 30.5 points, 6.0 assists and 4.9 rebounds while shooting a blistering 50.3% from the field. He dropped 35 points on four different occasions to keep his team's season alive, including this unforgettable buzzer-beater against the LA Clippers:
DEVIN BOOKER! GAME-WINNER! 😱 pic.twitter.com/vUvwABgyE5

- NBA TV (@NBATV) August 4, 2020
His efforts led the Suns to an 8-0 record, although they would still miss the play-in game on a tiebreaker with the Memphis Grizzlies. Booker earned a spot on the All-Bubble First Team and fell just short of Bubble MVP, a crown that Damian Lillard rightfully took home.
The combination of Phoenix's encouraging outing in the bubble and trading for Chris Paul this offseason has set high expectations for a team that hasn't made the playoffs since 2010. If the Suns are going to snap that 10-year playoff drought, they're going to need Booker to replicate his production from Orlando.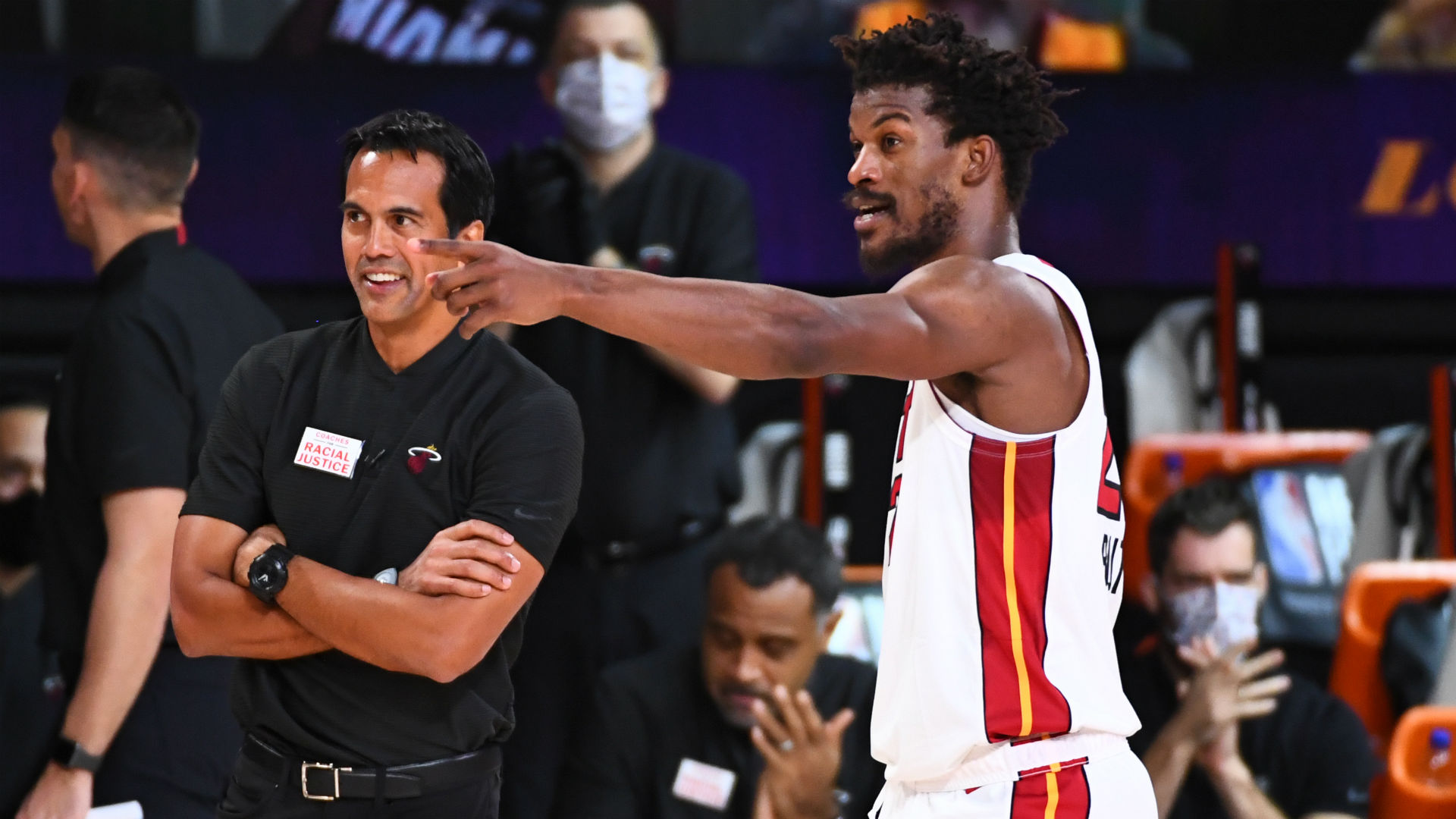 Butler was a different beast in the bubble, particularly in the NBA Playoffs and Finals. Without Butler raising his game, the Miami Heat may not have made their run to win the East and advance to the championship round.
Butler was solid for the Heat all season but as the stakes got higher, he got better.
Jimmy Butler's stats (2019-20 season)

| | | | | | |
| --- | --- | --- | --- | --- | --- |
| | PPG | RPG | APG | SPG | Shooting splits (FG/3PT/FT) |
| Regular season (pre-bubble) | 20.2 | 6.6 | 6.1 | 1.7 | .454/.248/.833 |
| Playoffs | 22.2 | 6.5 | 6.0 | 2.0 | .488/.349/.859 |
| Finals | 26.2 | 8.3 | 9.8 | 2.2 | .552/.308/.887 |
His scoring steadily increased while his rebounding and assist numbers took a huge leap in the playoffs and Finals. Another major difference was his 3-point percentage, converting 34.9% of attempts in the playoffs compared to just 24.8% in the regular season.
Butler is known as a gamer and competitor but the performance he put together in the bubble looked like a completely different player.
Who could forget his 40-point triple-double with 13 assists and 11 rebounds to keep Miami within a fighting chance of a title to take Game 3? And then again with a 35-point triple-double on the brink of elimination to take Game 5?
The @MiamiHEAT force a Game 6 behind Jimmy Butler's 35-point triple-double in the Game 5 win! #NBAFinals

35 PTS | 12 REB | 11 AST

Game 6: Sunday at 7:30pm/et on ABC pic.twitter.com/Eu1swrF73W

- NBA (@NBA) October 10, 2020
With the Eastern Conference only getting tougher, the Heat will need Butler to keep the same form of play from the bubble if they're going to repeat as conference champions and return to the NBA Finals.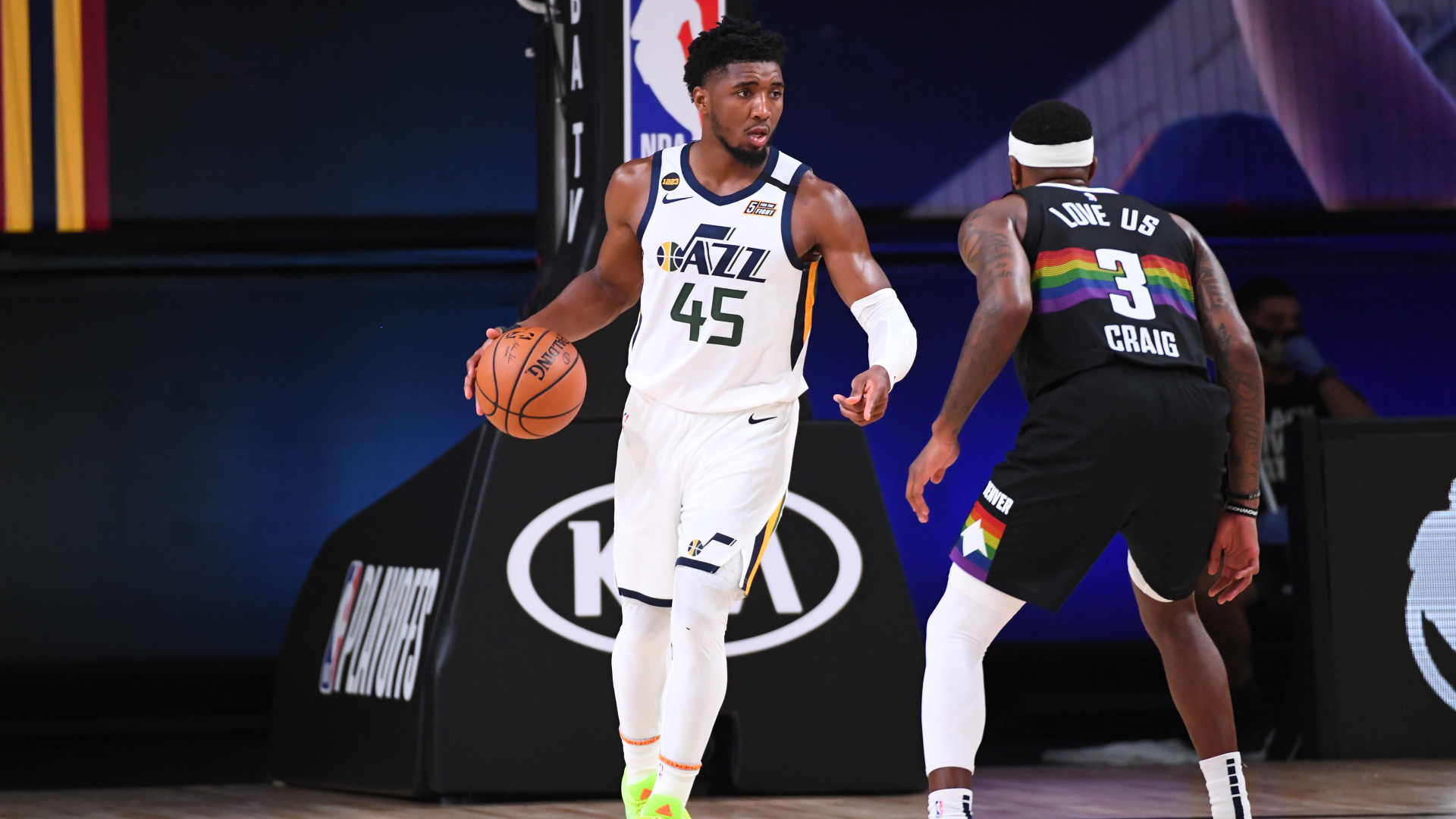 In his first All-Star season, Mitchell's game was already reaching new heights.
Averaging 24.2 points, 4.4 rebounds, 4.2 assists and 1.0 steals per game while shooting 45.3% from the field and 36.4% from 3 during the pre-bubble portion of the season, all of those numbers (aside from steals per game) either matched or exceeded the best of his career. He had taken a leap, and his performance in the bubble only reinforced that.
In the very first game of the 2020 NBA Playoffs, Mitchell wasn't just great - he was historic. Dropping 57 points in a comeback win over the Denver Nuggets, Mitchell moved into third place on the all-time single-game playoff scoring list, trailing only Elgin Baylor (63 points in 1962) and Michael Jordan (63 points in 1986).
Additionally, it was the highest individual playoff scoring output since Allen Iverson dropped 55 points in 2003 ... and he wasn't done yet.
Mitchell would go on to score 51 points in Game 5 to give his team a commanding 3-1 lead. With multiple 50-point performances in a single series, he (and his opponent Jamal Murray, who we'll get to next) joined Jordan and Iverson as the only players in league history to achieve the feat.
Players to drop 50+ multiple times in a playoff series:

➖ Michael Jordan, 1988
➖ Allen Iverson, 2001

Donovan Mitchell and Jamal Murray have joined the list in the same series.

Epic duel.

(H/T @statmuse) pic.twitter.com/d8N3u4mhCY

- Bleacher Report (@BleacherReport) August 31, 2020
Unfortunately for Mitchell and the Utah Jazz, they dropped three consecutive games to blow their 3-1 lead and get bounced from the playoffs. Mitchell averaged 36.3 points, 5.0 rebounds and 4.9 assists per game for the series while shooting a scorching 52.9% from the field, 51.6% from 3 and 94.8% from the free throw line.
Should you expect Mitchell to post something similar to that over the course of a full season? Of course not. But if Utah is going to remain competitive in the West, it's going to need Mitchell to continue to elevate his play again this upcoming season.
Jamal Murray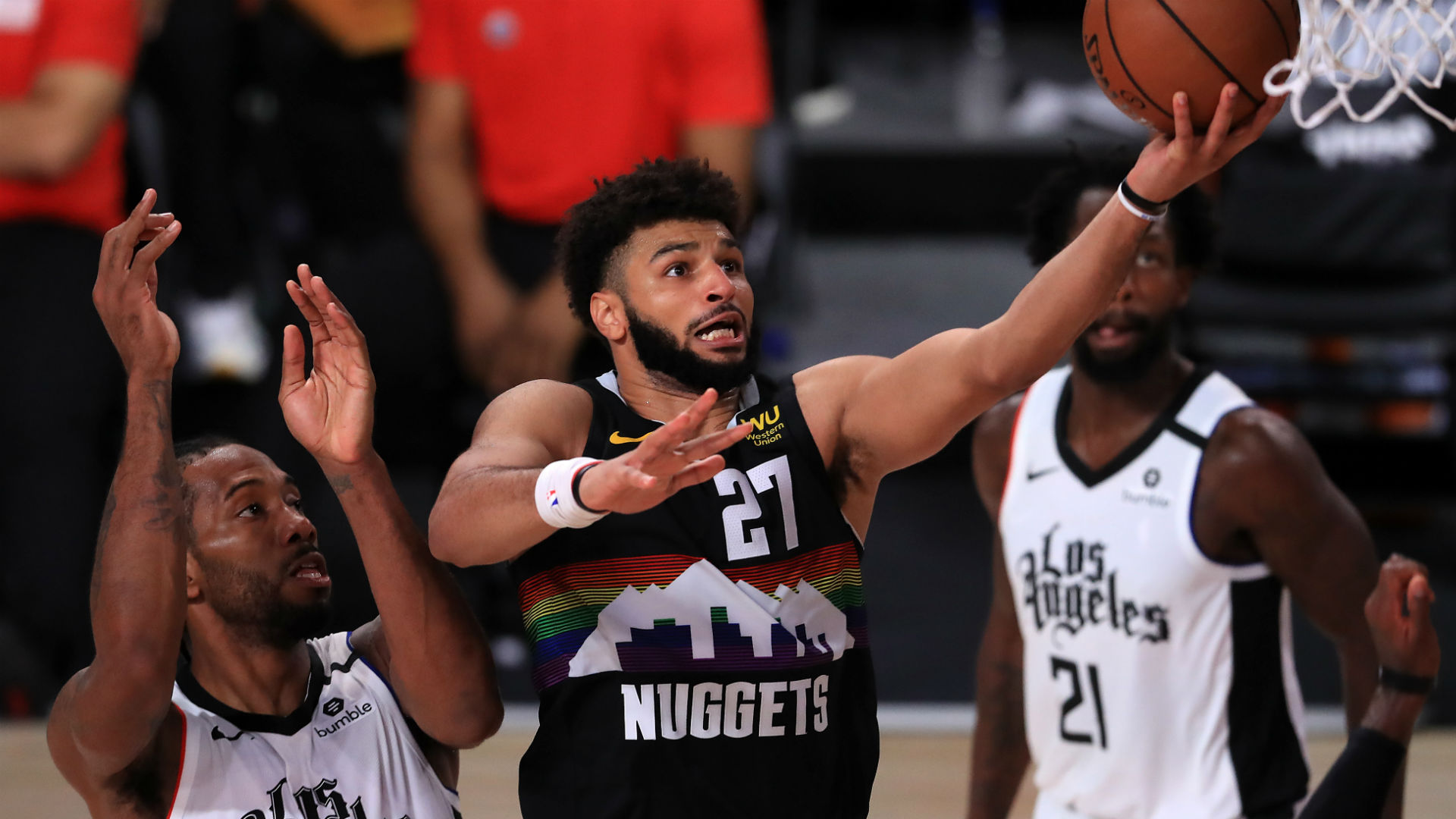 Fresh off of a max contract extension in the 2019 offseason, Murray hadn't exactly lived up to the hype prior to the season's restart. Averaging 18.8 points, 4.8 assists, 3.9 rebounds and 1.2 steals per game while shooting 45.5% from the field and 34.5% from 3 during the pre-bubble portion of the season isn't bad by any means, but Denver needed more to take the next step as a serious contender.
Murray gave the franchise exactly what it needed and then some once the playoffs rolled around.
Murray turned into the Human Torch in the postseason, making him must-see-TV every time Denver took the floor. Highlighted by two 50-point games and two 40-point games, Murray was unstoppable. He scored 50 in a must-win Game 6 in the first round against the Utah Jazz - his second 50-piece of the series - and then scored 40 points in Game 7 in the Conference Semifinals to eliminate the heavily favoured LA Clippers.
Jamal Murray (@BeMore27) pours in 40 PTS (25 in 1st half) to help the @nuggets win Game 7 and advance to the Western Conference Finals! #Drop40

DEN/LAL Game 1: Friday - 9pm/et, TNT pic.twitter.com/jrFpsd8bqM

- NBA (@NBA) September 16, 2020
When the Nuggets were knocked out by the eventual champion Los Angeles Lakers, Murray was leading the entire postseason in scoring with 504 points.
As a result, his playoff numbers were ridiculous, averaging 26.5 points, 6.6 assists and 4.8 rebounds per game while shooting 50.5% from the field and 45.3% from 3. NBA.com's Scott Rafferty highlighted how his efficiency put him in the same category as the greatest shooter of all-time in Stephen Curry, converting 43.2% of pull-up 3s in the postseason.
Will that production be sustainable? Similar to Mitchell, it would be unfair to expect that from Murray over the entire 2020-21 season, but if Denver is going to return to the Western Conference Finals and beyond, it's going to need something in that realm from its franchise point guard.
TJ Warren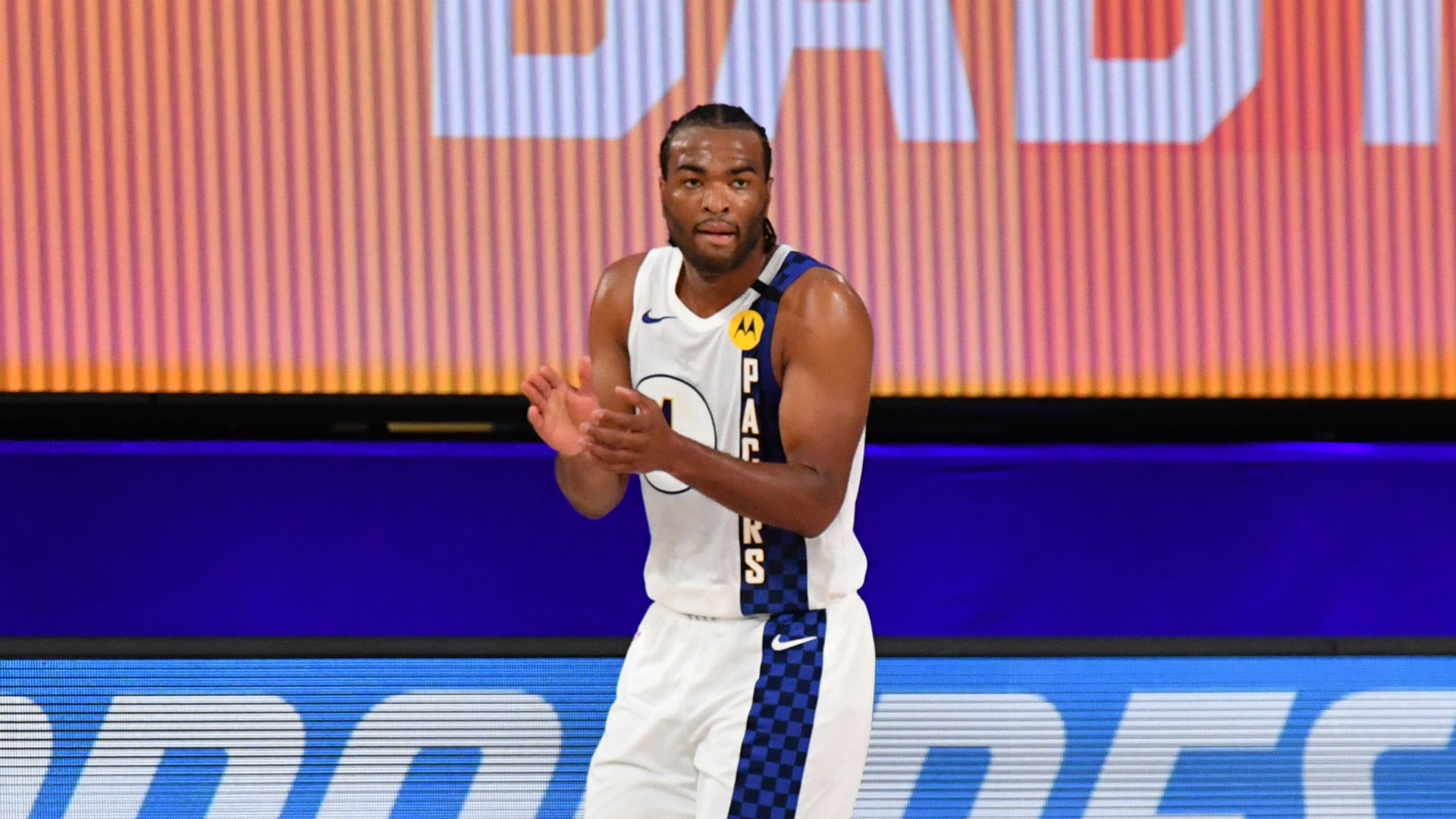 Warren was the poster child of absurd bubble performances.
The six-year veteran forward was always known as a scorer, but when All-Star big man Domantas Sabonis went down with a foot injury before the seeding games even began, Warren put the Pacers on his back.
In Indiana's very first game - an important matchup for playoff seeding against the Philadelphia 76ers - Warren dropped a career-high 53 points to help the Pacers pick up the win. Just when you may have felt like that was an outlier performance, Warren dropped 30-plus points in back-to-back games after that.
TJ Warren (53 PTS & 9 3PM) opened up the restart with a career-high 👏 pic.twitter.com/vewzTVRSCQ

- NBA on TNT (@NBAonTNT) August 2, 2020
Averaging 18.7 points while shooting 52.9% from the field and 37.5% from 3 during the pre-bubble portion of the regular season, Warren's seeding games averages looked completely different. He posted 31.0 points, 6.3 rebounds, 2.0 assists, 1.3 steals and 1.2 blocks over six seeding games with insanely efficient shooting splits of .578/.524/.889.
Those numbers earned Warren a spot on the All-Bubble First Team, but it also put a target on his back in the playoffs.
When Indiana matched up with Miami in the first round, All-Star forward Jimmy Butler took that matchup personally. According to NBA matchup data, Butler held Warren to just 21 points on 33.3% shooting from the field over four games. Warren still averaged 20 points per game while shooting a solid 47.1% from the field, but he never scored over 25 points in a game and couldn't maintain the numbers he put up in the seeding games. Part of that could have been Warren playing through plantar fasciitis, with the other part being a more in-depth scouting report.
Now that teams are more prepared to try and stop Warren, will he still be able to score at this rate during the 2020-21 season?
The views on this page do not necessarily represent the views of the NBA or its clubs.