What's an NBA star without the perfect co-star by his side? Batman needs Robin, and the sky is the limit with a strong second banana sitting in the co-pilot's chair.
Taking yet another trip back in the time machine, we posed the question to members of our NBA.com Staff: If you had to pick just one season in Toronto Raptors history as the best performance by any sidekick, what would it be?
Micah Adams (@MicahAdams13): OK, there's a natural temptation to lean towards last year's championship season.
Kyle Lowry made the All-Star team and capped off an elusive championship with arguably the best game of his career in Game 6 of the Finals.
Pascal Siakam emerged as a Most Improved Player and was the team's leading scorer in the games missed by Kawhi Leonard. Siakam's production enabled the Raptors' load management strategy to pay off in the end.
And yet if we're looking purely at production... neither of these takes the cake. That championship banner is hanging thanks in part to a total team effort with that second banana title changing hands from game to game and moment to moment.
I'd still side with Lowry's 2016-17 season in which he averaged a career-high 22.4 points per game to go along with 7.0 assists and 4.8 rebounds, the latter of which was also a career-high at the time. Nevermind the fact that the Raptors got swept out of the playoffs by the Cleveland Cavaliers, this was Lowry at his statistical and physical apex. It was a banner season alongside DeMar DeRozan who garnered All-NBA Third Team honours.
How efficient was Lowry that season? ESPN's Real Plus-Minus pegged him as the 10th-most productive player in the league on a per-possession basis, sandwiched right between league MVP Russell Westbrook and new Warriors star Kevin Durant. Not bad company!
Carlan Gay (@TheCarlanGay): It certainly wasn't the best season for the Raptors, but boy was it fun to watch Mike James go to work in a season that didn't have many other highlights.
James came to the Raptors via trade at the beginning of the 2005-06 season and in a contract year, he did everything he could to earn one more big bag.
He appeared in 79 games for Toronto and averaged a career-high 20.3 points and 5.8 assists on 44.2% shooting from 3-point range. He was also one of the most prolific clutch scorers in the league that season.
James finished sixth in clutch scoring among players who played at least 20 clutch games that season, according to NBA Stats.
2005-06 NBA Clutch Scoring Leaders

| | | | |
| --- | --- | --- | --- |
| Player | Clutch Games Played | Clutch points per game | Field Goal % |
| Kobe Bryant | 40 | 4.2 | 36.4 |
| Paul Pierce | 53 | 4.0 | 42.8 |
| Carmelo Anthony | 36 | 3.7 | 41.8 |
| LeBron James | 49 | 3.6 | 53.6 |
| Dwayne Wade | 38 | 3.4 | 47.0 |
| Mike James | 48 | 3.5 | 43.3 |
| Ben Gordon | 46 | 3.5 | 47.5 |
| Gilbert Arenas | 48 | 3.4 | 37.6 |
| Dirk Nowitzki | 44 | 3.4 | 41.7 |
James was the Robin to Chris Bosh's Batman. It was Bosh's first season as an All-Star and he was coming into his own as the new face of the franchise. With James running wild in the backcourt there was some promise once again for the Raptors' future. Until, of course, James left via free agency that summer, getting a four-year contract with the Minnesota Timberwolves worth $23.5 million.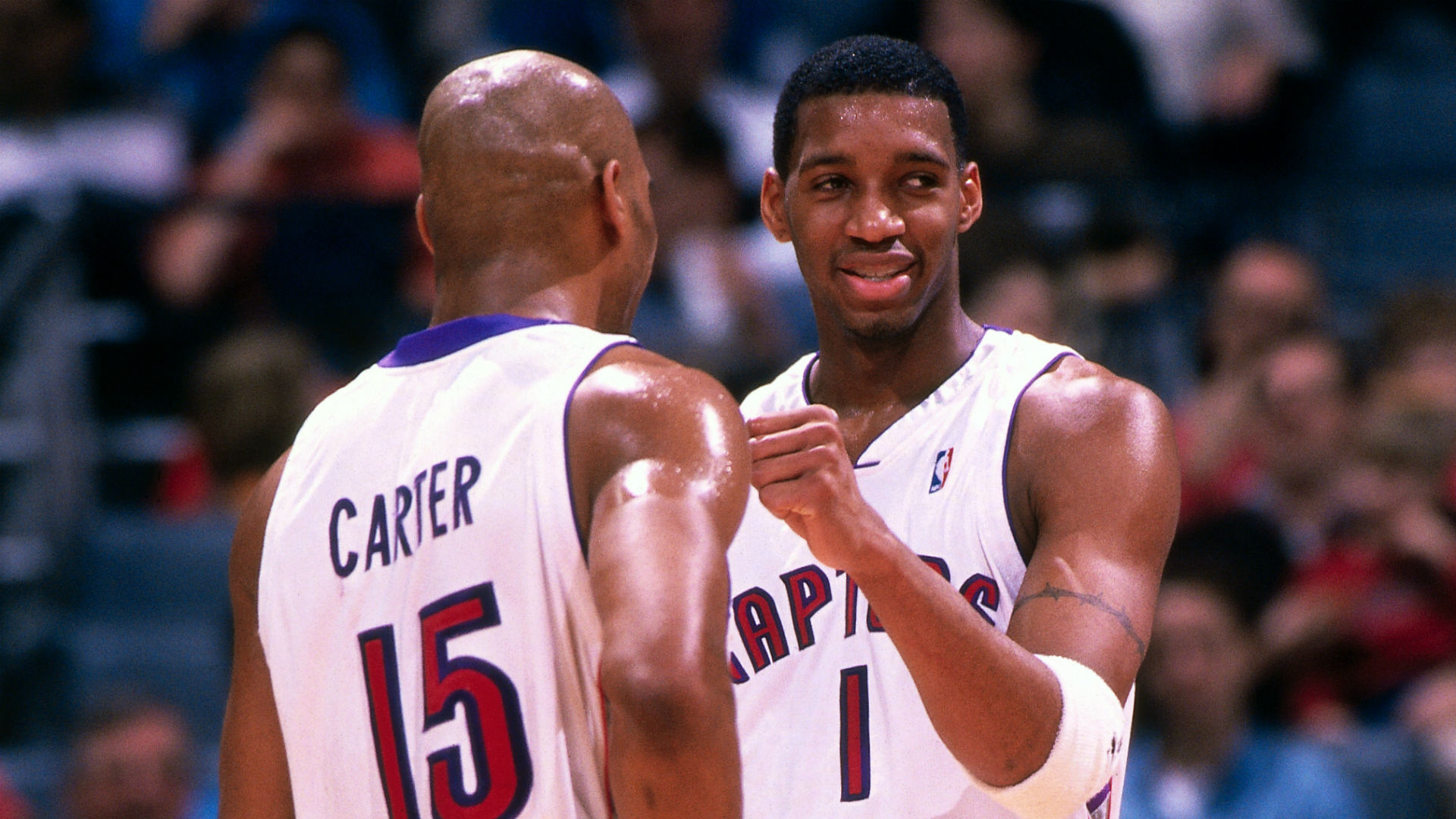 Gilbert McGregor (@GMcGregor21): I might have recently gotten carried away as I penned the ultimate "what if?" relating to the potential of Tracy McGrady and Vince Carter staying together beyond the two years they shared as Raptors. Naturally, I'm going with 1999-00 T-Mac.
The numbers might not wow you but from a pure talent perspective, it's not even close.
In what was his third NBA season, a 20-year-old McGrady averaged 15.4 points, 6.3 rebounds, 3.3 assists and a team-high 1.9 blocks per game, starting the season as a reserve. He became a full-time starter for the final 30 games of the season, a span in which he averaged 17.4 points, 8.3 rebounds, 4.2 assists, 2.0 blocks and 1.3 steals.
You can't help but think this made things easier for Carter, who upped his scoring average to 27.2 points per game over the final 30 games. McGrady even helped make the 2000 Slam Dunk Contest easier for his teammate.
This is the year that also saw Toronto clinch its first playoff berth in franchise history.
In his postseason debut, T-Mac recorded a 25-point, 10-rebound double-double as the Raptors lost a close decision to the New York Knicks. He would go on to play just two more games in a Raptors uniform.
Sure, there are accolades and other concrete numbers to measure the impact of other sidekicks, but the presence and star power of McGrady make him my choice.
Scott Rafferty (@crabdribbles): The answer is probably a Lowry season, but I'm going to go with the 2018-19 version of Pascal Siakam.
Siakam did everything for the Raptors in their championship season. To name a few of the big ones:
He slid alongside Kawhi Leonard perfectly as a secondary scorer in the frontcourt with an average of 16.9 points per game, the second-highest mark on the team.
He gave the Raptors another capable 3-point shooter, knocking down 36.9 percent of his shot attempts from the perimeter. He wasn't as versatile of a shooter as he is now, but having a power forward who can space the floor at that rate does wonders for a team's spacing.
He played a big role in Toronto having one of the best defences in the league, emerging as one of the league's most versatile defenders, someone who can guard multiple positions and defend both inside and out.
And as Micah mentioned, Siakam played a big role in the Raptors having as much success as they did in the games Leonard missed due to load management. He was the team's leading scorer in those games, planting the seeds for his leap into becoming an All-Star this season.
Siakam's best #NBAFantasy performance of the season was on Feb. 13 against the Wizards.

44 PTS
10 REB
2 AST
3 BLK
64 FPTS pic.twitter.com/5MdiEKFHMP

- NBA Fantasy (@NBAFantasy) April 4, 2019
Ultimately, Siakam was the perfect sidekick last season - an efficient secondary scorer, a ferocious defender and the type of player who isn't afraid to do the dirty work. That he helped Toronto win the title only helps make his case as being the greatest No. 2 in Raptors history.
The views on this page do not necessarily reflect the views of the NBA or its clubs.