The NBA is in a good place.
While 2019-20 is shaping up to be the most wide open and competitive season in over a decade, there are a number of teams on the rise that are destined for future success. Among the most intriguing include the Sacramento Kings, New Orleans Pelicans, Chicago Bulls, Atlanta Hawks, Memphis Grizzlies, Dallas Mavericks and Phoenix Suns, seven franchises that missed the playoffs last season, but are loaded with remarkable stockpiles of young talent.
(There are obviously other teams with promising young cores such as the Denver Nuggets and Boston Celtics, but we kept them off this list since they are already somewhat established and contending. In keeping with the spirit of building for the future, we're focusing on teams not quite ready for contention conversations).
So which one of those teams enters next season with the title of having the best young core in the league? That's for you to decide. And if you're unsure, we've made the case below for each team.
Which team has the best young core?
The case for the Sacramento Kings
The Kings being at the top of this list hinges on the development of De'Aaron Fox.
Fox didn't necessarily seem destined for stardom in his rookie season - although there were certainly signs - but he put himself on notice in his sophomore season, almost leading Sacramento to the playoffs with 17.3 points, 7.3 assists and 3.8 rebounds per game. He improved his numbers across the board, most notably as a shooter, going from making 30.7 percent of his 3-point attempts to 37.1 percent.
If Fox can continue to add to his game, there's no reason why he can't be one of the best point guards in the league one day, possibly starting as soon as next season.
The next key piece in Sacramento's core is Buddy Hield. Hield proved to be one of the league's best 3-point shooters in the 2018-19 season by connecting on 42.7 percent of his 3-point attempts and finishing behind only James Harden, Stephen Curry and Paul George in 3-pointers made. Every team needs at least one knockdown shooter to compete in today's NBA, which is why Hield is so important for the team's future. He is essentially the Klay Thompson to Fox's Stephen Curry.
Bogdan Bogdanovic fills a similar role as Hield, only he makes up for not being quite the same level of shooter with his ability to create for others as another ball handler.
In addition to Fox, Hield and Bogdanovic, the Kings have a pair of talented young big men in Marvin Bagley III and Harry Giles. Bagley seems destined to average 20 and 10 for most of his NBA career and Giles brings a unique skill set to his position, a gifted passer that prior to a rash of injuries had him ranked as the top prospect in his high school class and a player that reminded many of former Kings star Chris Webber.
The only real weakness the five of them have collectively is defence - Fox and Giles might are the only ones that project to be difference-makers on that end of the court - but it might not matter much if they can all reach their sky-high potential offensively.
- Scott Rafferty (@crabdribbles)
The case for the New Orleans Pelicans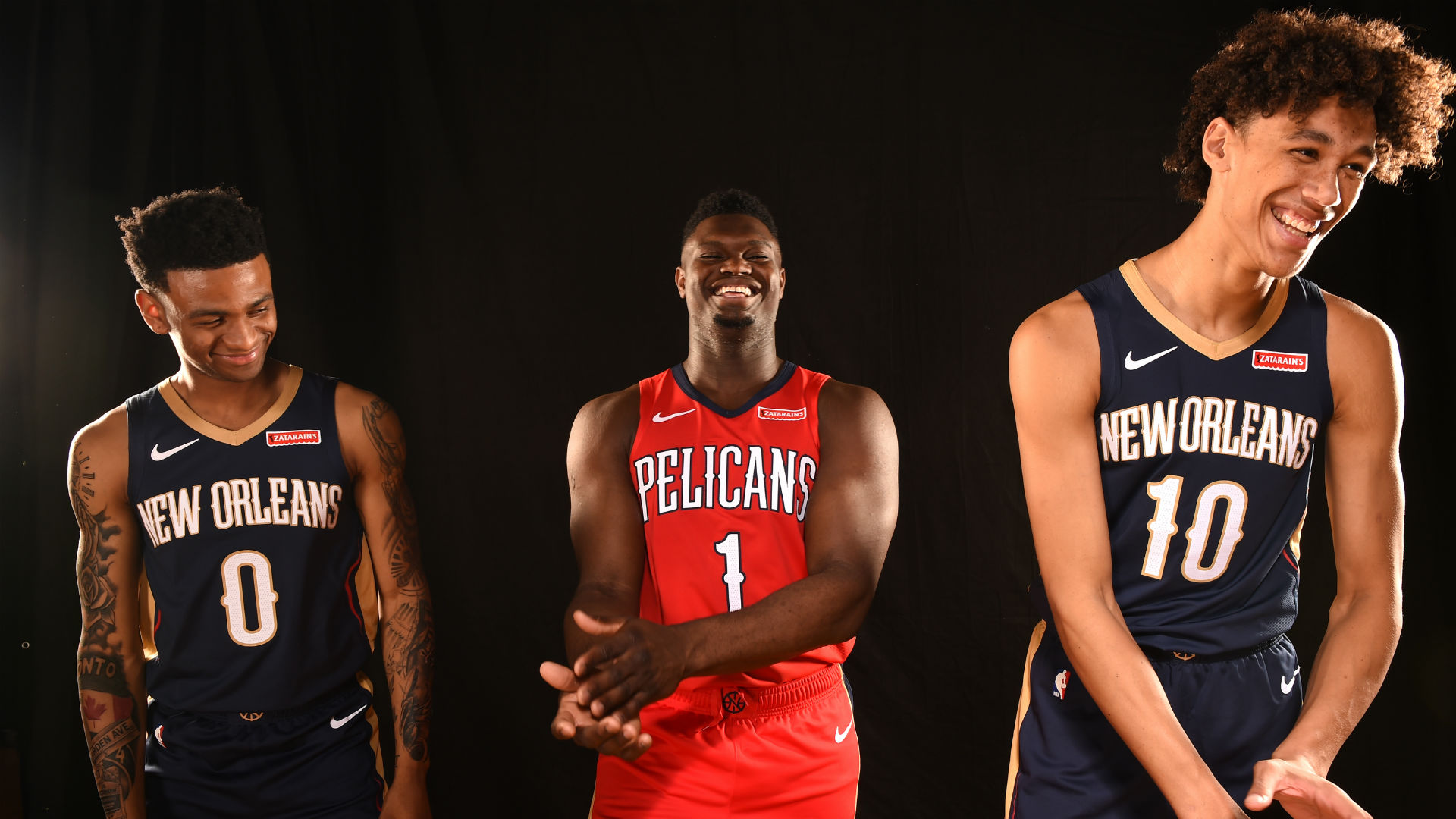 The Pelicans would be the correct answer if Zion Williamson was the only young player they had, so it's essentially a no-brainer given the team they've built around him in a matter of months.
Let's start with the 19-year-old Williamson, who is undoubtedly the most highly-touted prospect the league has seen since LeBron James entered the NBA in 2003. Zion has an enormously high ceiling and has the potential to be an All-NBA calibre player within his first five years of the league and an MVP candidate after.
MORE: Playing fact or fiction on Zion's rookie season
Zion leads a three-headed monster of a rookie class alongside 19-year-old uber-athletic centre Jaxson Hayes and heady 20-year-old guard Nickeil Alexander-Walker, who both stood out during the 2019 MGM Resorts Las Vegas Summer League. In coming into the league together, these three will take the same bumps and bruises in order to develop - not necessarily at the same rate but on the same timeline.
From there, we can shift our focus to the players acquired in exchange for Anthony Davis: 21-year-old Lonzo Ball, 21-year-old Brandon Ingram and 24-year-old Josh Hart - three players that have already shown the capability to perform at a high level in the league. Ball is an elite passer and a scary good defender, Ingram quietly averaged 18.3 points per game last season and Hart has proven to be as solid as they come by his ability to do a little bit of everything.
Add in the Pelicans "in-house" talent of the 21-year-old Frank Jackson and 24-year-old former No. 2 overall pick Jahlil Okafor, and there's another group of young players that are familiar with Alvin Gentry's system.
If you're counting at home, that's eight very talented players under the age of 25 that stand to play a role in the Pelicans rotation come opening night. Add in the fact that this young group is headlined by a generational talent in Zion Williamson, and it's hard for any other team's young core to compete.
- Gilbert McGregor (@GMcGregor21)
The case for the Chicago Bulls
A 24-year-old two-guard that's already proven he can average 25 a game.
A sweet-shooting power forward that became the fastest in NBA history to 100 career made 3s.
A skilled two-way center that's drawn comparisons to five-time All-Star Al Horford.
A high octane rookie point guard with tremendous offensive upside.
MORE: Rookie scouting report on Coby White
The Bulls might not have the futuristic hype of teams like the Pelicans or Kings, but they're quietly stockpiling young assets that fill a wide variety of roles. Although it feels as if Zach LaVine should be a seasoned vet by now, he just turned 24 in March and is coming off a season in which he averaged career highs in points, assists, rebounds and field goal percentage. He made significant strides as a closer last season, finishing third in the NBA behind only Kyrie Irving and Kawhi Leonard in made field goals in the final three minutes of one-possession games.
Joining LaVine in the backcourt this season is rookie Coby White out of North Carolina. Though he may not initially start, the 6-foot-5 White is another gifted scorer capable of getting to the basket or filling it up from outside. Should he reach his potential, the pairing of White and LaVine could give Chicago one of the league's most explosive backcourts.
Even more promising is the frontcourt duo of Lauri Markkanen and Wendell Carter Jr., who played only 21 games together last season due to overlapping injuries. Both are incredibly skilled and fit the modern game, which demands versatility from bigs on both ends of the floor. While Markkanen is looking to develop into a Dirk Nowitzki-type, Carter's well-rounded size and skillset allows him to fit seamlessly next to virtually any combination of players.
The Bulls might not make much serious noise just yet, but do not sleep on the long-term potential of this group.
- Micah Adams (@MicahAdams13)
The case for the Atlanta Hawks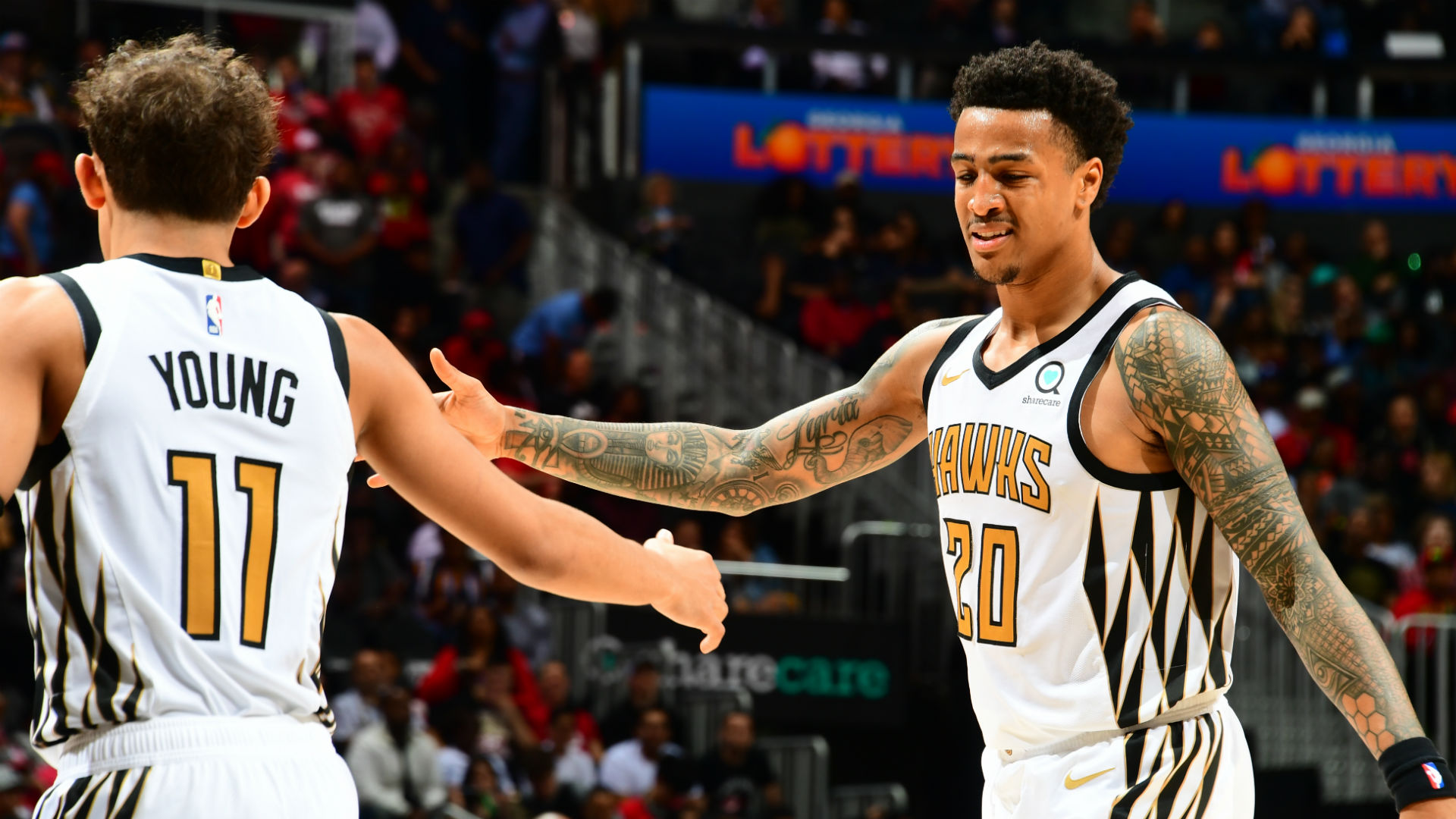 The Hawks got off to a slow start in the 2018-19 season when John Collins was sidelined due to injury and Trae Young struggled to find his shooting stroke to begin his rookie campaign. Nonetheless, the Hawks' young duo were both fantastic toward the back end of the season, showing serious signs of growth as one of the most intriguing up-and-coming tandems in the NBA.
Post-All-Star break, Collins averaged a double-double of 20.3 points and 10.3 rebounds per game while shooting 53.1% from the field. In that same timespan, Young made a late push at stealing Rookie of the Year from sensation Luka Doncic by averaging 24.7 points, 9.2 assists and 4.7 rebounds per game.
The Hawks closed the season strong and made significant progress in continuing their future growth this offseason.
MORE: How the 2019 NBA Draft transformed the Hawks into the East's brightest future
They were among the most active teams leading up to the NBA Draft and secured a handful of picks to fill out their roster with promising young talent at every position. They traded up to get collegiate standout and NCAA champion forward De'Andre Hunter at pick No. 4 and selected Duke sharpshooter Cam Reddish at pick No. 8. In the second round, they filled a need at the centre position with Maryland big man Bruno Fernando - a player who was projected to go as early as the lottery in some mock drafts.
Add that group to second-year 3-point specialist Kevin Huerter and veterans like Evan Turner, Allen Crabbe, Vince Carter, Jabari Parker and Alex Len, and you have a good mix of bright young talent and vets to show them the ropes.
The Hawks may still be a year or so away from truly threatening the Eastern Conference or the league as a whole, but the pieces are in place to have a long run in the near-future just through in-house talent. If Collins, Young and Huerter take another step forward next season and Hunter and Reddish can emerge as the prospects they're projected to be, Atlanta will flourish sooner than later.
- Kyle Irving (@KyleIrv_)
The case for the Dallas Mavericks
The Mavericks don't have quite the same depth as some of these other teams, but what they do have is two of the league's best young prospects in Luka Doncic and Kristaps Porzingis.
Doncic looked every bit of a future star last season with averages of 21.2 points, 7.8 rebounds and 6.0 assists per game. According to Basketball Reference, those are numbers we've only ever seen from five other rookies before - Michael Jordan, Oscar Robertson, LeBron James, Allen Iverson and Tyreke Evans being the others - which helped Doncic earn 98 out of a possible 100 first-place votes for Rookie of the Year.
Our NBA.com Staff has been high on Doncic since the start, with the consensus being he'll be a perennial All-Star and a possible MVP candidate when he reaches his peak. Zion Williamson might be the only player mentioned above who can reach that same level.
How well Porzingis complements Doncic remains to be seen, but if he can return to being the player he was prior to his ACL injury, the Mavericks have good reason to believe the two of them can lead them back to the playoffs and eventually compete in the Western Conference.
MORE: How Porzingis fits with the Doncic and the Mavericks
Doncic and Porzingis have a young Steve Nash and Dirk Nowitzki vibe to them. Beyond the obvious international connection, Doncic is a supremely talented playmaker and Porzingis is a sharpshooting 7-footer, having connected on 39.5 percent of his 4.8 3-point attempts per game in the 2017-18 season. That helped him average a career-high 22.7 points per game in his final season with the New York Knicks, the 16th-highest rate in the league alongside Joel Embiid and Bradley Beal.
Even without knowing who else on this current roster will be with them in the future, the star power of Doncic and Porzingis alone makes the Mavericks a force to be reckoned with.
- Scott Rafferty (@crabdribbles)
The case for the Memphis Grizzlies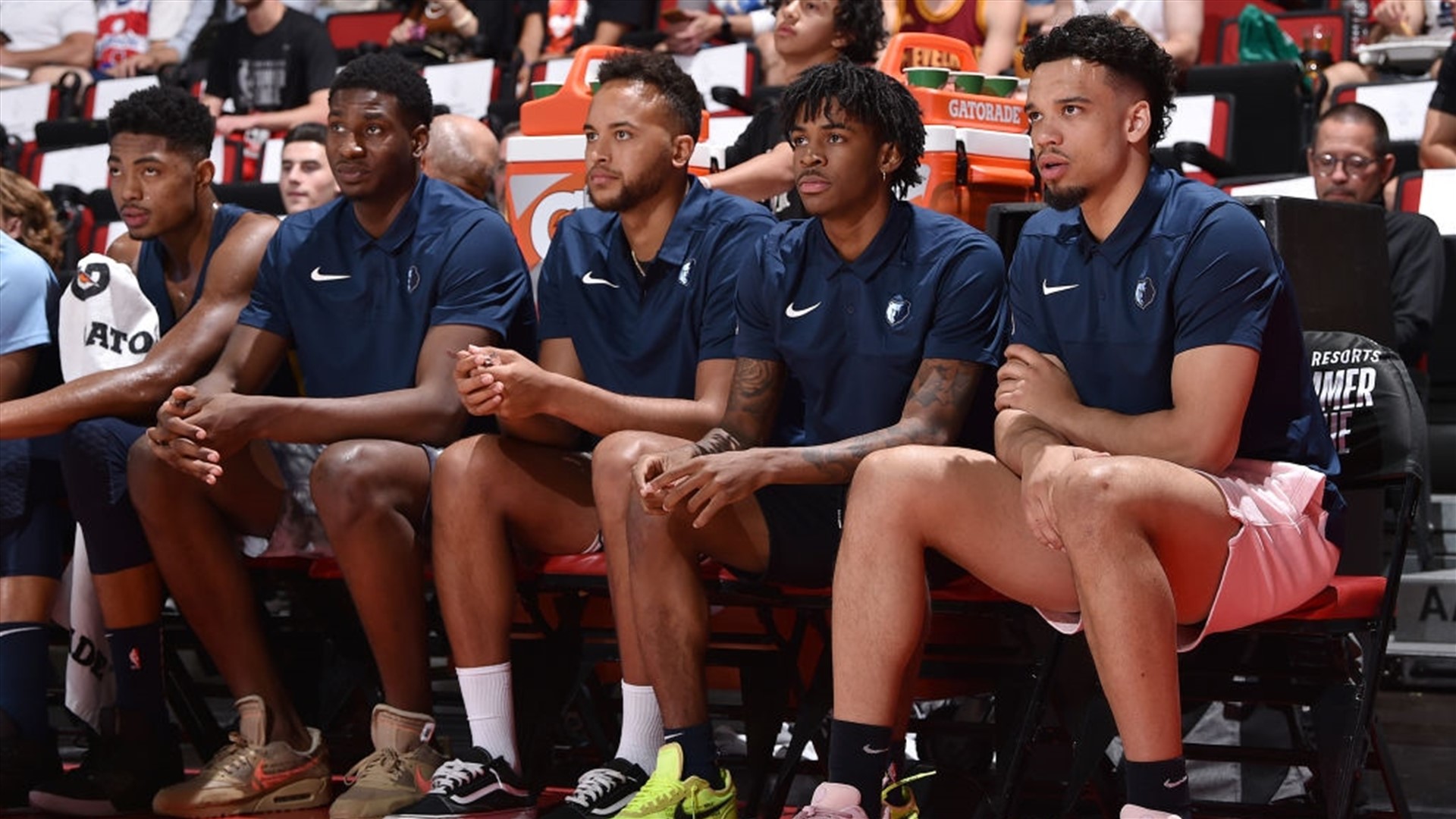 Not many people got to see how good Jaren Jackson Jr. was last season. He was behind a slew of rookies, including Trae Young, Deandre Ayton and Rookie of the Year Luka Doncic - and, unfortunately, he also had his season cut short in February due to injury.
Before that, he was starting to figure it out in the NBA. His season averages of 13.8 points and 4.7 rebounds in 26 minutes per game were impressive, but he really kicked into high gear when the calendar flipped to 2019. From Jan. 1 until he was shut down for the season, Jackson Jr. averaged 15.1 points and 4.8 boards per game on 50% shooting from the field and 40% from three. The kid was starting to find his groove.
Memphis has found something with Jackson Jr., but they also found some valuable pieces in the trade that sent Marc Gasol to the NBA champion Toronto Raptors. Jonas Valanciunas and Bruno Caboclo are two players that should play big roles with the Grizz this season. Dillon Brooks is expected to return from injury and help sure up the wing position.
And then there's rookies Ja Morant and Summer League MVP Brandon Clarke, both of whom will be able to step in right away and produce at a good enough clip to make the Grizzlies respectable.
When they peak, this won't be the Grit and Grind Grizzlies that Memphis fell in love with. This team will have a lot more swagger and flash to them. It may take a couple of years, but with the pieces in place, the Grizzlies will be back to a perennial playoff team.
- Carlan Gay (@TheCarlanGay)
The case for the Phoenix Suns
Know how many teams in NBA history can say they built around a scorer with three 50-point games before his 23rd birthday?
Three.
The Warriors once built around Rick Barry, who evolved into a scoring champ and helped them win an NBA title.
The Cavaliers once built around LeBron James, who evolved into a scoring champ and helped them win an NBA title.
The Suns are building around Devin Booker with hopes that he'll evolve into a scoring champ and lead them to an NBA title.
MORE: When will Booker and the Suns start to actually win games?
Booker turns 23 in October and has gotten better in each of his four seasons in the NBA. Last season, he took his playmaking to another level and joined James Harden and LeBron James as the only players to average at least 26 points and six assists per game. Though he may have been playing out of position at point guard, that experience could pay off in the long run as Booker looks to develop into more than simply a scorer.
It's not just Booker in Phoenix either, as Deandre Ayton showed significant promise as a rookie after the Suns took him with the No. 1 overall pick in the 2018 draft. In a league dripping with talented bigs like Joel Embiid, Anthony Davis, Nikola Jokic and Kristaps Porzingis, Ayton gives the Suns a potential superstar of their own on the block and someone go toe-to-toe with those behemoths down the road.
Although the Suns may have stumbled with player development and squandered some high draft picks in recent years due in part to a revolving door on the sidelines, there's finally some stability in the form of head coach Monty Williams, who arrives as one of the league's most respected voices and who has experience working with young stars, most recently Embiid and Ben Simmons.
The hardest part of building a winner is acquiring multiple stars. In Booker and Ayton, there's a chance that Phoenix has already checked that box, which in turn could make it a force to be reckoned with in the near future.
- Micah Adams (@MicahAdams13)
The views on this page do not necessarily reflect the views of the NBA or its clubs.