The Toronto Raptors made a splash at the trade deadline, albeit not "the big one" that was anticipated.
In sending Norman Powell to the Portland Trail Blazers, the Raptors parted ways with a homegrown player that had developed from a flier of a second-round pick to one of the league's most sought-after trade targets as a prolific scorer. Following six seasons in Toronto, growing as a player and person within the franchise, Powell had worked his way into what should be a big payday this upcoming offseason.
MORE: Remembering Powell's best moments with the Raptors
The 27-year-old wing has a player option worth $11.6 million that he will likely decline, anticipating to make up to $20 million annually on his next deal, according to ESPN's Zach Lowe. After signing Pascal Siakam to a maximum contract extension (4 years, $130 million) in 2019, OG Anunoby to a quality extension (4 years, $72 million) just before this season tipped off and Fred VanVleet (4 years, $85 million) to a wealthy deal this past offseason, it would have been tough for Toronto to shell out another contract worth approximately $80-or-so million on Powell.
That rationale, combined with the team's current struggles of sitting outside of the Eastern Conference playoff picture, made it inevitable that a trade for Powell was smart and necessary. Amidst the best year of his career, the Raptors sold Powell at his highest value just before an expected big contract, and as a result, they returned a key piece for the future in Gary Trent Jr. and a veteran wing that can help them continue to compete this season in Rodney Hood.
With a focus on the future, Trent Jr. was the centrepiece of the trade that could not have worked out better for Toronto.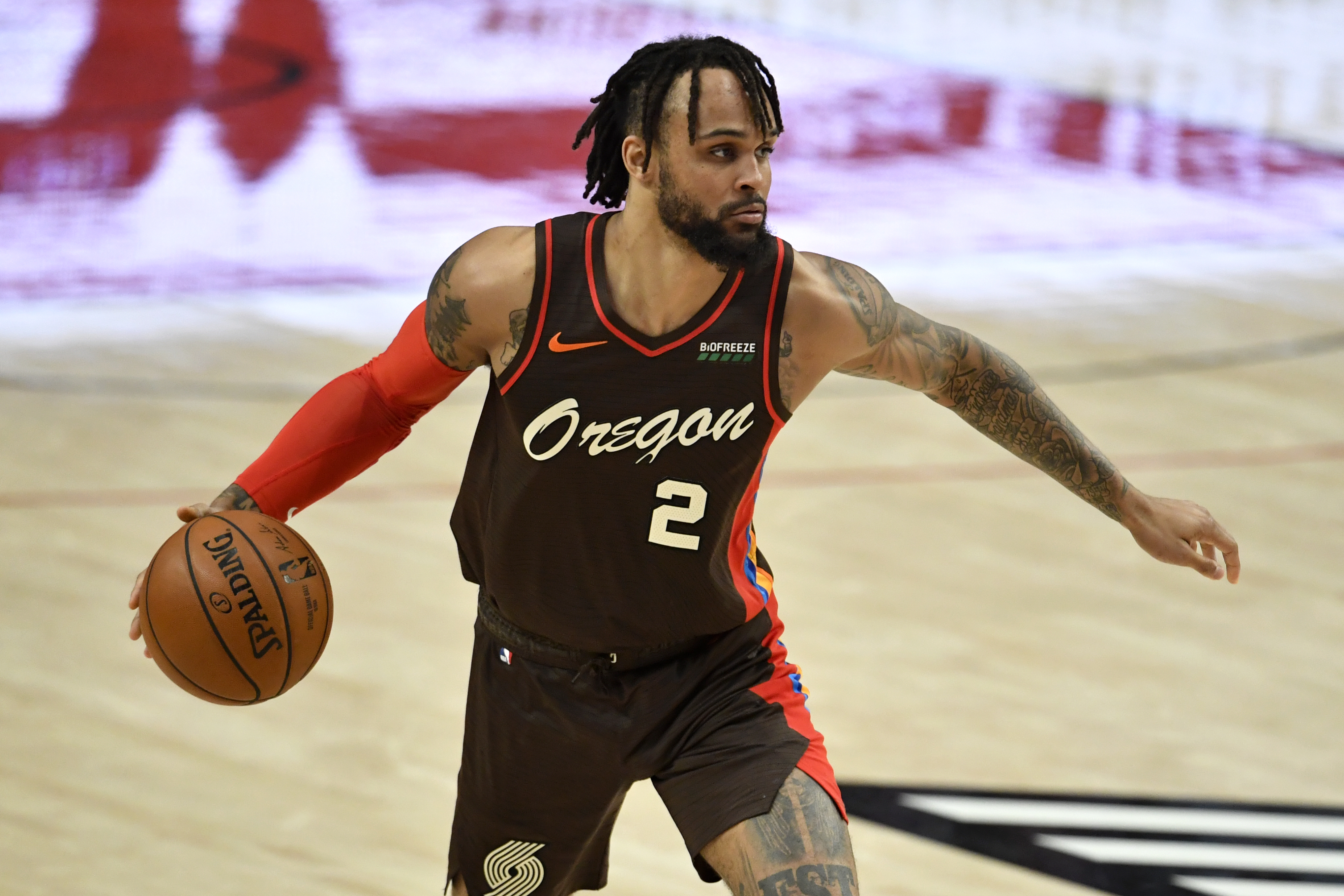 MORE: What does Trent bring to the Raptors? | Fast facts on Trent
The sharpshooter has enjoyed a career-year thus far with the Trail Blazers, building off of a breakout performance in the 2020 NBA bubble. In the bubble, Trent played a massive role for Portland as it needed to play near-perfect basketball to reach the playoffs. The second-year guard responded by averaging 16.9 points while shooting 51.6 percent from the field and a blistering 50.7 percent from 3-point range in the Seeding Games to help his team achieve that feat.
His momentum from the bubble carried into this season, where he's averaging a career-best 15.0 points per game while still shooting just shy of 40.0 percent (39.7%) from 3. While it's expected that he'll fill in for Powell's role verbatim, Trent's 3-point percentage on catch-and-shoot 3s at 42.0 percent is even more encouraging.
At 6-foot-5, 209 lbs. with a 6-foot-9 wingspan, Trent is just scratching the surface of what he could become as a versatile defender, already taking on many challenges with the Blazers this season as their premier pest on the perimeter. Under head coach Nick Nurse with a team that's known for its scrappy defence, it's safe to assume this deal will only benefit Trent as a defender in the long run as he inches closer toward his full potential on that side of the ball.
At 22 years young, Trent perfectly fits the timeline of the Raptors core with Siakam (26), VanVleet (27) and Anunoby (23) all on the right side of the 30-year-old mark. By swapping Powell for Trent, Toronto's front office of general manager Bobby Webster and president Masai Ujiri no longer have to worry about shelling out big money for an older player that fills an identical role.
The challenge now becomes matching offers with other franchises expected to bid for Trent, who will be a restricted free agent this upcoming offseason.
Let's get it 🤟🏽@gtrentjr | #WeTheNorth pic.twitter.com/WpEBjvar2A

- Toronto Raptors (@Raptors) March 26, 2021
Trent elected to bet on himself when he decided not to sign his eligible four-year, $56.8 million contract extension with the Blazers entering the 2020-21 season, and it seems like it could pay off. That extension would have netted Trent approximately $14.2 million annually, so the Raptors should be prepared to dish out more than that, but it should still be a cheaper price tag than Powell would've cost for a player that is six years younger.
The 2018 second-round pick has worked tirelessly to get to this stage in his career where he's viewed as a valuable young piece. He should fit right in with the rest of the aforementioned core based on his journey to this point alone. And although he should be set for a nice raise in restricted free agency, it seemed like Ujiri was optimistic about Trent's future with the team.
"We saw something there that we wanted to bring in a couple of players that could help our ball club and maybe dial back a little bit with a younger player like [Gary Trent Jr.] that's restricted [free agent]," he told the media in his first availability after the deadline.
"Gary Trent is a 22-year-old with lots of upside. He's a defender, shooter and fits our core team. That's what we're excited about," Ujiri continued.
Trent will certainly still have to prove his worth on the court before any real talks heat up about his standing with the team long-term, but given the circumstances, the Raptors appear to have struck gold yet again in finding a way to keep this team competitive in the now without sacrificing the flexibility of their future.
The views on this page do not necessarily represent the views of the NBA or its clubs.