The G League Ignite - a developmental select team mixed with future NBA prospects and NBA G League veterans - had their first official five-on-five action on Tuesday, facing off against a hand-picked roster of G League standouts.
The hand-picked roster, dubbed the "G League Vets," were headlined by former college basketball stars like Kentucky's Isaiah Briscoe and Virginia's London Perrantes. The G League Vets got the best of the Ignite select team in a high-scoring affair, 113-107, but the Ignite's top prospects did not disappoint in their first professional contest.
Star forward Jonathan Kuminga led the way with a game-high 26 points with star guard Jalen Green trailing shortly behind him with 22 points.
For those unfamiliar with Kuminga and Green, they're names you should get to know. Kuminga was once the No. 1 prospect in the high school class of 2021 before reclassifying to the class of 2020 (where he still ranked fourth in the nation). Green was the No. 1 prospect in the class of 2020, and both top prospects elected to forgo all of their NCAA scholarship offers for a chance to play for the G League Ignite select team to earn a salary while training for the 2021 NBA Draft.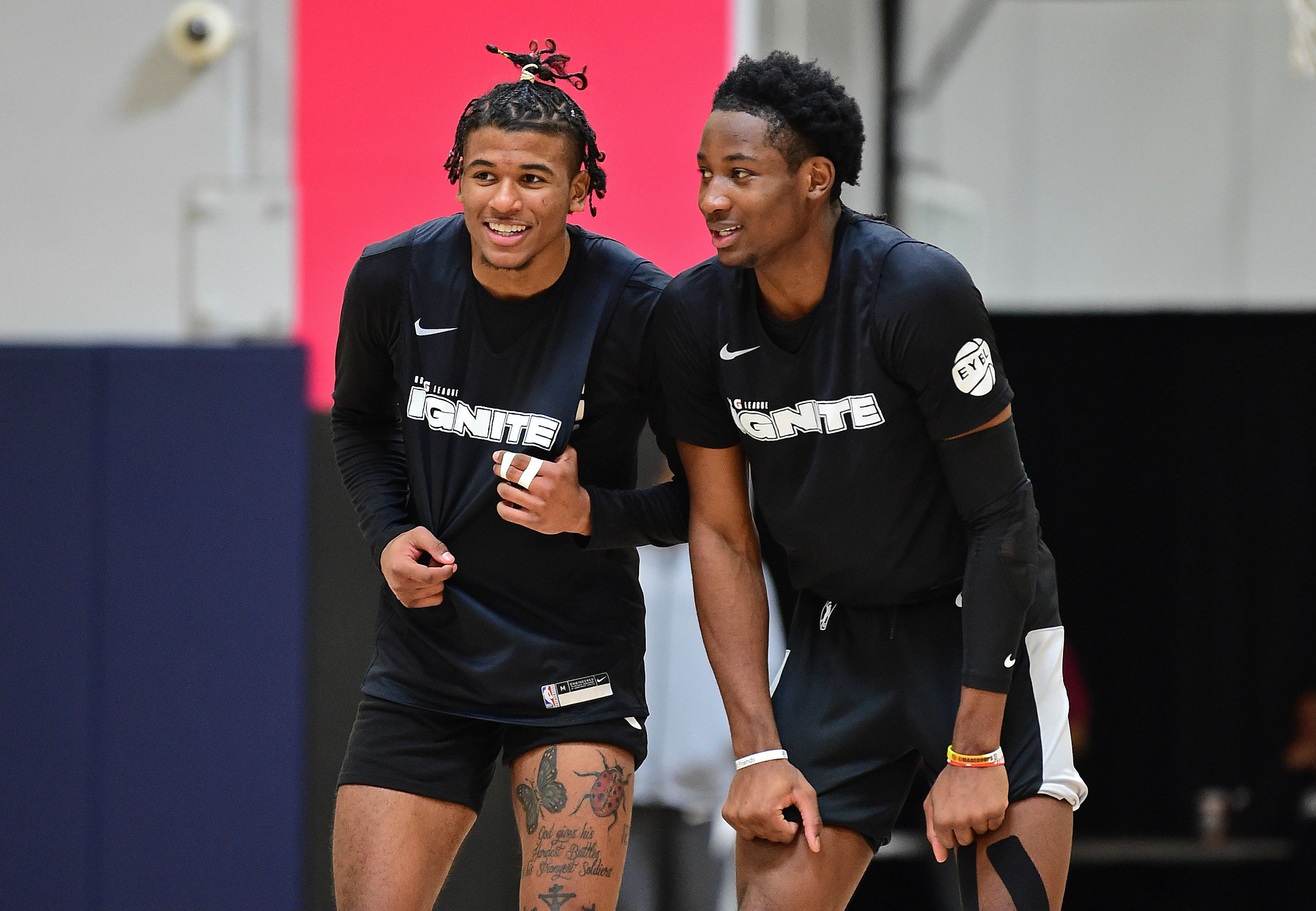 Kuminga made scoring the ball look easy, going 11-for-15 (73.3%) from the field and 2-for-5 (40.0%) from 3 to reach his game-high point total. Ignite head coach Brian Shaw, a three-time NBA champion with the Los Angeles Lakers from 2000-02, had nothing but praise for the 18-year-old and his fearlessness in his pro debut.
"On the offensive end, he showed it every level of the game," coach Shaw told NBA.com. "We put him in pick-and-roll situations, he made the right reads. He took the ball strong to the basket. When (the defence) dropped off of him, he was able to step out and knock down 3s."
While there wasn't a live stream or much footage released from the scrimmage, the G League's official Twitter page did give us a glimpse of just how athletic Kuminga is when attacking the basket, throwing down a vicious baseline dunk after getting the defender to bite on an upfake.
JK ain't kidding @JonathanKuming6 pic.twitter.com/q2t9h4xDJ4

- NBA G League (@nbagleague) December 15, 2020
When I asked Kuminga about how easy or hard it was to get to his spots on offence in his first contest as a pro, he was confident in the work he had put in to prepare him for this moment.
"I always say, it's the work that we put in, the work that we do every day that makes the game come easy," he told NBA.com
But it wasn't just the offensive side of the ball that stood out to his head coach. Kuminga's defensive versatility - something that is held to the highest of standards in today's ever-evolving positionless NBA - also impressed Shaw.
MORE: Ignite prospect Kuminga receiving Kawhi Leonard comparisons
"(Kuminga) is hands down our best defender," head coach Shaw preached. "We finished the last three minutes of the game basically with five guards in the game because we put him on the opposing team centre, who was about 6-foot-10, a big, burly, strong guy, and Jonathan's big enough to be able to hold his own.
"He can also switch out and guard any other positions. He can for sure guard 1-through-4. He also got some big blocks and big rebounds, so, I mean, all around he had a great game for us."
Kuminga finished the contest with eight boards and a block to go with his 26 points, and he wasn't phased by the physicality of defending bigger players.
"It wasn't really physical, I just really focus on giving all that I can to the team on the defensive end," he told NBA.com. "I'm not worried about the offence because any time I play good on the defensive end, it's going to make the offence way easier. So I'm really just focused on defence, and I feel like that's what I do best."
Expected to be one of the top two-way prospects in the 2021 NBA Draft class, Kuminga has his professional career off to a strong start on both sides of the ball.
The views on this page do not necessarily represent the views of the NBA or its clubs.