In a clash between two teams desperate for a win, the Toronto Raptors couldn't put an end to their losing streak - now at nine-consecutive games - against a Houston Rockets team that entered the contest with 20-straight losses.
Fred VanVleet led the way with 27 points, eight rebounds, four steals and two assists, but there wasn't enough help around the star guard, who has maximized his effort level in his first four games back since returning from his absence with COVID-19.
MORE: Rockets snap 20-game streak, Raptors woes continue
Re-entering the lineup after missing nearly three weeks with the virus, the original plan from head coach Nick Nurse was to ease VanVleet (and others) back into action on a minutes restriction. That gameplan went out the window when the Raptors were in a tight game against the Detroit Pistons in his first game back, playing 32 minutes in a loss.
Since that contest, VanVleet has played a team-high 41 minutes in each of Toronto's last three games against the Utah Jazz, Cleveland Cavaliers and Rockets, averaging 38.8 minutes per game over that four-game stretch.
"He is who he is, man. He's a super competitor," Nurse said of VanVleet after Monday's game. "He's doing everything humanly possible to try to will us to a win. He just needs a little more help."
VanVleet is still trying to shake off the rust and find his rhythm, shooting 36.2 percent from the field and 29.3 percent from 3-point range in his first four games back. Despite the inefficiency, he has scored over 20 points in two of those games while averaging 5.5 assists and 2.8 steals per game, giving it everything he has as if he never left the lineup.
MORE: VanVleet details his bout with COVID-19
"I'm gonna leave my heart on the floor every time I step out there," VanVleet told the media following another tough-to-swallow loss.
As for how he's feeling after playing so many minutes right away, VanVleet said, "I feel like we've lost nine in a row, that's how I feel."
"My body is what it is," he continued. "I'll get my rest and my treatment and get ready for another one because the games aren't going to stop coming."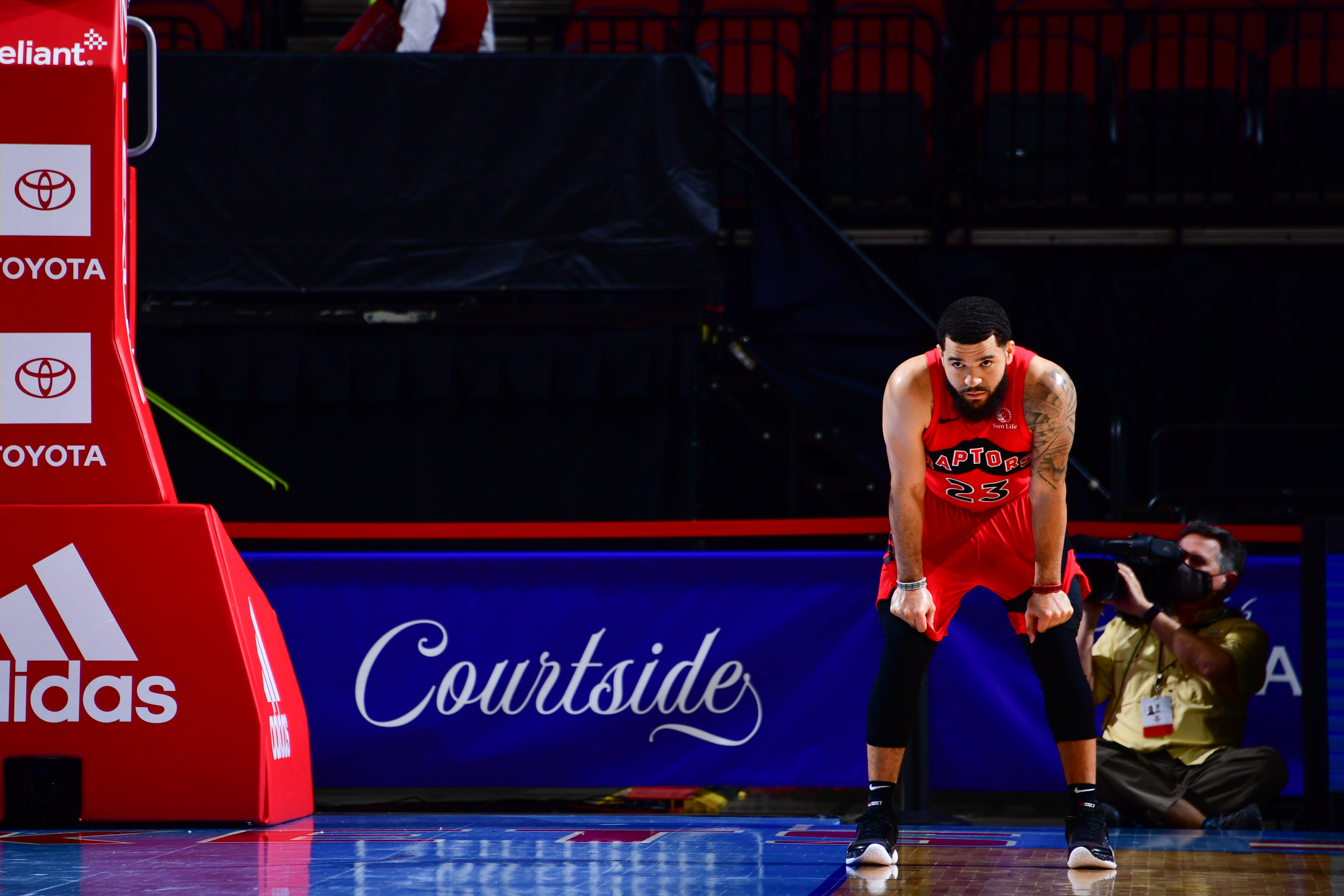 He's not wrong there. Coming off of the second night of a back-to-back, the Raptors will only have one day off before hosting a tough opponent in the Denver Nuggets on Wednesday, March 24. The team won't have more than one day off in between games for over a week, playing five games over the next seven days.
Standing at 17-26, the Raptors are in danger of falling out of the Eastern Conference playoff picture, 1.5 games back of even landing a spot in the play-in tournament with the trade deadline looming large on Thursday, March 25.
There's a chance Toronto could be active at the deadline if it elects to shift from competing for a low-end playoff spot this season to aiming for a better draft pick and assets for the future, with long-time floor general Kyle Lowry and red-hot scorer Norman Powell reportedly drawing some attention from around the league.
MORE: Making sense of latest Lowry rumours
Should either of those two players be traded, that would put even more responsibility on VanVleet to try and help the Raptors make something out of this 2020-21 NBA season.
VanVleet will have one day off to rest and relax before taking on the Nuggets at 7:30 p.m. ET on TSN 4.
The views on this page do not necessarily represent the views of the NBA or its clubs.