Fred VanVleet had himself a game against the Orlando Magic.
In 37 minutes of play, VanVleet scored a career-best 54 points to lead the Toronto Raptors to a commanding win over the Magic. He broke several records in the process. Not only did he set a new franchise record for points scored in a single game, but VanVleet also surpassed Moses Malone for the most points ever scored in a single game by an undrafted player.
Oh, and VanVleet scored his 54 points on 11-for-14 shooting from 3-point range. I probably should've mentioned that already.
Witnessed history last night. @FredVanVleet | #NBAAllStar pic.twitter.com/HyhJoRmuP0

- Toronto Raptors (@Raptors) February 3, 2021
In flirting with the NBA record for 3-pointers made in a game, VanVleet showcased his growth as a 3-pointer shooter since first entering the league.
Let's take a closer look.
MORE: The details behind VanVleet's historic night | Vote for 2021 All-Star starters
Taking this show on the road
VanVleet has always been a knockdown shooter off the catch. Where he's grown the most is shooting off the dribble.
VanVleet's accuracy on pull-up 3s hasn't actually changed much over the last three seasons - he's hovered around 32.0 percent each season - but his volume has. Back in 2018-19, VanVleet attempted 1.7 pull-up 3s per game. In 2019-20, he bumped that up to 3.0. This season, he's at 3.9, representing almost a quarter (23.1 percent) of his total field-goal attempts.
That ranks highly compared to other players in the league. According to NBA.com, only 13 players are taking more pull-up 3s per game than VanVleet this season, a list that includes the likes of Damian Lillard (7.7), James Harden (6.4), Stephen Curry (6.2) and Luka Doncic (5.2).
VanVleet made two pull-up 3s against the Magic.
From the parking lot
VanVleet made four of his 11 3-pointers against the Magic from 27-plus feet.
Just so we're clear, that's from here on out: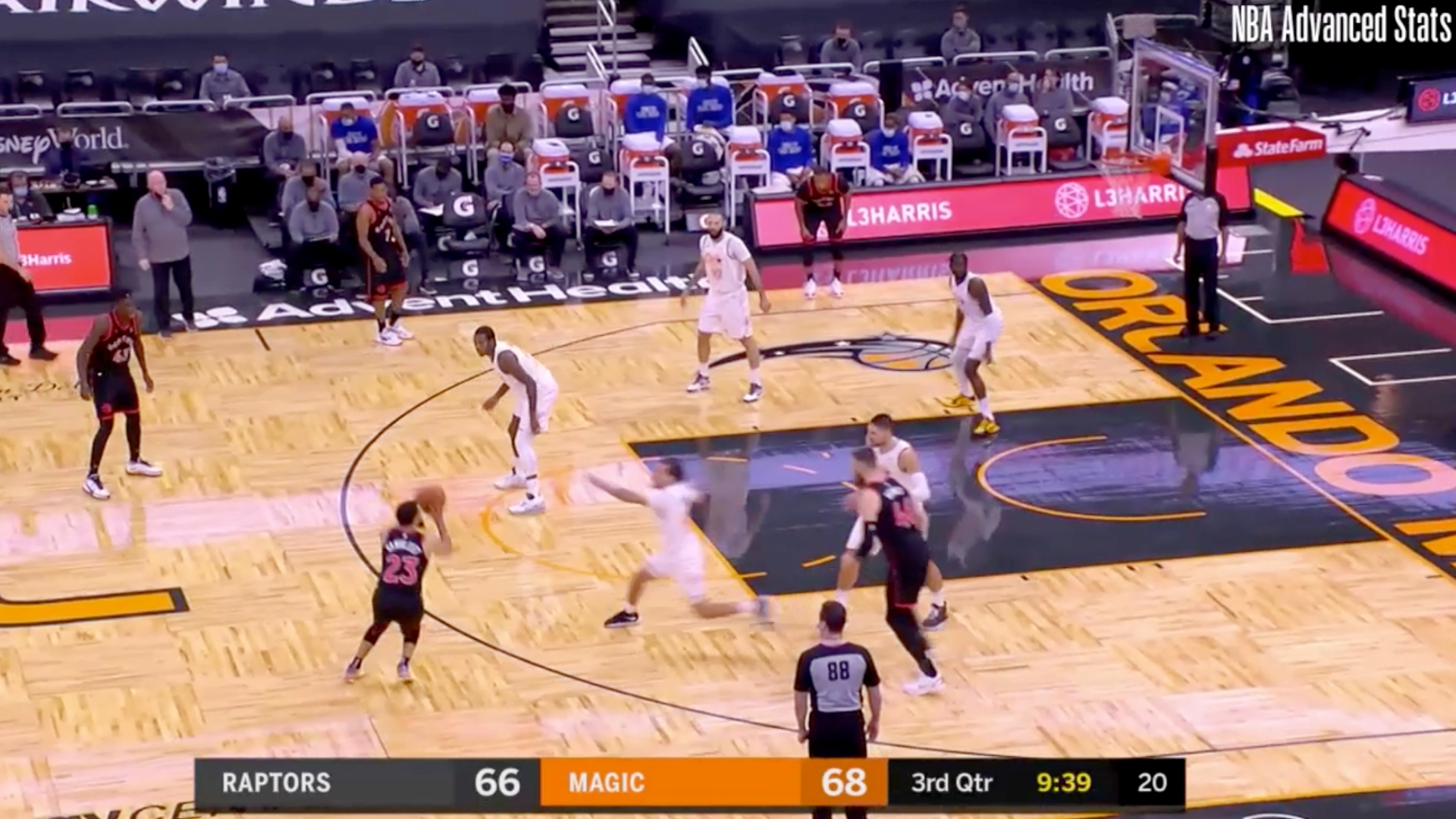 VanVleet has been taking a decent amount of his 3-pointers from that distance on the season. According to Stathead, he's attempted 55 3-pointers from at least 27-feet, ranking him behind Trae Young (60), Luka Doncic (60), Davis Bertans (66), Stephen Curry (98) and Damian Lillard (109) for most in the league.
Following Tuesday's win over the Magic, VanVleet is now 21-for-55 (38.2 percent) from 27-plus feet on the season.
Catch me if you can
Something VanVleet has been doing more over the last couple of seasons is scoring off of screens.
According to NBA.com, VanVleet scored 0.6 points per game off of screens in the 2018-19 season. He more than doubled that number last season (1.4) and is up to averaging a career-best 1.8 points per game off of screens this season.
VanVleet has been incredibly efficient, ranking in the 86th percentile with 1.27 points per possession.
VanVleet made four 3-pointers with the help of a screen against the Magic.
The bread and butter
Last but not least, the good old-fashioned catch-and-shoot.
As already mentioned, VanVleet has long been a knockdown shooter off the catch. As a rookie, he made 40.9 percent of his catch-and-shoot 3s. He hasn't dipped lower than that in the four seasons since despite an increase in volume.
Fred VanVleet catch-and-shoot 3s (NBA.com/Stats)

| | | |
| --- | --- | --- |
| Season | 3PM-3PA | 3PT% |
| 2016-17 | 0.3-0.6 | 40.9 |
| 2017-18 | 1.1-2.4 | 44.5 |
| 2018-19 | 1.2-2.9 | 41.2 |
| 2019-20 | 1.7-3.9 | 44.0 |
| 2020-21 | 2.1-5.0 | 43.3 |
VanVleet's ability to spot-up at such a high rate makes him an easy player to build around because he can basically alternate between playing point guard and shooting guard.
He'll run the floor with the likes of Pascal Siakam and Norman Powell in transition...
...move to the open spot when his defender helps off of him in the halfcourt...
...and, you know, fly around a screen or shoot from deep.
Put it all together, and VanVleet is one of the more complete 3-point shooters in the NBA today, someone who is capable of picking teams apart with and without the ball in his hands. And when he gets it rolling as he did against the Magic, there's not much that can be done to slow him down because of how many different ways he can get his shot off.
The views on this page do not necessarily represent the views of the NBA or its clubs.