The Australia Boomers make history at Marvel Stadium in Melbourne!
The Boomers took down the United States behind a massive outing from Patty Mills, who scored 30 points to help lead the Aussies to victory. Kemba Walker scored 22 points for Team USA, but it wasn't enough to keep the United States undefeated exhibition streak going.
If you missed any of the action from this contest, we had you covered with live updates, stats, highlights and more from the FIBA World Cup friendly tune-up!
Final: Australia 98, Team USA 94
Australia comes up with the stop and closes out the victory! They hand the United States their first-ever loss in an exhibition contest and their first loss in 13 years, snapping a 66-game win streak.
Patty Mills was terrific scoring 30 points on 10-for-22 shooting from the field with six made 3-pointers. Joe Ingles' 15 points and seven assists and Andrew Bogut's 16 points and nine rebounds helped make an impact as well. For the United States, Kemba Walker scored 22 points and Harrison Barnes scored 20 points but aside from that, they struggled to score consistently.
FINAL: 🇦🇺 Australia 98, 🇺🇸 USA 94@KembaWalker finished with 22 pts & @hbarnes added 20 pts #BoomersUSA pic.twitter.com/eMmzXX2sgw

- USA Basketball (@usabasketball) August 24, 2019
Patty Mills and Donovan Mitchell are battling! Mills has scored the Boomers' last nine points while Mitchell has scored five in a row for Team USA. Australia leads the United States 97-94 with 42 seconds remaining - it's Team USA's ball out of the timeout.
Joe Ingles buries a clutch 3-pointer to give Australia a late lead and following a stop, Patty Mills banks in a 3-pointer to extend that lead to 91-87 with 2:57 to go! Timeout Team USA.
Joe Ingles has the Aussie crowd on its feet!

Don't miss the finish from Melbourne - NOW on NBA TV! pic.twitter.com/nX20tR4ouT

- NBA TV (@NBATV) August 24, 2019
Joe Harris and Patty Mills trade triples as Australia holds on to a slim one-point lead, 85-84, with 5:21 remaining in the contest.
Australia remains in the lead 82-79 with 7:55 to go in the game. The Boomers were starting to separate themselves but a clutch and-1 finish from Harrison Barnes keeps the United States within striking distance.
End of third quarter: Australia 78, Team USA 76
Australia's late surge in the third quarter has given them a two-point lead going into the final frame. Patty Mills (17 points) and Andrew Bogut (16 points) have picked things up on the offensive end to give the Boomers the slight edge.
Close one after 3 quarters in Melbourne!

🇦🇺 78
🇺🇸 76

Kemba Walker: 18 PTS
Patty Mills: 17 PTS
Andrew Bogut: 16 PTS
Harrison Barnes: 15 PTS
Aron Baynes: 11 PTS

📺: @NBATV
💻📱: https://t.co/HbtDcrFgfZ pic.twitter.com/5gG4JAfq2c

- NBA (@NBA) August 24, 2019
The Boomers have come charging back to cut the United States' lead to one at 72-71 with two and a half minutes to go in the quarter. Patty Mills has scored eight consecutive points for Australia and is now up to 17 points for the game.
Team USA has built a 10-point lead - the largest of the game - midway through the third quarter. Kemba Walker (18 points) and Harrison Barnes (15 points) have started to take over for the United States and as a team, they've taken care of the ball with zero turnovers to this point in the frame. USA has given Australia a taste of their own medicine with a bit of a full court press, causing a turnover to force a timeout.
✈️ JAYSON TATUM ✈️

📺: NBA TV | @FIBAWC pic.twitter.com/0zrqaZQWFJ

- NBA TV (@NBATV) August 24, 2019
Halftime: Team USA 49, Australia 48
The Boomers outscored Team USA in the second frame, but the United States remain in the lead by one point at the half.
Kemba Walker leads all scorers with 12 points, often bailing out the U.S. on offence. For Australia, Andrew Bogut is doing a little bit of everything with a team-high nine points to go with three boards and two assists. Team USA's seven 3-pointers (7-17 3PT) has been the difference maker, as the Boomers can't find their stroke from long range shooting just 2-for-14.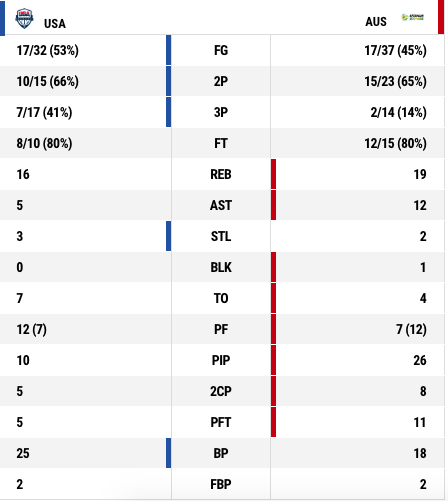 Team USA and Australia are tied at 42-42 with 2:20 remaining in the half. Patty Mills has started to heat up for the Boomers with seven points. Australia's intense defence has contained Team USA's high-powered offence forcing a number of bad shots late in the shot clock.
👀 Andrew Bogut no look dime to Patty Mills! #FIBAWC

🇦🇺 42
🇺🇸 42

📺: @NBATV
💻📱: https://t.co/HbtDcrFgfZ pic.twitter.com/5BqfECmxkL

- NBA (@NBA) August 24, 2019
The Boomers have taken the lead 34-33 with just under five minutes to go in the half. Joe Ingles continues to be special on the offensive end with his scoring total up to eight points. Australia's full court press has Team USA a bit frantic, forcing a pair of turnovers for easy buckets in favour of the Boomers.
End of first quarter: Team USA 26, Australia 23
Team USA leads the Boomers 26-23 after the first quarter.
EIght points from Harrison Barnes got things going for the United States and Kemba Walker's seven points carried them through the frame. Aron Baynes has a team-high eight points for the Aussies but it's Joe Ingles five first quarter assists that have the Boomers' wheels turning on offence.
1Q: 🇺🇸 USA 26, 🇦🇺 Australia 23

Shooting 58% after 10 minutes. @hbarnes leading the way with 8 pts. #BoomersUSA pic.twitter.com/lYdQsYozwb

- USA Basketball (@usabasketball) August 24, 2019
A 5-0 run from the Boomers forces a United States timeout but Team USA remains in the lead 24-21 with 1:33 to go in the frame. Kemba Walker checked in for USA and scored seven points immediately.
Midway through the first quarter Team USA leads the Boomers 17-16. The United States got out to a hot start shooting 4-for-4 from the field and Harrison barnes led the charge with eight quick points. Joe Ingles is doing a great job dishing the rock for Australia with three assists while Aron Baynes' eight points has their offence clicking.
Joe Ingles lobs it to Aron Baynes for the two-handed @BasketballAus jam!

📺: @NBATV
💻📱: https://t.co/HbtDcrFgfZ pic.twitter.com/3ZQsq6Vd2B

- NBA (@NBA) August 24, 2019
Pregame
The starters for the Boomers will be Patty Mills, Matthew Dellavedova, Joe Ingles, Jock Landale and Aron Baynes.
The starters for Team USA are Marcus Smart, Donovan Mitchell, Khris Middleton, Harrison Barnes and Myles Turner.
Injury update: Kyle Kuzma will not play due to a sore left ankle.
#BoomersUSA Update: @kylekuzma will not play due to a sore left ankle.

- USA Basketball (@usabasketball) August 24, 2019
Here comes Team USA and the Boomers!
🇺🇸 & 🇦🇺 take the floor!

🏀: 🇺🇸v🇦🇺
⏰: 12:00am/et
📺: @NBATV
💻: https://t.co/HbtDcrWR7x pic.twitter.com/JYbXsvRuvW

- NBA (@NBA) August 24, 2019
Jayson Tatum and Jaylen Brown are getting loose at Marvel Stadium!
Shots up!

🏀: 🇺🇸v🇦🇺
⏰: 12:00am/et
📺: @NBATV
💻: https://t.co/HbtDcrWR7x pic.twitter.com/lORty11IDF

- NBA (@NBA) August 24, 2019