After spending seven seasons with the Toronto Raptors, Dwane Casey was fired following the best year in franchise history and of his coaching career.
Casey led Toronto to a franchise-best 59 wins and earned the 2017-18 NBA Coach of the Year, but the Raptors chose to part ways with him after they were eliminated by LeBron James and the Cleveland Cavaliers in the playoffs for the third consecutive year.
In his seven years in Toronto, the Raptors qualified for the playoffs five times. Now head coach of the Pistons, Detroit hopes Casey will have similar success in the Motor City.
In 2014, the Pistons decided to put all their chips in on Stan Van Gundy, hiring him as their head coach and president of basketball operations. In his four seasons with the team, they made one playoff appearance in which they were swept in the first round by none other than James and the Cavaliers.
In fact, the Pistons have only made the playoffs two times in the past 10 seasons, with both appearances resulting in a sweep by James and the Cavaliers. After only missing the playoffs twice from 1995 through 2008, they've qualified for the postseason just once out of their last nine seasons.
Detroit missed the playoffs by just four games last season. It acquired All-Star Blake Griffin at the trade deadline and won its first four games with Griffin in the lineup but failed to continue that success, going 11-14 the rest of the season.
With a full offseason to get Griffin integrated into the Pistons game plan, along with the return of their starting point guard Reggie Jackson, who was injured for most of last season, they're now counting on Casey to take them to the next level.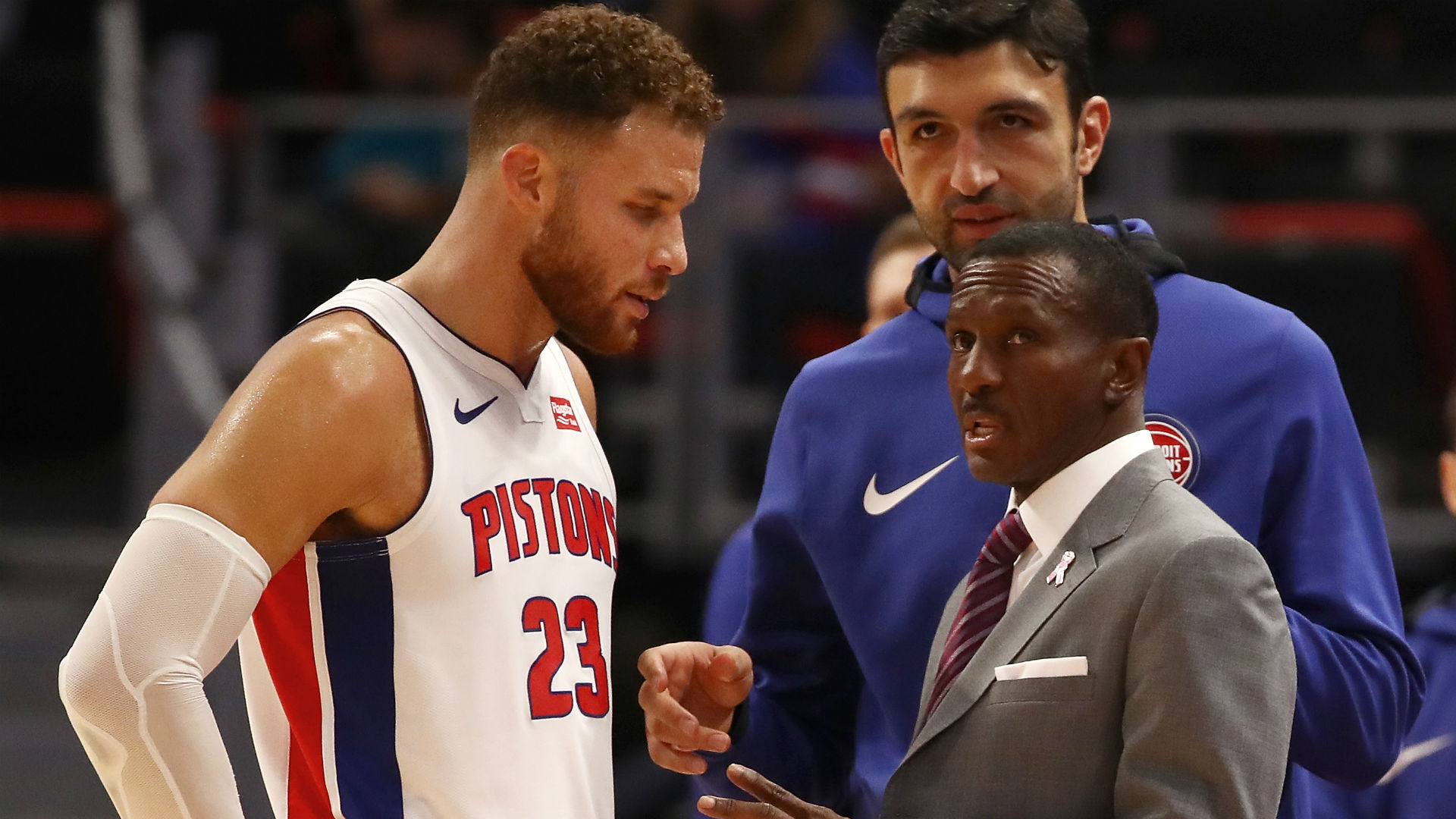 Casey's impact has yet to be seen, though it is still early. The Pistons currently sit in at 6-6, giving them the seventh-best record in the Eastern Conference.
Part of the reason the Pistons have an underwhelming record is that they currently have the second-worst field goal and 3-point percentage in the league, but making shots is beyond the head coach's jurisdiction. Casey can only work to put his players in a position to get better shots.
Griffin has certainly found his role offensively, leading the team with 24.1 points per game, but he's also evolved his game under Casey. He's currently averaging 5.0 assists per game and shooting a career-best 36.2 percent from beyond the arc on 5.4 3-point attempts per game.
MORE: Blake Griffin is once again an NBA superstar
It's clear that Casey has had some impact on the team's 3-point shooting, as they are in the top-10 in the league in 3-point attempts per game compared to 16th last season. He has the Pistons crashing the boards more on both ends as well, placing third in offensive rebounds per game and 10th in total rebounds per game.
A season ago, Detroit ranked 11th and 16th in each respective category. Sure, adding a fully healthy Griffin to one of the best rebounders in the NBA in Andre Drummond makes work on the boards a bit easier, but it seems to be a focus of Casey's as the whole team is doing a good job of crashing the glass.
Casey has even increased the Pistons' pace from 96.2 possessions per 48 minutes a season ago to 100.9 possessions this season, modernizing the offence a bit. This style of play works particularly well with Jackson and Ish Smith, who are fast and explosive point guards surrounded by Griffin, Reggie Bullock and Stanley Johnson, each of whom all run the floor well.
It's very clear that Raptors head coach Nick Nurse has things under control in Toronto with an Eastern Conference-best 12-2 record, but Detroit fans are still waiting to see if Casey can carry his Raptors success over to this franchise.
He was signed to a five-year deal, proving they have plenty of faith and are not in too much of a rush with their new head coach. With that being said, Casey's message in his introductory press conference was clear - he wants to win now.
It will be interesting to see Casey go head-to-head against his understudy Nurse on Wednesday, but it will be more interesting to see if he can turn the Pistons franchise around and make them a perennial playoff contender in the East again.