ST. CATHARINES, Ont. - Indeed, there's no place like home.
The Welland Warriors and Brampton Breakdown - both representing the host Ontario region - have claimed berths in the inaugural Jr. NBA World Championship from August 7-12 at the ESPN Wide World of Sports Complex near Orlando, Fla.
In the first half of the doubleheader final for the Jr. NBA Canada National Championship, the Warriors hung on to defeat the West region's VK Basketball team from Vancouver 56-53 in the girls' final Sunday afternoon at the Meridian Centre. The game came down to the final possession with the Warriors needing one last defensive stand to secure the victory.
Warriors head coach Dave Picton has stressed a defence-first mentality all season and it was on full display in the team's victory. Welland used its full-court press effectively throughout the final, creating turnovers off baseline traps and leading to opportunities to strike in transition.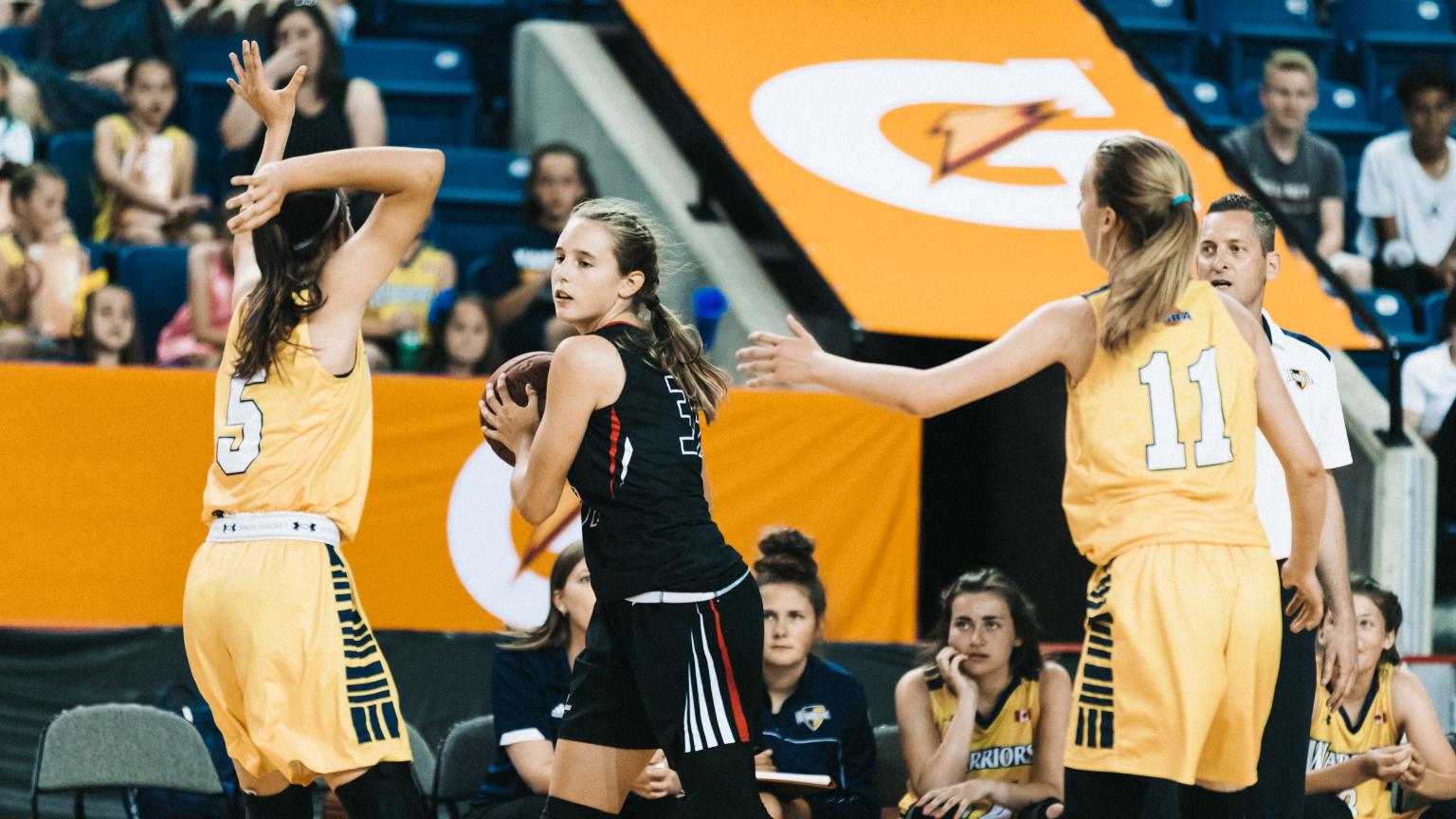 "We practise it a lot. You get a turnover, 'what do you do with it?' You gotta get the ball up the court (with your) eyes up," Picton says. "If we could make teams pay with a nice quick shot or layup, that allows you to break games open."
But VK Basketball didn't back down and had an answer to every scoring run from the Warriors. It was a scrappy affair with both teams laying out on the floor for every loose ball knowing that winning one 50-50 ball could be the difference.
Alexis Wright didn't want to be the case. The Warriors guard made a promise to her injured teammate, Corrynn Parker, and she wasn't about to break it.
"I told her two weeks ago that we were going to win this for her. She was going to be the reason and we fought for her the whole weekend," said Wright who scored a team-high 19 points. "I wanted this really bad going into it and I was ready to fight and give everything I had for my team."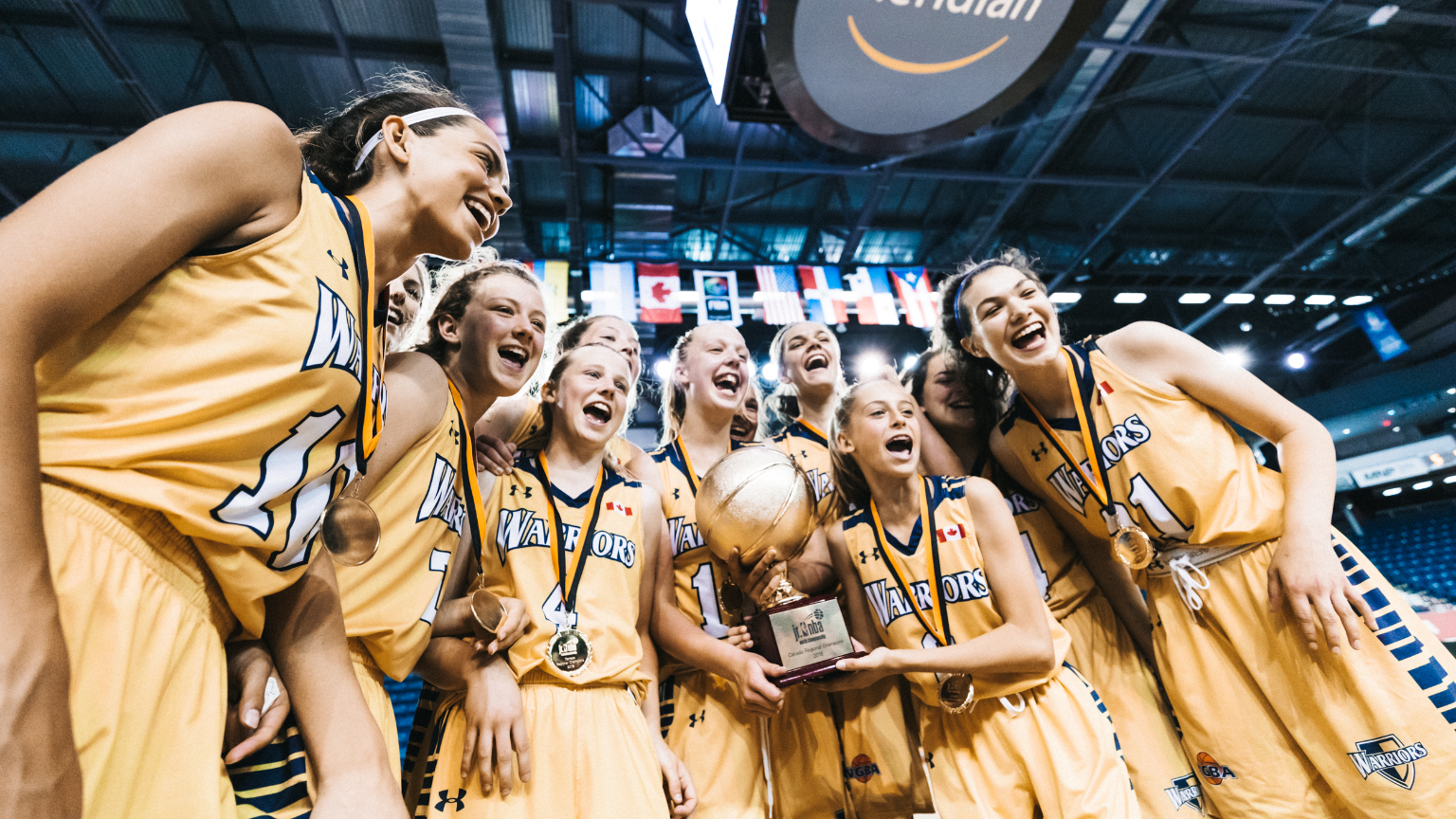 On the boys side, the Breakdown defeated AthElite Basketball (Surrey, B.C.,) - also from the West region - 72-56. One day earlier, the same two sides squared off with Brampton squeaking out a 62-60 victory.
The Breakdown takes pride in their ability to make adjustments on the fly and getting the right matchups. That was the case once again in the championship game. They earned a spot at the inaugural Jr. NBA World Championship qualifying tourney after a second-half tactic change altered the game and led them to the Ontario Cup crown.
And so it was only fitting that another tweak in their game plan would again prove to be beneficial.
"They were going to be prepared for our press. We made the decision not to start off pressing aggressively," Breakdown head coach Kevin Cox said. "We wanted to watch and adapt to what he (AthElite coach Aman Hernan) was going to throw at us. We drew a couple of press combinations on them and got into our groove."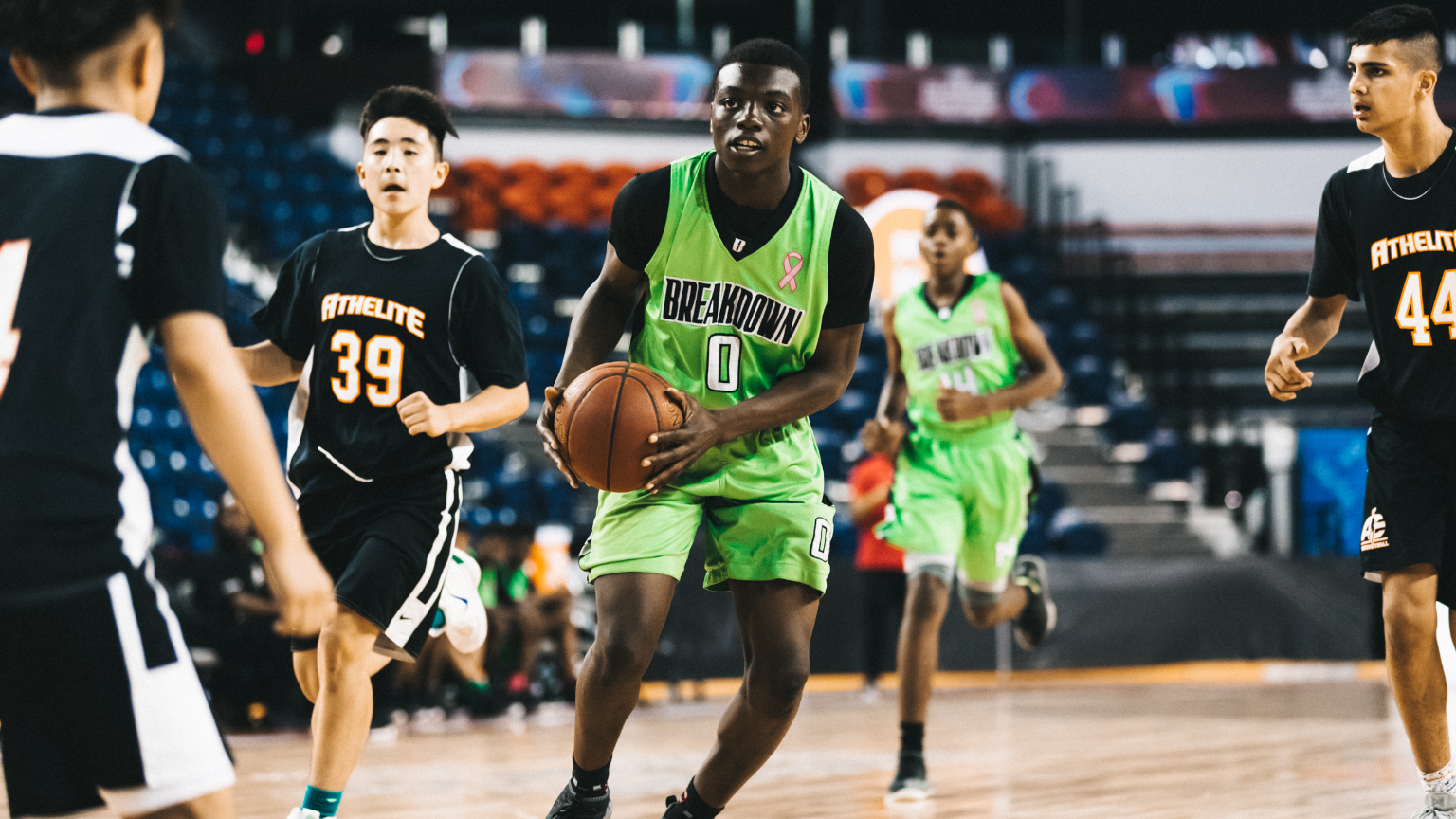 Playing on the larger FIBA courts at the Meridian Centre, Brampton took advantage of its speed and built momentum off a run of fast-break points.
"We got a large quantity of our points in transitional buckets and overall the kids really did what they needed to seize the moment," Cox said.
One of those players who stepped up was Bronson Chambers whom Cox called "the real deal". While Chambers struggled early in the tournament, he shone brightly in the biggest game with 11 points and some key defensive contributions.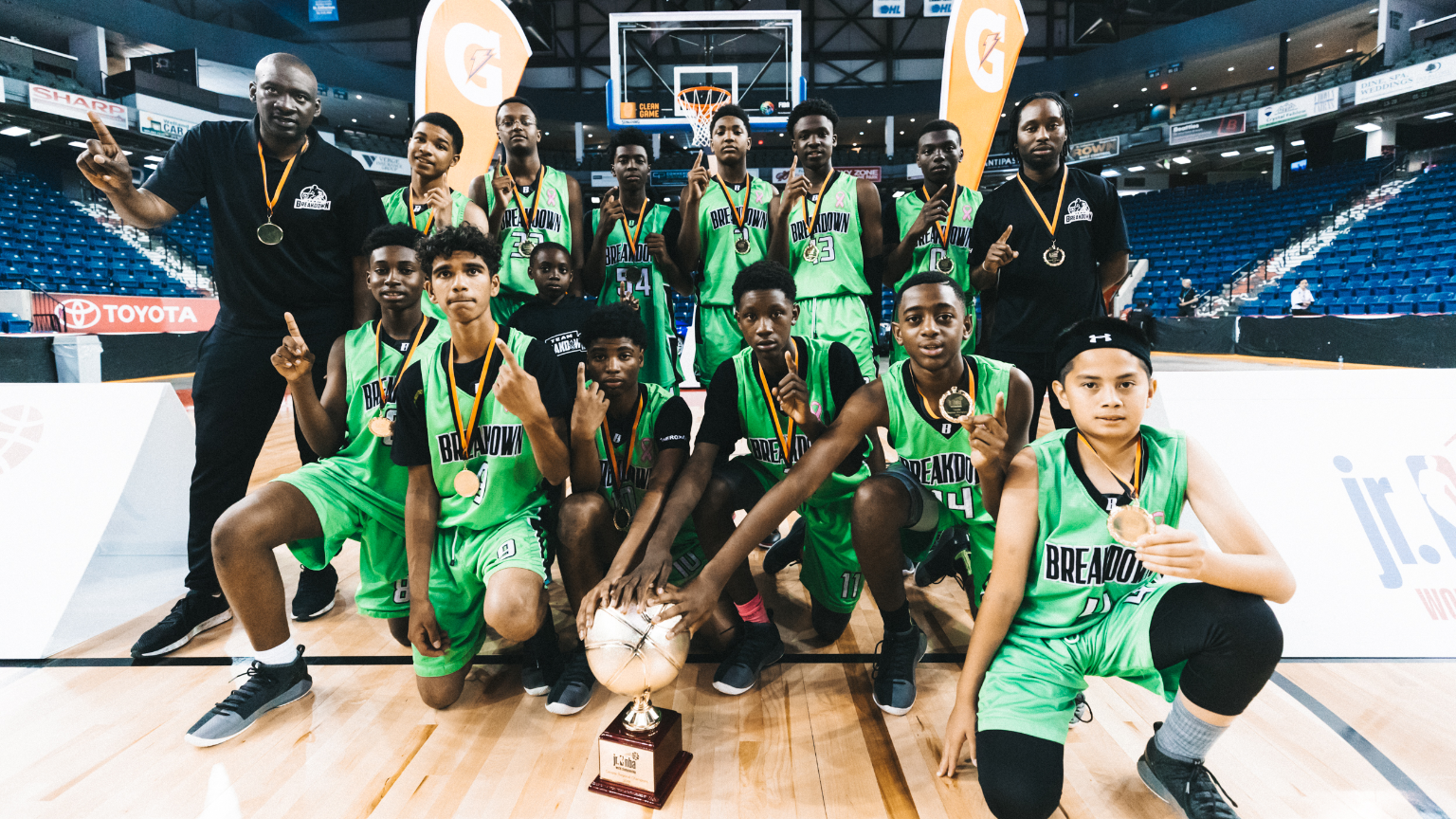 "He told me, 'Don't worry coach, I won't let you down'. And he didn't," Cox said. "We have to look out for this name in the future.,
"Jr. NBA . . . it all started here."
At the end of the weekend, two players were honoured with the Gatorade G Award for combining performance, hustle, heart and sportsmanship. Ravjeet Randhawa of AthElite was the boys' recipient of the G Award, thanks to his 25-point performance in the championship game against Brampton. Marina Radocaj had 13 points for VK in the girls' championship game loss to Welland and was named the winner of the G Award.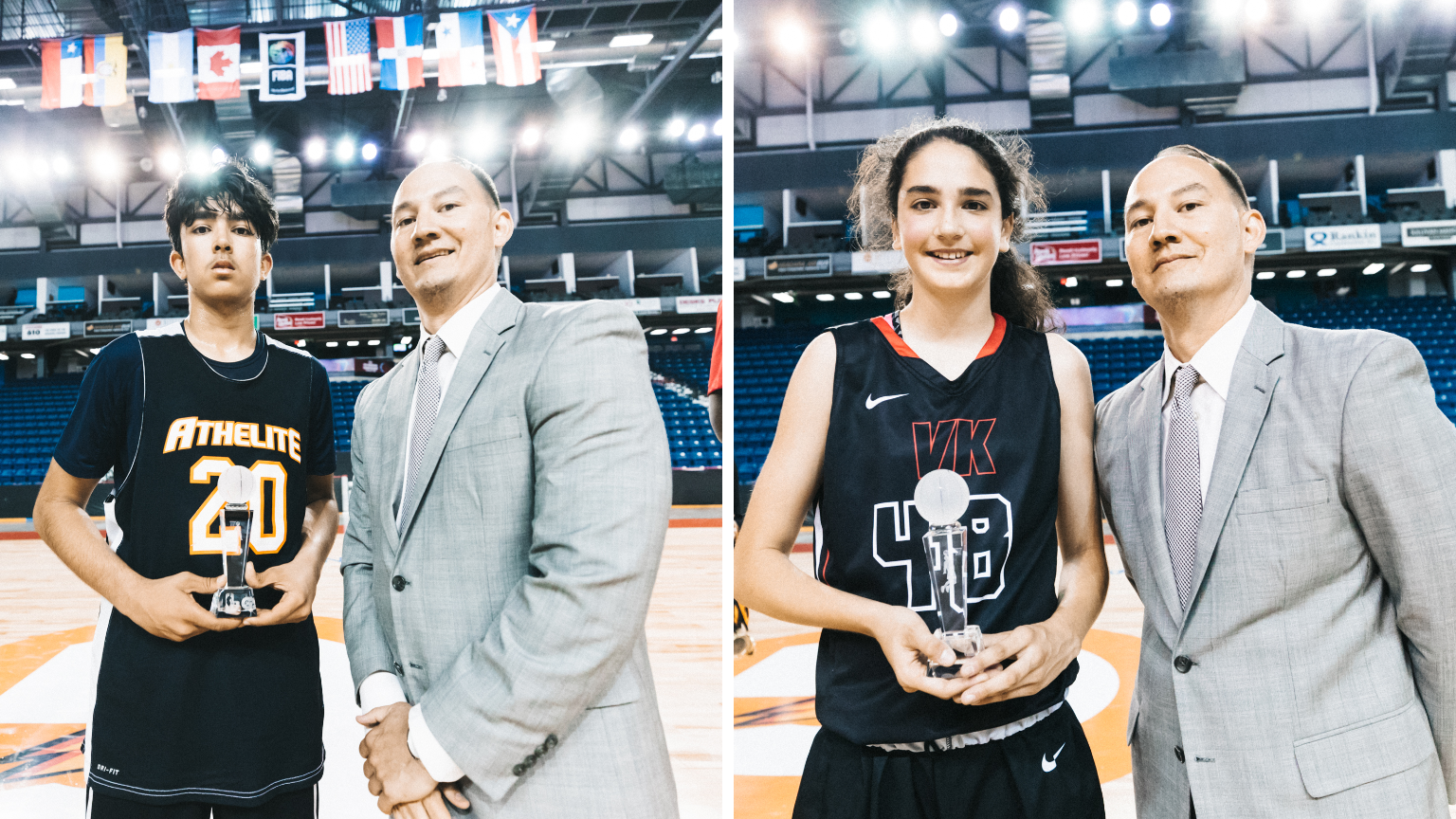 The opportunity for these 13 and 14-year-old basketball players isn't possible without the collaboration of the provincial and territorial basketball associations led by Jonathan Chang at NBA Canada and Dawn Smyth, the director of domestic development at Canada Basketball.
Through a series of regional and provincial tournaments, five boys and girls teams earned a spot in these first Jr. NBA Canada National Championships.
"We really took into consideration the long-term athlete development, the needs of the athletes at this time, and stayed committed to all athletes being part of this whole process and having a fair play rule," Smyth said. "Literally, our entire country was involved in this.
With over 6,000 kids touched in this whole process in their respective spaces, it speaks volumes to the basketball and youth communities as to what's going on in our country."
NBA Canada is proud of it support for growing the game across the country with initiatives such as the Jr. NBA World Championship program.
"As Canada continues to play a pivotal role in developing elite basketball talent, the NBA is thrilled to partner with Canada Basketball on this premier grassroots competition," said Dan MacKenzie, Vice President & Managing Director, NBA Canada. "The inaugural Jr. NBA World Championship presents a unique opportunity for Canada's top boys and girls teams to showcase their talent on a global stage."