Every week on NBA.com, we'll unveil a new bracket with daily matchups to vote on. By the end of the week, we'll crown a champion and determine a winner based on fan voting. Up next for this week? The best sidekicks in NBA history.
PREVIOUS BRACKETS: Greatest shots in playoff history | Best all-time duos
---
Click on any matchup to skip ahead to voting and stats.
Dr. J vs Havlicek | Kobe vs Pau | Pippen vs Ginóbili | McHale vs Magic
Westbrook vs Robinson | Penny vs AD | Stockton vs Wade | Wilt vs Kareem
One of the defining lessons of studying what it takes to win in the NBA: Batman needs Robin.
Go through the most successful teams in NBA history and one of the constants is the presence of a strong sidekick.
The 2010s Heat had LeBron James... and Dwyane Wade.
The 2000s Lakers had Shaquille O'Neal... and Kobe Bryant.
The 1990s Bulls had Michael Jordan... and Scottie Pippen.
The 1980s Lakers had Magic Johnson... and Kareem Abdul-Jabbar (with a role reversal sometime in the early part of the decade).
The list goes on and on.
It's hard to definitively rank or even define sidekicks because as careers take shape, roles often evolve.
Would you count Bryant as a sidekick thanks to his time alongside Shaquille O'Neal or does his pair of championships later at "the guy" make him overqualified? Or what about someone like Stephen Curry who won two MVPs before welcoming Kevin Durant to the Golden State Warriors? How would you label Paul Pierce who led the 2007-08 Celtics in scoring as the incumbent franchise player but finished behind teammate Kevin Garnett in MVP voting?
The concept of the sidekick is hard to quantify. You just kind of know it when you see it. Performance AND perception matter.
Rare is the case of the career sidekick, but while labels don't stick over the course of an entire career, it's a bit more manageable - though still not easy! - to pick out individual seasons.
And so that's exactly what we did.
We picked out 16 of the best sidekick seasons in NBA history and seeded them 1-16. From there, it's on you to help us sort through the matchups to determine the best sidekick season in NBA history!
Tuesday: First Round
Wednesday: Quarterfinals
Thursday: Semifinals
Friday: Championship
Saturday: Winner announced
| | |
| --- | --- |
| Seed | Sidekick season |
| 1. | 1982-83 Julius Erving |
| 2. | 2001-02 Kobe Bryant |
| 3. | 1995-96 Scottie Pippen |
| 4. | 1986-87 Kevin McHale |
| 5. | 2015-16 Russell Westbrook |
| 6. | 1995-96 Penny Hardaway |
| 7. | 1994-95 John Stockton |
| 8. | 1971-72 Wilt Chamberlain |
| 9. | 1984-85 Kareem Abdul-Jabbar |
| 10. | 2010-11 Dwyane Wade |
| 11. | 2019-20 Anthony Davis |
| 12. | 1998-99 David Robinson |
| 13. | 1979-80 Magic Johnson |
| 14. | 2007-08 Manu Ginóbili |
| 15. | 2009-10 Pau Gasol |
| 16. | 1968-69 John Havlicek |
Some housekeeping:
Each player could only count once. Was 1995-96 Scottie Pippen better than 1991-92 Scottie Pippen? That's a different debate, but one we had for each player selected.
In cases of a true 1a/1b, we simply passed because it doesn't truly buy into the spirit of the sidekick. It's why you won't see either Stephen Curry or Kevin Durant from their time together in Golden State or Elgin Baylor and Jerry West from their run with the Los Angeles Lakers.
We tried to limit overlap within the same team. So because we rolled with Kareem Abdul-Jabbar as a mid 80s sidekick to Magic Johnson, we didn't include James Worthy. Ditto with picking Manu Ginobili over Tony Parker.
Winning matters. All-NBA selections matter. MVP voting matters. It all matters!
We've got snubs for days. Some of the hardest omissions: Oscar Robertson on the Bucks, Shaquille O'Neal on the Heat, Kyrie Irving on the Cavaliers, Klay Thompson on the Warriors
That's it!
Without further ado... on to the voting! (click on each matchup to see how their stats compare)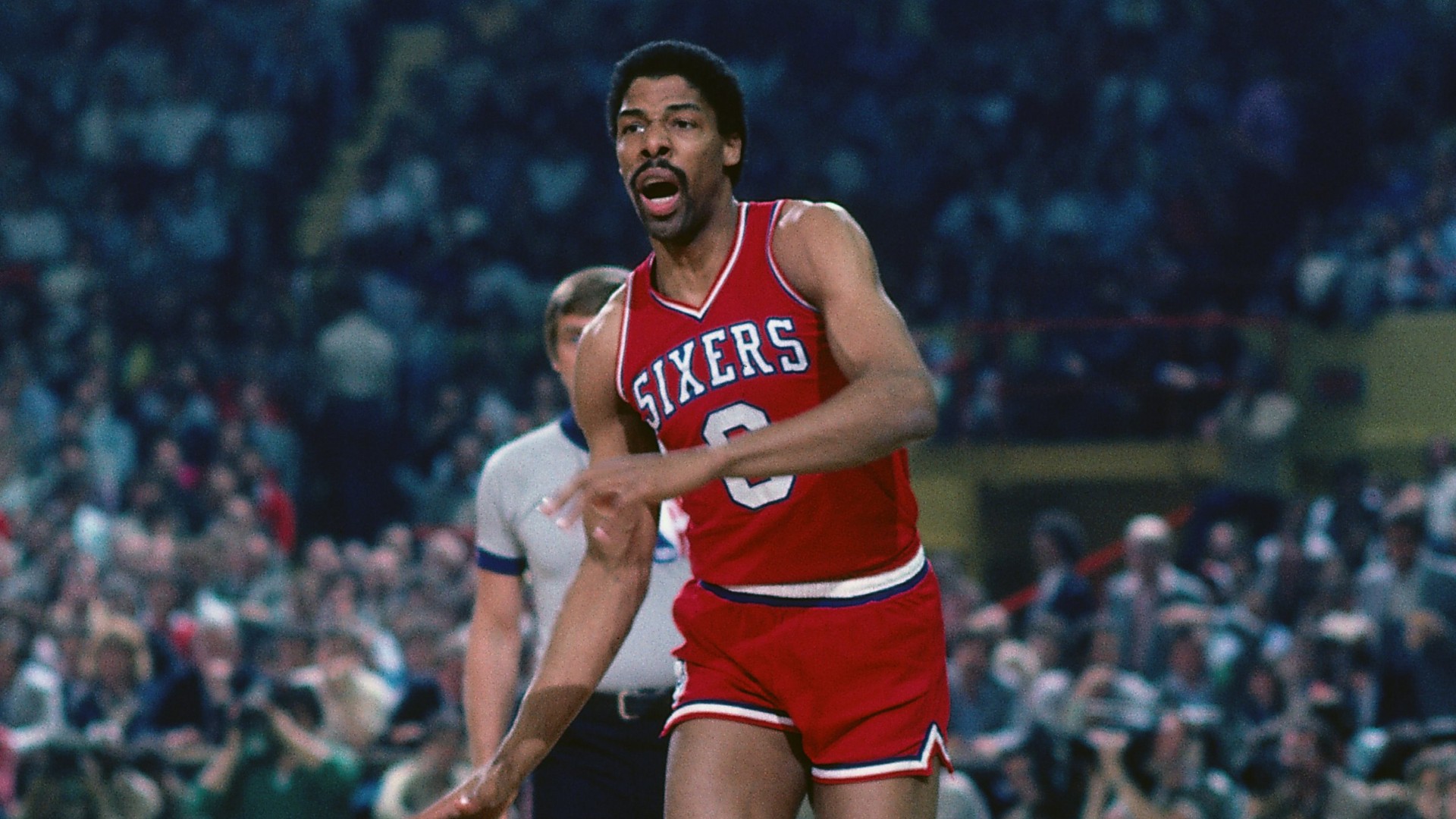 1 vs 16 - The Doctor and Hondo
Compare stats: 1 Julius Erving in 1982-83 vs 16 John Havlicek in 1968-69
The race for the top seed came down to three players: Julius Erving, Kobe Bryant and Scottie Pippen.
All three made All-NBA First Team. All three won the NBA title. All three finished fifth in MVP voting.
If you value team legacy, it's hard to pick against Pippen who helped the Bulls to an NBA record 72-10 record.
If you value individual stats, it's hard to pick against Bryant who was the most prolific of the three.
That said, Erving himself was a megastar even beyond the likes of Pippen and Bryant at that point. This was the first season in which he truly moved on from alpha dog status which he ceded to league MVP Moses Malone. And though he finished fifth in MVP voting, Dr. J actually received more first-place votes than anyone other than Malone. That says all you need to know about his standing in the game even as a second banana.
As for Havlicek, you could make the case that he - not Bill Russell - was the best player on the 1968-69 Celtics, the last season of Russell's career. But let's not kid ourselves... that was Russell's team, even if some of the stats might hint otherwise. This was the final year before Hondo truly took off as a top-shelf player.
Who had the better sidekick season?
8 vs 9 - Battle of Laker bigs
Compare stats: 8 Wilt Chamberlain in 1971-72 vs 9 Kareem Abdul-Jabbar in 1984-85
Wilt vs Kareem... in the first round?!?!
Upon first glance, it's ridiculous to suggest that these two could fall this low. And yet remember, this is about finding the sweet spot as a sidekick.
Did Chamberlain have better years with the Lakers? Yes. But this is the championship season, right on the heels of Elgin Baylor's retirement and the team which strung together an NBA-record 33-game win streak. Wilt finished third in MVP voting, one spot behind teammate Jerry West, despite averaging just 14.8 points per game.
At the age of 37, Kareem was still cooking. He averaged 22 points and eight rebounds while earning All-NBA Second Team honours and finishing fourth in MVP voting.
Who had the better sidekick season?
5 vs 12 - Russ and Admiral
Compare stats: 5 Russell Westbrook in 2015-16 vs 12 David Robinson in 1998-99
In a vacuum, you could make the case that Russell Westbrook actually had a better season than Kevin Durant for the 2015-16 Thunder. Both made All-NBA First Team and Westbrook finished higher in MVP voting. But again... those were always Durant's teams while they teamed up even if this was as close as it ever got to a 1A/1B situation. Going strictly by the stats, you could make a case that Westbrook's 2015-16 season should have been the number 1 overall seed. Had the Thunder finished off the Warriors in the Conference Finals instead of blowing a 3-1 series lead and gone on to win the title, it would be hard to argue otherwise.
Robinson meanwhile gets slept on for just how good he remained during the first few years of the Tim Duncan era in San Antonio. Yes, his scoring took a dip from the year prior and he failed to make an All-NBA team. On paper, he's almost assuredly better in 1997-98.
But he finally won that elusive first title in the lockout-shortened season of 1999 which kicked off a 20-year Spurs dynasty. If you were to rank all 16 of these seasons by Win Shares per 48 Minutes, Robinson ranks second in a dead heat with Anthony Davis from this season.
Who had the better sidekick season?
4 vs 13 - Best rivalry of the 80s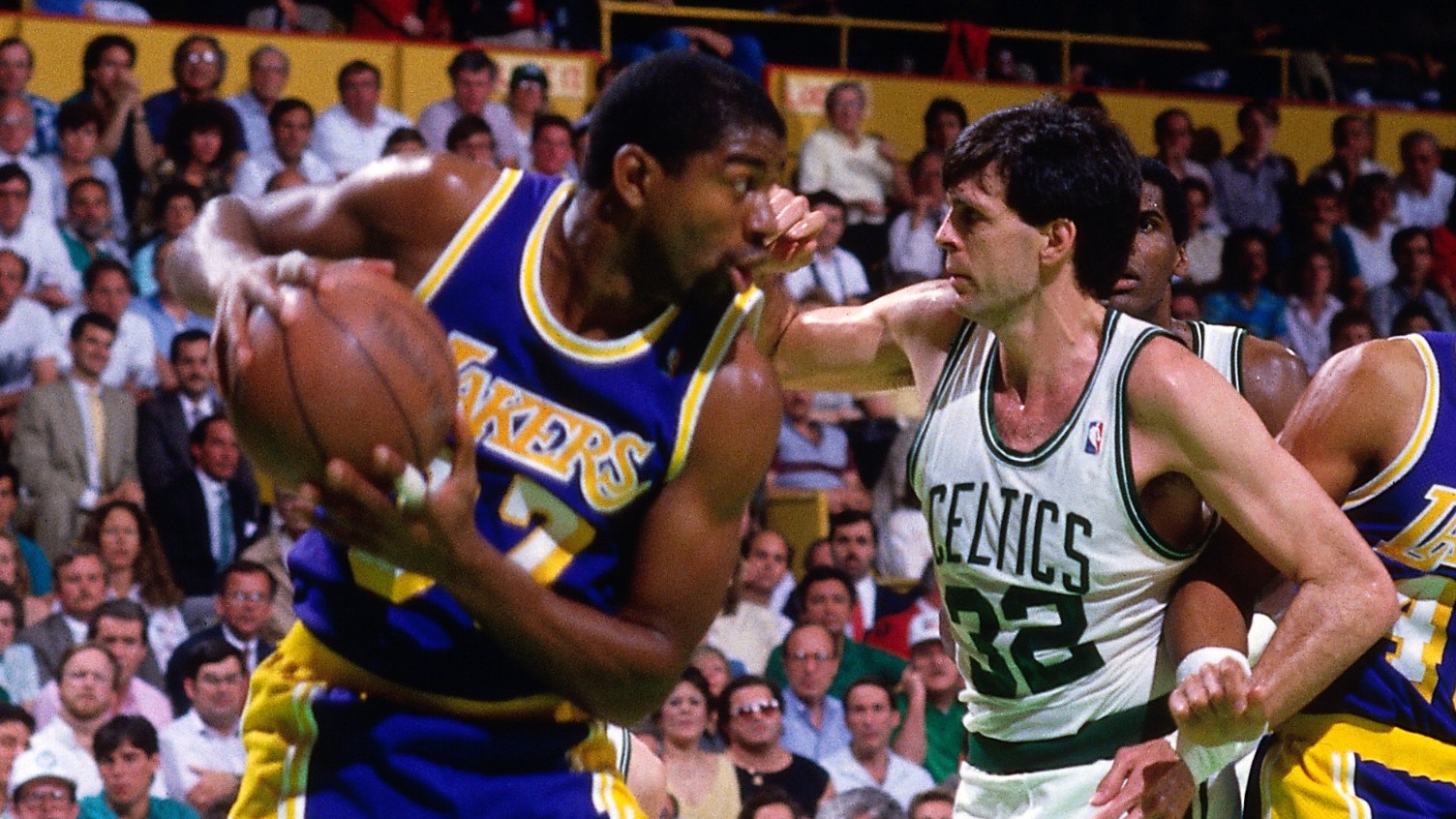 Compare stats: 4 Kevin McHale. in 1986-87 vs 13 Magic Johnson in 1979-80
Kevin McHale was a monster in the 1986-87 season.
He scored a spot on All-NBA First Team while the only three players to finish ahead of him in MVP voting were teammate Larry Bird, Michael Jordan and the winner Magic Johnson. He also finished in the top 5 for Defensive Player of the Year and actually finished just two percentage points behind Bird in MVP voting which says all you need to know about how special he was that season.
When it comes to Magic, it's especially tough to pick a sidekick season. By his third season, he had achieved equal footing with Abdul-Jabbar which leaves us just two to pick from.
Although he may have been better in his second season, Johnson's rookie season includes one of the all-time sidekick moments as he started at centre for an injured Abdul-Jabbar in Game 6 of the NBA Finals and finished with 42 points, 15 rebounds and seven assists. That performance alone resonates enough to warrant a spot here in what was otherwise still a very good rookie season in which he averaged 18-7-7.
Who had the better sidekick season?
6 vs 11 - Penny vs Brow
Compare stats: 6 Penny Hardaway in 1995-96 vs 11 Anthony Davis in 2019-20
Shaq missed a third of the season for the 1995-96 Orlando Magic which paved the way for Hardaway's second straight All-NBA First Team selection. This is a year most associated with the beginning of Chicago's history-making second 3-peat but it bears worth repeating just how spectacular Hardaway was in Shaq's final season in Orlando. In just his third season, Penny put up 21.7 points and 7.1 assists while shooting over 50% from the floor and leading Orlando to what remains its first and only 60-win season.
MORE: What if Shaq and Penny stayed together?
Davis's story is still being written and depending on what happens the rest of the way, there's a chance this ends up being one of the truly elite sidekick campaigns. There's a world in which the Lakers win the title, Davis wins Defensive Player of the Year and nabs a spot on the All-NBA First Team. By both PER and WS/48, this is the best of the 16 sidekick seasons listed here.
The reason he's not higher? It's still largely incomplete. TBD.
Who had the better sidekick season?
3 vs 14 - Scottie and Manu
Compare stats: 3 Scottie Pippen in 1995-96 vs 14 Manu Ginóbili in 2007-08
Of the three times that Pippen made All-NBA First Team, this is the one time he did it playing a full season alongside Michael Jordan. Throw in 72-10, a top-5 MVP finish and all-worldly defence, it's hard to pick against this as the defining sidekick season.
Ginóbili is among the trickiest players in league history to accurately judge. He gladly accepted a smaller role and because of it, his numbers will never shine as brightly as perhaps his talent might suggest. It's also a coin flip between Ginóbili and Tony Parker who for years passed the baton back and forth as the primary sidekick alongside Tim Duncan. If you wanted to roll with one of Parker's seasons (2012-13 would be my bet), I wouldn't begrudge you for it.
The Spurs didn't win the title, but this is Manu's defining season. Not only did he win Sixth Man of the Year while scoring a career-high 19.5 points per game, but he also finished 10th in MVP voting and grabbed a spot on the All-NBA team despite starting all of 23 games. That doesn't happen.
Who had the better sidekick season?
7 vs 10 - Assist King vs Hand of the King
Stockton - like Pippen - is synonymous with the sidekick label. If you wanted to pick his 1989-90 season in which he handed out a patently absurd 14.5 dimes per game, be my guest. I'm rolling with the 1994-95 season in which he made All-NBA First Team and led the entire league in Offensive Box Plus-Minus and True Shooting Percentage.
Stockton's only All-NBA First Team nods conveniently came in the two years that Michael Jordan retired during the mid-90s. We sometimes think of Stockton being held back historically by Jordan when it comes to winning titles, but he's also a victim of bad timing when it comes to those First Team nods that become more important in legacy conversations.
MORE: The play that made Stockton-to-Malone unstoppable
The 2010-11 version of Wade was without question the best version that played alongside LeBron James. The healthiest, the most prolific, the most exciting... truth be told, almost too good to even qualify under our 1A/1B rules. But while the franchise belonged to Wade, those teams belonged to LeBron. That makes this version of Wade somewhat of a super sidekick.
Why isn't he higher? No NBA title. No All-NBA First Team. A respectable yet not overwhelming seventh-place finish in MVP voting. Wade's ability and talent in 2010-11 likely trumps his actual accomplishment in 2010-11.
Who had the better sidekick season?
2 vs 15 - Kobe vs Pau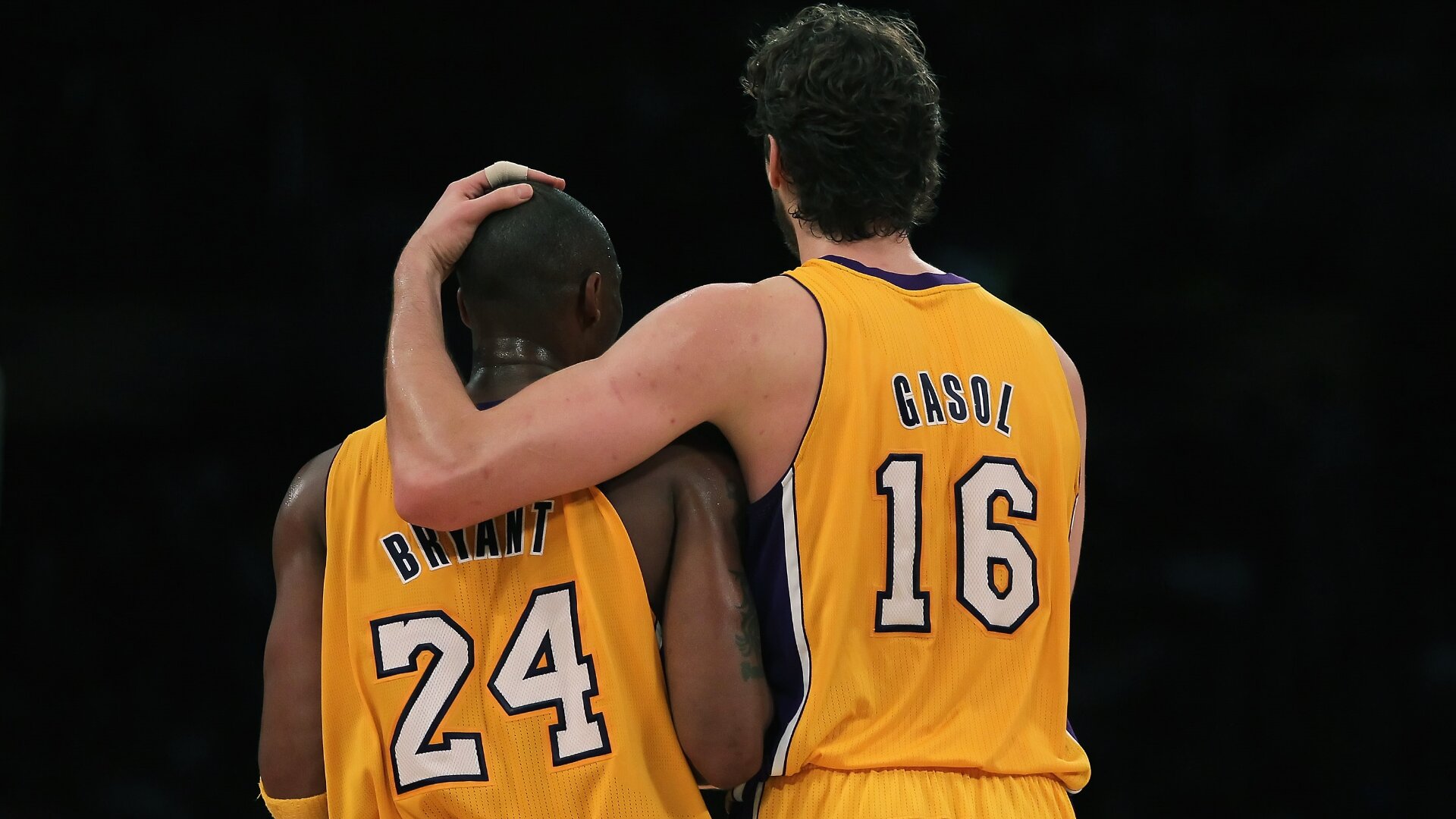 Compare stats: 2 Kobe Bryant in 2001-02 vs 15 Pau Gasol in 2009-10
It's fitting that Kobe Bryant the sidekick goes up against his own sidekick from later in his career.
Like Wade with the Heat, there's a case to be made that Bryant was on enough of an equal footing with Shaq to not even qualify. But the combination of the Finals MVP sweeps and just the overall big brother, little brother dynamic places Bryant in the bucket of "supremely overqualified sidekick."
MORE: Remembering Kobe
Gasol earned his spot among the great sidekicks as the preeminent missing piece which resulted in back-to-back titles. Prime Gasol was as skilled of a low-post scorer and passer that we've seen over the last 20 years and in particular his ability to rise to the occasion in Game 7 of the 2010 Finals casts a brighter light on his knack for having Kobe's back in big spots.
Who had the better sidekick season?
The views expressed here do not represent those of the NBA or its clubs.