Every week on NBA.com, we'll unveil a new bracket with daily matchups to vote on. By the end of the week, we'll crown a champion and determine a winner based on fan voting. Up next for this week? The best duos in NBA history.
What is the best duo in NBA history?
To help settle the score, we picked 16 of the best duos ever and matched them up against each other in a mythical 2-on-2 tournament. Who wins is entirely up to you!
Have questions about how we determined the seeds? Skip down to see the entire field 1-16 .
The quarterfinals went chalk to set up a spectacular final four. Here are the voting results:
1 Jordan/Pippen def. 9 Durant/Westbrook: 87 % of vote
2 O'Neal/Bryant def. 7 Russell/Cousy: 91% of vote
3 Johnson/Abdul-Jabbar def. 6 Bird/McHale: 81 % of vote
4 James/Wade def. 12 Duncan/Robinson: 57 % of vote
LAST WEEK: Kawhi voted winner for best shot ever
Perimeter powerhouses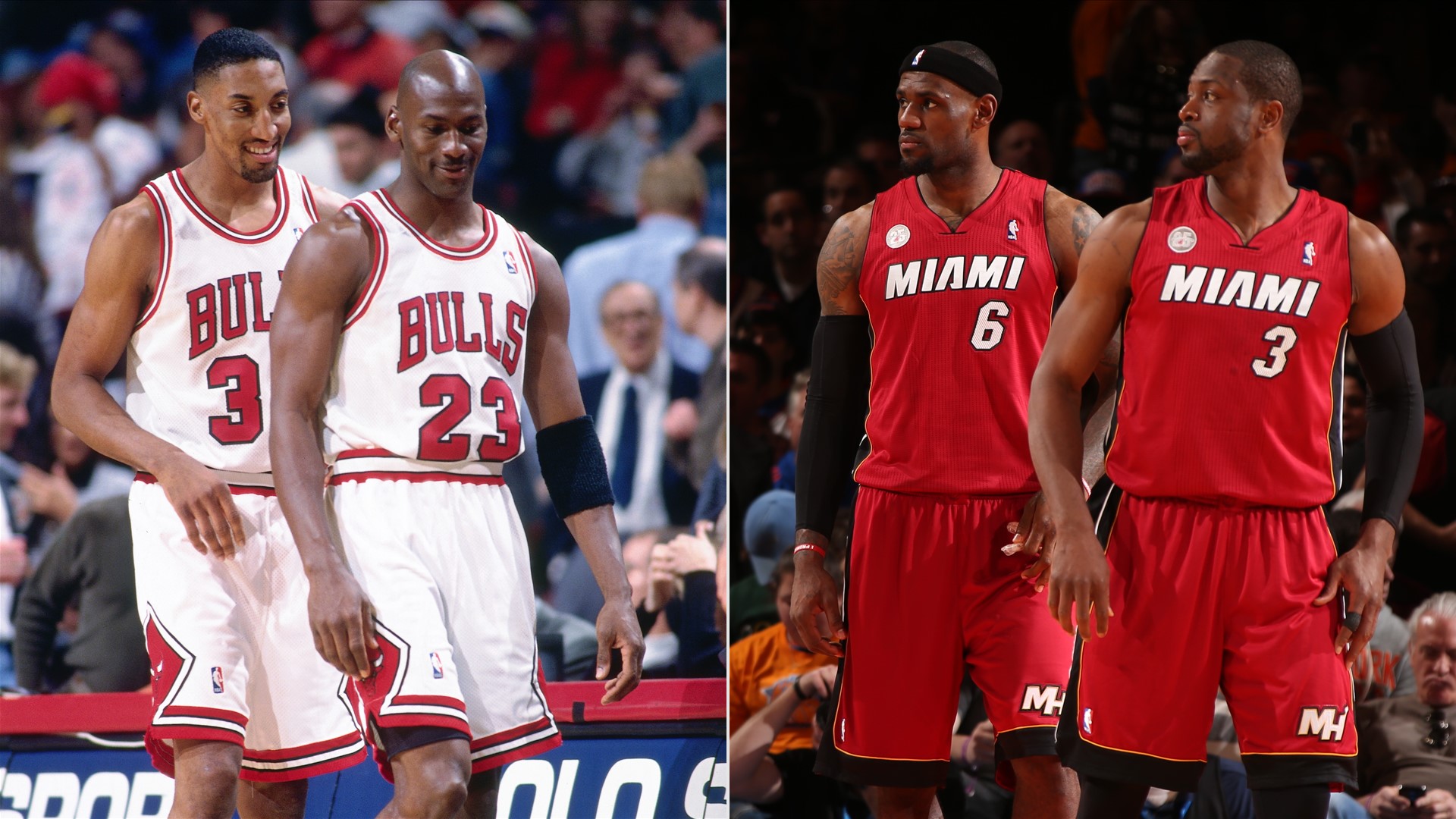 1 Jordan/Pippen vs 4 James/Wade
Grab your popcorn.
The matchup itself is pretty self-explanatory. Not only do we get to see arguably the two greatest players in NBA history square off, we get to see them do it alongside the greatest perimeter sidekicks in NBA history.
MORE: Ranking the 10 greatest games of Michael Jordan's career
Could James or Wade stop Jordan's nasty pull-up or fadeaway game?
Could Jordan or Pippen hang with James in the post?
Could Pippen or Wade showcase their immense two-way potential for all to see?
Games are to 11, but honestly I'd watch these duos play a game to 111.
Which duo wins in 2-on-2?
Showtime Showdown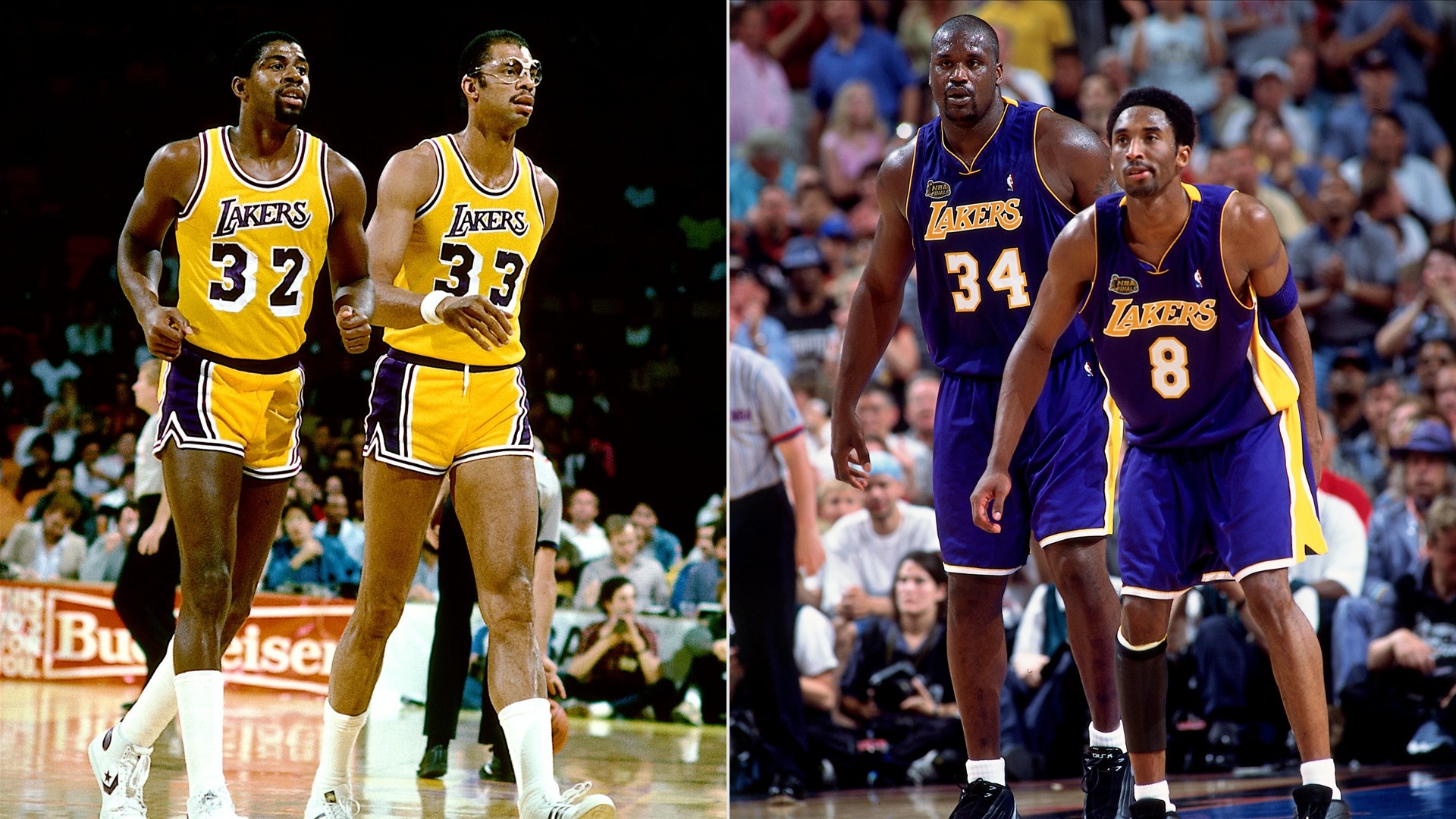 2 O'Neal/Bryant vs 3 Johnson/Abdul-Jabbar
To all of you Lakers fans out there... good luck.
There could honestly be an entire 2-on-2 tournament featuring only Lakers inside-outside combos: Wilt Chamberlain and Jerry West. Anthony Davis and LeBron James. Dwight Howard and Kobe Bryant. George Mikan and Slater Martin.
But let's be honest... that would end up here as well because when it comes to Lakers duos, it all boils down to Shaq/Kobe and Magic/Kareem.
MORE: Shaq, Penny and playing 'what if'
The battering ram vs the unstoppable skyhook. The ultimate shotmaker vs the cerebral playmaker.
While there's a chance that Bryant's prolific one-on-one scoring might be the difference maker in this type of setting, that's far from a given.
Which duo wins in 2-on-2?
Opening Round Results
The first round included one major upset in the 5 vs 12 matchup with an iconic duo from the 1980s sent packing early. Here are the results from the opening round matchups:
1 Jordan/Pippen def. 16 Nash/Stoudemire: 92% of vote
2 O'Neal/Bryant def. 15 Leonard/Lowry: 87% of vote
3 Johnson/Abdul-Jabbar def. 14 Payton/Kemp: 94% of vote
4 James/Wade def. 13 Thomas/Dumars: 89% of vote
12 Duncan/Robinson def. 5 Erving/Malone: 60% of vote
6 Bird/McHale def. 11 Stockton/Malone: 53% of vote
7 Russell/Cousy def. 10 West/Baylor: 73% of vote
9 Durant/Westbrook def. 8 Curry/Thompson: 59% of vote
The Field
Any discussion placing too much emphasis on rings when debating duos tends to ignore everything else that factored into winning: teammates, coaching, competition, health... you get the idea.
MORE: Which duos got snubbed?
But what if we removed the accolades from the equation and focused strictly on basketball? Sure, Jordan and Pippen were unstoppable in the context of playing five-on-five, but would they be able to stop someone like O'Neal or Abdul-Jabbar? We'll let you decide!
| | |
| --- | --- |
| Seed | Duo |
| 1. | Michael Jordan and Scottie Pippen |
| 2. | Shaquille O'Neal and Kobe Bryant |
| 3. | Magic Johnson and Kareem Abdul-Jabbar |
| 4. | LeBron James and Dwyane Wade |
| 5. | Moses Malone and Julius Erving |
| 6. | Larry Bird and Kevin McHale |
| 7. | Bill Russell and Bob Cousy |
| 8. | Stephen Curry and Klay Thompson |
| 9. | Kevin Durant and Russell Westbrook |
| 10. | Elgin Baylor and Jerry West |
| 11. | Karl Malone and John Stockton |
| 12. | Tim Duncan and David Robinson |
| 13. | Isiah Thomas and Joe Dumars |
| 14. | Gary Payton and Shawn Kemp |
| 15. | Kawhi Leonard and Kyle Lowry |
| 16. | Steve Nash and Amar'e Stoudemire |
Some housekeeping:
In order for maximum variety, each player could only be represented in one duo. For example, you won't see Shaq and Penny Hardaway since he's already teamed up Bryant.
We tried to balance out not only which duos are more known for playing with each other which is why someone like Steve Nash is teamed up with Amar'e Stoudemire instead of Dirk Nowitzki.
This is about winning a game of 2-on-2, not necessarily which duo has won the most together in real life. That's why Kevin Durant and Russell Westbrook are seeded higher than Isiah Thomas and Joe Dumars.
Games are to 11 by 1s and 2s. And it's not make-it, take-it. That's it!
The views expressed here do not represent those of the NBA or its clubs.