The NBA preseason is here and with the start of the 2019-20 season just around the corner, we're busting out the microscope and taking a closer look at the best-case and worst-case scenario for every player on the Toronto Raptors.
It was almost poetic.
Kyle Lowry opened the 2019 postseason with a scoreless performance (on 0-8 shooting), though he managed to dish out seven assists and grab eight rebounds in Toronto's Game 1 loss to the No. 7 seed Orlando Magic.
The Raptors point guard closed the postseason with 26 points (on 9-16 shooting), 10 assists and seven rebounds as they dethroned the back-to-back defending champion Golden State Warriors in Game 6 of the NBA Finals.
You could call this the essence of Lowry, but the fact of the matter is that his poor performances aren't nearly as bad as they seem, while his big games are more brilliant than what meets the eye.
Simply put: What Kyle Lowry does extends much further than the box score.
Now, with another championship on his radar, what is to be expected of the 33-year-old in his eighth season as a Raptor?
Best-case scenario
After a year alongside two-time Finals MVP Kawhi Leonard, Lowry will again be looked upon to step up in a manner similar to his performance in Game 6 of the Finals.
No, he shouldn't be expected to put up over 25 points on a nightly basis, but looking for his offence more will pay dividends for the team as a whole.
As NBA.com contributor Matt Blum noted, Lowry's production last season spiked in the small sample size without Leonard. In just over 900 minutes, the five-time All-Star averaged 19.1 points and 9.8 assists per 36 minutes.
He could be expected to play over 30 minutes per game this season and if those averages are any indicator, he could be in line to put up solid numbers in 2019-20.
MORE: Is Lowry a Hall of Famer?
If Lowry, who averaged a career-high 22.4 points per game in 2016-17, reverts to some of his scoring ways from years past, he should thrive even more as a playmaker as defences are forced to play him honestly.
On the topic of his playmaking, Lowry is fresh off of averaging a career-high 8.7 assists per game. This upcoming season, his passing will be more key than ever as he will be tasked with creating for others that aren't as skilled as finding their own shot as Leonard proved to be.
With an uptick in both scoring and assists from last season, there's a path for Lowry to make his sixth-straight All-Star appearance, provided his performance keeps the Raptors in the top half of the Eastern Conference playoff picture.
Of course, it will always go beyond the basic numbers for Lowry - his presence, charge-taking, winning plays and veteran leadership is ultimately what will drive Toronto's success.
Similar to Serge Ibaka and Marc Gasol, Lowry is in a contract year, meaning his success this upcoming season dictates the future and what could be one last substantial contract.
Worst-case scenario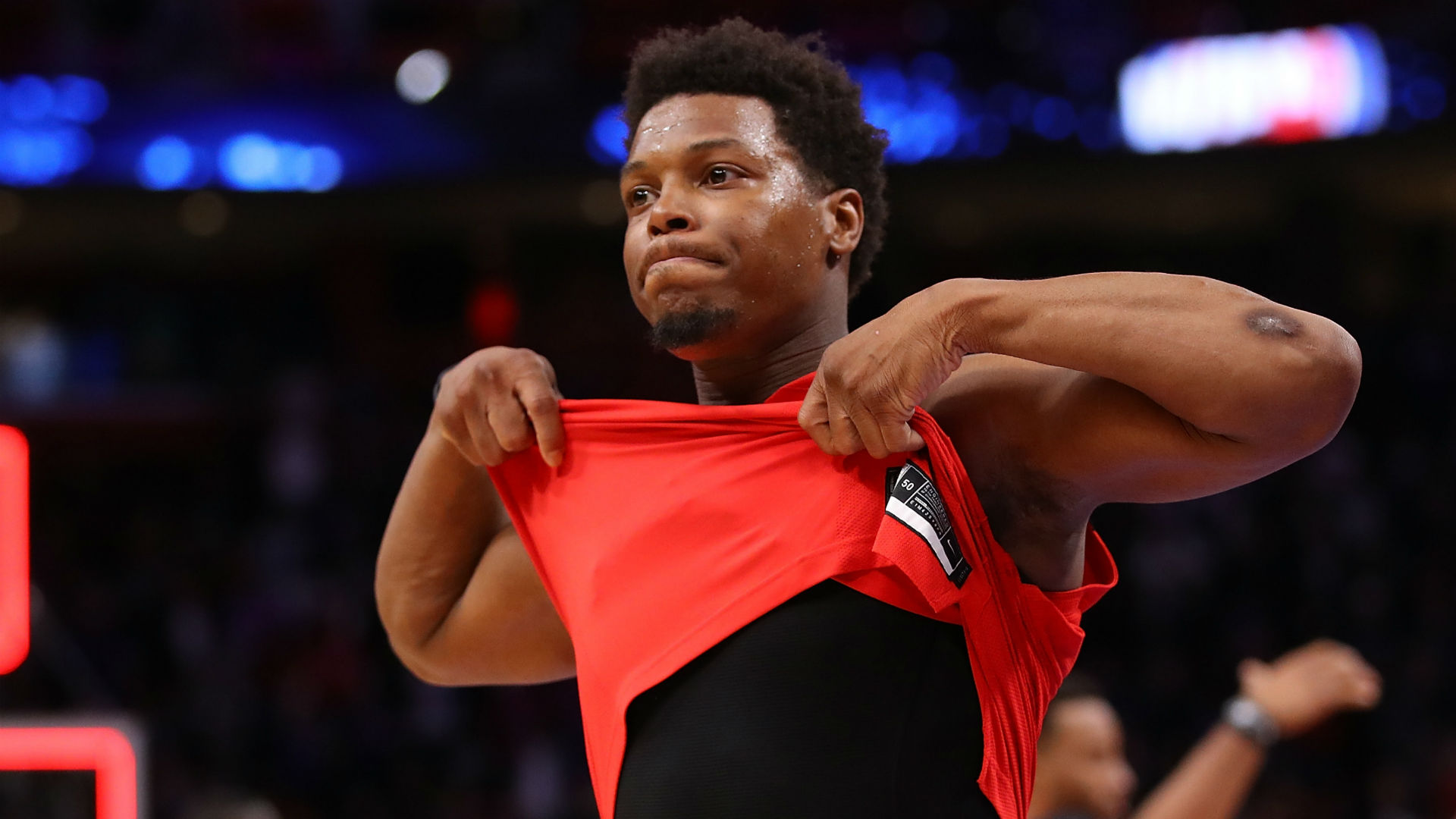 At 33, Lowry is the second-oldest player on the Raptors behind just Marc Gasol, and father time remains undefeated.
Coming off of a season in which he missed 17 games with various injuries, Lowry underwent surgery this offseason to repair a torn ligament in his left thumb suffered in the Conference Semifinals against the Philadelphia 76ers.
As he continues to work back from the injury, Lowry provided an honest update at media day:
"I'm not where I wanna be - physically, mentally - it's still a work in progress. Everything for me has been pushed back a month … but I feel good, I'm in solid shape - not where I need to be, but where I am right now is where I can be…"
MORE: The biggest storylines for the Raptors this season
Entering his 14th season at a disadvantage in terms of where he wants to be physically could be a major setback for Lowry, especially given his assessment that he's been pushed back a month in all respects.
Should these issues linger or take longer to overcome, it could make for a difficult first month of the season for the Raptors. As a key piece to this franchise, his contributions are paramount to its success in the upcoming season.
If he's not at his best, Lowry's issues could result in an inability to make his mark on the offensive end, with the biggest potential issue being a lack of efficiency as a scorer, which, in turn, will limit the team's offence as a whole.
Whether or not he's a key contributor right away, president Masai Ujiri provided a ringing endorsement that Lowry's legacy as a Raptor will live on for all that he has done.
That should bode well for whatever is to happen this upcoming season and beyond.
The views on this page do not necessarily reflect the views of the NBA or its clubs.