The NBA preseason is here and with the start of the 2019-20 season just around the corner, we're busting out the microscope and taking a closer look at the best-case and worst-case scenario for every player on the Toronto Raptors.
No one on Toronto's roster is more intriguing than OG Anunoby.
Some of it is because of his unique skill set, as a forward who can defend and has shown the ability to stretch the floor. And honestly, some of it has nothing to do with him at all. Some of it has to do with the break out season Pascal Siakam had a year ago. Most Raptors fans probably won't admit it but seeing Siakam's star skyrocket has them blindly believing it's possible for OG to do the same - and it is.
But how likely is that to happen this year? And what does that really look like for Anunoby?
Best-case scenario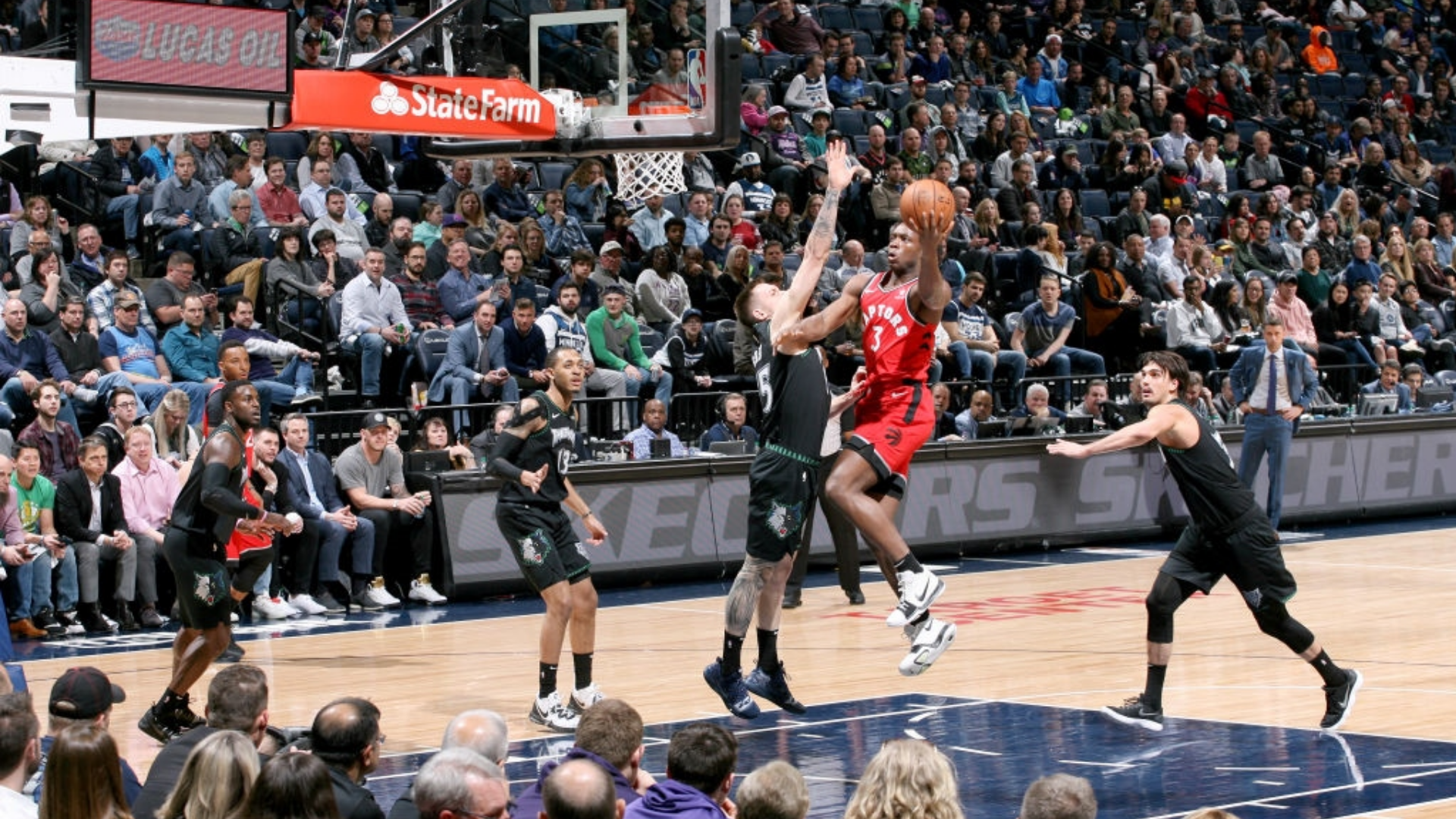 After showing the ability to knock down the long ball in his rookie season, Anunoby regressed a bit last season.
This year, Anunoby will have to remind defenders that he's a capable shooter from three. If he can, it would open up the rest of his game dramatically.
As a catch and shoot 3-point treat, Anunoby should still strike enough fear in opposing defences to the point where they'll have to close out on him strong. Over the past two seasons, he's made 34.8% of his catch-and-shoot 3-point attempts. While that number isn't eye-popping, he's flirting with the league average of 37.2% on those shots.
With Danny Green now in Purple and Gold, Anunoby can flex his 3-point muscle a bit more - shots will be available. However, with Kawhi Leonard also now in the City of Angels, Anunoby needs to be more than just a catch and shoot threat.
As NBA.com's Scott Rafferty pointed out last summer, Anunoby has the potential to put the ball on the deck more frequently. The problem is, he hasn't done it a ton in his NBA career.
But the potential is there. He showed flashes last season, such as this moment against the Lakers:
Anunoby doesn't have to create all of those opportunities by himself, and that's the most exciting part about OG's game. The 22-year-old has consistently shown the ability to cut well and finish at the rim.
On this play, for example, Anunoby makes himself available to Jonas Valanciunas - which results in a great looking dime from JV:
No one will confuse Valanciunas with Arvydas Sabonis, but Marc Gasol has made a pretty good living off finding willing cutters. With the offence less focused on Leonard ISOs this season, expect more of those types of plays from OG.
Is it those sequences that make Raptors fans think he can one day be an All-Star? Not necessarily. But it's an efficient basketball play and will continue to keep him on the floor for extended minutes as he keeps his defender working on the defensive end.
"Every day I was just working on simple things," Anunoby told reporters earlier this week in Quebec. "Passing, shooting, dribbling and just do the same thing every day. That was the main thing Fundamental stuff. Simple stuff."
Keeping it simple might be OG's best weapon this season.
Worst-case scenario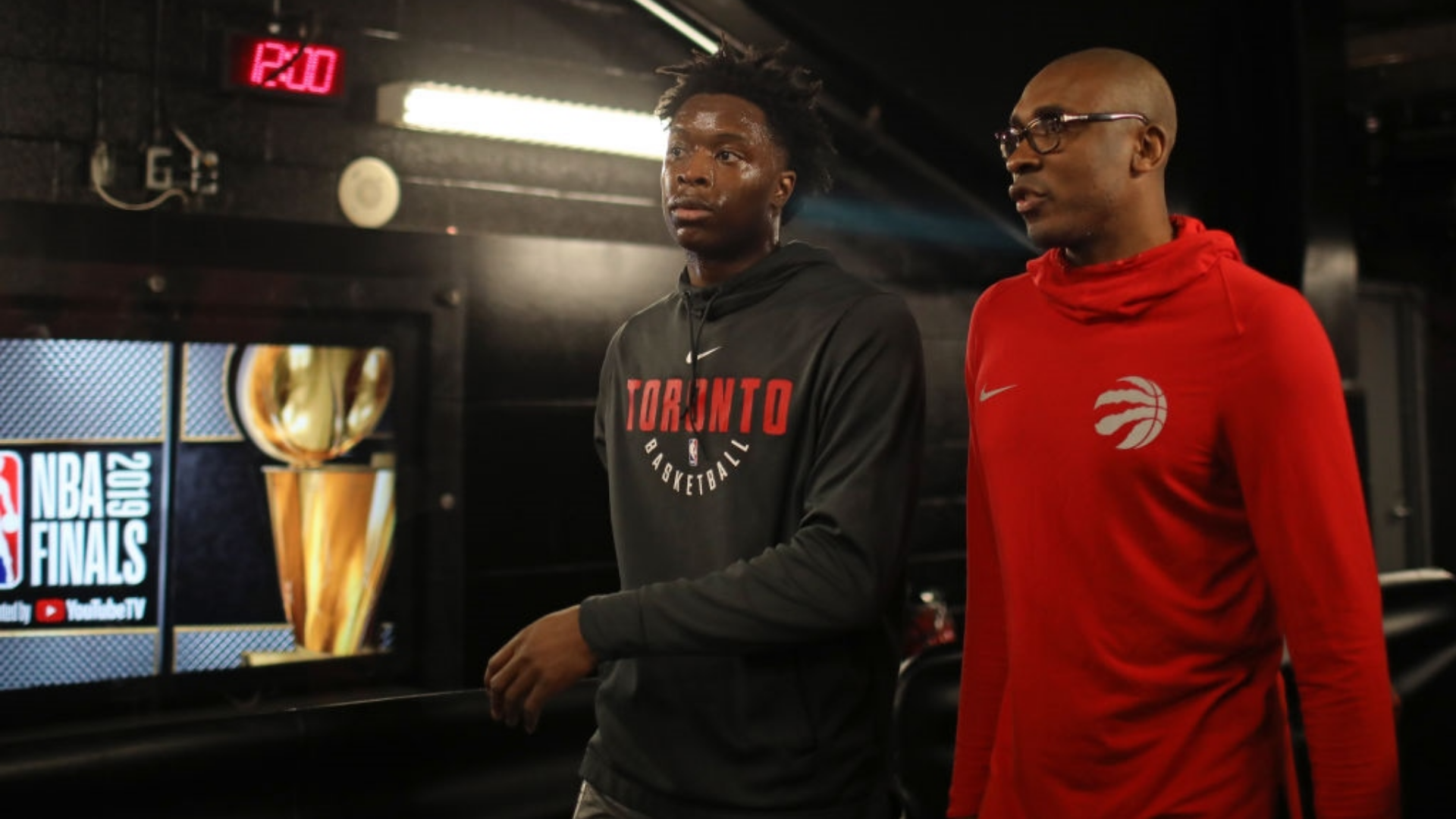 Keeping it simple is one thing, but keeping it status quo is another. Anunoby doesn't need to become Toronto's No. 2 scoring option every night, but he can't be absent either.
To be an impact player for the Raptors, he has to start making an impact. In his first two seasons, there's been an excuse as to why Anunoby wasn't more aggressive offensively. Year 1, he was a rookie trying to find his way. Year 2, Kawhi Leonard was in town and everyone had to fall in line.
This is Year 3, where most NBA players find comfort as a professional. There are no more excuses. Anunoby can't go through nights where he's taking three shots in a game - which, by the way, happened in 14 of the 67 games he appeared in last season.
"I mean, the season didn't go as planned but I think I grew from it," Anunoby told reporters last week. "I think I got better from the year. I learned more about myself. It made me stronger."
A lot happened off the court last season for Anunoby. Here's hoping he's been able to put it all behind him and showcase the skills that have almost been kept a secret the last two seasons.
The views on this page do not necessarily reflect the views of the NBA or its clubs.