The NBA preseason is here and with the start of the 2019-20 season just around the corner, we're busting out the microscope and taking a closer look at the best-case and worst-case scenario for every player on the Toronto Raptors.
Without Serge Ibaka's performance last season, the Raptors wouldn't have won the NBA championship.
The veteran centre put together one of the best years of his career while also being a selfless teammate that was willing to sacrifice his starting role, putting the team's success first.
Whether he was in the starting lineup or coming off of the bench, Ibaka kept the same energy and production, and it resulted in Toronto's first NBA title in franchise history. With Kawhi Leonard gone, it's even more important for Ibaka to return this season as the same player - and scorer - that he was during the 2018-19 season.
Can the 30-year-old big man repeat his performance from his championship season campaign or will he fall back to being the player he was in his first two seasons with the Raptors?
Best-case scenario
The best-case scenario for Ibaka is that he is the exact same player he was last season, meaning a reliable source of scoring, a solid defender and rim protector, and a quality rebounder over the course of roughly 25-plus minutes per game.
Ibaka had the second-best averages of his career last season with 15.0 points and 8.1 rebounds per game, shooting a solid 52.9% from the field. The last time he posted numbers like that was in 2014 during his peak years with the Oklahoma City Thunder as a 24-year-old. It's encouraging that at 29-years-old, Ibaka had still found a way to replicate some of the best stats of his career, and the Raptors will need him to do so again at the age of 30.
MORE: Ibaka is only getting better with time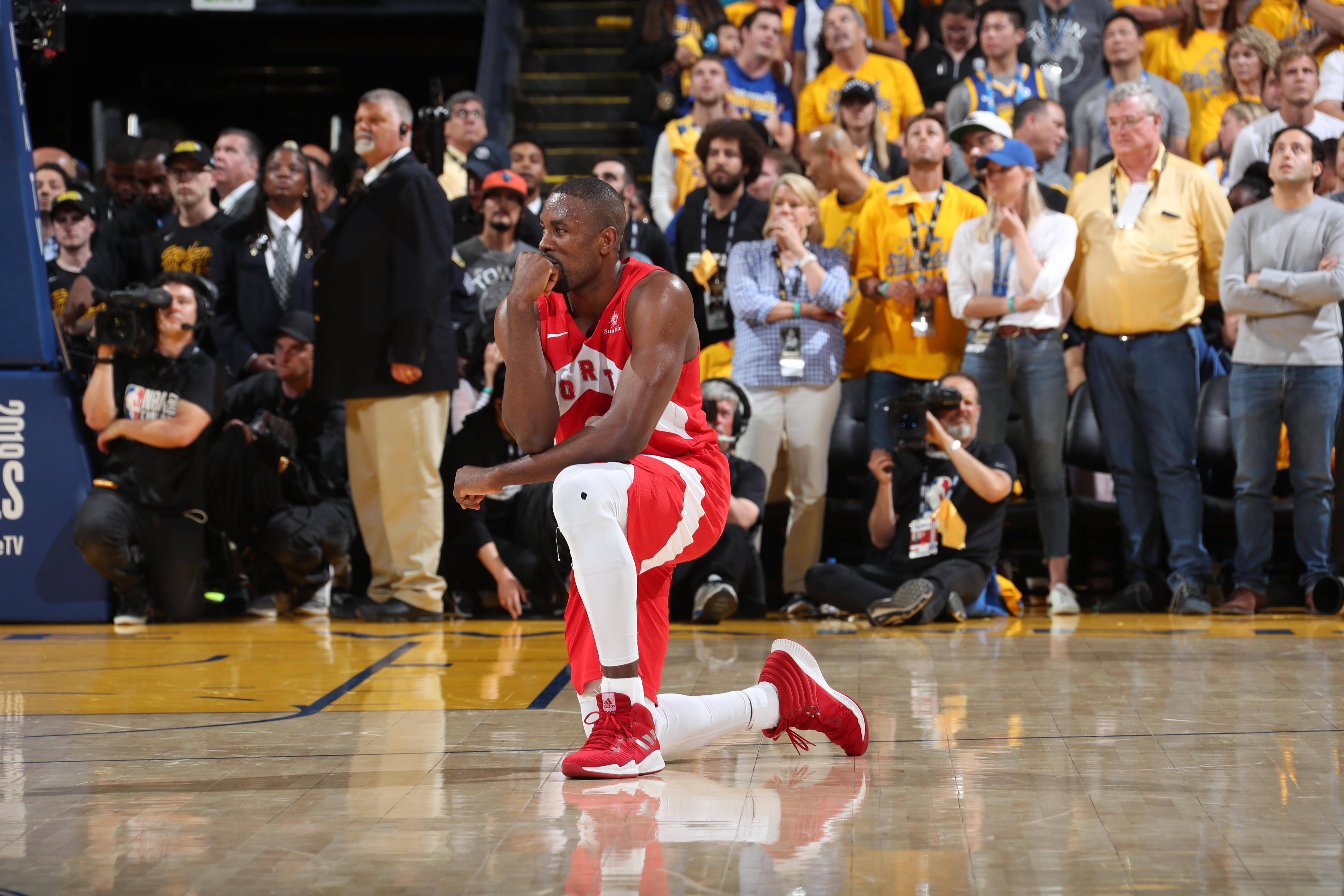 Ibaka was a consistent scorer and rebounder for Toronto over the course of 74 games - he finished with 22 double-doubles, the second-most of his career (2013-14), which included a stretch of 11 double-doubles in 12 games leading up to the All-Star Game.
He continued to prove his worth as a shot blocker and rim protector as well with 13 regular season games with three or more blocks. We even saw a flashback of former block champion "Serge Iblocka" in Game 3 of the NBA Finals, when Ibaka had six blocks to help the Raptors take a 2-1 series lead.
Perhaps most notably for this upcoming season was Ibaka's numbers with Leonard out of the lineup last season. Ibaka played in 20 of the 22 games that Kawhi missed, posting 17.9 points and 8.5 rebounds per game on 57.9% shooting from the field. As NBA.com's Gilbert McGregor mentioned, some of those stat lines were jaw-dropping:
• A career-high 34 points (15-17 FG) in a road win against the Lakers
• 17-point, 8-8 shooting performance one night later in a road win over the Jazz
• 25 points, 9 rebounds and 3 blocks in a road win over the Clippers
• 23 points, 11 rebounds, 3 blocks and 3 assists in a tight road loss to the Pacers
• Double-double of 10 points, 13 rebounds to go with 6 assists in a win over the Wizards
• Double-double of 23 points (10-16 FG), 12 rebounds in a road win in Chicago
The Raptors won 16 of those 20 contests and Ibaka played a massive role in that success.
The only area Ibaka needs to improve from last season is his 3-point shooting. He shot 29.0% from beyond the arc, the lowest mark of his career since he began attempting 3s consistently. He did have a bright spot in the playoffs, knocking down three 3-pointers in the Raptors' tight Game 7 win over the Philadelphia 76ers, but aside from that and a few decent regular season performances, his 3-point shooting escaped him.
If Serge can return to being the 36.0% 3-point shooter he was in 2017-18, his game would be perfectly suited for what Toronto needs out of the 10-year veteran.
Worst-case scenario
The worst-case scenario for Ibaka is that he regresses to the player he was in his first season and a half with the Raptors.
It's not that that version of Ibaka was horrible, it's just that with the departure of their star player, Toronto is going to need his 2018-19 consistency to have any shot at defending their title.
In 2017-18, Ibaka averaged 12.6 points, 6.3 rebounds and 1.3 blocks per game shooting 48.3% from the field and 36.0% from beyond the arc. He only notched eight double-doubles - there were 56 games in which he reached double figures in scoring, but only eight games in which he grabbed double digit rebounds. In 2018-19, those numbers were 64 and 23, respectively.
MORE: Biggest storylines for the Raptors this season
The Raptors finished with the best record in the Eastern Conference in 2017-18, but Ibaka failed to produce in the playoffs, and it cost them.
In 10 playoff games in 2018, Ibaka only averaged 8.7 points and 5.9 rebounds shooting 41.7% from the field. He had a six-game stretch where he failed to reach double figures in scoring and only had one game where his contributions significantly impacted the game's result.
This past playoff run, his averages weren't that much better than 2018, but his play in every contest was much more impactful. I already mentioned the three 3s in Game 7 of the Eastern Conference Semifinals and the six blocks in Game 3 of the NBA Finals, but he also had a 17-point, 13-rebound double-double to even the series at 2-2 versus the Milwaukee Bucks in the Conference Finals and had 20 points on 9-for-12 shooting from the field to give the Raptors a 3-1 lead in the Finals.
It's crucial to the Raptors' success this season that Ibaka returns to the player he was last season. Should he take a step back and perform more like he did in the season prior, Toronto would desperately need another role player to step up and produce on offence and on the glass.
The views on this page do not necessarily reflect the views of the NBA or its clubs.