You've heard the old adage by now, big men take longer to develop in the NBA.
For Chris Boucher, he's been progressing at a rapid pace considering he's only been playing organized basketball for about seven years.
Last year was easily his best season ever. Boucher dominated the NBA G League averaging 27.2 points, 11.4 rebounds and 4.1 blocks per game in 28 games for the Raptors 905. He was named the G-League MVP and Defensive Player of the Year.
The 26-year-old also appeared in 28 games for the Raptors with most of his minutes coming in garbage time. However, his per 36 stats jump off the page and say he should be playing more - 20.5 points, 12.4 rebounds and 5.3 blocks. His efficiency rate of 22.2 ranked second on the team only behind Kawhi Leonard. Boucher has gotten better every year he's played basketball, but what now?
Best-case scenario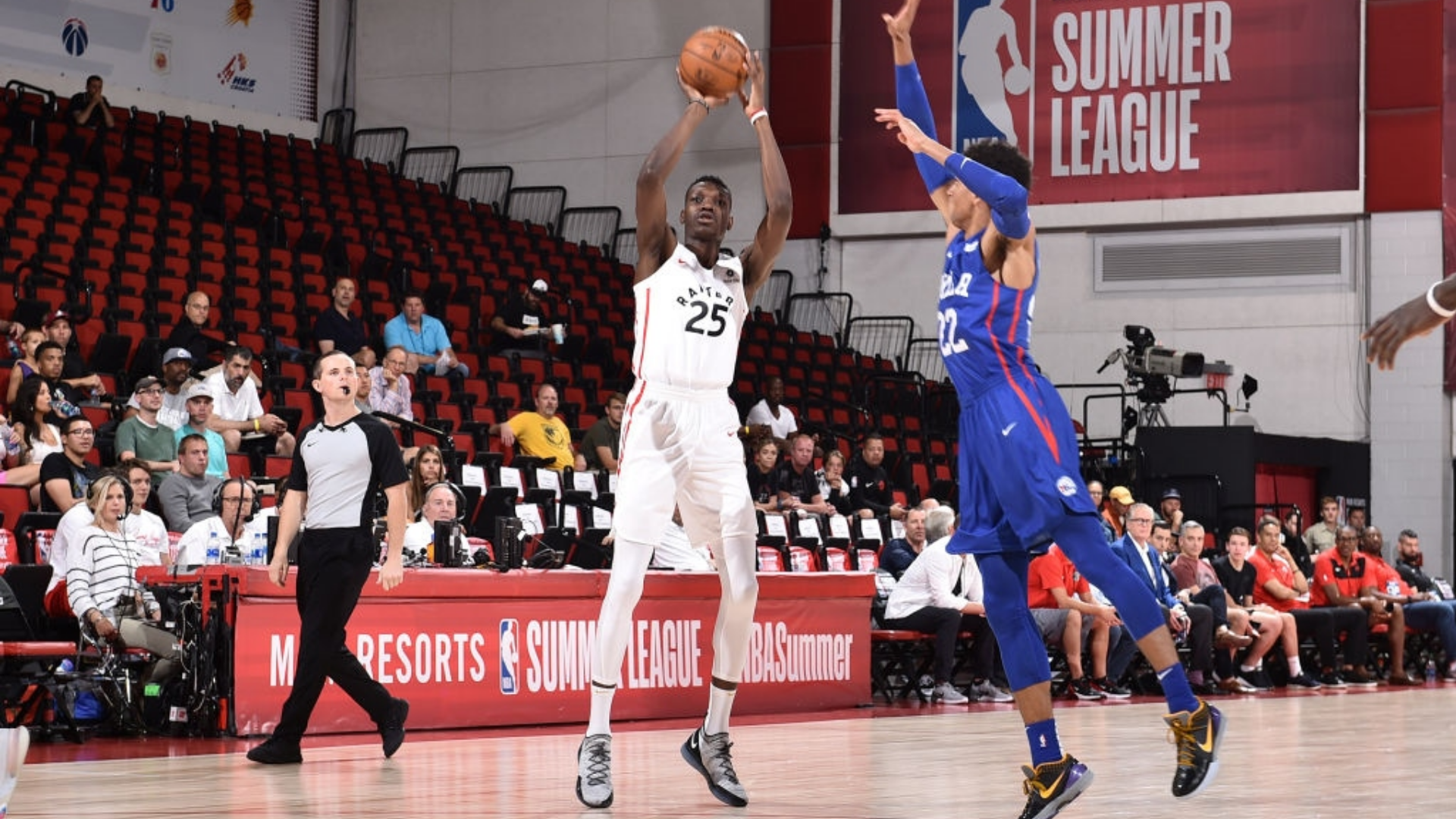 Boucher only got any real significant minutes in the regular-season finale against the Minnesota Timberwolves. He finished the game with 15 points, 13 rebounds and two blocks in 25 minutes.
While the scoring is a nice touch, defence is where Boucher can make the most impact playing regular minutes for Toronto this season. While he often gets knocked for his lack of bulk, Boucher has consistently shown that he can deflect shots with his incredible anticipation.
Gorgui Dieng found out that out in the regular-season finale. Dieng tried to first body up on Boucher and then decided to bully his way down the lane and attempt a sweeping hook - Boucher was having none of it, swatting the shot back in his face.
"First of all, he's had a pretty good summer and he's shown a lot," Raptors head coach Nick Nurse said about Boucher at training camp. "He just continues to look more like a basketball player that belongs on the floor.
"His ball skills are better, his decision-making is better. He's just maturing in that way. I think he was kind of an energy, shot-blocking runner that could do things with just his length and his athleticism, but now he's starting to read things better, he's starting to be a little more of a facilitator for us, which he needs to be with the way we run our offence, he's starting to be able to break out with the basketball after rebounds and get it up the floor quickly."
When you look at Boucher's body, you assume he won't be capable of taking the pounding in an NBA game. The same thing was said about him at the high school level and at the college level. Each time he has proven he can still find a way to be effective and protect the rim with his length and athleticism.
Nurse mentioned that his decision making has also improved so far in camp. Boucher will never be confused for Marc Gasol, who's one of the best passing big men in the league, but he can certainly learn from him.
Boucher has never been much of a playmaker throughout his career, but if he wants to earn more minutes playing in Nick Nurse's offence, he's going to have to become a better and smarter decision-maker on offence.
If, and it's a big if, Boucher can show that he's not just a three-pointer chucker on offence and can continue to find ways to protect the rim on defence, the Canadian will certainly have an argument for more minutes this season.
Worst-case scenario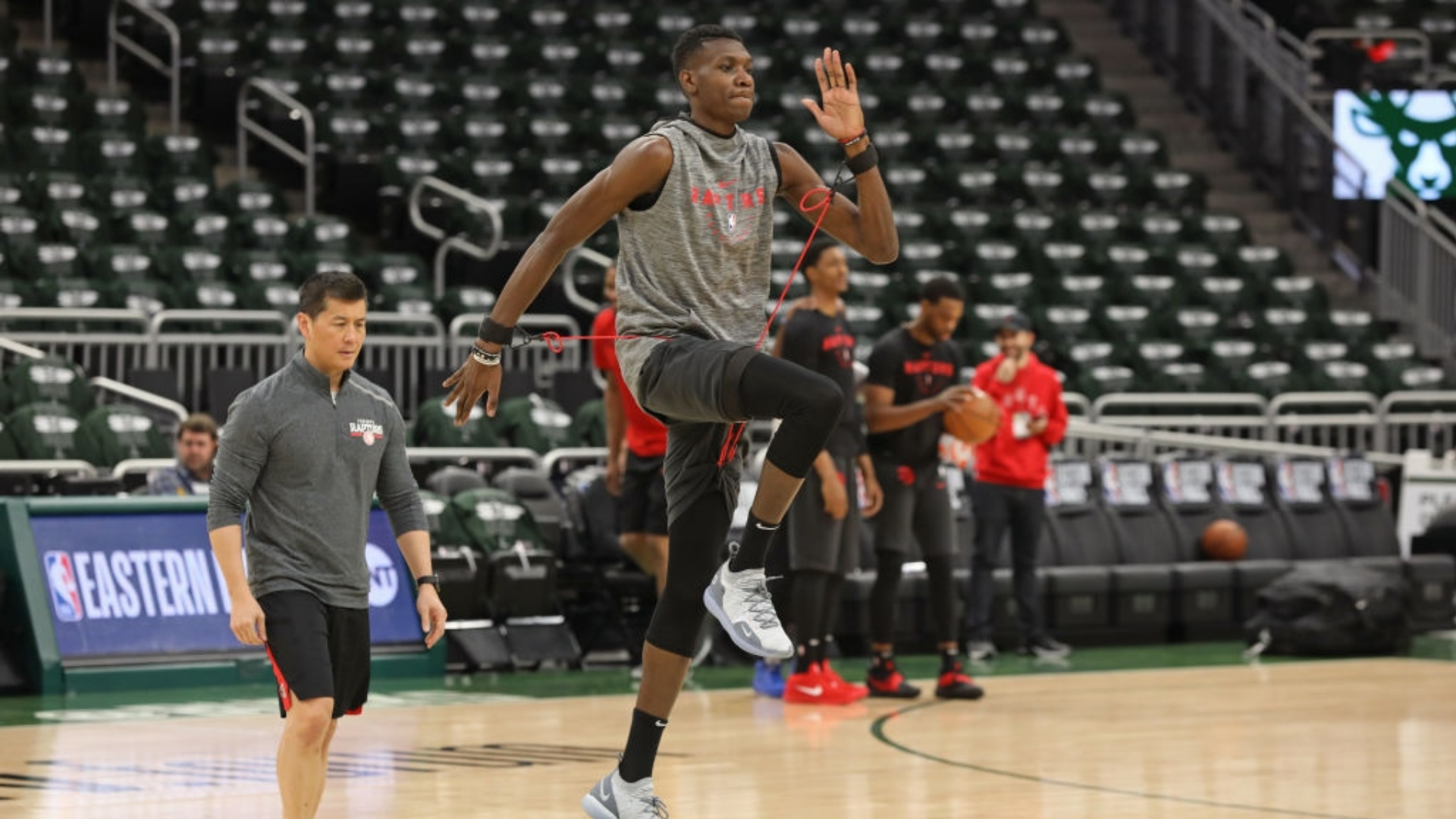 The major problem facing Boucher this season is time. Boucher's contract is partially guaranteed and only becomes fully guaranteed should he make the team's final roster.
Money aside, he may only have training camp to prove he's made enough improvements to make the roster. Boucher chose not to play for the Canadian Men's National Team this season - a team Nurse coached. That would've been an ideal scenario for Boucher to earn some extra face time with his bench boss.
There's a lot of areas Boucher has made improvements in over his short NBA career but is his ceiling high enough for the Raptors to use a roster spot on him? Going back down to the G League would be a step back for the Montreal native, especially after he dominated the league a season ago.
Boucher still needs time, but it's not on his side.
You can look at Boucher's 2019-20 season as glass half-empty or half-full. If he does make the roster, he should have more opportunities to prove he belongs in the NBA with Gasol and Serge Ibaka playing sparingly as Nurse manages their minutes. With Gasol being in a contract year, maybe the Raptors move him thus opening up solid minutes for Boucher to contribute off the bench.
On the other hand, Gasol and Ibaka are one of the best one-two punches at center in the NBA. However, a 26-year-old whose money isn't guaranteed and whose skillset could be replaced by someone else seems like a likely candidate to get the axe ahead of the season to free up a roster spot for Masai Ujiri to make moves to rebuild the Raptors roster.
Boucher's next two weeks are the biggest of his basketball career.
The views on this page do not necessarily reflect the views of the NBA or its clubs.