Ahead of the 2019-20 season, our NBA.com Staff detailed the best and worst case scenario for key members of the Toronto Raptors this season, from Pascal Siakam and Kyle Lowry to Norman Powell and Chris Boucher.
Below, you'll find an excerpt from each of those profiles, plus a link to read more.
Pascal Siakam
Best case
"As an opportunistic scorer, Siakam will continue to play well off of Kyle Lowry, Marc Gasol and Fred VanVleet with sharp cuts and his ability to thrive in transition. In creating more for himself in different settings, he'll become that 20.0-plus points per game scorer, which should propel him into becoming an All-Star for the first time in his career.
"With four of the last five Most Improved Players earning All-Star selections, there's an established precedent of what's to come after breaking out. And for the Raptors, Siakam earning the nod would soften the blow of losing Kawhi Leonard in knowing that the future of the franchise is in the hands of a 25-year-old first-time All-Star."
Worst case
"With an increased usage in 2019-20, it's hard to believe that Siakam will regress, at least from a pure production standpoint. He's shown the ability to find his spots despite his limitations, but a failure to improve upon his weaknesses would suggest that his numbers would stagnate while his efficiency takes a significant dip.
"Should he make the necessary additions to his game, this shouldn't be a problem at all. But if the load of being the main option is too much to carry, things could become pretty difficult for the rising star pretty fast."
Read Siakam's full best and worst case scenario here.
Kyle Lowry
Best case
"If Lowry, who averaged a career-high 22.4 points per game in 2016-17, reverts to some of his scoring ways from years past, he should thrive even more as a playmaker as defences are forced to play him honestly.
"On the topic of his playmaking, Lowry is fresh off of averaging a career-high 8.7 assists per game. This upcoming season, his passing will be more key than ever as he will be tasked with creating for others that aren't as skilled as finding their own shot as Leonard proved to be.
"With an uptick in both scoring and assists from last season, there's a path for Lowry to make his sixth-straight All-Star appearance, provided his performance keeps the Raptors in the top half of the Eastern Conference playoff picture."
Worst case
"Entering his 14th season at a disadvantage in terms of where he wants to be physically could be a major setback for Lowry, especially given his assessment that he's been pushed back a month in all respects.
"Should these issues linger or take longer to overcome, it could make for a difficult first month of the season for the Raptors. As a key piece to this franchise, his contributions are paramount to its success in the upcoming season."
Read Lowry's full best and worst case scenario here.

Fred VanVleet
Best case
"All signs from last season point to VanVleet being able to prove and provide as a starter this season. It's likely that Norman Powell will take over the starting shooting guard role, but VanVleet will almost certainly work his way into the starting lineup whenever someone is absent. And whether or not he's in the starting lineup, his role within the team and minutes he plays will resemble that of a starting point guard."
Worst case
"Should he perform closer toward the side of his first 15 playoff games, it would be time for Toronto to go back to the drawing board for a new franchise point guard. As of now, you'd have to believe that the Raptors feel VanVleet has what it takes to carry the torch from Lowry in the near-future. If he shows that his maximum value is a sixth man, Toronto would have to pursue other options in free agency or via trade."
Read VanVleet's full best and worst case scenario here.
Best case
"This year, Anunoby will have to remind defenders that he's a capable shooter from three. If he can, it would open up the rest of his game dramatically.
"As a catch and shoot 3-point treat, Anunoby should still strike enough fear in opposing defences to the point where they'll have to close out on him strong. Over the past two seasons, he's made 34.8% of his catch-and-shoot 3-point attempts. While that number isn't eye-popping, he's flirting with the league average of 37.2% on those shots."
Worst case
"To be an impact player for the Raptors, he has to start making an impact. In his first two seasons, there's been an excuse as to why Anunoby wasn't more aggressive offensively. Year 1, he was a rookie trying to find his way. Year 2, Kawhi Leonard was in town and everyone had to fall in line.
"This is Year 3, where most NBA players find comfort as a professional. There are no more excuses. Anunoby can't go through nights where he's taking three shots in a game - which, by the way, happened in 14 of the 67 games he appeared in last season."
Read Anunoby's full best and worst case scenario here.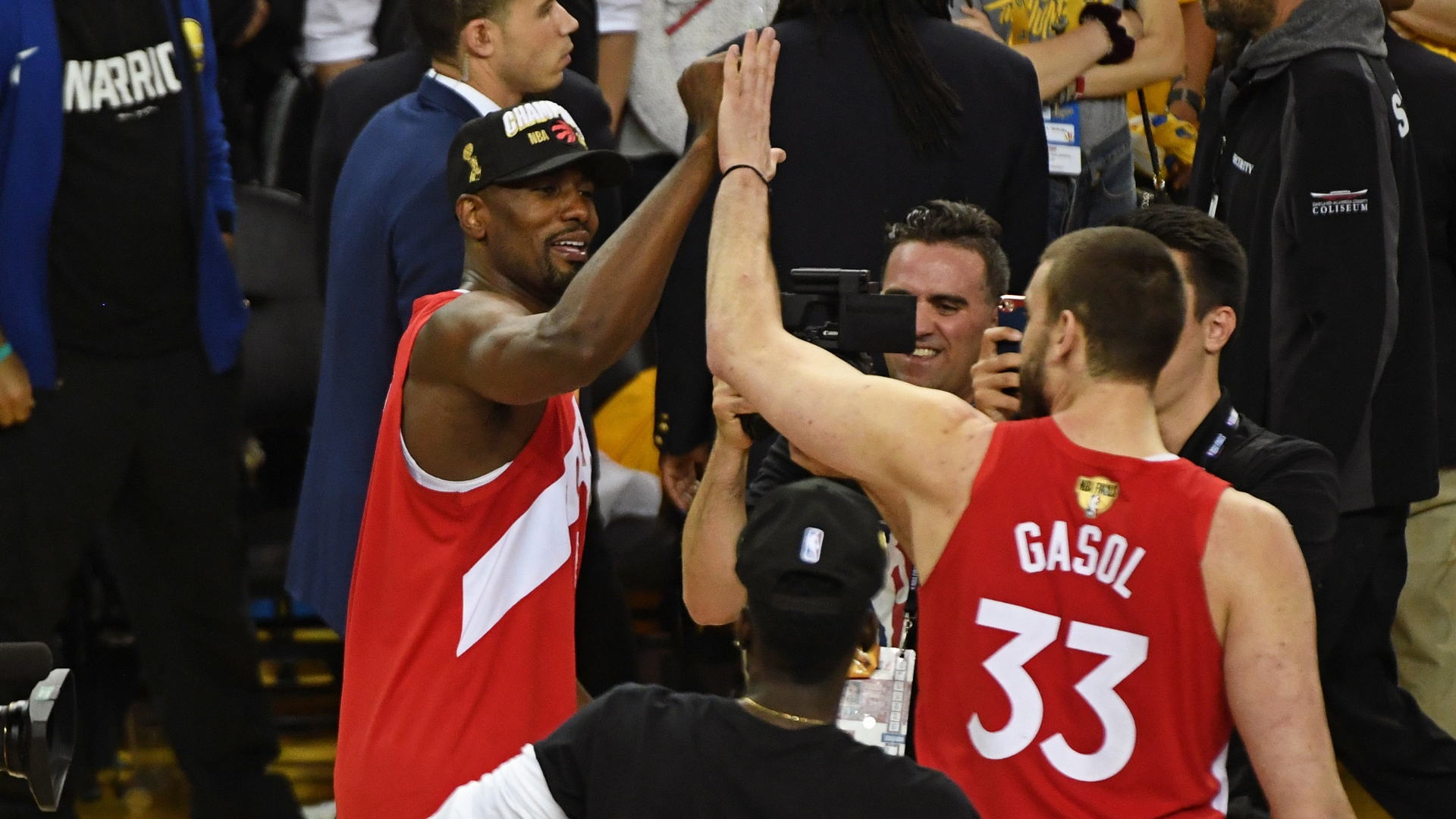 Marc Gasol
Best case
"With Kawhi Leonard no longer on the Raptors, Gasol is one of the players who should see an uptick in opportunities this season.
"Prior to the trade that brought him to Toronto, Gasol was averaging a career-high 4.7 assists per game. On a team that lacked playmaking, the Grizzlies ran a lot of their offence through him at the elbows, where he has led the league in touches per game in each of the last six seasons. Nikola Jokic is clearly the best passing centre in the league today, but Gasol might be the second-best, making it worth Memphis' and now Toronto's while to play off of him."
Worst case
"As is the case with any player Gasol's age, the greatest concern with him this season is further decline.
"There's reason to believe Gasol's game will continue to age well - he's always been an incredibly smart player who has never relied on his speed and athleticism to gain an advantage - but there's no denying he's not the player he once was either. He peaked as a defender in 2012-13, when he won Defensive Player of the Year and earned the one and only All-NBA First Team selection in his career, and both his scoring and efficiency has declined in each of the last three seasons.
"Complicating matters further is Gasol hasn't had much of an offseason. After winning the title with the Raptors, he led Spain to a gold medal in the 2019 FIBA Basketball World Cup, leaving him with what he estimates to be only three or four weeks of not playing games or being in camp."
Read Gasol's full best and worst case scenario here.
Best case
"The best-case scenario for Ibaka is that he is the exact same player he was last season, meaning a reliable source of scoring, a solid defender and rim protector, and a quality rebounder over the course of roughly 25-plus minutes per game."
Worst case
"It's crucial to the Raptors' success this season that Ibaka returns to the player he was last season. Should he take a step back and perform more like he did in the season prior, Toronto would desperately need another role player to step up and produce on offence and on the glass."
Read Ibaka's full best and worst case scenario here.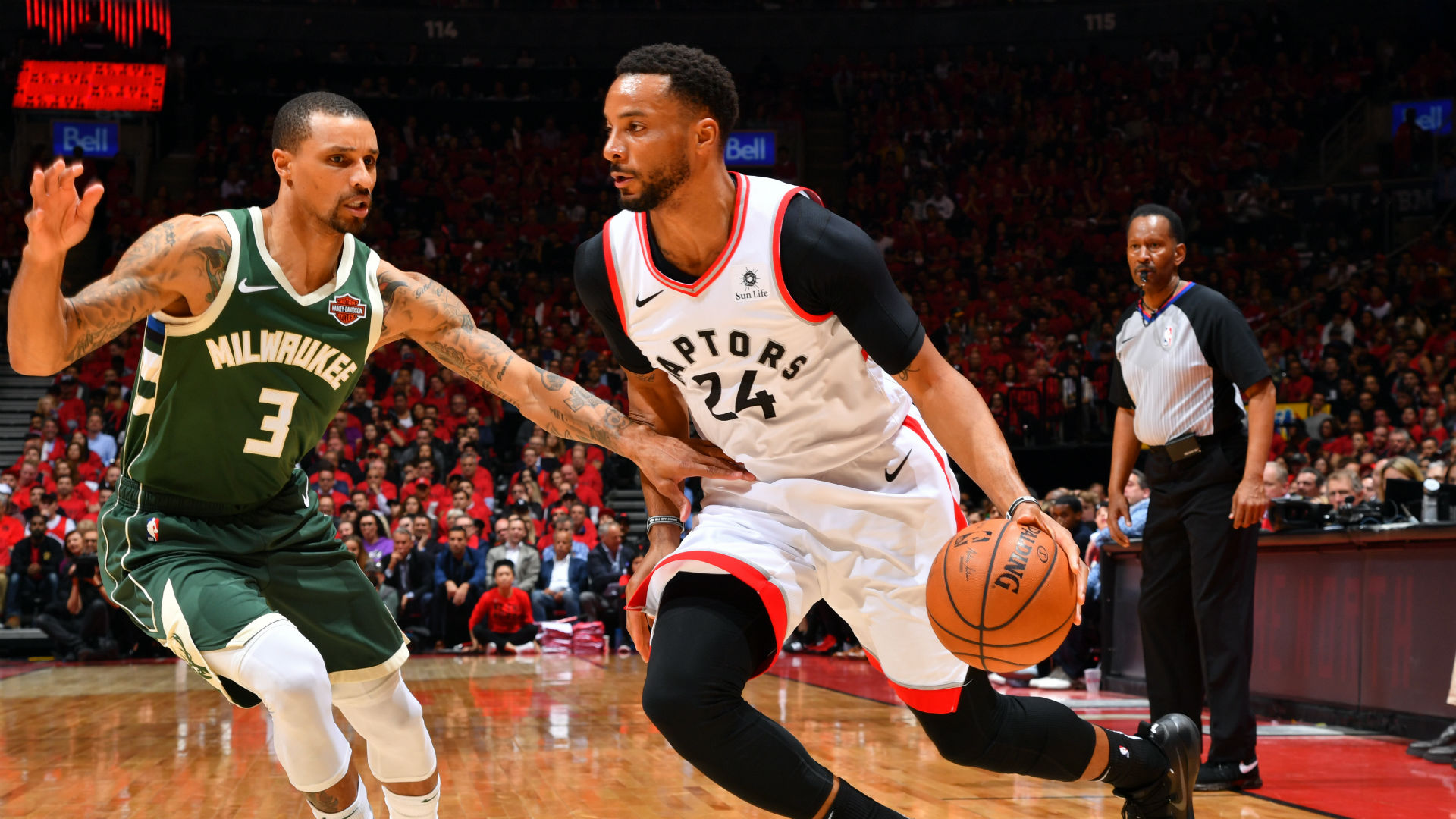 Norman Powell
Best case
"It's unreasonable to expect Powell to replace 100 percent of what Green provided to last year's team, but there's no denying that the 26-year-old impacts the game in a similar way.
"First and foremost, Powell is coming off of a season in which he set new career-highs in 3-pointers made (68), 3-pointers attempted (170) and 3-point percentage (.400). Assuming that's a better indicator of his potential as a shooter than the season prior, when he made 28.5 percent of his 3-point attempts, he's best suited to take over Green's role in the starting lineup as a spot-up shooter.
"There's still a tremendous need for someone who can space the floor at a high rate, if only to make teams think twice about loading up on Pascal Siakam and punishing them when they do."
Worst case
"The 2017-18 season would be a point of concern for Powell. After a breakout season of sorts, which led to his $42 million extension, he averaged career-lows of 5.5 points per game on 40.1 percent shooting from the field. Even though that could very well end up being the low point of his career, the Raptors can't afford for Powell to take a step back this season like he did then."
Read Powell's full best and worst case scenario here.
Chris Boucher
Best case
"If, and it's a big if, Boucher can show that he's not just a 3-point chucker on offence and can continue to find ways to protect the rim on defence, the Canadian will certainly have an argument for more minutes this season."
Worst case
"There's a lot of areas Boucher has made improvements in over his short NBA career but is his ceiling high enough for the Raptors to use a roster spot on him? Going back down to the G League would be a step back for the Montreal native, especially after he dominated the league a season ago."
Read Boucher's full best and worst case scenario here.
The views on this page do not necessarily reflect the views of the NBA or its clubs.